I've now had a good amount of seat time in every single compact currently available for sale in Canada. My favourite remains the Mazda3 (hence our current choice of long-term tester), and the Hyundai Elantra follows in a close second place. However, the one underdog that has always been around despite not exactly getting much attention is the second-smallest car in the Ford lineup. After receiving a ton of attention thanks to the hot Focus ST, we decided to take the 2015 Ford Focus SE sedan out for an extended spin.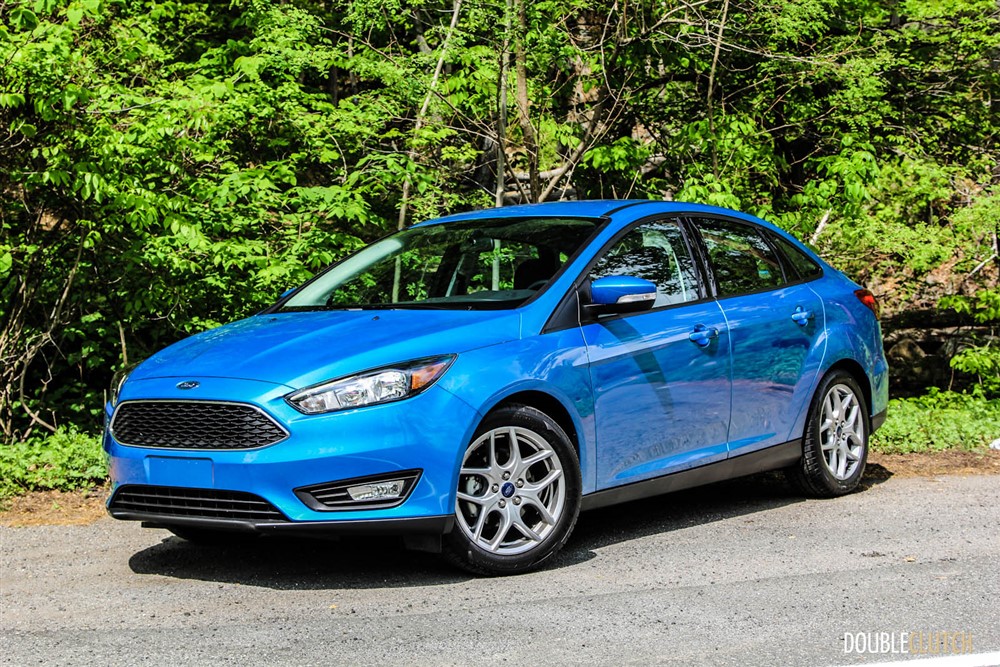 The exterior styling of the Focus was redesigned a few years ago, and the car then stood out as one of the best-looking compacts in the segment. For the 2015 model year, Ford has implemented a mid-cycle refresh that gives it a new front fascia, new taillights, and subtle design improvements throughout the body. I personally love the new look, as it now looks a lot like its bigger brother, the Fusion. My tester came in a Candy Blue exterior paint job with black leather seats and a rear decklid spoiler. The 16" aluminum wheels also have a nice design and the car is very easy on the eyes overall.
Ford's hottest Focus, the ST, is powered by a turbocharged 4-cylinder. The EcoBoost model comes with a turbocharged 1L 3-cylinder engine, and the Focus Electric packs a fully electric powertrain. However, this 2.0L 4-cylinder SE is definitely going to be a volume seller for Ford; the motor is good for 160 horsepower at 6500rpm and 146 lb-ft of torque at 4500rpm. It's a dual overhead cam motor with direct injection, and is buttery smooth in operation. It accelerates with a decent amount of confidence and the gearing is nice and close. There's a 6-speed PowerShift dual-clutch automatic available, but our car was equipped with the preferred 5-speed manual (#SaveTheManuals, right?).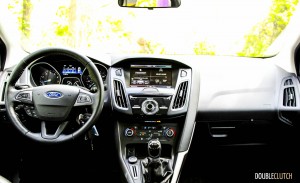 What I really like about the Focus' 2.0L engine is that when you give it throttle, it almost sounds like there's a turbocharger under the hood, right up to the redline. Clutch travel is soft but grabby on the manual, and the shifter is smooth, if not a little bit rubbery. The engine and transmission on the Focus seem to work in perfect synthesis with no drama whatsoever, and it's a very agreeable little runabout. The electric power steering is precise and the wheel is extremely light. The new steering wheel also looks great and complements the sporty yet elegant nature of the Focus nicely.
Ride quality is exceptional, and the suspension works wonders thanks to the new dampers. This new Ford is incredibly smooth and feels very refined when dealing with long-distance highway driving. In fact, the car feels so even and planted on the highway that it's easy to forget that you're still driving a subcompact. The 2,950lb weight of the Focus is easily forgotten when taking it through a slalom, because it feels much more lightweight. No, it doesn't feel as light as a Mazda MX-5, but nobody will be accusing this Ford of being an overweight pig.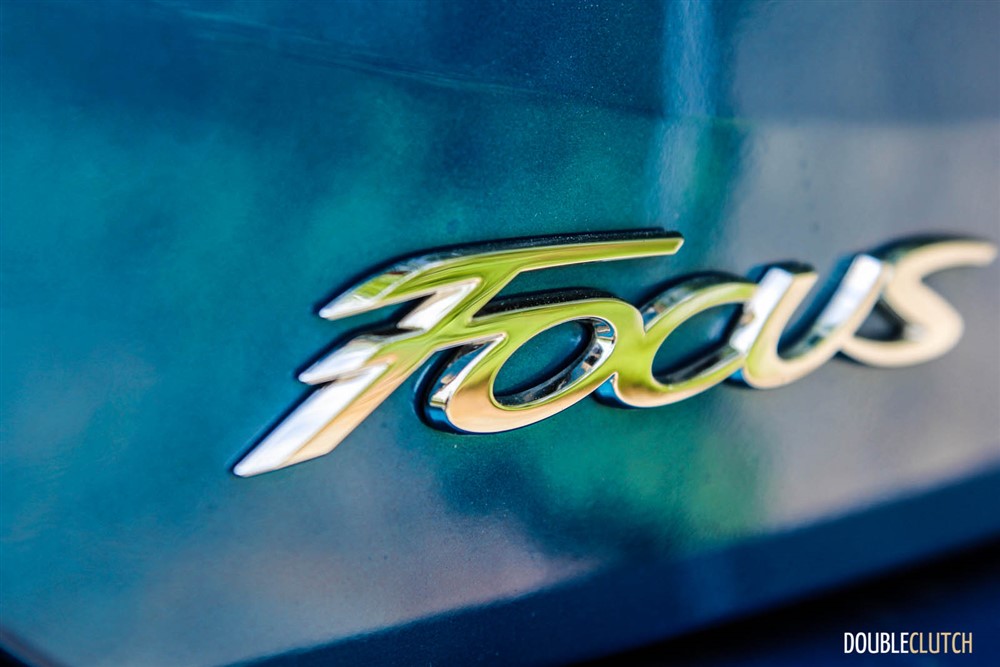 The EcoBoost 1.0L 3-cylinder is the motor to opt for if fuel economy is what you're looking for, but the 2.0L here is still very efficient. After all, it's Ford that advertises fantastic estimated fuel economy numbers for their entire lineup. The frugal Focus sedan we tested with the 5-speed manual returned a combined 7.4L/100km in combined driving, with highway numbers dipping into the 6.5L/100km mark. A 6-speed gearbox (the 1.0L has one of these!) would help it sit at lower RPMs at higher speeds, thus furthering highway efficiency. The 2.0L Focus will happily accept regular 87-octane fuel.
Ford has a unique way of packaging their vehicles, but it seems to work very well for them. Our Focus SE sedan was equipped with the SE Appearance Package, which includes ambient interior lighting, fog lights, LED daytime running lights, Sirius satellite radio, a rear decklid spoiler, and an alarm. Other options include the 17" dark painted aluminum wheels, the MyFordTouch infotainment system with Sony sound and on-board navigation, dual-zone automatic climate control, reverse parking sensors, and leather seats. The as-tested price came to just over $26,000. This is a bit more equipment than we would expect the typical Canadian consumer to opt for, but it gave us a great taste of what's available on the Focus line.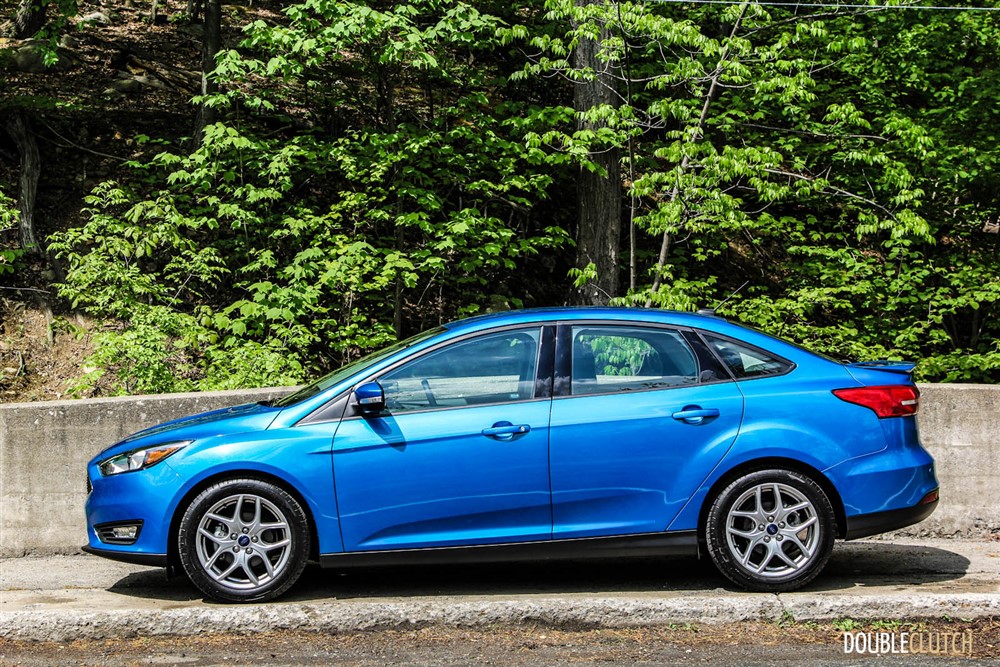 MyFordTouch has actually come a very long way since we first tested it in an early Flex we took a road trip with. The system, especially when paired with navigation, makes use of Microsoft-based software as well as Microsoft's ease of use. The screen is pretty responsive and is also tied to the dual-zone climate control. Ford vehicles that are available with ventilated seats can also toggle them through MyFordTouch. It does need a little bit of polishing, which will inevitably come with time. For now, it's up there with Chrysler's current system as being one of the best infotainment setups in a domestic vehicle, especially in a compact.
The 2015 Ford Focus is friendly and playful when asked to be, and it's also very efficient all day long. The car is pretty stylish to look at and comes in an array of fun colours. Mix all of these factors in with a price tag that presents a great value, and you've got the perfect recipe for a small car. The Focus' greatest obstacle remains its competition, because it really doesn't do anything poorly. Mazda really does have a game changer with the current Mazda3, as it sets a new benchmark for the compact class.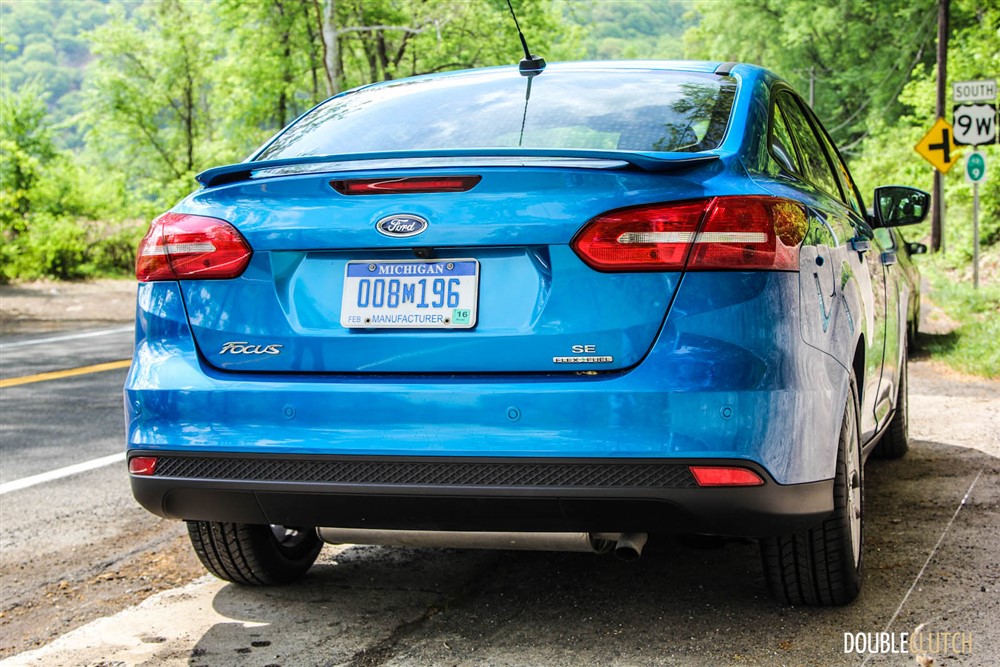 After spending a week with the Ford Focus, I can't help but like its chassis enough to say it's a solid #2 choice for me in this class. I personally value driving dynamics over all else when choosing a new vehicle, so I'd gladly fork over a few extra loonies for the Mazda3's handling ability. Luckily for Ford though, the vast majority of compact buyers prioritize things like price, overall fuel efficiency, and great warranties. Thanks to all of these things being seriously competitive from the Blue Oval, the 2015 Ford Focus should have no issues being a top seller for years to come.
2015 Ford Focus SE Gallery
See Also:
Long-Term Intro: 2015 Mazda3 Sport GT