When my editor traveled to Virginia last August on an event to drive the TLX, I heard that Acura had essentially broken the status quo by quintessentially removing both the sporty TSX; which still remains one of my favourite Acuras of all time, and the luxurious TL from their lineup, morphing them into one single entity; the TLX.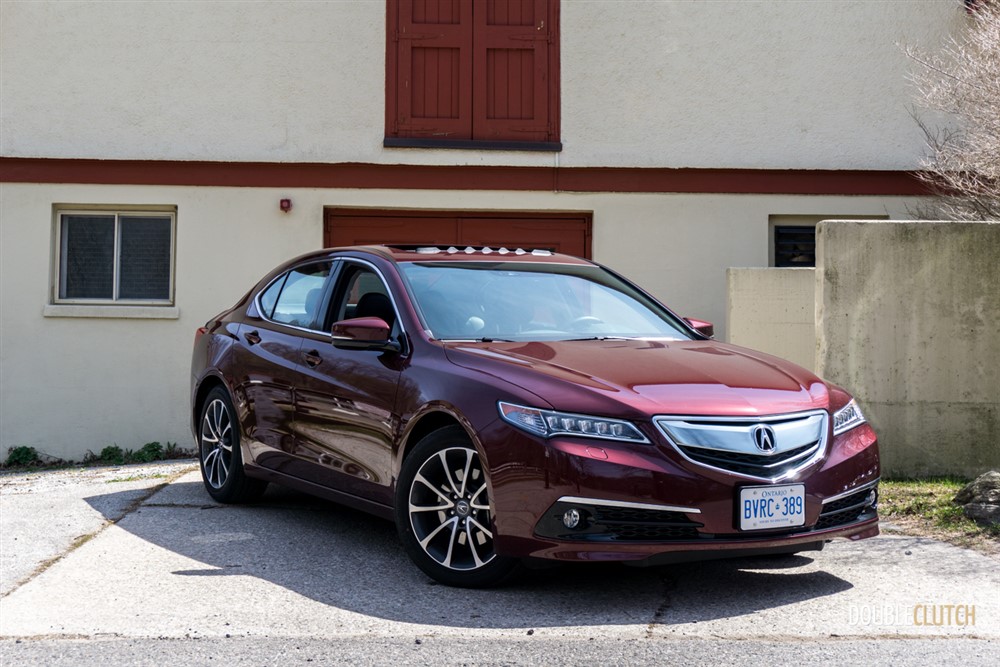 I was initially skeptical about Acura being able to pull this off at first. Attempting to combine sport and luxury usually has adverse effects; things like base price, fuel economy, and vehicle weight all usually suffer. However, Acura has avoided giving consumers any sort of ultimatum, offering the TLX with two different engines, two different transmissions (sadly, a manual transmission is not one of them), two different drive options; all-wheel drive or Precision All-Wheel-Steer, and three different trim levels; Base, Tech, and Elite. The question remains for loyalists of the TSX and TL line; is the TLX really the best of both worlds?
My 2015 Acura TLX V6 P-AWS tester came as a V6 Elite with Acura's fantastic Precision All-Wheel-Steer, or PAWS for short. I have heard some people call it a gimmick or a useless feature, but I would to beg to differ. When putting the car through corners you can definitely feel the P-AWS system in action, but more on that later. Hopping in to my Basque Red Pearl TLX V6 with the plush and supple ebony leather interior, I immediately felt like I was in something special. The seats were upholstered perforated leather and are both heated and cooled. Personally, I have always thought of cooled seats being a gimmick, but on a hot spring day during my test week, turning on the cooled seats made sitting on the hot black leather very bearable; blissful even. All of the materials felt extremely well made and everything about the interior felt like it was well thought out. Even though Acuras are known for their busy dashboards and steering wheels, at no point did I ever feel overwhelmed.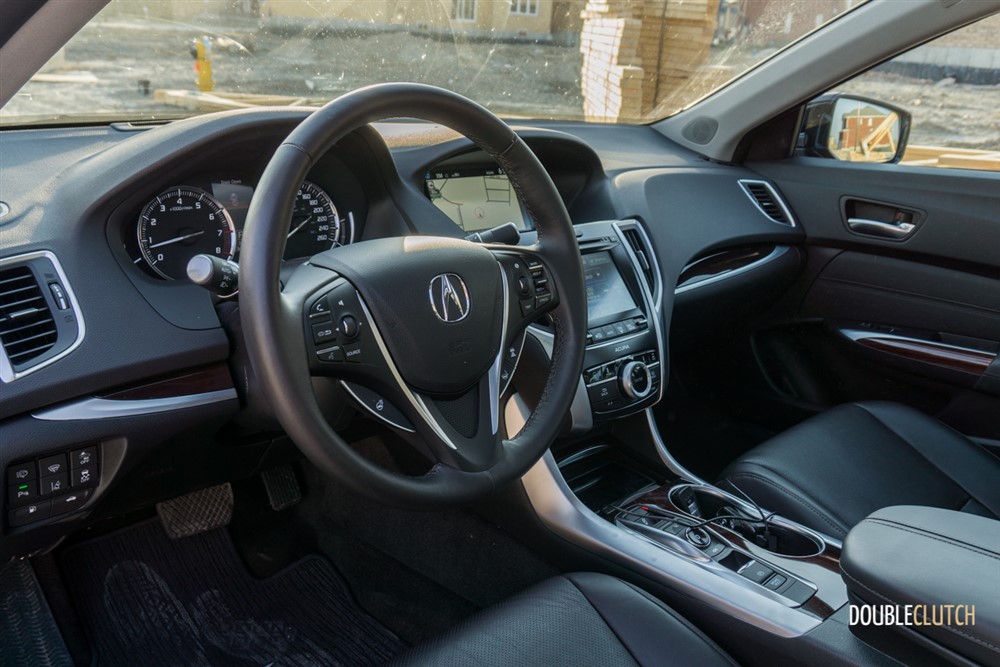 The TLX does evoke a strange feeling when you first go to drive it, though. Immediately you notice with your right hand that something is missing; the absence of a shift knob. Even though the new ergonomic button setup takes some getting used to at first, the change is something I welcomed. The area around the shift buttons is now simplified and upscale looking. Surrounded by a pleasant wood grain finish, pressing a button to go feels like you're at the helm of a car that costs 10 times the price of this TLX.
One gripe that must be noted is that although the TLX is making huge strides to compete with cars that are upmarket, it still cannot escape some of the interior components that are shared with much cheaper Honda models. Such as the same dual screen interface as well as the now standard red engine-start button that is found on many other Hondas and Acuras.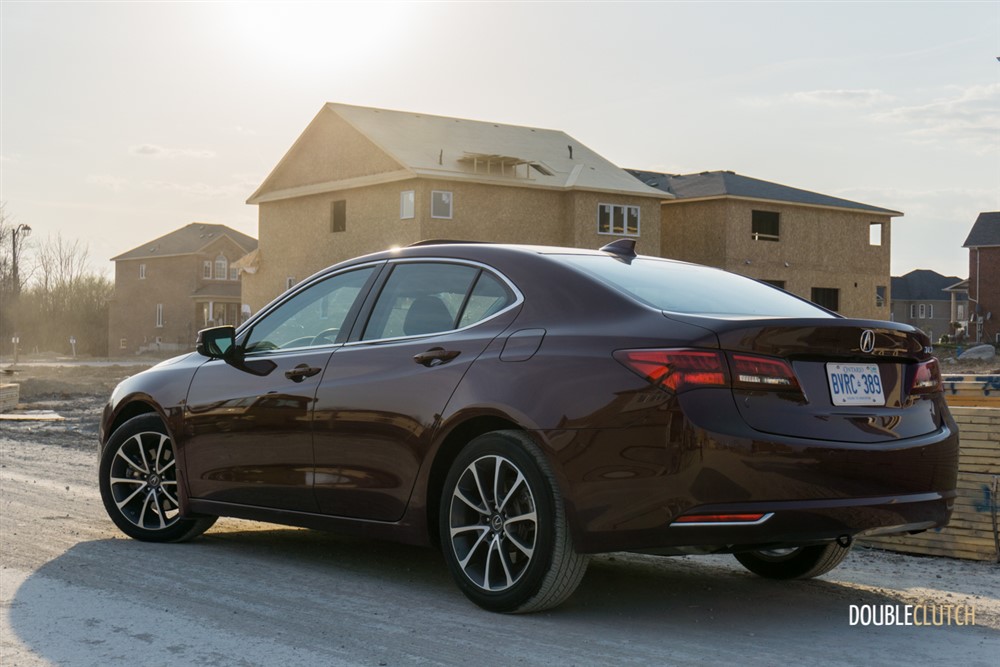 Pushing that red engine-start button and setting off gives you an experience that is hard to match in a cheaper product. Even at highway speeds, the TLX is library-like in terms of quietness. The TLX V6 Elite contains so many features that can assist in driving that you sometimes need to remind yourself that you're in an Acura and not in an $80,000+ German car. Things like cross traffic monitoring, forward collision warnings, lane departure warnings, a Lane Keeping Assist System (LKAS), Collision Mitigation Braking System (CMBS), Blind Spot Information System, keyless access, headlamp washers, LED fog lamps, parking sensors, a remote engine starter and even power folding side mirrors that came in handy trying to squeeze through a tight spot are all standard on this Elite trim.
The engine paired to my TLX is not unrefined in the slightest. The 290 horsepower, 267 lb-ft 3.5L V6 runs extremely smoothly, as if it were combusting whipped cream, and not 91-octane fuel. Using the TLX's Integrated Dynamics system (or IDS—more acronyms!) Selecting between Eco, Normal, Sport and Sport Plus gives the driver to select what mood to put the TLX into. Want to wake up the TSX to its maximum potential? Select Sport Plus and you pushed into the back of your seat when you put your foot down. When you have had enough of the performance, which is hard to resist, the Eco mode puts the TLX into its TL roots. Throttle response is dulled, the transmission shifts earlier, and the RPMs are kept low. I found that it was best to put the TLX into Eco mode during highway trips, keeping the car quiet and tamed. I observed instantaneous fuel averages as low as 6.9 litres/100km. Over my test week, my average was around 10L/100km with a healthy mix of city and highway driving.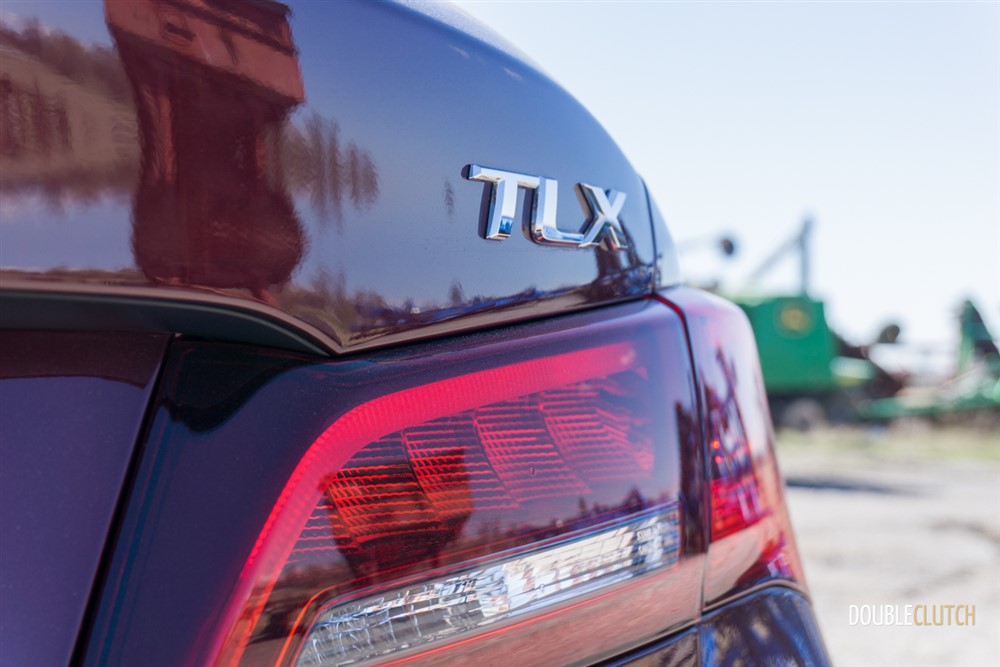 I did run into a bit of a problem when trying to go from 'Normal' to 'Eco' in the IDS system. In order to do this, you must go cycle through both Sport and Sport Plus before arriving at Eco, and no matter how fast you push the IDS button, the computer still thinks that you are going into Sport Plus. This will downshift the car and consequently spike the RPMs, giving the driver an unsettling feeling. This could quickly solved by instead making the IDS system available by a dial or a two-way switch instead of a button.
The TLX V6 can only be paired to the 9-speed automatic, whilst the four-cylinder receives the much sought after, dual clutch 8-speed unit. During city driving I did find that the 9-speed had shifts that were not exactly the smoothest, but it is hard to deny that cruising along on the highway at just over 1,500 rpm is impressive. Given the choice, I would have really enjoyed having the dual-clutch gearbox limited to the 4-cylinder TLX, even if it means losing a gear or two.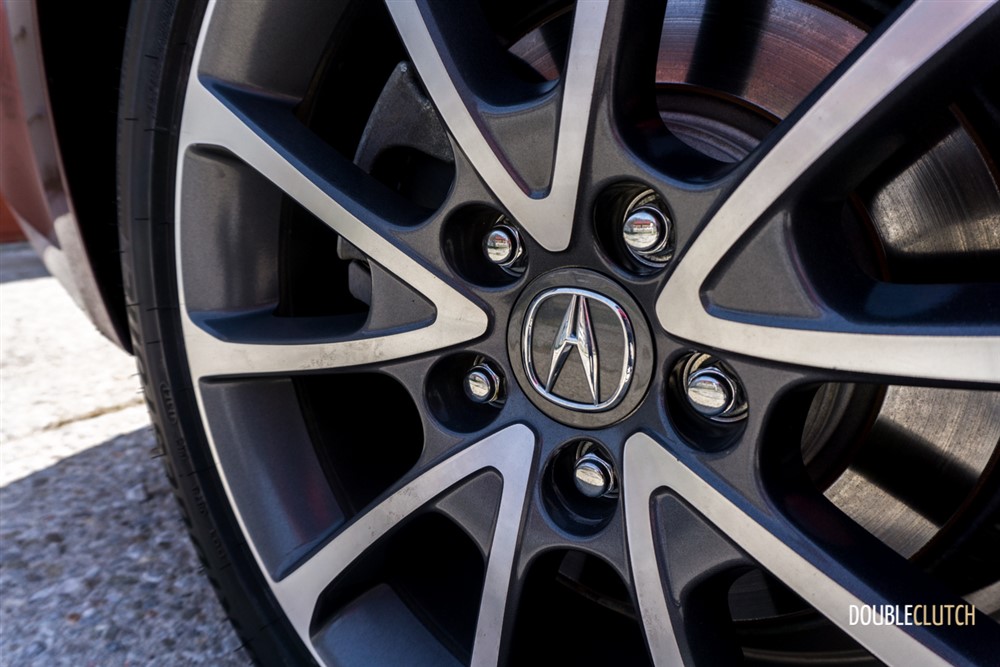 Thanks to the P-AWS system, the TLX enjoys supreme handling around the city. During low speed cornering, the rear wheels adjust the toe angle opposite to the angle of the front wheels in order to provide a shorter turning circle and sharper corner carving. At higher speed the rear wheels adjust the toe angles parallel to the front wheels in order to provide more stability and change lanes quickly. During braking, the system also puts the toe angle inward on the rear wheels to help stabilize the vehicle. I did feel that the P-AWS was more confidence inspiring than just a standalone front wheel drive system.
Priced aggressively starting at $34,990 for the base model TLX, my tester came in at $45,290. For the same amount of money you can find yourself in a 2015 Mercedes-Benz C300 4MATIC or a BMW 328i. Both are very tempting, but if you value Japanese reliability, then the TLX does give itself a standing chance when paired up against other luxury sedans. Being fuel-efficient, comfortable, and relatively sporty are all things the TLX does extremely well. I can see the TLX being a true representation of Acura's vision to spark the interests of potential new customers while maintaining loyalty from existing ones.
2015 Acura TLX V6 P-AWS Gallery
See Also:
Road Trip: 2015 Acura TLX P-AWS
2015 Mercedes-Benz C300 4Matic