The past two years or so have seen an abundance in the addition of compact crossovers to our market. Actually, I prefer to refer to them as "cute-utes", a moniker I used to apply to the segment that houses the Hyundai Tucson, Mazda CX-5, and Honda CR-V. Of course, that is no longer the smallest class of crossovers available, and new entries such as the Honda HR-V and Mazda CX-3 go a long way to promise that they're here to stay. I asked my friends at GM to borrow a 2015 Buick Encore with all-wheel-drive and all of the luxury goodies to give it a go before we sample the latest in what I can only imagine is soon to be a very hot segment.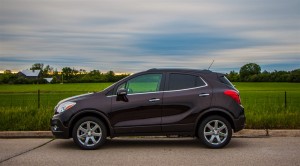 At first glance, I thought the Encore was a bit goofy-looking, but still a more handsome cousin of the Chevrolet Trax. As my week with it progressed though, I began to really enjoy the lines of my Deep Espresso Brown Metallic tester. It finally dawned on me as to why I wasn't an immediate fan – the Buick corporate grille and front fascia is usually found on much larger cars, so its adaptation onto a much smaller vehicle was a bit different for me. The Encore is definitely more attractive to me than the HR-V and even its premium competitors such as the Mercedes-Benz GLA and the Audi Q3. The only cute-ute that's so stunning its styling remains unmatched in the segment is the Mazda CX-3.
Though small, the tiniest Buick isn't a lightweight by any means. At 3300lbs, it's planted enough to not flop around on the highway, and giving drivers that added bit of confidence within the city. Under the hood is an engine familiar to fans of the Chevrolet Cruze; a 1.4L turbocharged 4-cylinder that's tuned specifically to be quiet and smooth rather than boisterous and powerful. It churns out 138 horsepower at 4900rpm, and 148 lb-ft of torque at 1850rpm. Accelerating to 100km/h takes just over ten seconds, but the Encore's element is darting around the downtown core. The six-speed automatic does a fantastic job of predicting your next move, and when left to do its own thing, it shifts smoothly and quickly.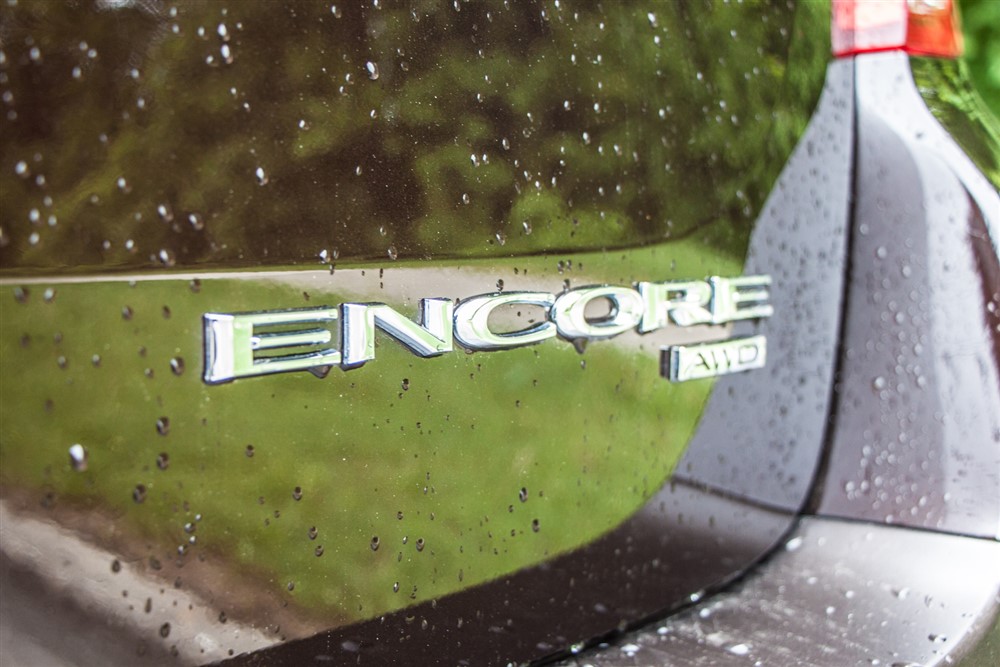 Slow as it may be to get onto the highway, the little crossover has a cheeky personality and feels decently torquey. The turbocharger provides the perfect amount of low-end torque, and the engine makes a nice sound. Buick has added a part-time all-wheel-drive system to the Encore, one that kicks in when it detects slip and sends power to the appropriate direction. My test was during an especially rainy week at the end of May, and my cautious driving style meant I didn't really have a chance to experience this system, but I've experienced GM's AWD applications in the past and I have nothing but faith in this regard.
The Encore is a competent handler in its segment, but its relatively short 88.7" wheelbase helps maintain a tight turning radius. It also means the little crossover is nimble enough to make quick decisions and act on them impulsively. The suspension geometry is MacPherson struts in the front, and a regular torsion beam out back, and it makes for a ride that's getting pretty close to the wrong side of firm. Not that there's anything wrong with that, but this is a vehicle that's advertising being library-levels of quiet and smooth – the ride should be considerably softer than that of the Trax.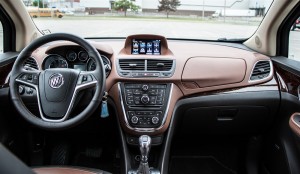 The main focus for the Buick brand over the past few years has been emphasizing quietness, and this became particularly obvious to me after I tested a Verano Turbo a couple of years ago. Using unique sound insulation as well as adding noise cancelling technology using the Bose audio system, the Encore is particularly quiet. Though sharing a platform and many traits with the Chevrolet Trax, the Buick uses acoustic laminated glass all around that is considerably thicker than that of the Trax, as well as much more sound-deadener all around. Now, it's not as quiet as a Lexus LS460, but engine, tire, and wind noises are all hushed enough to provide a relatively serene cabin.
The base Encore Convenience starts at $29,645, and comes with a ton of standard equipment. All trim levels come with OnStar, StabiliTrak stability control, ten airbags, interior ambient lighting, Buick's IntelliLink infotainment setup, 18" wheels, fog lights, and remote entry. My top-trim Encore Premium starts at $34,670 and adds unique wheels, front and rear park assist, forward collision warning, lane departure warning, a Bose 7-speaker audio system, rain-sensing wipers, and satellite radio.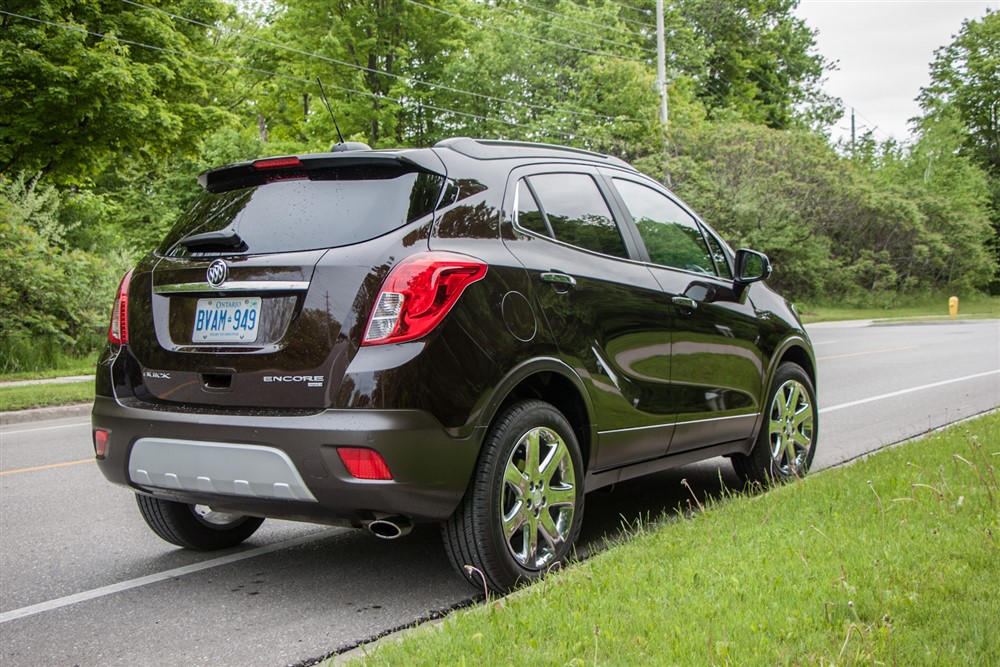 Versatility is where the Buick Encore really stands out, and it really begins to shine when you discover that not only do the rear seats fold flat, the front passenger seat actually folds completely to reveal a nearly flat cargo floor across the entire vehicle. Even with the seats up though, it ate up all of my stuff with ease and had plenty of room to spare. The rear cargo cover helps maintain privacy, which remains a bit of an issue in modern crossovers even with the rear windows tinted from the factory.
The Deep Espresso Brown Metallic exterior paint scheme is unique enough for a compact crossover, but the folks at Buick really outdid themselves with the interior, which was finished in Saddle leather with two-tone accents throughout the cabin. This colour combination was absolutely perfect and suited the classy nature of the Encore just perfectly; I was a huge fan throughout my test period, and it remains memorable to me even after the vehicle has gone back. The seats are decently comfortable and the driver's armrest is a nice touch, but I found it difficult to find my ideal driving position; the adjustability isn't as straightforward as it should be.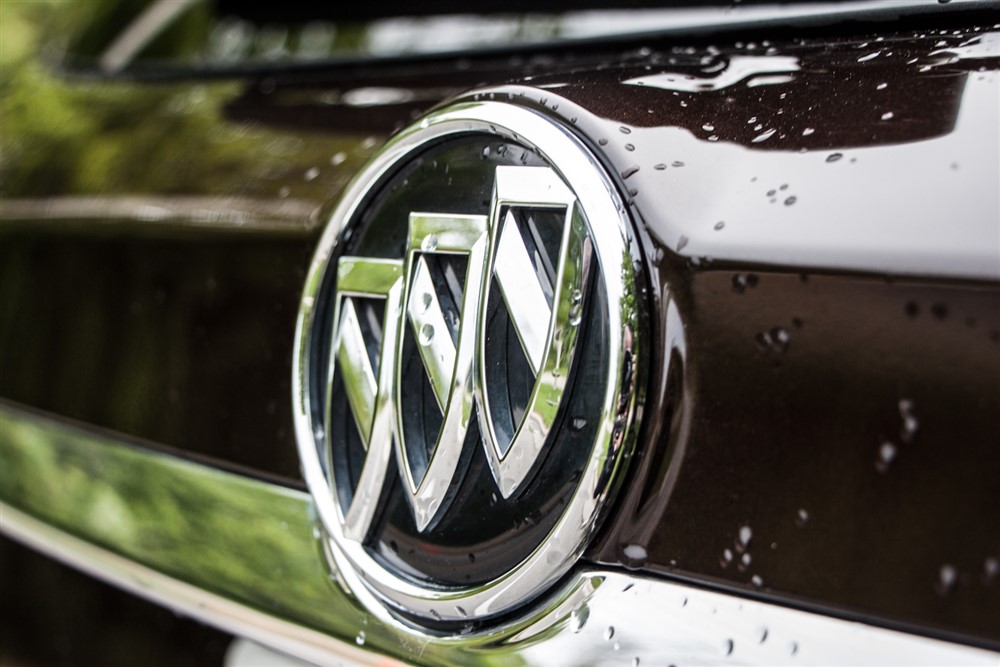 The 2015 Buick Encore does many things very well. It's a handsome little crossover with many premium features, a good warranty and decent value. I prefer its driving dynamics to the Mercedes-Benz GLA250, the base price of which is around the as-tested price of my Encore. My observed fuel economy of 8.4L/100km without any sort of hypermiling techniques was the icing on the cake for the car, especially when considering the fact that it can get away with regular 87-octane fuel. For urban dwellers who want something different with charm, or want to downsize from their aging Buick Century into a fresh, modern crossover, the Encore just might be the ticket.
2015 Buick Encore Gallery
See Also: