Often overshadowed by the Chevrolet Camaro and Ford Mustang, the Dodge Challenger is a name that stands out as being an American legend. The name dates back well over fifty years, and has gained more of a reputation this year with the introduction of the 707-horsepower Hellcat. The aforementioned Hellcat though could be considered a bit too much car for some buyers, so there are other options available in the muscle car line. We took out a 2015 Dodge Challenger Scat Pack, because prior to driving it, I was convinced that this would be my choice if I were in the market for a Challenger.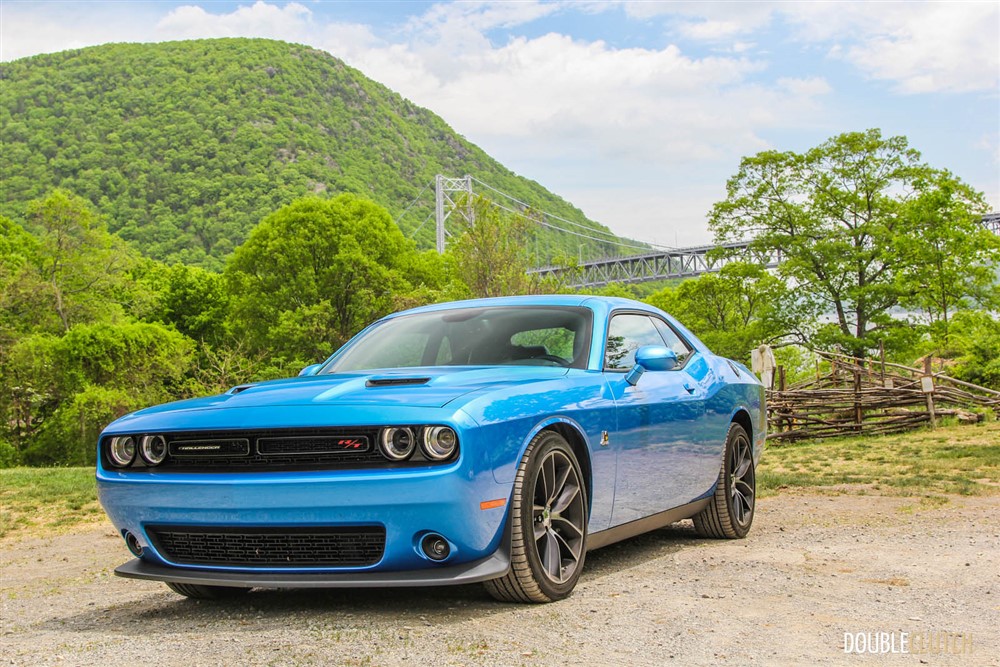 The redesigned 2015 Challenger essentially uses the same iconic styling that the previous model did, new for the 2009 model year. In fact, it would take the devout car guy to pick out the differences, something I was able to do within seconds of noticing my first new Chally on the road a few months ago. The new front end is more aggressive with new halo daytime running lights, and the Scat Pack also features classic ground effects that set it off nicely. From the side, it looks quite similar to the outgoing car, but the rear end is redesigned with new taillights and an overall look reminiscent of the 1970s model.
In fall of last year, I tested the last of the previous Challengers, the 2014 R/T Shaker with the 5.7L Hemi V8 engine. I like that motor a lot, but my favourite motor out of the Challenger family is the 6.4L V8 on this Scat Pack. This is the not same unit in the Hellcat, which packs a 6.2L engine, and hence isn't supercharged. This naturally aspirated 6.4L pumps out 485 horsepower at 6000RPM and 475 lb-ft of torque at 4200RPM. Response from this engine is simply instantaneous and it produces a crazy roar every time you hit the throttle. A 6-speed manual would be my choice gearbox here, but our tester was equipped with the TorqueFlite 8-speed automatic transmission, a decent box with a proper manumatic mode and responsive paddle shifters. There's so much power in second, third and fourth gears that I found it best to leave the transmission to shift on its own.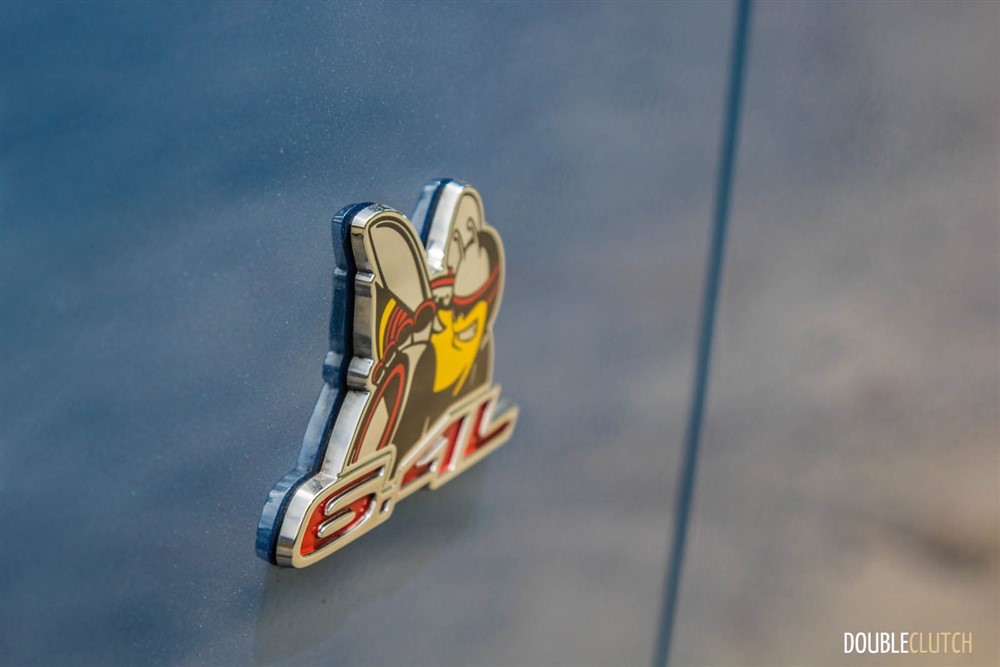 Gone are the days where muscle cars are meant for straight lines and can't handle, and this has been changed by cars like the Chevrolet Camaro 1LE. The Challenger remains in its element storming down empty back roads and eating up the mileage on the 400-series highways, but that doesn't mean it's not a competent handler. Steering response is good and the wheel is nice and meaty. Four-piston Brembo high-performance brakes help it stop on a dime, something I found useful when I came across a rather large snake trying to make its way across the two-lane country road I was driving down
On board the Scat Pack is a button marked "Super Track Pak", which brings up a screen on the 8.4" Uconnect display to set up launch control for that perfect launch should you wish to take your Challenger to the drag strip. There's a digital tachometer that shows up, along with other configurable options to set up ideal launch RPM, drive mode setup, and a button to activate launch control. It's a neat tool, and a bit different from the "LAUNCH" button on the Grand Cherokee SRT we tested a couple of summers ago.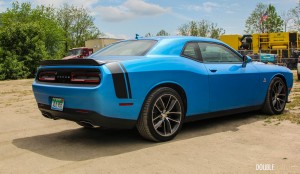 Ride quality has also been improved significantly, and this is hugely thanks to the Bilstein shocks and excellently tuned suspension. The Challenger Scat Pack honestly feels a considerable amount lighter than it is when cornering, and it absorbs flaws in the road very well. It's great suspension setups like the one in this car that essentially get the message across that muscle cars don't need to ride like garbage or be difficult to endure on a daily basis, even with the 245/45ZR20 performance tires. Our Scat Pack tester was rear-wheel-drive, but Dodge does now offer the Challenger with all-wheel-drive, making it a true four season car in the winter
Fuel mileage is never a huge concern for shoppers of muscle cars that pack 6.4L of displacement under the hood. However, the Challenger Scat Pack does feature the Mopar-signature MDS system that is capable of deactivating four cylinders at steady speeds in ideal conditions. Thanks to this, it's theoretically possible to get the Scat Pack down to 10L/100km on longer highway drives. If doing a considerable amount of city commuting though, don't expect to see this car behave frugally – this isn't the purpose it's meant for.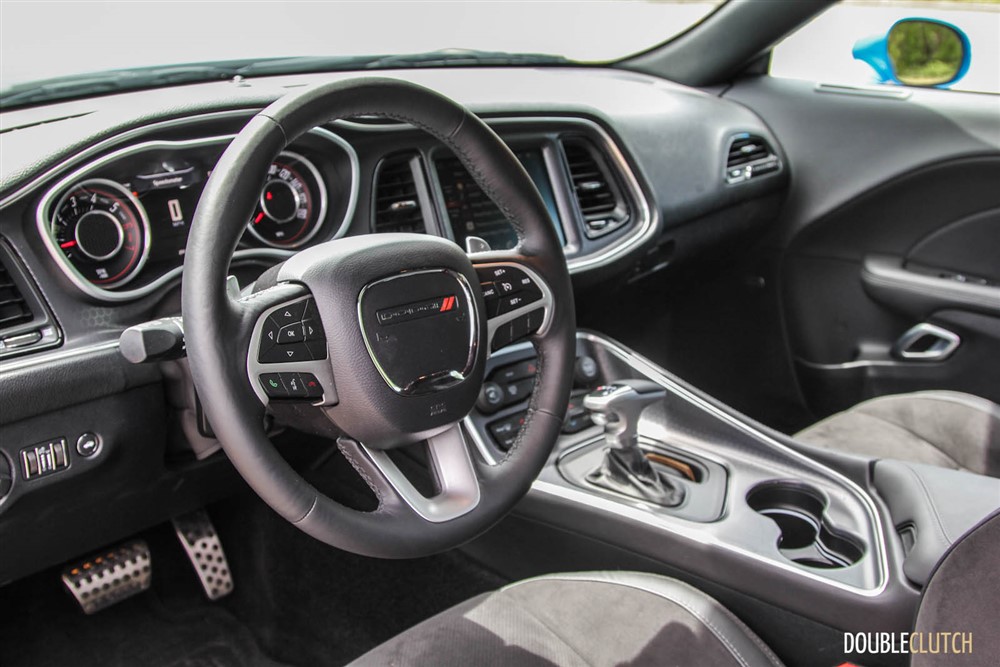 One thing the outgoing Challenger was heavily criticized for was having a poorly executed interior. I didn't really find it bad; I preferred to refer to it as dated. This has been changed and the entire interior has been overworked to match its platform-mates, the Charger and Chrysler 300. Materials are significantly better and things are easier to find. As in other products from the FCA family, the Challenger now implements the Uconnect infotainment system that also deals with climate control and vehicle settings. Thankfully, there are still real buttons for frequently-used commands to prevent having to take your eyes off the road. Standard equipment on this car is the ParkView reverse camera, ParkSense park assist, keyless go, and the 6-speaker 276-watt sound system with Media Hub (SD card slot, USB and auxiliary ports).
Adding onto the regular Challenger R/T Scat Pack, our car had a bunch of options checked off, bringing the total sticker price to just over $50,000. These options include a 7" configurable display in the instrument cluster, the Uconnect 8.4" display with satellite radio, Bluetooth, and navigation, heated and ventilated front seats upholstered in a lovely combination of suede and Nappa leather, and a heated steering wheel. The Scat Pack Stripe Group adds HID headlamps, the Bumblebee stripe on the exterior, a gloss black grille, and a satin black fuel filler door. The overall combination, including the B5 Blue our car was painted, is seriously evil.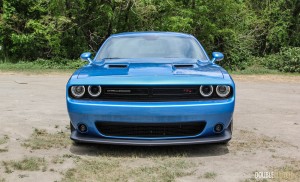 There are many, many reasons to go out to your nearest Mopar retailer and acquire a new Dodge Challenger. Starting with the V6-powered entry-level model and topping off with the supercharged monster that is the Hellcat, the entire lineup now consists of seriously competitive coupés that will put a childlike grin on the face of every car enthusiast that dares to get behind the wheel. Thanks to modern stability and traction control systems being standard, the Challenger is now far more confidence-inspiring and provides a thoroughly pleasing driving experience. With its new face and packed list of available features and customizability, it's become one of the most alluring muscle car choices out there.
2015 Dodge Challenger Scat Pack Gallery
See Also:
2014 Dodge Challenger R/T Shaker