I consider myself sort of an old fashioned enthusiast- I like a nice comfortable vehicle for my daily commute, and I like to keep a properly impractical toy for the weekend. The truth is though, the time and effort to keep multiple vehicles up and running can sometimes be enough to distract from the true joy of the hobby. That may be one of the many good reasons for the growing trend I've noticed in which car lovers are buying vehicles that are both practical and satisfy that stirring need for performance. The new breed of car enthusiasts may be looking for something that does everything exceptionally well. It should haul the kids to school, make the daily commute year-round, and still offer the performance and dynamics of a proper sports car. There are many great high-performance sedans, and even a few wagons that would fit the bill nicely, but what if you need to have the capability and space of an SUV? Well, you're left with few options, but the 2015 BMW X6 xDrive35i may just be your niche.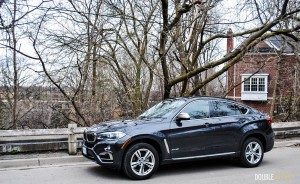 Redesigned for 2015, the X6 is all about making a bold statement. Its aggressive signature BMW front fascia is right at home on the sleek coupe-like shape of the X6, which looks a lot like a poised German sports car that's all grown up. BMW always does a good job of providing the right options to make your vehicle unique to your liking, so while it's possible to make your X6 look like a road-race ready monster, my tester "Sports Activity Coupé" looked a lot more subtle. Finished in Dark Graphite and sitting on 19" winter alloys, my tester only really catches the eye of those in the know; otherwise it easily passes as just another crossover. Either way, it's handsome and well proportioned, with all the signature BMW touches and a great looking aggressive stance. Exterior fit and finish is well done, but if I am going to nit-pick, the hood-to-fender gaps were a little big for what I'd expect at this price level.
If my tester lacks a little bit of flash on the outside, it more than makes up for it from the moment you grab its heavy Comfort Access key fob and head inside. Approaching the X6 at night, its door handles softly light up with LEDs, and opening the door projects a huge BMW logo onto the pavement below – nothing subtle here. As the door opens, you're hit with the rich smell of soft Cognac-coloured Nappa leather, a $3,900 option, and the elegant glow of the strategically placed LED interior accent lighting. You settle into the ventilated seat, adjust it to perfectly cup your body, and close the door with a reassuring thud. Everything you touch feels heavy, well-built and ergonomic, adding to the fortress-like feeling of safety and security inside the X6. The X6 feels like a vehicle that you can trust to keep you and your loved ones safe and sound no matter the situation.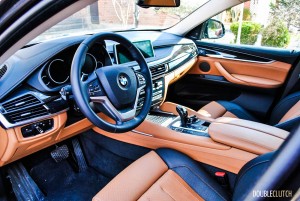 In the daylight, the interior is truly gorgeous. The leather blends perfectly with the real machined aluminum and dark high-gloss wood accents. It's a small touch, but I love the big leather-wrapped "wings" on the center console. Not only do they help keep phones and charging cables from sliding around, but they also remind me of the big leather consoles found in old Italian exotics. The center piece of the dashboard is a simply massive and sports a crystal clear infotainment screen that integrates flawlessly with the X6's controls to display everything from real-time traffic and navigation info, as well as an aerial view of the vehicle and surrounding obstacles as you park. The screen's functions are controlled by the very German rotary dial and set of buttons on the center console, which look and feel great. I do have a bit of an issue with the placement of the dial; it's much too far forward and to the right, making it impossible to see the surrounding buttons from the driver's seat. This is, however, a small distraction from an otherwise perfectly driver oriented interior space.
All this excessive luxury doesn't come without a price though. My very-well equipped, but not fully loaded, tester came with an MSRP of $87,000. The X6 xDrive35i starts out with a base price of $68,890, but that quickly escalates. In the case of my test X6, I have a $4,900 Premium Package which includes soft close doors, heated rear seats, surround view (front, rear and aerial view parking cameras), Harman/Kardon sound and a slew of other luxury gadgets. On top of that, it has the aforementioned Nappa leather ($3,900), LED headlamps ($2,500), Dynamic Adaptive Suspension ($3,500), Active Steering ($1,650) and a host of other little options.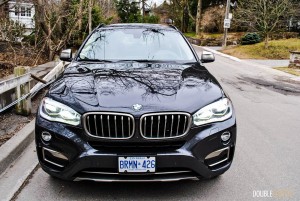 The X6 is so nice inside that it's almost a shame to put it to use, but if you are going to be hauling people or bulky cargo around, the X6 does offer some compromise over a more traditional SUV. The X6's signature swooping roofline means that rear headroom and cargo area height are significantly reduced. The little ones might not notice, but most adults might find the rear headroom to be a bit of an issue. The rear seats do fold flat extremely easily, and they fold as three separate sections, making for a very flexible space for both passengers and cargo.
I am not typically into spirited driving with an SUV. I usually prefer my SUVs to be quiet and comfortable, but the X6 does a fair job of both. Firstly, when cruising around in Comfort mode the X6 is quiet, responsive and holds a nice firm line on the highway. I do feel like the ride from the Adaptive Dynamic Suspension could be a little softer on rough city streets, but I guess that's the price you pay for performance.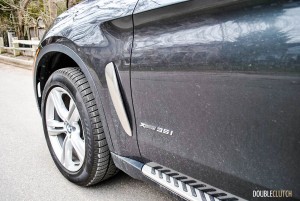 Speaking of performance, flipping the X6 into Sport mode awakens the 3.0L turbocharged inline 6-cylinder (codenamed N55), making full use of its 300 horsepower and 300 pound feet of torque. The ZF-sourced 8-speed automatic transmission picks up its game as well and the two work well together, offering surprisingly linear and responsive power. The inline-6 sounds great under load as well, and is perfectly complimented by the impeccably weighted and responsive steering. The X6 handles beautifully for a vehicle its size and keeps itself relatively flat around swooping highway ramps and tighter backroad curves. I do feel that the handling and steering feel are a huge strong point for this BMW.
While the 300 horsepower from the inline-6 is plenty for daily duty, I was slightly underwhelmed from a performance standpoint. The platform feels like it's capable of much more and it's being held back only by a lack of on-demand power. Happily, that is easily solved by opting for the 4.4L twin-turbo V8 in the xDrive50i with its 445 horsepower. Even with the 6-cylinder, moving around, the X6's mass doesn't come cheap and I averaged 12.1L/100km in my mixed commuting on premium fuel. This is definitely in-line with the competition, but I was hoping to squeeze a little more out of this BMW.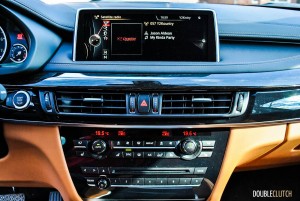 The X6 is athletic on the outside, gorgeous on the inside and still manages to embody the inspiring driving dynamics that BMW has built their name on. Correctly optioned, the X6 could prove to be just the ticket for someone who isn't interested in multiple vehicles, but would rather put up the funds to buy something that can do it all. The X6 definitely delivers most of the utility of an SUV and clearly demonstrates that it still has a fun side, all the while making a distinctive statement.
2015 BMW X6 xDrive35i Gallery
See Also: