Driving around the urban centre that is Toronto, gas stations are largely out of sight, and out of mind until that fuel gauge starts to read in the lower half. For the vast majority of drivers that use gasoline as their fuel, gas stations are readily available on nearly every major street corner, and the vast majority of them feature three to four grades of gasoline, depending on the your car's octane requirements. Diesel, on the other hand, remains a little bit of a black art – the unfamiliarity of it all is largely the reason why some people stay away. As a result, not every single station features diesel, and when they do, it'll just be from one or two pumps, compared to over ten for standard gasoline.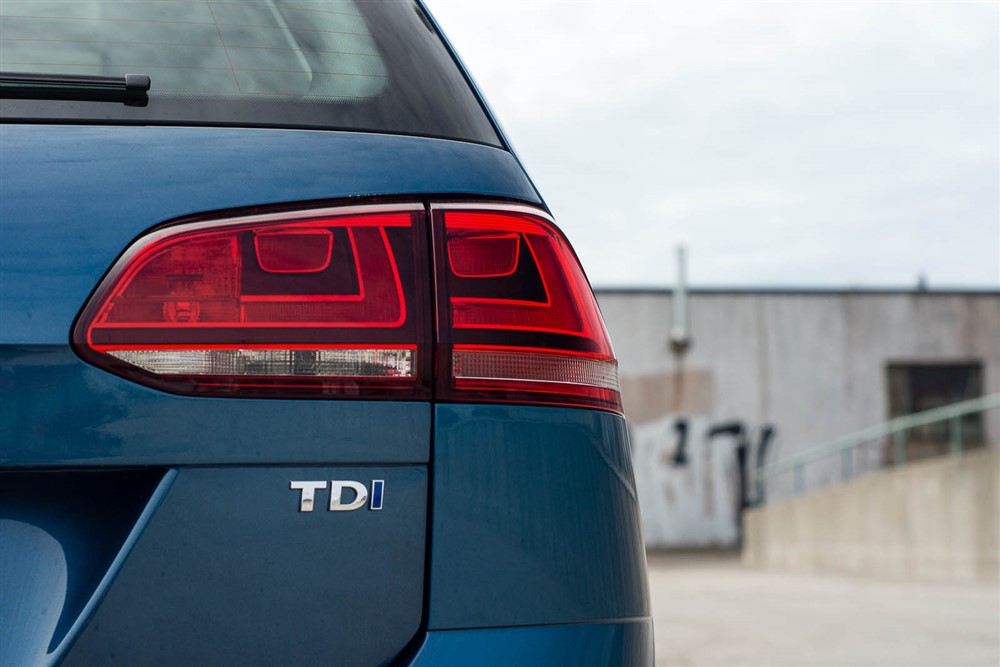 In a nutshell, diesel powertrains provide to the driver much more low-end torque, and hybrid-beating efficiency on the highway. It's this high-speed efficiency that allow for diesel-equipped cars to boast very long ranges before a refuel is required. European automakers have all been in the diesel game for years now, owing to the large cost delta between gasoline and diesel across the pond. If we go back a few months, diesel looked especially attractive as gas prices went through the (relative) roof. Diesel hasn't been the subject to the wild price fluctuations we've seen lately, however, so prices have actually remained higher than gasoline prices. With today's prices in mind, is diesel still the way to go?
Volkswagen, specifically, utilizes the TDI name in nearly all parts of their lineup. Originally seen in their smaller cars, like the Jetta and Golf, a diesel V6 is now featured in their larger vehicles, like the Touareg, and even the Audi A7 can now be had with that engine. It's part of an effort to bring diesel to the masses – an effort by several German automakers. The bread and butter of Volkswagen's diesel offerings lie in the four-cylinder engines in their small and midsize cars. Available in the Jetta, Golf, Beetle, and the Passat, this workhorse TDI powerplant completely transforms the feel from the driver's seat, when compared to its gasoline-powered siblings. I've driven several diesel-powered Volkswagens, but the one I was most interested in is the Golf Sportwagon TDI. I picked up the keys to a loaded Sportwagon, painted in a handsome shade of Blue Silk Metallic.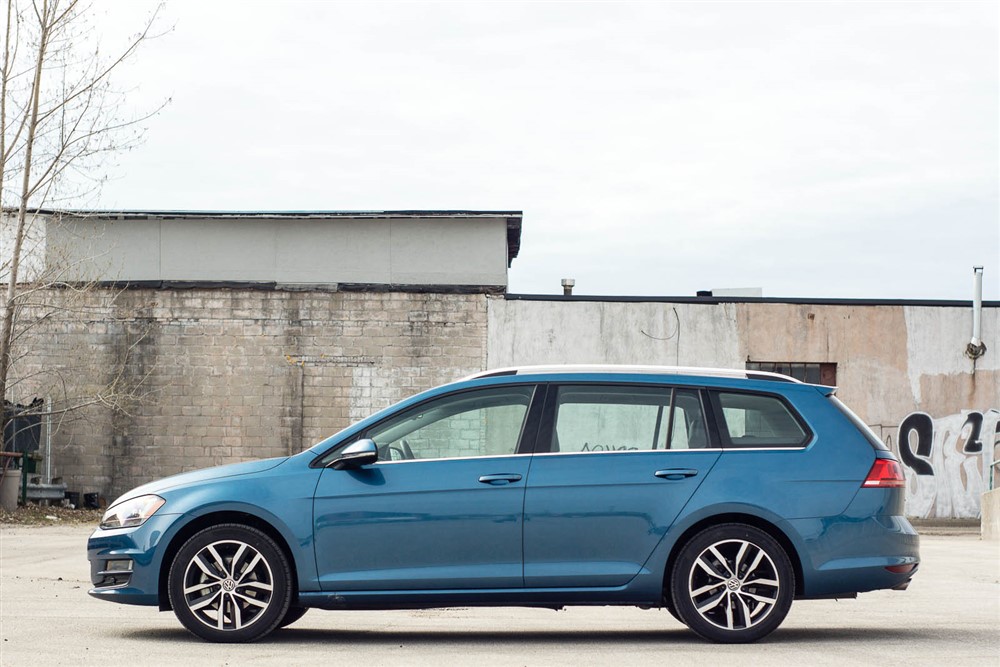 It's no secret that I love a good wagon. Instead of the me-too crossover utility vehicles that everybody seems to be going for these days, wagons provide pretty much all the utility people expect, yet give up almost nothing in terms of driving dynamics. Based on the Volkswagen Group's new MQB platform, which underpins many small and medium-sized vehicles in the family, the Golf Sportwagon sits on a very modular chassis design. It allows VW to specify a common location for certain core components, like the engine mounting position – regardless of the fuel it consumes. It's fairly safe to assume that many components from the driver's seat forward are all common amongst the Golf and entire MQB family.
The Golf Sportwagon doesn't try to hide any of its wagon identity, opting for a long-roof design that maximizes interior space and cargo carrying capacity. There's no steeply-raked rear tailgate here – this is an honest-to-goodness station wagon (not a hatchback) that we don't really get to see often these days. The squared-off tailgate helps the Golf Sportwagon swallow up a lot of your stuff. Up front, the familiar Mk7 (Mark 7) Golf face is unchanged from the standard two and four-door hatchbacks. My particular tester was equipped with LED daytime running lights, and the optional adaptive bi-xenon HID headlights, which will swivel to illuminate the road as you round a corner. Its side profile is unquestionably that of a wagon, with a low sill line and a conservative body line running down the length of the Golf, just under the door handles. My particular Golf Sportwagon rides on 17-inch "Madrid" alloy wheels with 225-section all-season tires at each corner.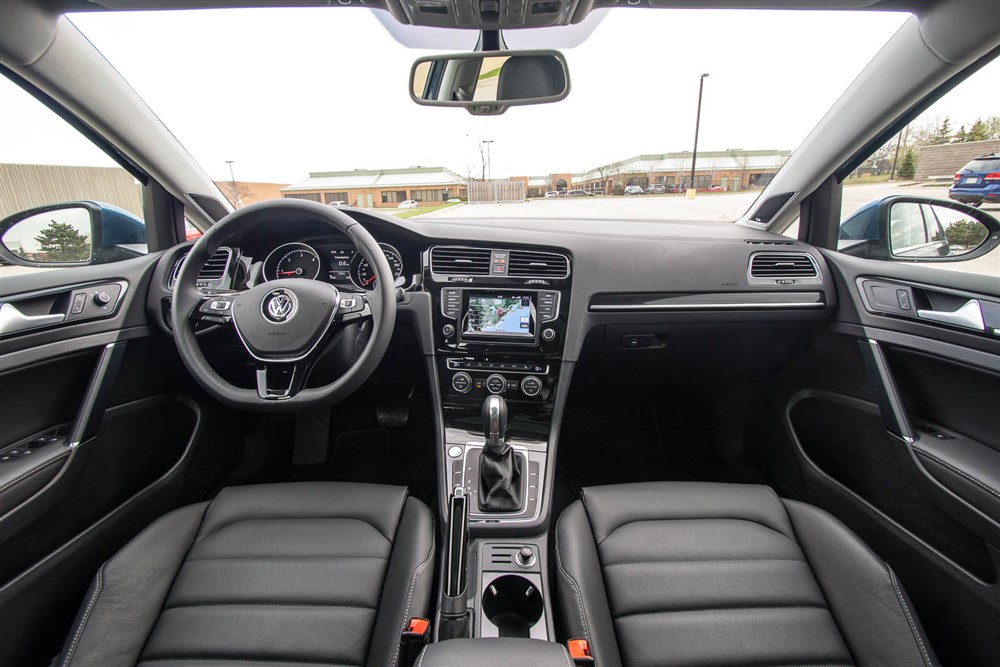 Inside, the Golf Sportwagon continues the "near" premium feel Volkswagen has become famous for. My particular test car featured leather seating surfaces, keyless entry, push-button start, a massive panoramic sunroof, satellite navigation (built into a 5.8" touchscreen with proximity sensors – it shows and hides contextual menu info as you bring your fingers close to the screen), an upgraded Fender 8-speaker audio system, and upgraded LED interior lighting, among other things. The steering wheel itself is leather-wrapped and is of the flat-bottom variety. The interior is essentially the same as you'd find in other fully-loaded Golfs and GTIs. Space for front-seat occupants is excellent, and passengers in the second-row will find a decent amount of legroom and room for two – three in a pinch. Overall, it's a very utilitarian design that focuses on a high-quality feel that rivals many entry-level luxury vehicles costing considerably more.
The wagon configuration is one of two standout features of the Golf Sportwagon TDI. The other draw to this particular car happens to be its powertrain. VW offers a choice of a 1.8L turbo-charged gasoline four-cylinder in base models. It confidently gets the job done, but the engine to have is the 2.0L turbocharged Clean Diesel engine. Like most diesel engines, it doesn't put out high horsepower figures, but delivers by delivering big torque. To that end, the turbo diesel under the hood produces 150hp from 3500-4000rpm, and 236lb-ft of torque from 1750-3500rpm.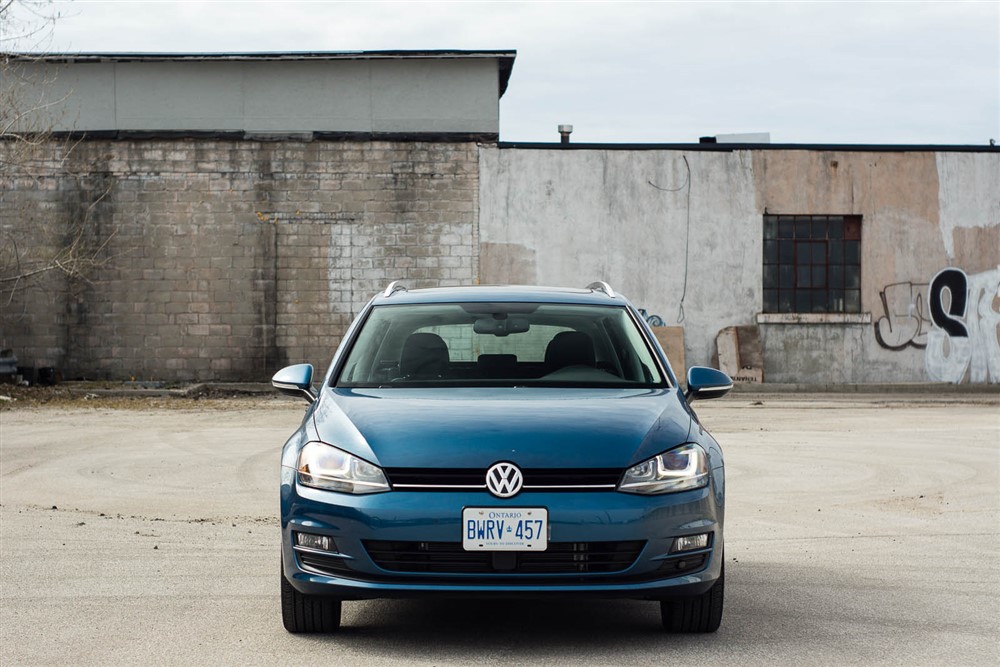 This useful output is paired up to a six-speed DSG (direct shift gearbox). I especially liked how well it was programmed to make the most of the rich torque output, keeping the revs low to get you moving with authority. As we've come to expect out of Volkswagen's transversely-mounted DSG, gear changes are very quick, crisp, and nearly imperceptible, other than the tachometer dancing away in front of you. This power is channeled down to the front wheels, which can easily be overwhelmed if you're too generous with the accelerator pedal. This transmission does not feature a torque converter like Acura's new double-clutch transmission does, so the forward creep you feel as you release the brake is a little different, and less smooth, if you're accustomed to traditional automatic transmissions. One quirk about the Sportwagon TDI, and diesel-equipped vehicles in general: engine braking is almost non-existent.
For those who do a lot of high-speed highway driving, it's pretty hard to beat a diesel in terms of efficiency. Volkswagen Canada rates the Golf Sportwagon TDI at 7.5L/100km in the city, and 5.6L/100km on the highway. During my week of mixed driving, I ended up at 6.9L/100km, over about a distance of 600km. The fuel tank will accept 50L of diesel. If the conditions are right, and you play your cards correctly, it's quite possible to squeeze out over 700km per tank. That's another allure of the diesel engine – long range between fill-ups. It's also important to note the Golf Sportwagon TDI has a separate tank for the AdBlue diesel exhaust fluid. This is only filled up periodically – usually when you bring the car into the dealer for scheduled service.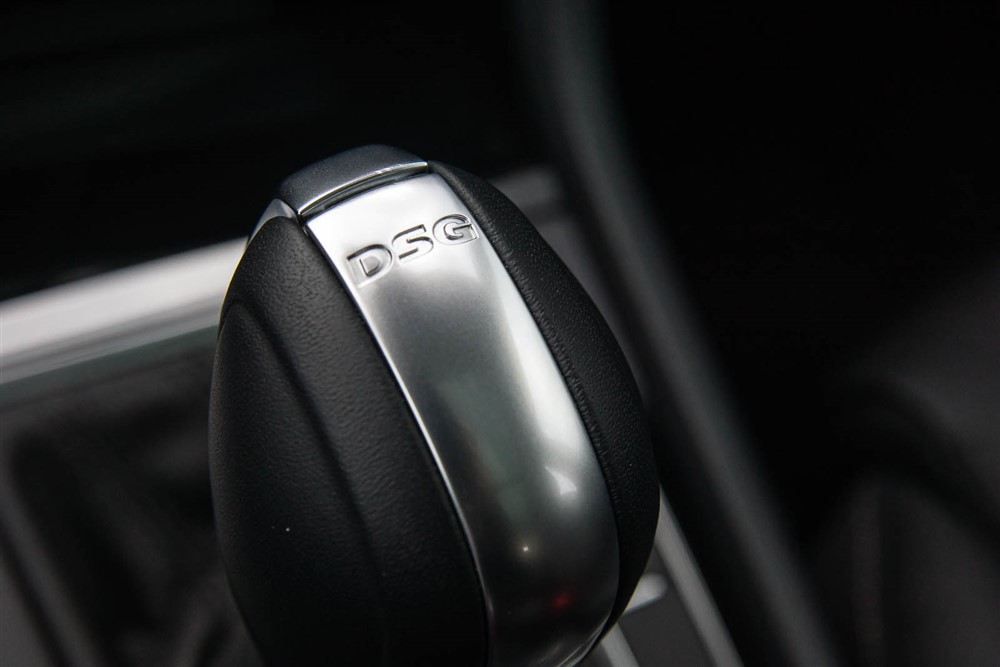 My well-equipped Golf Sportwagon TDI starts at $34,195. There's only one option package available: the Multimedia package, for $2,220. This fairly large package includes not only the 8-speaker Fender audio system, and the satellite navigation system, but it also includes bi-xenon HID headlights, LED daytime-running lights. I think this option package could have been made a little simpler (by sticking to the multimedia bits) and making the upgraded headlights a standard feature on top-end the Highline trim. With that in mind, my particular Golf Sportwagon TDI stickers at $36,415, before taxes and additional dealer fees.
Diesel is attractive to many for its improved high-speed efficiency, but like with hybrid electric cars, one needs to pay a premium up front to get the improved powertrain. Not everybody will benefit from what diesel has to offer, so it's important to weigh the cost difference between opting for the gasoline powertrain versus the optional diesel. In the case of the Golf Sportwagon, the cost difference on a basic level is about $2,000, assuming similar equipment levels.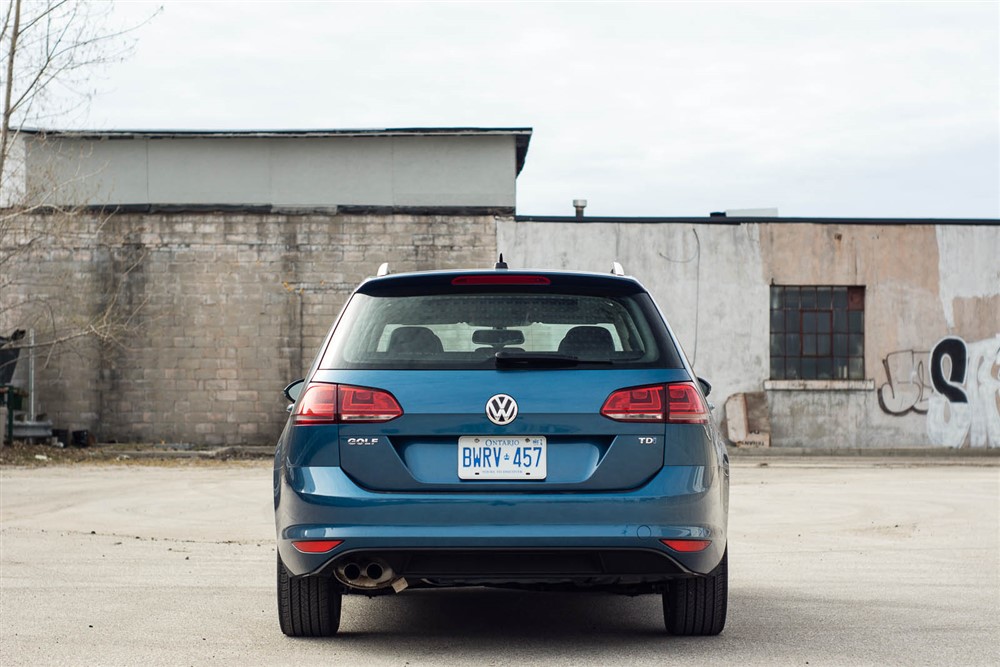 I liked the Golf Sportwagon TDI because it simply does everything very well, in a quiet and confident manner. Its inputs are well-sorted, the ride is comfy and quiet for longer stints, and it can swallow up a ton of your stuff in the back. This is the kind of car that flies under the radar. Never mind the fact that the majority of the general motoring public thinks wagons are "uncool" nowadays – the Golf Sportwagon TDI is for the type of person who doesn't necessarily care about what everybody else says, but just wants the best tool for every job. This car checks off a lot of those boxes for both enthusiasts and real-life people alike.
2015 Volkswagen Golf Sportwagon TDI Gallery
See Also: