BMW has been reporting strong sales figures and growth year over year. The path to their success has largely come down to the sheer onslaught of all the premium markets that exist (or don't exist yet). Their workhorse mainstream 3-Series has evolved in a way that appeals more to today's luxury sport-sedan buyer. The same applies to the 5-Series. The common denominator between these two is the fact that both have grown significantly in size. More on this later.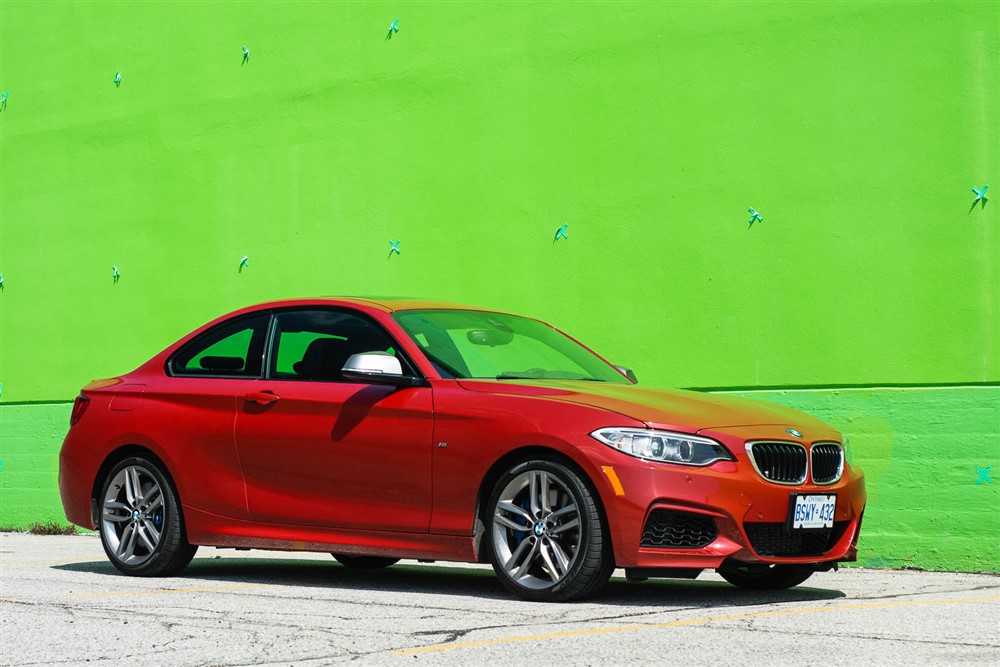 If you take a step back and look at BMW's overall model line, you'll see that not only is there something for just about everybody, there are also a handful of products that have gone on to define new categories. I still don't quite understand the X4 and X6, but from the sheer number of them I see roaming the streets of Toronto, BMW is doing something right.
With the (sometimes lamented) growth of cars like the 3-Series, there existed a 1-Series. Introduced in 2008, the 1-Series coupe appealed not only to the entry-level BMW customer, but to the enthusiast who wanted something new, yet wanted something that stuck to the old-fashioned BMW traditional feel. The 1-Series, as awkward as it looked, with its tall greenhouse, was a popular choice, especially in its 135i guise, which paired up BMW's turbocharged straight-six engine with BMW's smallest body available in North America. With BMW's nomenclature shuffling all but confusing casual observers, the 2-Series was born. Still similarly small, the 2-Series carries on as the smallest entry-level BMW. However, just like the 1-Series, it's possible to price one out to exceed modest expectations (see the 228i here), all the way up to re-creating the image and feel of BMW's small sports car. I picked up the keys to BMW's M235i, with xDrive, painted in a shade of Melbourne Red Metallic.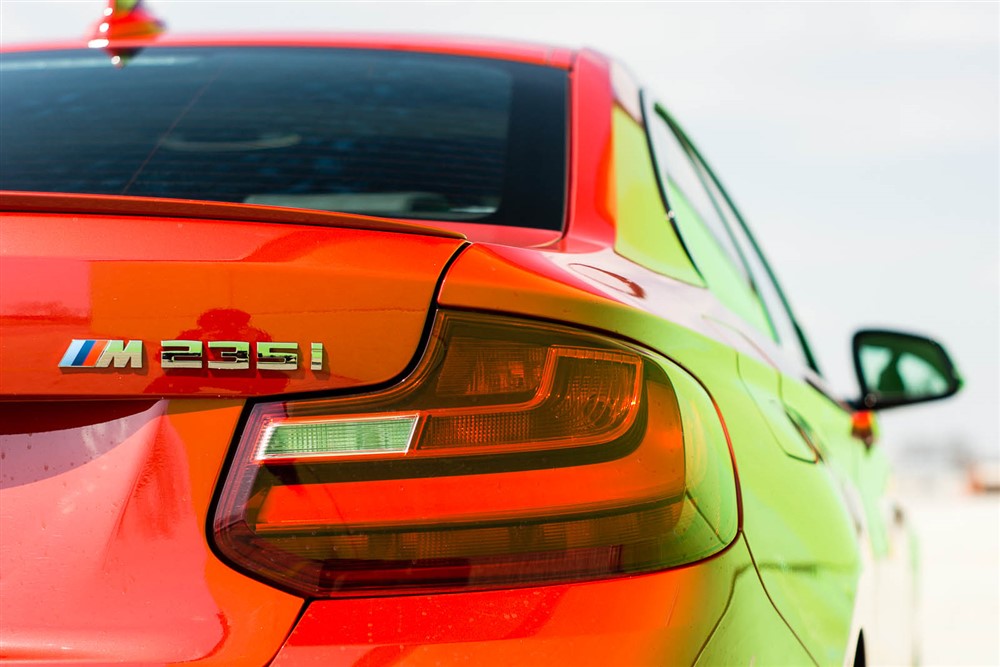 Right when the 2-Series was released, comparisons to the 1-Series were inevitable. You see, there existed a magical special model from 2010-2012 called the 1-Series M-Coupe (unofficially known as the 1M). BMW's engineers were allowed to raid the M-Performance parts bin to outfit the 1M with a whole host of goodies and legitimate hardware. With its tuned turbocharged straight-six, six-speed manual transmission, rear-drive dynamics, and all the associated M upgrades, the 1M quickly became a highly sought-after machine. Its limited production numbers will ensure its cult-classic status for years to come. Many questions were asked whether this new M235i could be called an M2. Time to find out if the comparisons are fair or not.
Comparisons to the 1M aside, the 2-Series also happens to be compared to the E46-generation 3-Series that was produced up until 2007. Dimensionally, the 2-Series and E46 3-Series are within about 5cm of each other. Is it a modern-day E46? In terms of its footprint, I would like to think so – just that the M235i brings nearly all of BMW's modern traits to the table by way of a more cohesive design, more in-line with that of the 3-Series. No longer is it the ugly-duckling like the 1-Series is. I like the shape of the standard high-intensity discharge (HID) headlight modules and how they blend in to the glossy trademark BMW twin-kidney front grille. The M-Sport package that is standard equipment on the M235i adds a different front bumper (with larger air intakes) side skirts, and rear bumper. There are some added glossy black trim pieces, around the side windows and in the grille. My particular M235i rode on 18-inch M-Sport wheels and 225-section winter tires all around.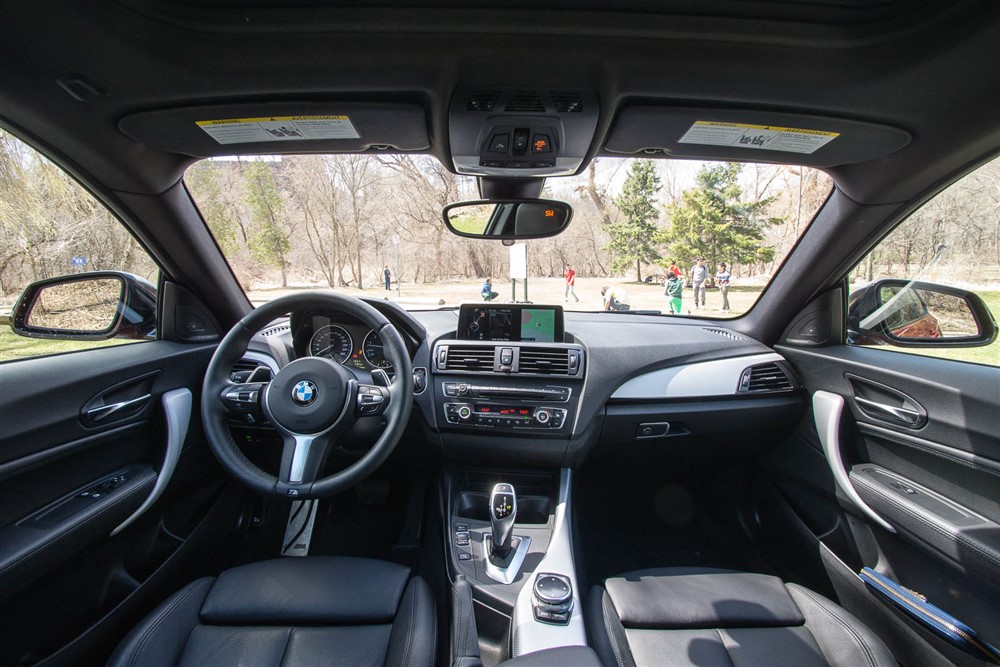 Inside, the M235i doesn't stray far from the corporate BMW interior of today. If you've sat in any modern 3-Series or 4-Series, the 2-Series will feel similar, except for the slightly tighter accommodations. The windshield is closer to you, and there's a little less width between the driver and passenger. Front seat accommodations are adequate for two (with M Sport seats), but rear-seat legroom is considerably tighter for two. Having two smaller occupants in the back will be fine for shorter trips.
The familiar BMW automatic transmission gear selector makes another appearance. Like with other BMWs, I especially like how it doubles as a great place to put my right hand when loafing around in the city. The now-intuitive iDrive system is the only way to interface with the large screen on top of the centre stack. No touchscreens here. My particular tester came with black Dakota leather (not leatherette), and a leather-wrapped (and heated) steering wheel. Another nice touch are the frameless windows. As part of the Premium package, satellite navigation is added, as are the rear-view camera (not standard equipment!), and parking sensors. The Executive package builds on the Premium package, and adds adaptive HID headlights (not of the LED variety), electronic assists such as lane departure, forward collision warning, and automatic high beam headlights. An upgraded Harman/Kardon sound system rounds out the options for the interior. As far as modern BMW option packages go, the M235i keeps things relatively simple.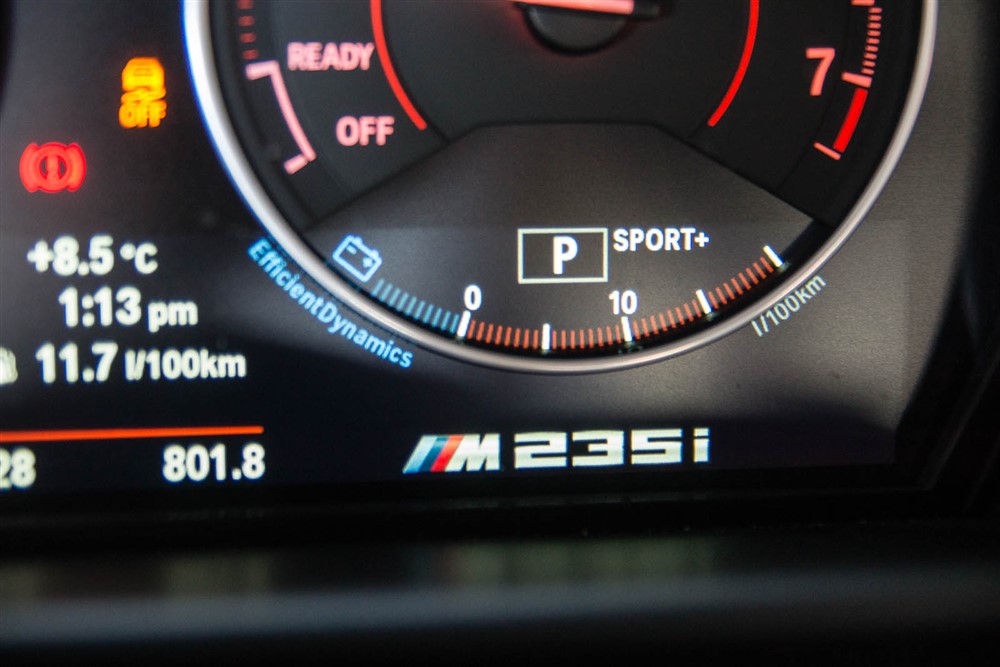 I think most people who are looking at the M235i, are interested because of the whole notion of a big BMW powertrain stuffed into their smallest car. It's highly unlikely you'll leave disappointed. With a tuned, turbocharged, direct-injected, and intercooled 3.0L "N55" inline-six gasoline engine under the hood, you won't be wanting for more power, out of the box. This buttery smooth engine produces 322hp from 5800-6000rpm, and a generous 332lb-ft of torque from 1400-4500rpm. It is an infinitely flexible engine that not only delivers a lot of muscle in the low-end of the rev range, but it can also pull strongly right up to the redline.
This benchmark engine is paired up with a ZF-sourced eight-speed automatic transmission. It is one of our favourite automatic transmissions at the moment, with its quick and crisp shifts and low-speed drivability. However, it is the only choice if you opt for the available xDrive all-wheel drive. If you're looking for do-it-yourself fun via three pedals, you'll have to opt for the rear-drive M235i. Not that this is a bad thing, of course. BMW rates the M235i xDrive as being capable of 0-100km/h in 4.6 seconds – faster than the rear-drive M235i.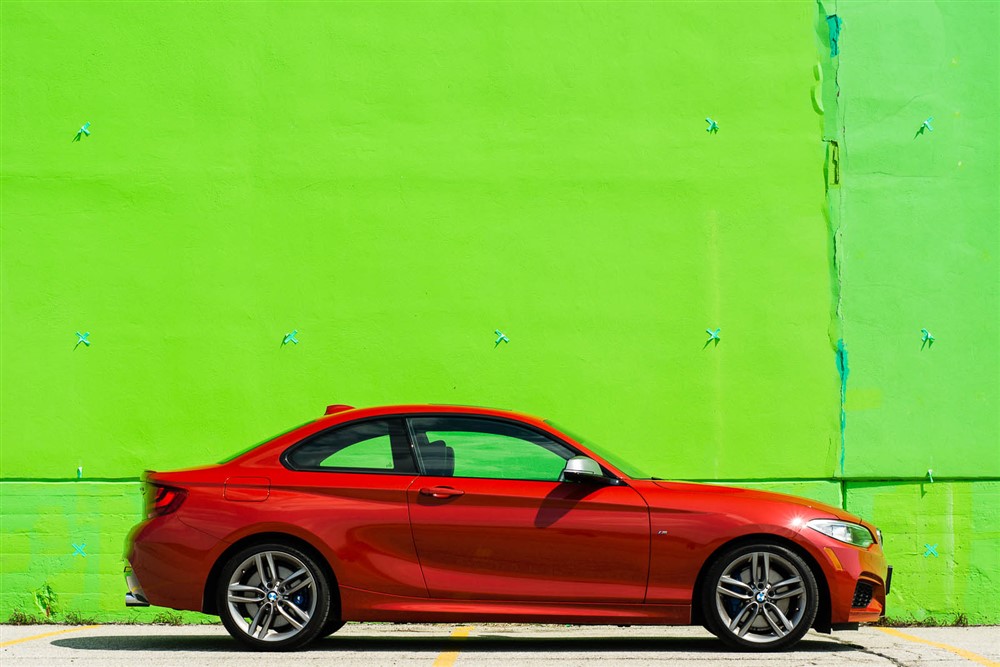 What makes this particular test car special is the $1,500 M Performance Exhaust, complete with engraved M logo on the tailpipe finisher. From how it sounds, it feels like BMW deleted the rear-most set of mufflers, leaving only the resonators behind to reduce exhaust volume. This upgraded exhaust also features an electronic cut-out that opens in one of the two Sport modes, located beside the gear selector. Under the right conditions and settings, the M235i produces a downright intoxicating series of deep pops and crackles under deceleration and as the engine speed drops. As the weather gets better here in Toronto, it's now possible to have the windows down as you drive, as you take in the raucous sound, controlled by your right foot. I essentially became "that guy", turning heads as I rolled down the street in what could not be described as a discreet manner. This M Performance Exhaust is probably my favourite part of the car.
Speaking of sounds – the M235i does what many modern BMWs are doing nowadays, with sound being synthetically generated and pumped into the cabin to augment what has become an otherwise very quiet powertrain. With all the demands for better NVH (noise, vibration, and harshness), sound insulation plays an important role in keeping commuters happy when they when not looking to drive in a spirited manner. In the default Comfort or Eco Pro, the M235i is a supremely quiet car when you need it to be, with just a hint of the sound generated by that straight-six engine. Once you toggle over to Sport, or Sport+, the volume immediately kicks up, and if you listen carefully, you'll be able to hear it all coming from the speakers, and not from under the hood. An interesting experiment is to toggle back to Comfort whilst at speed and steady throttle input. The difference in the sound coming through the speakers is significant, and a little disappointing, if I'm honest. What's not synthetic, however, is the natural sound produced by that excellent M Performance Exhaust.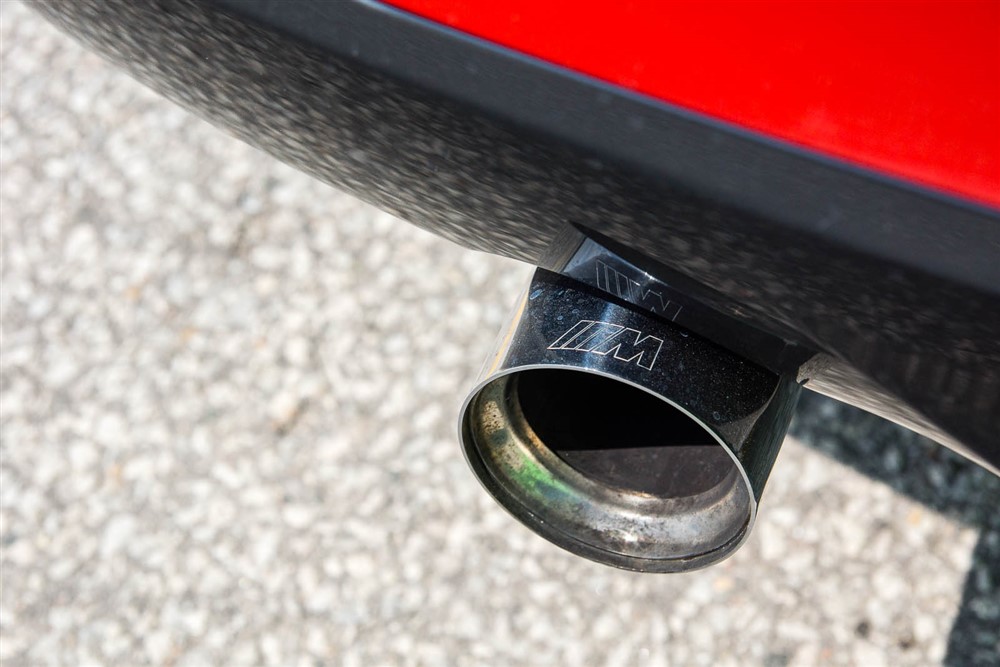 BMW rates the M235i xDrive at 11.8L/100km in the city, 7.8L/100km on the highway, and 10.0L/100km in a combined cycle. I spent a lot of time in the Sport+ mode, and in a mixed, but mostly city environment, and ended up with a week-long average of 11.7L/100km over about 900km. If you spend a fair bit of time on the highway, enabling EcoPro and utilizing the long eighth gear will quickly bring down the average fuel efficiency readings. The M235i will accept 52L of premium fuel.
The BMW M235i xDrive starts at $48,750. Selecting any sort of metallic colour will hike the price $895. Opting for the Executive package also means selecting the Premium package, which makes for $7,000 in option packages. This loads up the M235i with lots of technology and gadgets mentioned earlier. The M235i is only available in an "M-Sport" guise, which includes variable sport steering, adaptive dampers, and upgraded M-Sport brakes. Just about the only option as far as performance goes is the M Performance Exhaust. This option box is worth every single penny, considering it can do double-duty as a quiet boulevard cruiser, or turn into something hilariously fun. As tested, this particular M235i rings in at $60,963, before taxes and additional administration fees.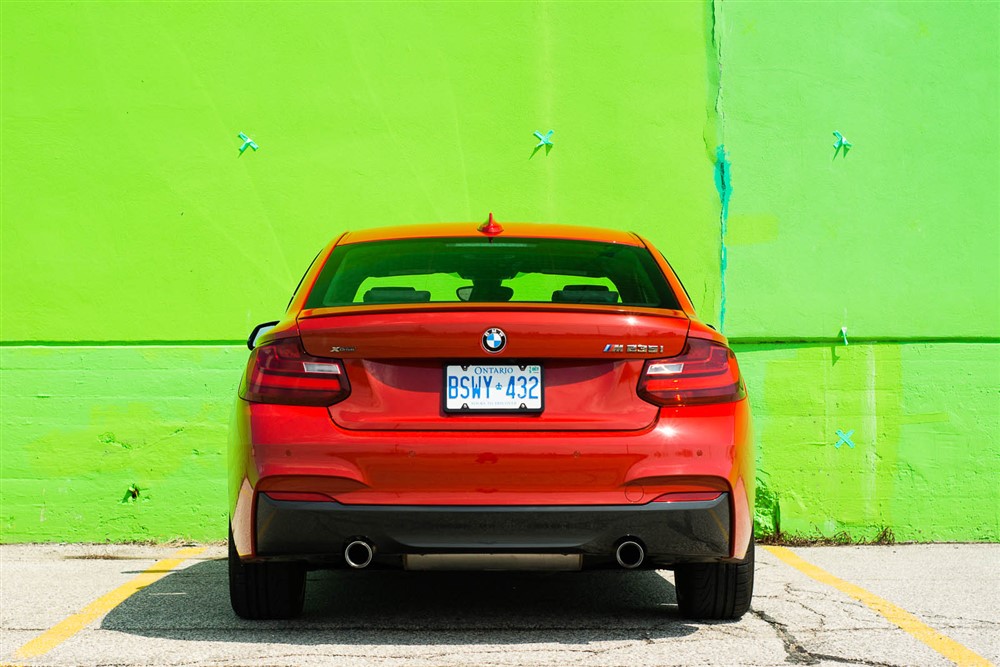 The BMW M235i comes to market at a time where all the big German players are trying their hand at hot versions of their smallest cars. Mercedes-Benz has their CLA45 AMG, which gives you a high-boost 355hp four-cylinder engine (transversely mounted), paired up with a primarily front-biased all-wheel drive system. Even though it features four doors, accommodations (especially headroom) are very tight for second-row passengers. Equipped with similar options (like the AMG Performance Suspension and Exhaust, keyless entry and start, satellite navigation), the CLA45 comes in at just under $60,000. The styling and driving feel differ a fair bit (be sure to try out Mercedes' seven-speed double-clutch transmission), but it also brings a lot of performance credentials to the table.
In the other corner is the Audi S3. Styled a little more conventionally, it is an attractive and extremely well-rounded performance machine. Sporting a similar high-boost four-cylinder engine (also transversely-mounted) and a performance-tuned Haldex all-wheel drive system, it is a little down on pure horsepower and torque (290hp and 280lb-ft, respectively). Nonetheless, I love the S3 for its everyday usability (a functional second row is a big deal), and Audi's S-tronic six-speed double-clutch gearbox has the refinement game down pat, though it's just one step behind the ZF eight-speed in the BMW M235i. Dressed up in Sepang Blue and with every option selected, you'll stand to save a few thousand dollars.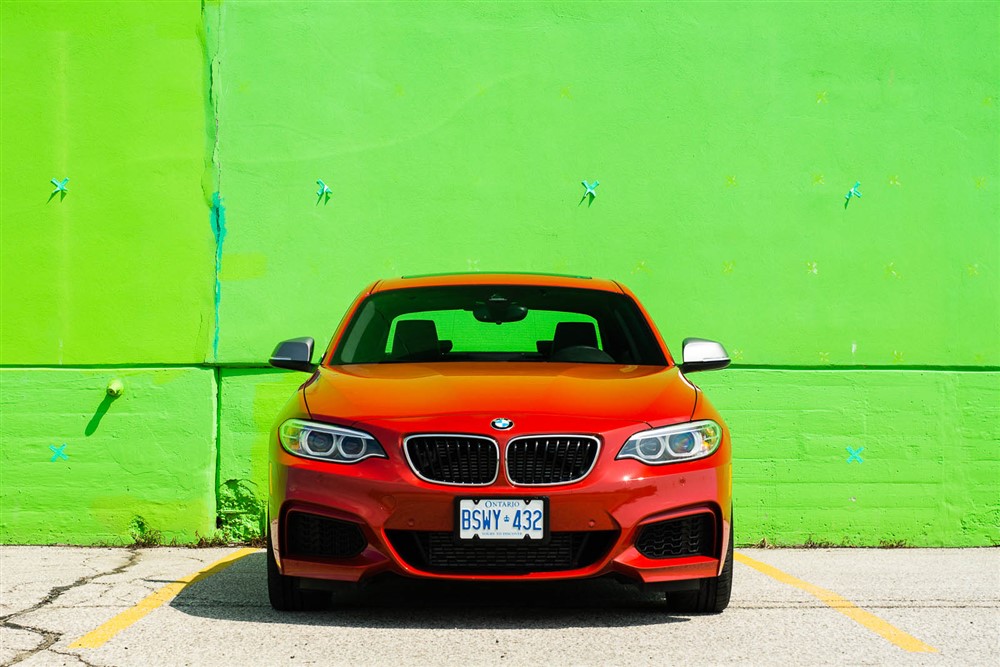 At the end of my week, the thought of the letter "M" came up, and whether it is a good fit beside the 235i moniker. This car doesn't get the true M goodies, like a highly-tuned M-division motor, the M DCT gearbox, or limited slip differentials (at least as standard equipment). The badge on the front fenders would have you believe this may be an M car, but it really is not. Calling it an M2 would be offensive to the M brand, full stop. This car actually fits in most appropriately with the rest of the "M-Sport" lineup. With common items like a slight power bump, unique wheels, and improved brakes, it doesn't stray too far from what would be a standard "35" model would represent. I would feel more appropriate calling it a 235i M-Sport, not an M235i. It also doesn't quite compare to the beloved 1-Series M Coupe, either. There are rumblings of an M2 that may be coming, so the comparisons will have to wait until then.
The BMW M235i, at the end of the day, is a refreshing "right-size" option, considering the model and feature bloat that is being seen across the industry. The turbocharged straight-six and ZF eight-speed automatic transmission combination is one of the best in the business, and delivers a superior rear-drive feel to that of its high-strung four-cylinder competitors. Paired up with the M Performance Exhaust, this M235i is an exciting car at low-speeds, where you can hear the exhaust play to the crowd, and at high-speeds, where the powertrain really shines. In most respects, you can think of it as a modern-day BMW of yesteryear. To people like me who remember the "good old days", the M235i brings back some of those good feelings.
2015 BMW M235i xDrive Gallery
See Also: