In the early 2000s, Nissan was arguably the first manufacturer to literally think out of the box and experiment with a crossover vehicle that wasn't as bland to look at as a common refrigerator. The real question was, would they be successful? Would the general car-buying public actually buy a crossover with polarizing, modern styling over the likes of the Toyota Highlander, the popular Honda CR-V, and the Subaru Forester? We would later learn that they were indeed triumphant with this endeavour, as the Nissan Murano would go on to become a popular crossover with a devout cult-like following. Now in its third generation, we were handed a 2015 Nissan Murano SL AWD to evaluate for a week.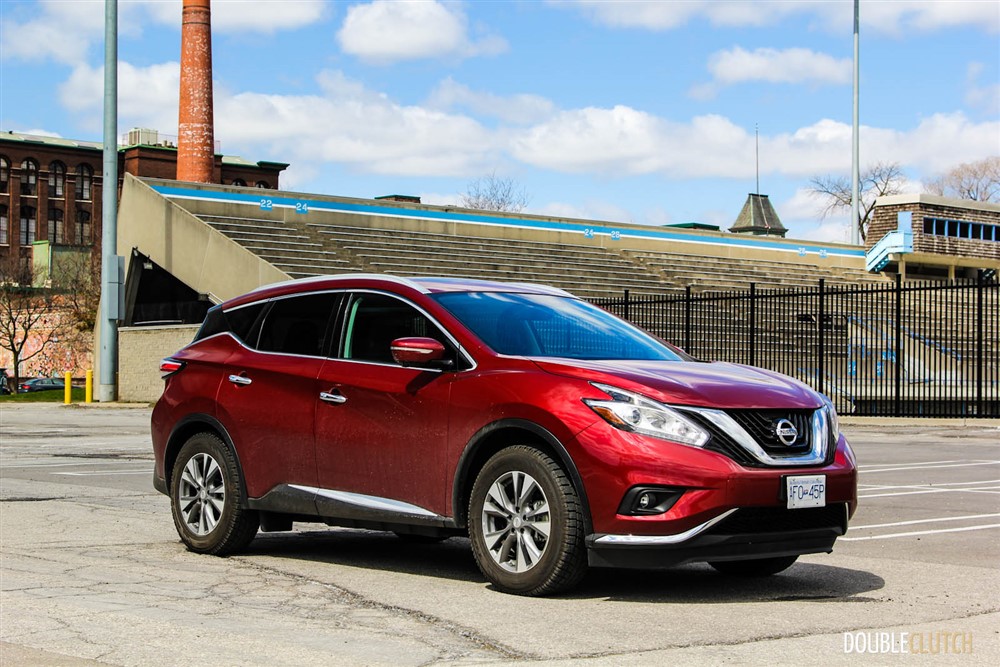 The first thing that occurred to me when picking our Cayenne Red 2015 Murano is that the new one is even more angular and aggressively styled from the pack than the original Murano that debuted back in 2003. The early 2000s was an era that flourished for the Nissan/Infiniti group; they created and sold hits such as the 350Z, the Murano-based Infiniti FX crossover, the popular G35 (coupe / sedan) and the fantastic Altima that changed the Nissan brand's image towards excitement. While I'll confess to being impressed by the first generation (2003-2008) Murano, I was never really a fan of the outgoing second generation (2009-2014) Murano; it took a successful design and slapped a controversial grille on it that looked like an unsightly unibrow on the front.
Although the new 2015 Nissan Murano has some odd angles that clearly stand out from every other crossover on the road, I've got to say, I like every single one of these angles and design lines. The front appears to look menacing and sincerely evil, a look that no other crossover on the market is able to pull off. The Murano's side profile is aerodynamic and truly modern with a roofline that appears considerably lower than it is, and the rear end (especially the C and D pillars) make perfect use of acute angles. This really is a crossover that projects a premium, modern image. There's no denying design similarities between the recently refreshed Toyota Highlander and the new Nissan Murano, but these rivals have always had a considerable amount in common. They're both exceptional crossovers that, with their latest redesigns, are tiptoeing dangerously into the territory of their luxury Lexus and Infiniti-branded cousins.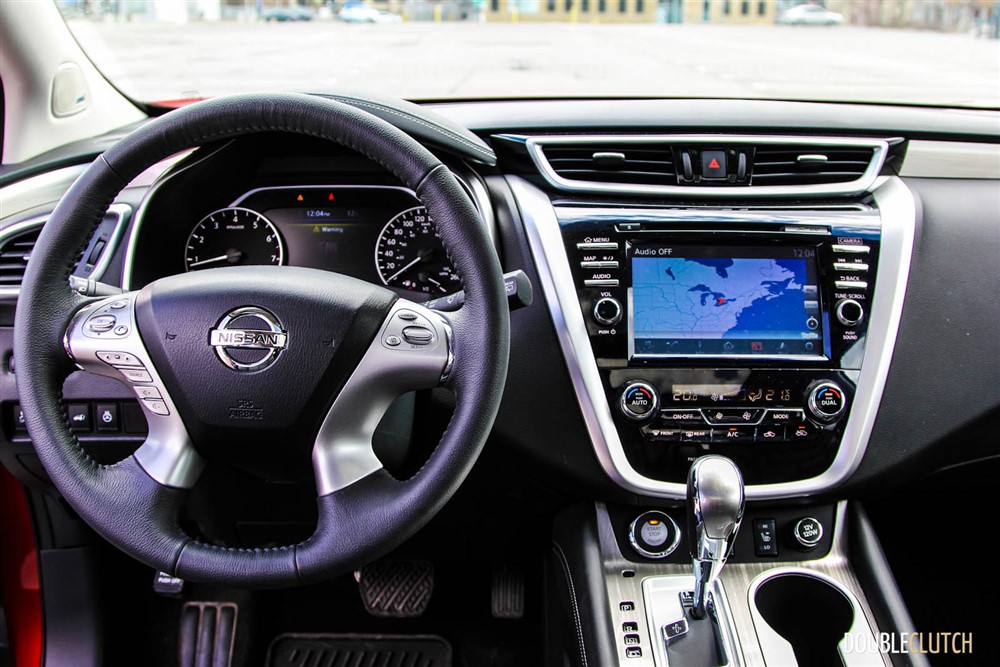 On the inside, Nissan's larger crossover immediately stands out from its smaller brother, the popular and similarly styled Rogue. The 2015 Nissan Murano uses interior bits and materials that were previously unique to the more luxurious Infiniti brand, and is considerably more upscale-feeling than its predecessor. The dash is upholstered in a nice soft-touch material, and the leather seats are supple and very comfortable. The NASA-inspired "zero gravity" seats introduced on the 2013 Altima are also at play here. The layout of all the major controls is clever and well thought out, and most drivers will have no problems finding things. Plus, the piano black finish on the centre stack and eye-catching brushed metal trim on the door panels are great touches that stand out. The Murano's interior is a very pleasant place to be, and the quality is on par with everything in the more premium Infiniti lineup, and that's a very good thing.
The Bose audio system is noteworthy here as it includes 9 speakers and two subwoofers. The partnership between Bose and Nissan is one that's been around for decades, and it's one that has been refined over the years to ensure that each stereo setup is tweaked and tuned meticulously for each specific car. One of the writers on our team here at DoubleClutch.ca has a 2002 Maxima as his test vehicle leave-behind, and even though that car has become quite tired over the years, the Bose stereo still sounds exquisite.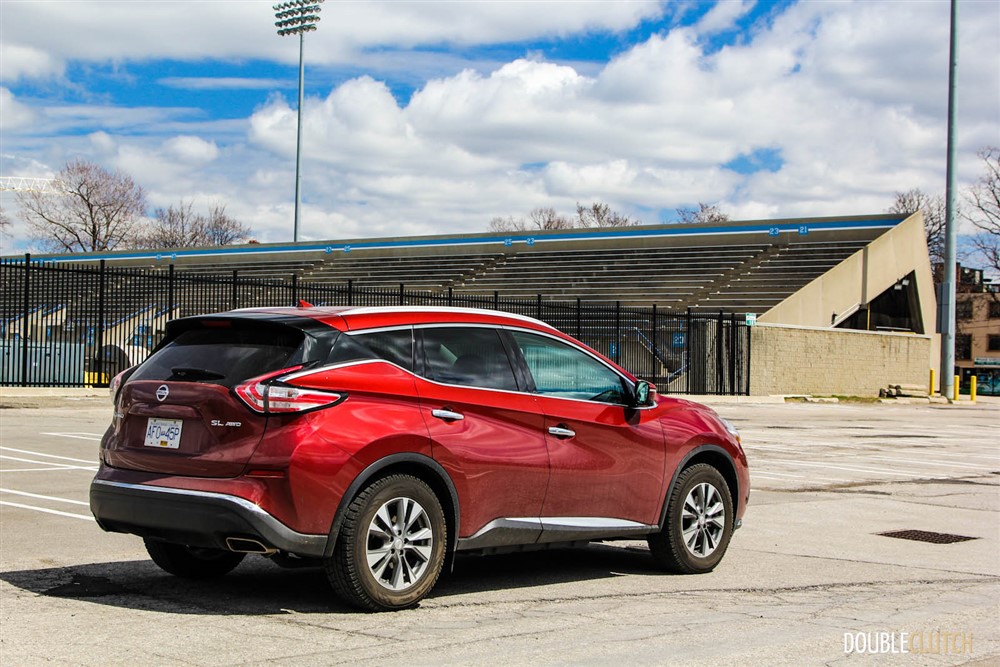 Under the hood of the new Murano is the ever-familiar Nissan staple motor, the very versatile 3.5L VQ V6 engine. This proven motor has been around a while, and while it may be getting dated, it still holds a special place in my heart. After all, it's an older version of this very block that powers my heavily-modified 350Z. In the Murano though, the VQ35 has been heavily tweaked with many new components, and is good for 260 horsepower at 6000rpm and 240 lb-ft of torque at 4400rpm. This isn't exactly a powerhouse of an engine, and it's not intended to be, but the Murano moves nicely when asked to. Where it excels is in overall smoothness, and that's a new trait for the VQ35 engine that I was surprised to see. Previously reputed as a thrashy motor that could have used some refining, the VQ has continued to evolve and is incredibly smooth in this application, making every move the Murano makes a simply effortless process.
The only available transmission in the Murano is Nissan's CVT, which is unsurprising given the fact that the vast majority of Nissan products have transitioned to this gearbox over the years. Though critics (including our own team) have been giving the continuously variable transmission (CVT) a considerable amount of hell, Nissan is one of the two brands (Subaru being the second) that has now improved this technology to a point of near-perfection. The lack of shifts mean the car's demeanor becomes even smoother, plus the gearless nature of the transmission also contributes to quicker overall acceleration, not to mention superior fuel economy.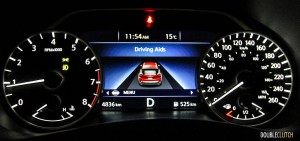 I logged about 400km on the Murano during my test week, which was basically one combined fuel cycle. My driving was a solid amount of city commuting, with about 20% highway driving thrown into the mix. This resulted in 11L/100km on premium grade fuel, which isn't too shabby for a V6-powered crossover featuring all-wheel-drive. This isn't an ideal number, because the Murano really comes alive on the highway, where its faultless driving dynamics and smooth ride come in to play. I'd imagine this Nissan would be more than capable of numbers in the vicinity of 9L/100km on longer highway hauls.
Unsurprisingly, Nissan hasn't announced a "Nismo" version of the Murano, and we shouldn't expect to see one anytime soon. The well-equipped 2015 Murano SL AWD I drove is still sporty enough for a crossover without being too over-the-top for most buyers. Ride quality is excellent, and they have done away with a good chunk of the firmness the first-generation Murano was both loved and hated for. Those with sportier agendas loved the harshness of the ride in the old car, but regular families were against being bounced around or having to feel every imperfection in the road beneath them. The steering is considerably better too; the Murano is a competent handler and body roll is minimal for a crossover in this class.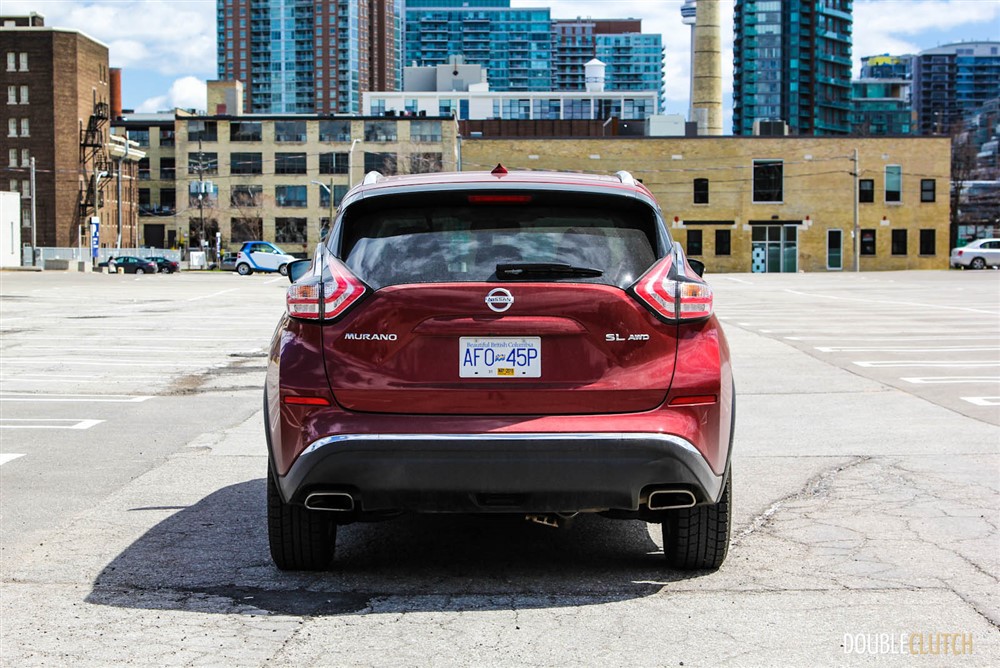 Our Murano SL model tester slots below the Murano Platinum, which sits at the top of the Murano lineup. Standard features on the SL include heated leather seats, Bose audio, a full satellite navigation with 8-inch touchscreen, a 7-inch colour screen within the instrument cluster, 360-degree parking camera, 18-inch alloy wheels, HID bi-xenon projector headlights, LED taillights, dual-panel sunroof, intelligent key, dual-zone automatic climate control, and a heated steering wheel. While the base model for the Murano (Murano S) starts at just $29,998, this SL trim as tested had a sticker of $38,398, which also includes standard all-wheel-drive.
The 2015 Nissan Murano may be a crossover with a Nissan badge on it, but anyone who spends any amount of time with it will quickly learn that it has much more upscale and luxurious feel to it than ever before. The Infiniti QX70 (formerly known as the FX) it shares a much of its platform with is due for an update soon, but it still remains competitive in its class. At this genuinely attainable as-tested price of under $40,000, the 2015 Nissan Murano is an excellent choice that provides plenty of versatility for family excursions, plus its distinctive styling and value actually starts at under $30,000 in Canada. If you're searching for a proven multi-function crossover that stands out in the vast sea of bland, the 2015 Murano is sure to get noticed every single time it's pulled out of the garage.
2015 Nissan Murano SL Gallery
See Also:
2015 Toyota Highlander XLE AWD