The mid-sized CUV segment isn't usually something I get excited about. Sure, the thought of getting decent fuel economy, the utility of a SUV and car-like road manners is great, but it's not exciting. Mazda on the other hand, has a bit of a reputation for building a little excitement into everything they put their name on. I've driven some Mazdas, usually of the smaller variety, that I've adored, and others that I couldn't wait to get out of. The way I see it, Mazda sportiness works great on a compact, but I start to lose appreciation pretty quickly when it's on a 7-passenger full-sized CUV. The Mazda CX-5 is quickly becoming a staple in the mid-size CUV market, but does the latest 2016 redesign deliver that perfect balance of sportiness and practicality, or has it missed the mark? I spent a busy week with a factory fresh 2016 Mazda CX-5 GT to find out.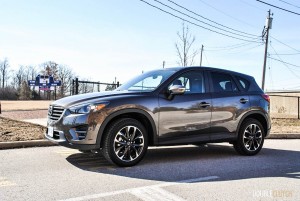 Firstly, the aesthetics of offerings in this segment are generally not something that I get overly concerned about. The CX-5 is what I'd call a very handsome looking little CUV. It's perfectly proportioned and all of its subtle curves and lines flow very well. It actually looks a lot like a taller version of a Mazda3 hatchback, which is a very good thing. The CX-5's looks aren't exactly going to stop traffic, but I think you'd be hard pressed to find a more agreeable looking CUV, and my GT trim tester came equipped with some great looking 19" rims.
I recall raving last year about how much I liked the interior and dashboard of the Mazda3; much like the exterior, the CX-5 appears to be cut from a very similar cloth. It's instantly obvious when sitting in the driver's seat that Mazda has spent a lot of time creating the perfect driver centric cockpit. It's easy to adjust and settle into a great driving position with the 8-way power seat. The gauge cluster clearly and concisely presents information without being a distraction and the steering wheel controls are nothing short of intuitive. Better yet, Mazda has gotten rid of the TomTom branded Navigation system and is utilizing their own proprietary system with HMI. Much like in the Mazda3, the new system is controlled using either the touch screen or two rotary dials and some buttons expertly positioned on the center console. While I know Mazda may have borrowed this control system from the Germans, I personally believe they've done a better job of it. I am confident that almost anyone could jump into this vehicle and operate everything with ease.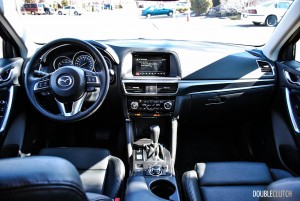 Electronics aside, the interior is a very pleasant place to be. While one wouldn't expect top of the line materials in a CUV at this price point, the plastics Mazda has used certainly perform above their pay grade, and the overall fit and finish of everything is very well done. The GT trim level comes with nice leather seating and red accent stitching; it also boasts a leather wrapped steering wheel and gear shift, both of which feel great to operate.
Speaking of feeling great, it's difficult not to when you're driving the CX-5. I was initially a little worried that Mazda's sporty approach to building their vehicles would take away some of the quiet comfort that I enjoy of other CUVs, but that's absolutely not the case. I am happy to report that Mazda has done an excellent job adding just enough sportiness to the CX-5 to make it fun, without taking away from practically or comfort at all. The steering in the CX-5 feel very direct, perfectly weighted, and the CX-5 is capable of handling curves at moderate speeds without so much as a tire squeal. The throttle also feels very linear and responsive even though the 184-horsepower SkyActiv 2.5L 4-cylinder is tasked with moving the almost 3600lb CUV. For that reason, acceleration does leave a lot to be desired, but surprisingly I don't mind. The steering, handling, response and overall dynamics of the CX-5 more than make up for its lack of straight line speed, meaning you can have fun without paying for it at the pumps. During my week of rush hour commuting, I averaged a healthy 9.2L/100km and was able to bring that average down to 8.5L/100km on a lengthy highway run.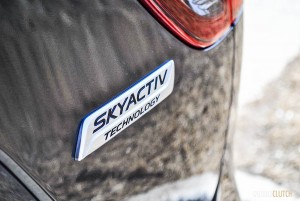 About that highway trip; it was a busy Thursday morning in the office when I received a callback from someone selling some much needed parts for my current project car. I was able to negotiate a great deal on the parts, but the catch was I needed to pick them up that evening almost 200kms out of town. I jumped into the CX-5 after work, folded the rear seats flat and hit the highway. It was a cold damp night, but the CX-5 really got to prove its worth as a practical highway cruiser. When rolling along the highway, the interior remains free of any obtrusive road or wind noise. The ride, while firm and confident, is soft enough to provide a nice relaxed drive even on roads suffering the ravages of winter.
My tester was equipped with a $2,100 technology package, and the package includes two features that are critical to an enjoyable trip like this; XM satellite radio and Mazda Radar Cruise Control (MRCC). It also includes a host of driving aids- not something I generally pay attention to but on a dark and late day trip like this, it was nice to know they were there. The MRCC system worked flawlessly, slowing down and speeding up the CX-5 to my cruise speed as required, maintaining my pre-set distance to the car ahead. As someone who has been known to debate the usefulness of every electronic gadget added to vehicles in the last 20 years, I have to admit I appreciated this system. Not only is the MRCC system a great feature, but it wasn't something I expected in an affordable mid-size CUV. It's a good thing I like the cruise control so much though, as the only way you can equip your CX-5 with XM radio (from the factory at least) is by paying for the rather pricey Technology Package. When other manufacturers like Chrysler practically give XM radio away in anything they sell, I have to question Mazda's logic of baking it into such a package.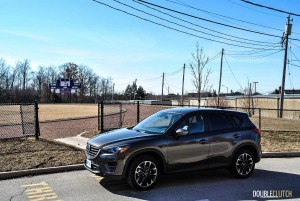 My fully loaded CX-5 AWD GT tester came out to $37,500, which I'd consider fairly in line with its competitors. That said, if you can forego the technology package you can save yourself $2,100 right there. Give up the GT trim in favor of the GS and for around $32,000, you can still have goodies like leather, rain-sensing wipers and a sunroof.
To answer my original question, Mazda has landed the CX-5 directly on target with its great balance of sportiness, practically and comfort. Mazda has already made a lot of headway in this segment with the CX-5, and with this improved 2016 design I am confident that Mazda is a very strong competitor that's going to continue to see strong sales. Now all they need to do is sort out their option packages. If I was in the market for a smaller CUV, this is the one I'd have.
2016 Mazda CX-5 GT Gallery
See Also: