Generally speaking, it's the unremarkable cars that are toughest to write about.  Those that deliver on their promise of mediocrity tend to neither excite, nor offend the evaluator and leave the hapless auto scribe scrambling to fashion a creative way of summing up the uninspired driving experience and not just reiterate what the marketing-folk have provided in their media releases. On the other hand, vehicles that elicit a strong emotional reaction, be it positive or negative, are the ones that provide the most fodder for passionate penmanship simply because the car is different – and different gives something to talk about.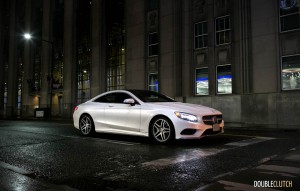 To that end, the 2015 Mercedes-Benz S550 Coupe 4MATIC should be a quick write and an engaging read, given that is a veritable superlative on wheels. And yet, there's no clear place to begin aside from rushing headfirst into how it is unequivocally one of the most sensational automotive masterpieces to grace our roadways. 
Whereas this car's larger sibling, the S-Class sedan, is obligated to make styling concessions in the name of practicality, the designers of the Coupe were obligated only to design a car that is bound to capture the admiring glances of passersby.  At more than five metres in length, the S Coupe casts a grander profile than some full size sedans, but it is also low and wide with just enough character to be interesting without becoming gaudy.  The proportions are just right.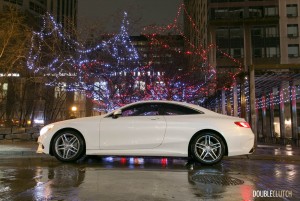 From A-pillar through the roofline and sweeping down through the C-pillar, the greenhouse forms a squat arc uninterrupted by any B-pillar.  The pair of sharp creases running from front wheel arch to rear, break up the vertical visual mass of the doors and rear fenders while helping to reinforce the squat stance on its forged 19" AMG wheels.  It is a design sure to age well over the decades to come, maintaining its grandeur in a way we have not seen in the flagship two door Benz GT since the 560 SEC. The artistry continues within the S550's cabin as well.  Any surface that may be touched by a human is carefully finished in pleasing shapes and fine materials.  In this press car, the anthracite poplar wood is contrasted beautifully against the aluminum trim pieces, and the black passion leather seats (and console and arm rests and dash) are both butter-soft and deliciously aromatic.
The seats, with several massage features ranging from gentle to vigorous are, of course, cooled and heated.  The steering wheel and even the armrests are heated too.  Colour-selectable LED lighting gently illuminates the interior's interesting curves and edges at night – set to a calming blue tint in our test car. Even the Burmester surround sound system's speakers are artfully designed with metal grilles featuring stylized f-holes.  The climate control system dispenses a prescribed amount of perfume intermittently and can range from pleasantly subtle to an Abercrombie & Fitch store in terms of intensity, or it can be turned off altogether.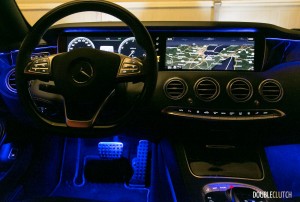 All of this combines to create a serene driving environment, allowing the driver sublime comfort and enabling full attention to be paid to the task of actually commanding this vessel.  Given the sheer number of features and controls at the driver's beck and call (including the latest Mercedes' COMAND interface displayed on a 12.3" high resolution screen), it is a good thing the S550 is so calming.
Should the commander have a momentary lapse, putting car and occupants in harm's way, the S-Class Coupe will the marque's latest safety engineering to the test.  Our Coupe boasted a full suite of technological active safety advancements including the increasingly common collision avoidance assistants and unique features like Crosswind Assist that helps offset lateral wind gusts.  The optional night vision system fitted to our car portrays an unbelievably clear view on primary gauge display screen.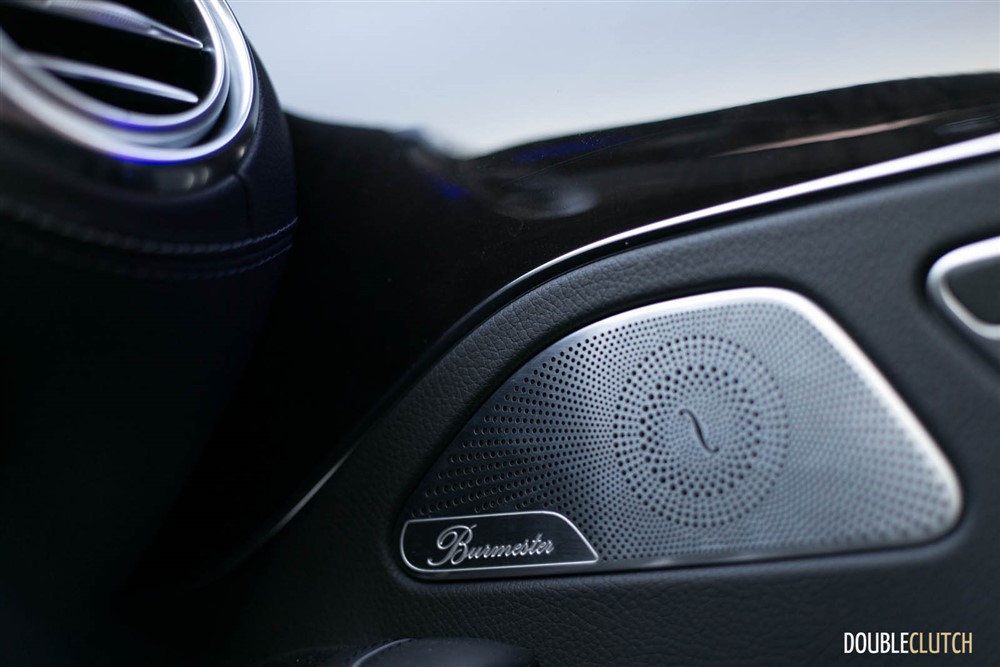 Motivated by a 4.7L twin-turbo V8, the S550 Coupe makes very good use of its 449 horses (not to mention the prodigious 516 lb-ft of torque) and propels the 2,100 kg cruiser to 100 km/h in just 4.6 seconds.  Megalomaniacs can order up an S63 AMG Coupe with 577 horsepower, or the even more insane S65 AMG with its 621 horsepower V12. Truthfully, the "base" engine in our test car is more than anyone truly needs and it is delightfully smooth, yet gives enough throaty growl when prodded, reminding the driver of its potency.  The 7G-TRONIC PLUS 7-speed automatic transmission does a decent job of changing gears rapidly enough when pushed, but its true calling is delivering liquid-smooth shifts.
The S Coupe's handling and braking are also impressive considering the car's size and the fact that it is not intended to be a sports car so much as a grand touring machine.  Steering feel is lacking somewhat due to heavily boosted electric steering, but thanks to the 4MATIC all-wheel-drive system, it requires downright silly behavior to get the big Benz to lose composure, even in fairly tight corners at elevated speeds.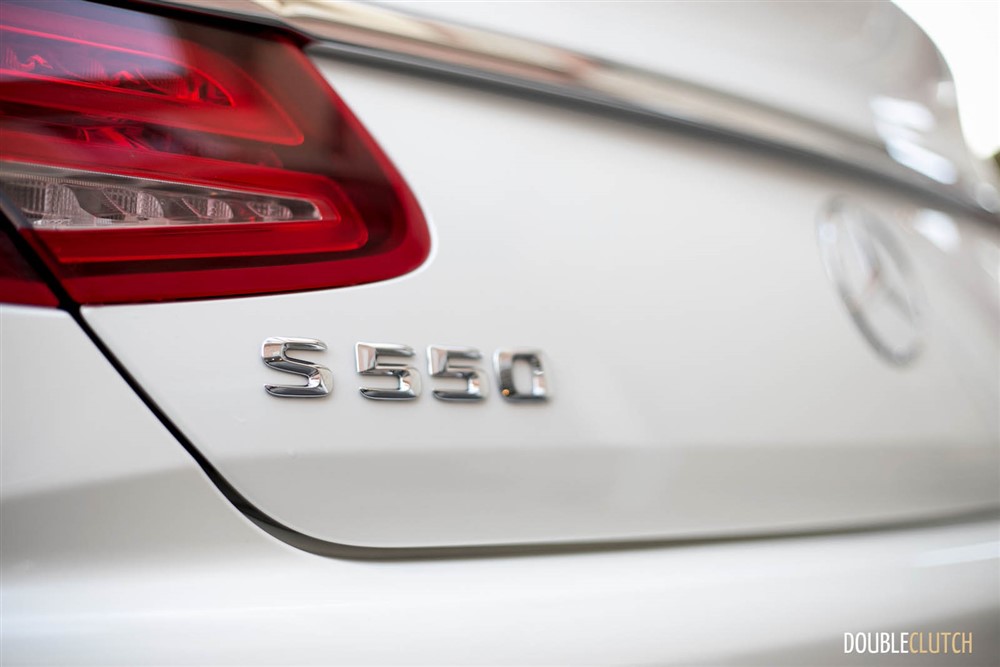 The challenge here is that an automotive review is beholden to objectively critique the subject.  But to criticize the S550 is rather akin to making musical suggestions for improvement to Bach's Mass in B minor, or complaining about the Lalique Cire Perdue your Macallan 64 came in.  Nevertheless, there are a few nits to pick.  Significant?  No, so forgive us; we are merely doing our job.
First, the rear 3/4 vision is limited due to the squat and steeply raked roofline, so careful blind spot checks or precisely positioned mirrors are imperative to maintain the Benz's beautiful fenders. Next, the rear seat is not as spacious as one might hope for in a car that is 15 centimeters longer than an E Class.  The trunk holds a little more than half what the smaller mid-size Benz sedan's will too.  But of course, neither of these matter to the Captain of Industry or NBA star who uses the S Coupe to whisk a lucky (and surely attractive) companion from valet to valet.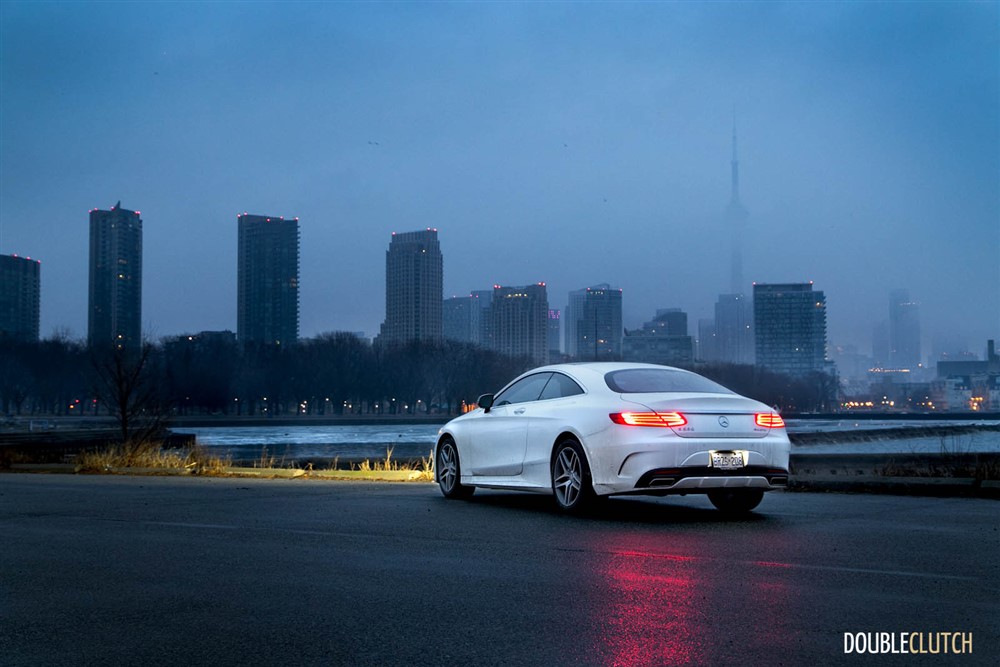 The sheer number of functions the S550 Coupe is able to perform in order to maintain its occupants' safety and supreme contentment means an overly complex system to master.  This requires considerable time to familiarize one's self enough to become decently proficient with sometimes even rudimentary climate or audio controls. Other functions become more challenging.  For instance, adjusting the positioning and temperature of the seats is a task handled by a series of buttons on the door, but fine-tuning the shape of the seat and intensity of massage is handled through a multi-step journey into the COMAND interface.
Nearly two thirds of the dashboard width is spanned with high resolution screens depicting everything from navigation and entertainment information, to the tachometer and speedometer, designed to look like a traditional set of analogue dials.  There is so much information being presented to the driver, there is not even proper space for a traditional bar graph or needle gauge for the fuel level, which is instead communicated via a numeric percentage.   Such is the price of progress. And let's face it; even though the excellence of this car makes it truly a good value at more than $155,000, it is a little ostentatious; more so with the gratuitous indulgence of a chandelier's worth of Swarovski crystals added to the headlights – a $4,000 option fitted to our tester.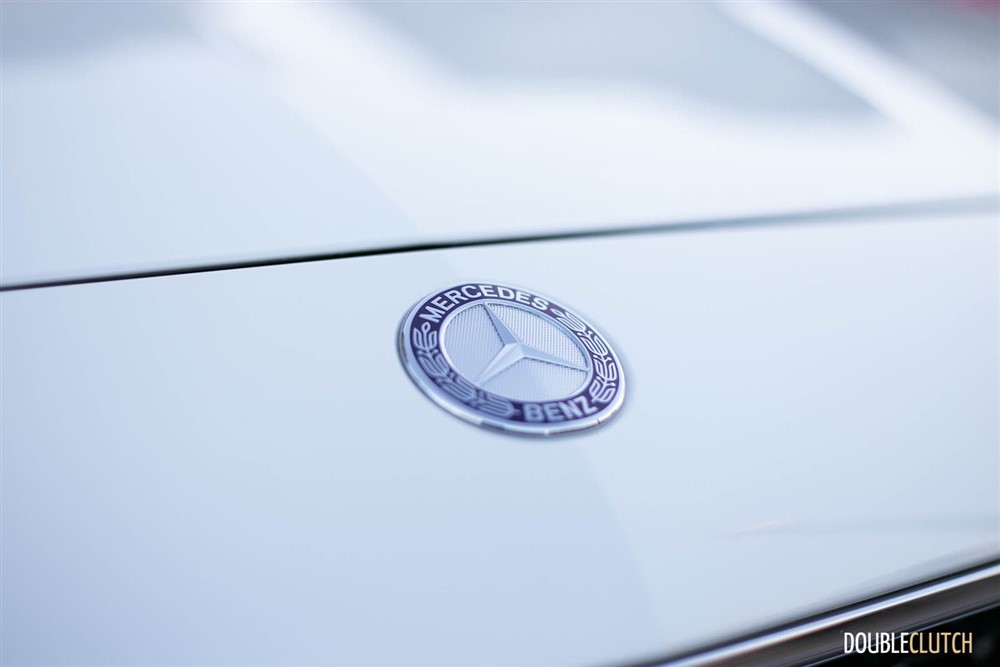 Ultimately, the S550 Coupe is an earthbound personal jet for the crowd accustomed to flying in personal jets.  It is startlingly fast, delectably lavish, highly fashionable and exquisitely detailed.  It is masterful engineering and a vehicular work of art to be admired by those ensconced within its luxury, and those outside wishing they were.
2015 Mercedes-Benz S550 Coupe Gallery
See Also:
2014 Mercedes-Benz E350 Cabriolet