The Dodge Charger is a name that has been around for just over half a century. The name was first seen on a show car in 1964, it has experienced many transformations, from a full-fledged muscle car to a sporty coupe. The latest iteration is a full-sized sedan based on the Chrysler LX platform, which also underpins its siblings, the Challenger and Chrysler 300. This year, the Charger has gotten a heavy facelift, which incorporates everything that is new with the Mopar brand. I sampled a 2015 Dodge Charger SXT AWD for a week to see how it compares to its predecessor, a car I still have a huge soft spot for.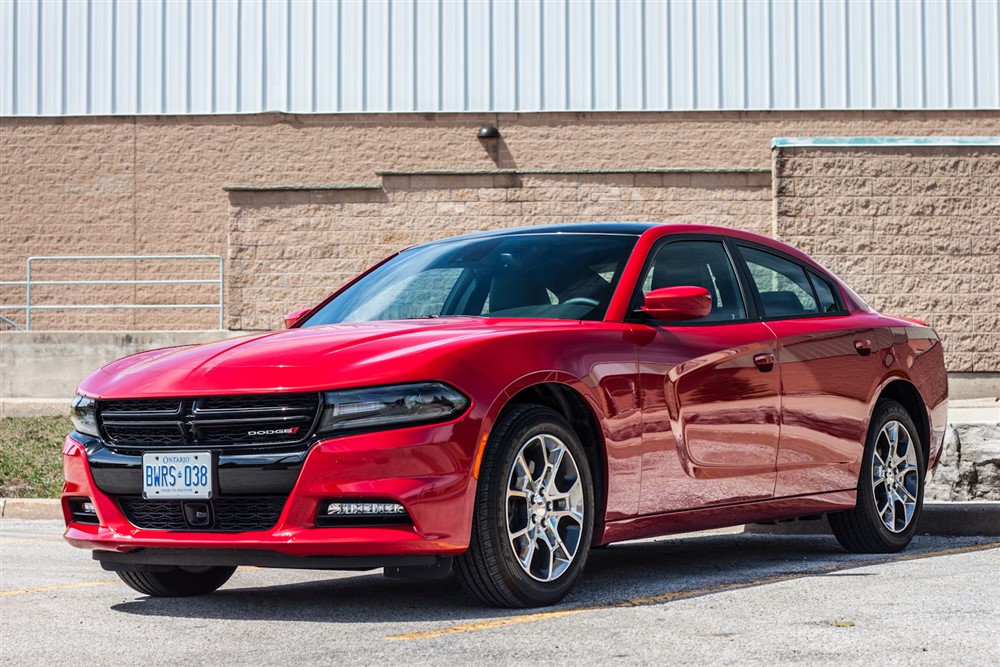 Most people who ask us about the Charger are either asking about its application in various police fleets throughout North America, or about the roaring 5.7L HEMI V8 that's a popular option. Though this particular test vehicle is neither of these things, I'll take a brief minute to address this proverbial elephant in the room. With the Ford Crown Victoria having been put out to pasture and the Chevrolet SS not being offered in Canada, the main pick for police car use in the GTA is the Dodge Charger. Our Content Editor previewed this package on a closed course in the wintertime, and came away really liking it.
The majority of the car's body panels are new for 2015, but the most noticeable changes to the Charger are on the front end. The daytime-running lights are now a half-crescent LED setup that looks particularly good and is not too different from the setup on higher-spec models of the Chrysler 300. This SXT-trim Charger also includes LED fog lamps, which is a growing trend in the automotive industry, one I really like seeing each time I notice it. The car's styling overall is freshened, and the small changes are subtle but definitely thoughtful. Dodge has relocated the nozzles for the windshield washer system to behind the hood, so there's a much cleaner design overall, and obviously a slight aerodynamic advantage.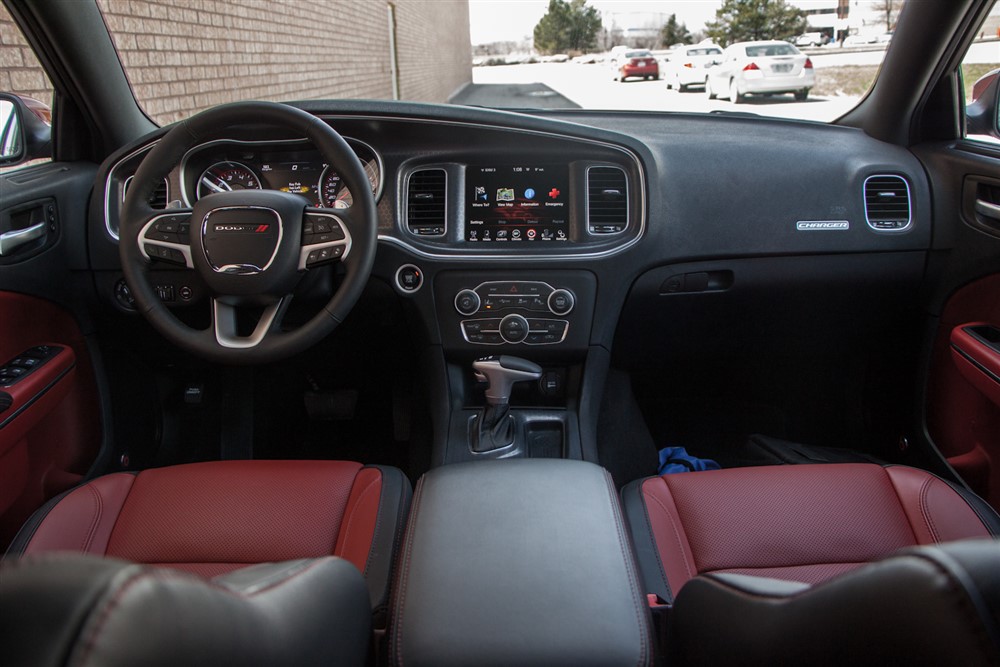 The SXT is the trim level of Charger that will most definitely be a volume seller, although perhaps not with the plethora of options on my test car. As in previous years, the SXT moniker refers to the 6-cylinder engine, a 3.6L Pentastar unit that has become a staple in the Chrysler lineup. It really is a slick motor, and has quickly become one of my favourite V6 blocks in the industry. In the 2015 Charger it's good for 292 horsepower and 260 lb-ft of torque. Our tester has the additional power bump to 300; more details are below. The only available transmission (throughout the Charger lineup, right up to the SRT) is a TorqueFlite 8-speed automatic with a manual shifting mode. The transmission does its best to ensure that even for a large V6 sedan, the Charger is relatively efficient.
When the car tips the scales at over 4,100lbs, efficiency is key, along with making sure the car doesn't handle poorly due to the weight. Our friends over at Fiat Chrysler Automobiles have been doing quite a bit to try and shake the reputation that large North American cars have earned; they've consistently been trying to prove that a car of this size doesn't need to handle inadequately. Sure enough, the new Dodge Charger has a decent steering setup. The wheel is meaty and on the heavier side, but the car changes direction surprisingly well for a full-size sedan with this much weight to lug around. The power steering is electric and has three modes to cycle through; "Comfort", "Normal", and "Sport".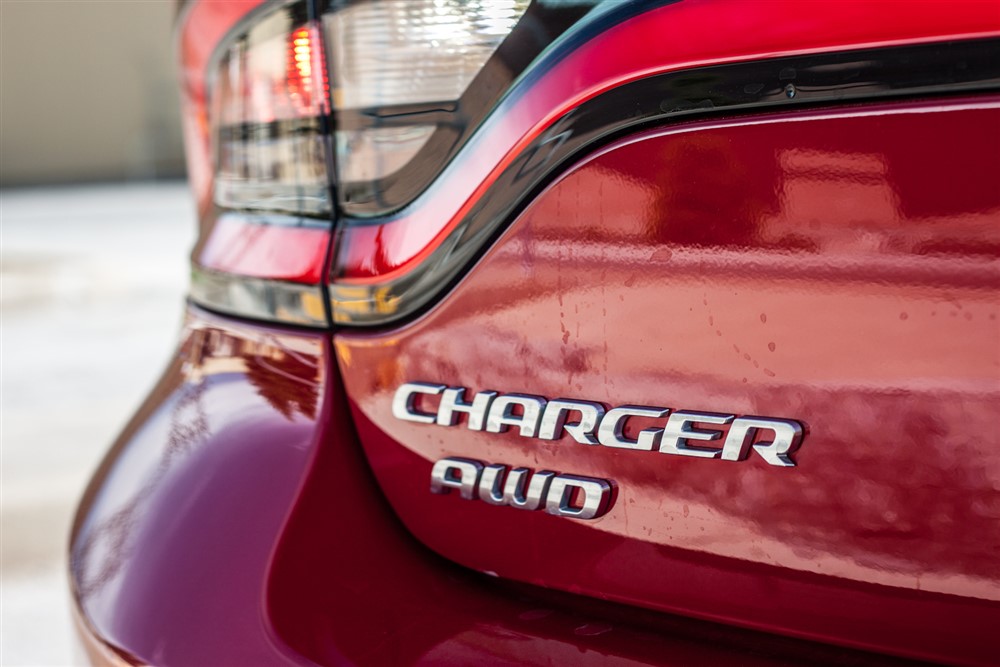 The all-wheel-drive system equipped on my Charger (optional) ensures that the car is truly usable year round. An interesting note about this all-wheel-drive system; it's a a very intelligent setup that's programmed to behave in two-wheel-drive mode unless one or more of the following factors are at play. For instance, the AWD system will reengage itself if it detects slip from the rear wheels, if the temperature is below a certain level, or if you're consistently using the windshield wipers because of poor weather conditions. Our test took place in the springtime, so we did experience a good amount of rain, but there wasn't any snow that we could really put the system to the test with.
In a combined cycle using regular 87-octane fuel, I was able to average 9.6L/100km with the 2015 Charger. Temperatures during my test were fairly ideal, and the weather conditions did cause the all-wheel-drive system to be on a good chunk of the time. My driving consisted of a 50/50 split between city and highway driving, so I did have a chance to observe the Charger excel at highway speeds. Sitting in eighth gear with the cruise control engaged, the big sedan begins to prove just how worthy it is, and why so many people buy these in the first place. It's a rolling couch that isn't boring to drive – it provides hours of endless comfort and simultaneously remains ready to dance when the corners sneak up on you.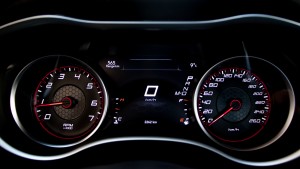 On the inside, the Charger has gotten plenty of revisions too. I've spent a considerable amount of time behind the wheel of the previous-generation Charger, so these changes were immediately apparent to me. However, I'm not so sure that those unfamiliar with the last car will notice these at first. The steering wheel is all new, and is a similar unit to that of the Grand Cherokee SRT, and the shifter has been heavily revised. There's an 8.4" Uconnect screen, which remains one of the best touchscreen infotainment systems in the industry, and while it's gotten some mild refreshers, it's essentially the same as before. One thing I will say though is that anyone who gets into the 2015 Charger will definitely comment on how pleasant a place to be this interior is, whereas the old car's interior was moreso just "adequate".
This SXT AWD with the Rallye package is exceptionally well equipped for its sticker price just north of $45,000. The SXT already features things like heated seats, automatic dual-zone climate control, and the Uconnect system with the 276 watt amplifier. The Rallye package adds an R/T front end appearance package, ups the horsepower to 300, paddle shifters, and a rear spoiler. Our car also came with a $5,295 AWD Premium Group, which includes sport seats, ventilated front seats, Beats 552-watt audio system, heated rear seats, HID projector headlights, navigation, and a few other gizmos. Personally I would skip the $1,395 black painted roof, as good as it looks. There are few things that are more intimidating on the road than a bright red Dodge Charger.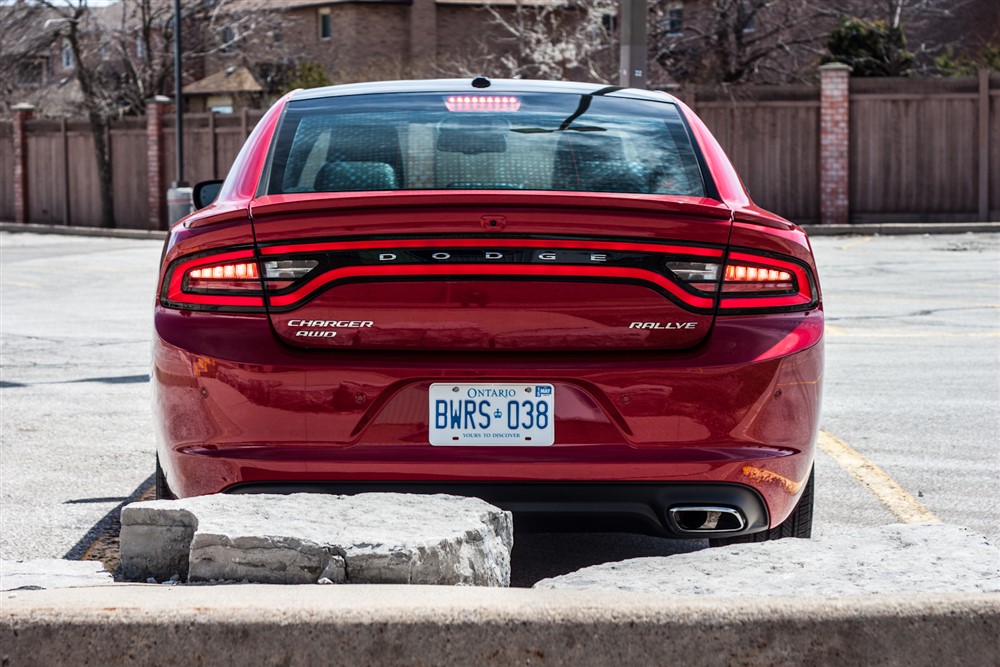 The red and black two-tone leather interior looks great, and the seats are typical Charger. This means they're hard, muscular, and feel like those in a typical American muscle car. This can be a great thing depending on the build of the driver, but I found them to be a little bit on the harsh side, and I would like some more support for my back. They're power-adjustable in front and there is a good amount of available lumbar support, but my back still wasn't as satisfied as it is after spending some time in a new Chrysler 300.
In an era where cars are given alphanumeric naming schemes like "GLE350d 4MATIC" and "335i GT xDrive M-Sport", seeing the Americans stick to legendary names is a pleasant change. FCA, formerly known as the Chrysler Group, have been known to put out some of the best names ever. These include but aren't limited to the Charger, Challenger, Prowler, Viper, Fifth Avenue, and Concorde. This is a car that, despite not being a class leader, remains extremely competitive and packs features that shouldn't be taken for granted. It's the ideal sedan for couples or smaller families that spend a considerable amount of time on the road, and don't want to opt for the typical, bland choices that many sedan offerings consist of. Best of all, it's one of the few sedans left that can comfortably haul four adults without complaint. It's quick, loud, proud, and looks menacing – what more can you ask for from a car that's called the "Charger"?
2015 Dodge Charger SXT AWD Gallery
See Also: