Although my fiancée and I don't have children, owning a home in suburbia and commuting into the city everyday has quickly made us appreciate some of the conveniences that full-size SUVs and crossovers have to offer. Firstly, having a big crossover around means you never have to worry about having the right vehicle for the job. Whether it's a snowstorm, picking up friends or hauling furniture, the heavy hitters in this segment have the task covered. Secondly, they make quite comfortable and luxurious commuters with reasonable fuel economy. It's hard to talk about full-sized crossovers without talking about the Toyota Highlander, a trusted chariot of many families. Toyota set me up with a nicely equipped 2015 Toyota Highlander XLE for this very purpose.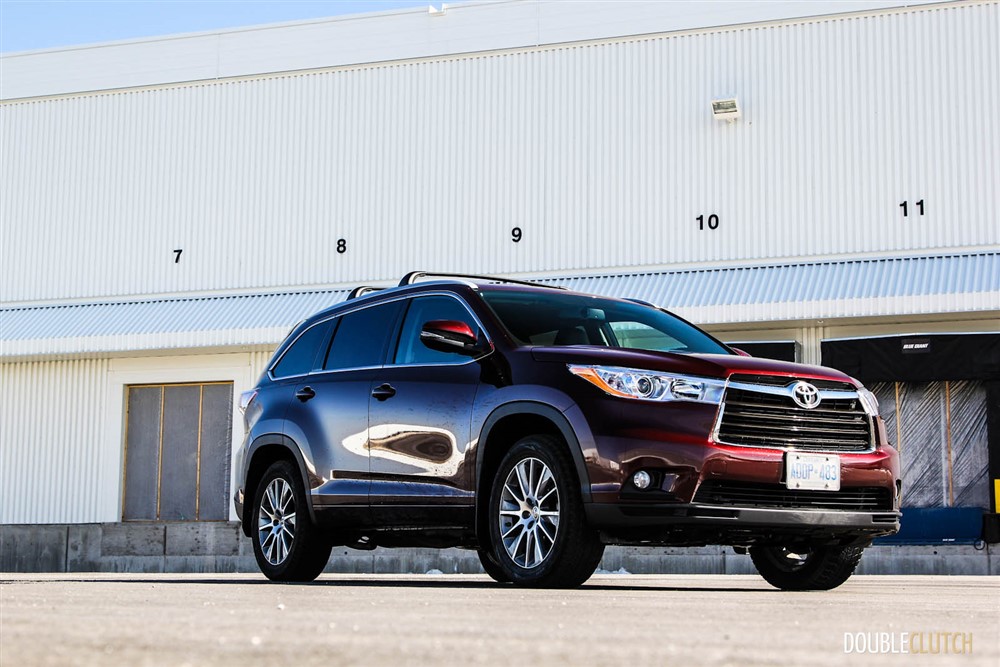 Let me start by saying one thing: the 2015 Highlander is big, but Toyota has kept their target market in mind and built a gentle giant for families. Starting with the exterior, it's friendly and inoffensive. Its big headlamps and grill seem as if they're offering a reassuring smile and the swooping body line down the side adds a bit of grace and elegance. Sitting up on 19" alloys and in "Ooh La La Rouge Metallic" paint, my tester really fit the part of a proud and trustworthy family hauler. For what it's worth, I tend to prefer crossovers and SUVs that push the styling envelope just a bit. The Highlander doesn't really do that, but I also think that there are plenty of crossover buyers out there who will prefer the safer approach to the Highlander's styling.
The Highlander is not only big on the outside, it's also extremely roomy inside. For the kids, my tester is equipped with the second-row bench, which I prefer to the available captain chairs. The bench easily flips forward for access to the third row, which offers comparable space to the other players in this segment; the Santa Fe XL, Dodge Journey and Honda Pilot. I do like that Toyota has designed an integrated plastic step into the floor beside the second row to help passengers easily climb in without getting their salty boots all over the carpets. Folding both rows of seating almost completely flat reveals a large cargo area;; this space is perfect for whatever big bulky items your family might want to haul home. My tester also has a flip out rear window in the rear hatch for loading smaller items without opening the full hatch, a feature that has wavered in popularity and I'd love to see make a strong come back.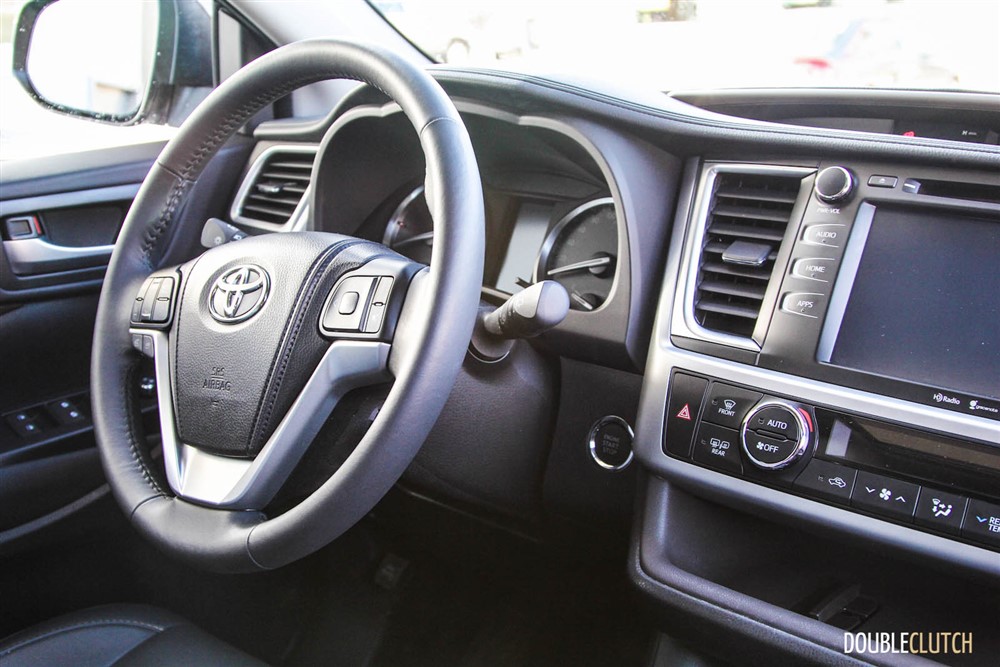 The Highlander is a very pleasant place for front seat occupants. One thing that really stood out to me is that everything in the Highlander not only looks but also feels very well-built and sturdy. I feel like everything is going to remain as good-looking and functional as it is today for many, many years to come.  The gear shifter is a perfect example of this and it feels great to operate. The centre console offers a massive amount of storage, and a very well-integrated lip around part of the dash serves as a perfect resting place for items you'll frequently need to grab. The soft eather seats are plenty comfortable and the designers at Toyota have thrown some subtle brown accenting into the interior of my tester, adding to the upscale feel of the interior. From a function standpoint, everything is expertly laid out, and easy to use as the buttons are clearly labeled and placed in good, visible locations.
My XLE trim Highlander is one step down from the top-of-the-line Limited model. At $40,595, the XLE offers the perfect balance of nice features while still offering a very palatable price. It does have heated leather seats up front, 3-zone automatic climate control, power moonroof, voice recognition, smart key, a power rear hatch and plenty of other convenient features. Stepping up to the $46,000 Limited model adds a healthy list of electronics and ventilated seats. The only thing I really miss in the XLE is a heated steering wheel, hardly worth the $6000. Our Santa Fe Sport long-termer, at just under $40,000, has this feature.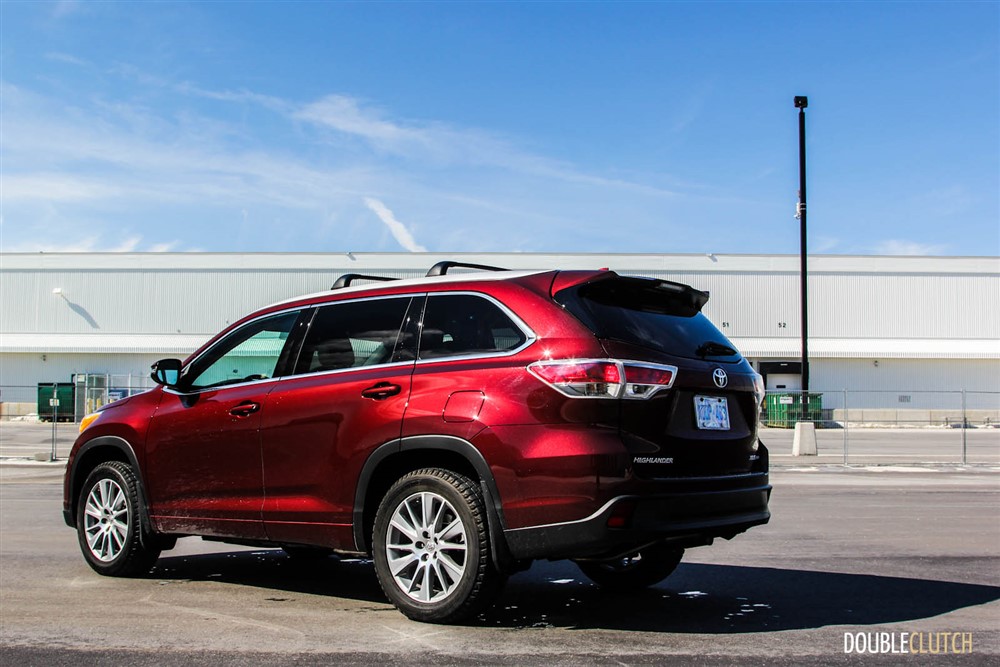 Behind the wheel, the Highlander is surprisingly easy and relaxing to drive despite its size. Visibility is excellent and is even further aided by a very clear rear view camera, standard on all Highlander models. The tight turning radius is helpful in the city and the steering itself is very light, which gives it a nice relaxed feel and perfectly fits the Toyota's character. Despite the light feeling, the steering still retains a sense of confidence and the AWD system assures a sense of sure-footedness.  The ride quality is excellent, soft both on the highway and on late winter's pothole ridden city streets. The Highlander is also free of any significant road or wind noise, making it a great long distance traveller.
The Highlander is powered by a 3.5L V6 coupled with Toyota's 6-speed automatic transmission. The V6 puts out 270 horsepower and the swift, confident automatic makes great use of the power to move the big hauler around easily. While speed is certainly not anywhere near the top of the priority list for most crossover buyers, the Highlander has more than enough juice to make short work of highway merging and passing. Fuel economy is very respectable, especially for a big AWD crossover like this. I averaged 10.9L/100km in mixed commuting, and the Highlander accepts regular fuel.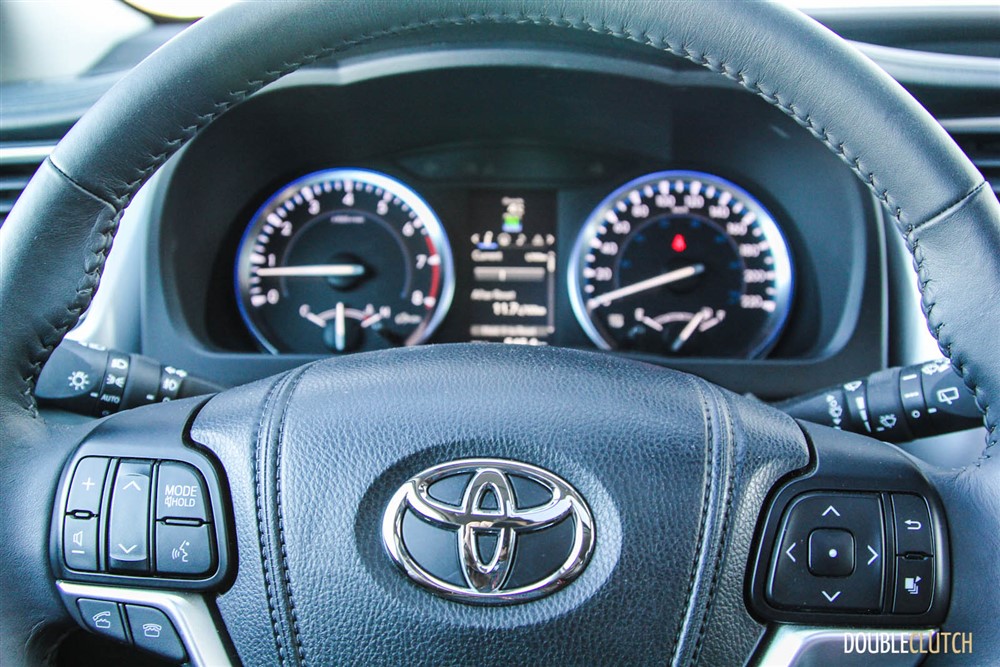 Toyota is proud of the Highlander's 2,268 kg (5,000 lbs) tow rating which matches that of the Hyundai Santa Fe XL and Kia Sorento. While it may not be critical to many buyers, to some it can be a deciding factor. At 5000 lbs, the Highlander will tow most small travel trailers or an average sized car on a trailer, meaning it could pull double-duty as a race track hauler!
I've driven loads of big crossovers over the years and I can tell you that the Highlander is one of the best ones out there. Not only that, but with a starting price of $32,775 and the as-tested XLE at $40,595, it's one of the cheaper ones. That's a value that's very hard to ignore if you're shopping in this segment. The Highlander doesn't have the flashy or aggressive edge that some others do, but it does have subtle handsomeness, solid driving dynamics, an outstanding interior, as well as the build quality and reputation to back it all up.
2015 Toyota Highlander XLE AWD Gallery
See Also:
2015 Hyundai Santa Fe Sport 2.0T