Subaru has always been a little bit ahead of the curve. Perhaps they've taken a bit too much hell from critics over the past decade or so for cheap, uninspired interiors or overall bland styling. These criticisms most definitely didn't fall on deaf ears, because the folks over at Subaru have actively been working to fix this stigma that has befallen the beloved brand. If the new Legacy (this year's Canadian Car of the Year) is any indication, Subaru's interiors have improved a good bit, and their overall engineering is only getting better than ever. I had the opportunity to sample a 2015 Subaru Impreza 2.0i Limited Sedan with the Technology option and see exactly where the brand's compact offering sits in its segment.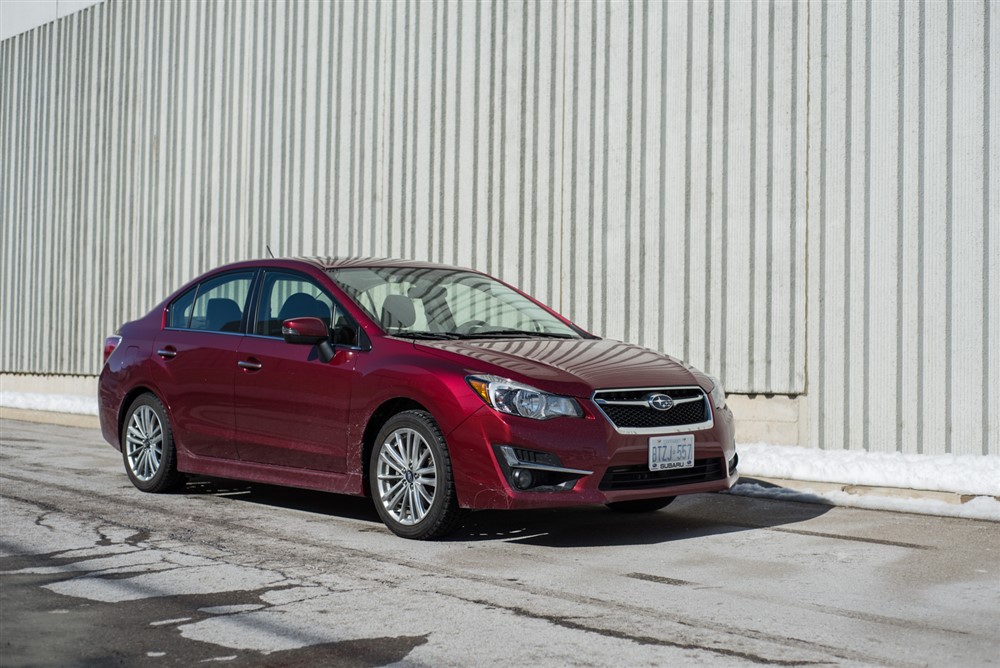 It's no longer easy to produce a compact sedan, what with all of the technology developments, safety requirements, and the overall more expensive cost of production. Even still, every major player in the automotive manufacturing game has managed to produce a decent compact, because there really aren't any truly horrible choices available. The Subaru Impreza starts at $19,995 for the base model, and goes up into the mid-$40,000 range for a corner-carving WRX STi. Okay, so maybe the WRX is a whole different animal. Within the regular Impreza lineup, the 2.0i Limited is the most expensive and most feature-packed model available, and it sits at $29,995.
Although its styling doesn't really vary from the typical three-box sedan design, the Impreza isn't the typical mainstream compact. This becomes evident as soon as the engine start button is pressed and the 2.0L boxer four-cylinder comes to life. It's a flat-four and puts out 148 horsepower at 6,200RPM and 145 lb-ft of torque. A five-speed manual (a 6-speed unit is only available on the WRX and WRX STi models) is available on most models in the Impreza line, but the top-spec Limited is only offered with the Lineartronic CVT. This transmission does offer manual shifting mode with simulated gears. There is also a hill-holder system, not exactly common in the compact segment.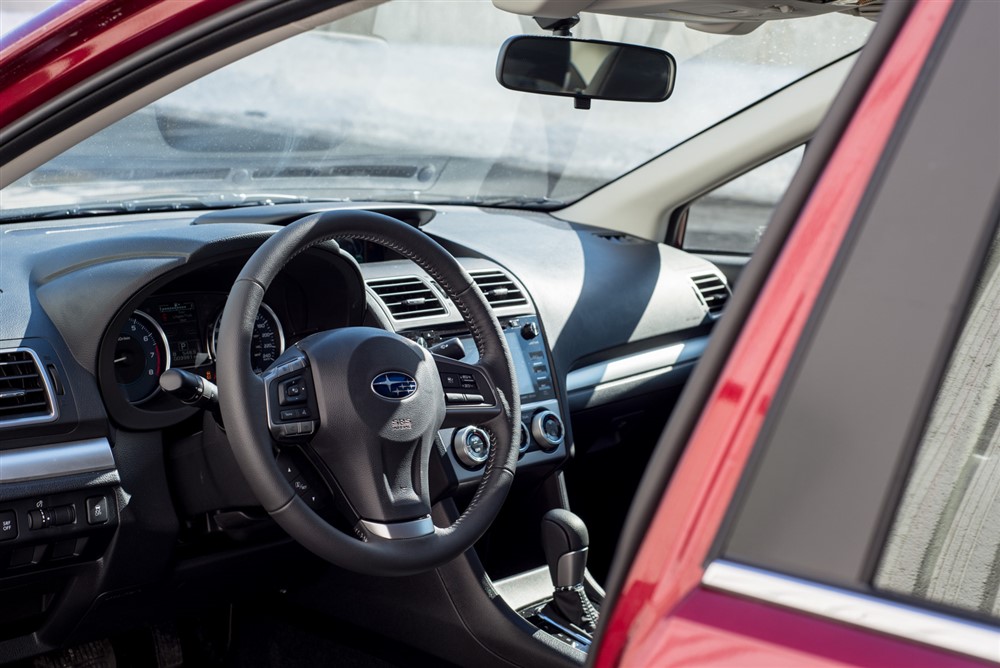 The boxer engine isn't for everyone, but we take pride in being diehard Subaru fans here at DoubleClutch.ca, so we're accustomed to the sound and feeling of this engine. The most obvious thing about the boxer engine is the noise – the Impreza isn't really all that quiet when compared to the likes of the Corolla and Mazda3. Taking consumer and media complaints into account, Subaru has added a lot more sound insulation into this refreshed 2015 model. It's noticeable, and while the Impreza is a lot quieter than its predecessors, it still sounds unmistakably like a Subaru.
Throttle response from the 2.0L is decent enough, and the car moves nicely. The first time we experienced Subaru's CVT, we weren't fans of it, but over the last couple years they have modified and improved upon it, and it's now considerably better than before. I still don't care for the simulated gears; I accept that it's a CVT and avoid using it altogether. When left to do its own thing, it behaves like a regular CVT and maximizes efficiency as much as possible. In extremely cold temperatures at the tail end of winter, I averaged a combined 8.3L/100km in combined traffic. My colleagues did a highway haul in a pre-refresh Impreza in warmer conditions, and saw numbers in the 6.5L/100km mark. Because the 2.0i isn't turbocharged like the WRX or WRX STi, it gets away just fine with regular fuel.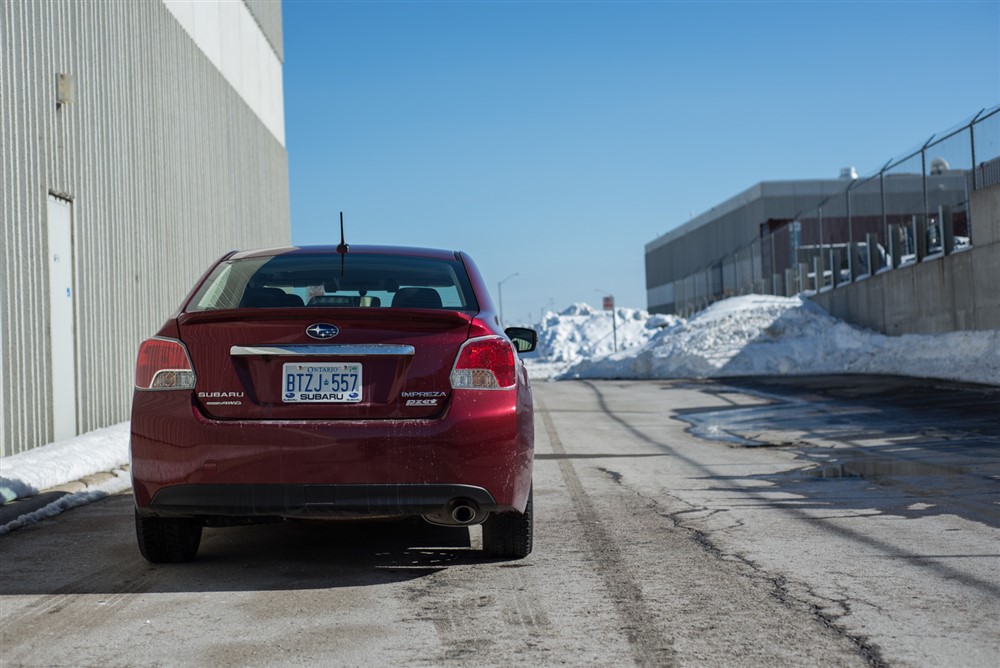 Handling is definitely a forte in the little Subaru, and steering is also very good. If you're expecting a WRX minus the turbo, you're going to be disappointed, but the Impreza is a better handler than the Corolla and Cruze, and is on par with the Civic and Mazda3. One trick it does have up its sleeve that no other vehicle in its class boasts is the standard all-wheel-drive right across the lineup. That's right, a base $19,995 Impreza still has Subaru's legendary symmetrical all-wheel-drive system. When Suzuki left the Canadian market last year, it took the SX4 with it, meaning the Impreza remains the only compact with this availability.
With its all-wheel-drive, the Impreza automatically becomes a huge seller in Canada. However, compact buyers these days are looking for features. The Kia Forté comes with an available ventilated driver's seat and power folding mirrors, and the Mazda3 has a heads-up display. This year's refresh for the Impreza stops at a new infotainment setup, reverse camera, subtle exterior freshening, and the EyeSight safety package. EyeSight definitely is a conversation piece, as it adds adaptive cruise control, lane departure warning, and collision warning. This means that along with standard AWD, the Impreza remains the only compact available with a full suite of driver aids.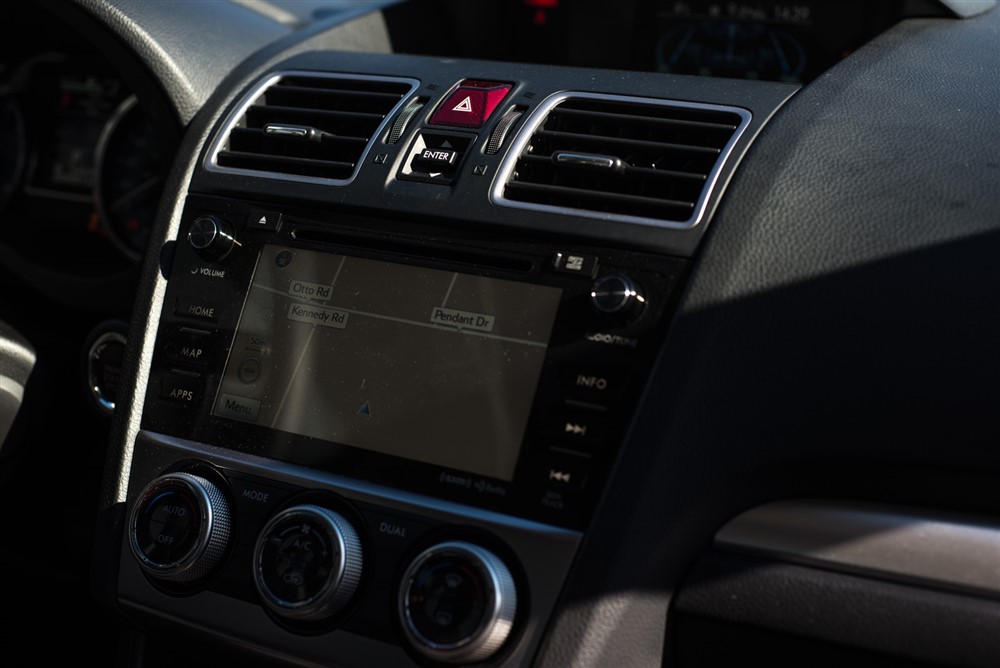 Unfortunately, we're going to have to wait for Subaru's next full redesign of the Impreza before we see a full interior upgrade. Of course, it won't come as a huge surprise because the new Legacy and Outback both have Subaru's next-generation interiors. I personally know a couple of buyers that are either currently in the process of looking at, or have just purchased compact sedans. Despite my insistence to give the Impreza a chance, the cheap, plasticky interior has been one of the largest weaknesses that pushed these buyers towards competitors. Sure, the standard all-wheel-drive is a bonus for Canadians and the Impreza is a good looking little car, but the average compact buyer does want some style and a few luxury features to cushion their bottoms for the long run.
On the positive side, the 2015 Subaru Impreza does have a version of the new StarLink infotainment system with a 7" capacitive touchscreen, which is Subaru's new proprietary setup across the lineup. The new Legacy and Outback are the first to receive it, and we have no doubts it will soon be added to the Forester and the WRX in forthcoming facelifts. The system is easy to use, makes syncing up wireless devices a breeze, and even has support for text messaging. On our Limited test car, the system also was equipped with navigation, dual USB ports with iPod compatibility, and Aha® radio. The audio system itself isn't much to speak of; it's a 6-speaker unit that produces decent sound for your average commuter, but won't be satisfactory for the true audiophile.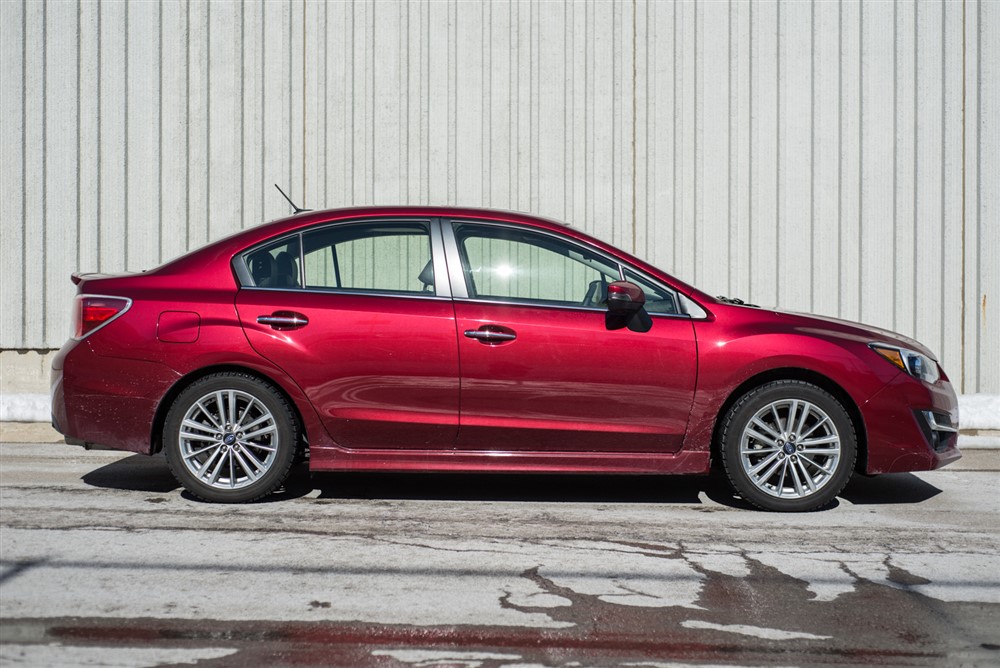 Subarus have pretty "tough" driving manners overall; they sound authoritative and feel robust. In Canada, we are forced to face brutal winters with frigid temperatures and pothole-ridden roads, so competitors, while being great in the warmer months, can often feel flimsy and fragile. The Impreza isn't a car for everybody – the buyer that prioritizes overall smoothness, light steering feel, and gimmicky features like power folding mirrors may want to look elsewhere. That's where Subaru comes in; the 2015 Impreza 2.0i has a feeling of ruggedness that is unmatched in the crowded compact class, and definitely shouldn't be overlooked if that's what you're after as a consumer.
2015 Subaru Impreza 2.0i Limited Gallery
See Also: