The return of the American midsized pickup this year has sparked a whole lot of buzz within the automotive community. Around a decade ago, we had models like the Dodge Dakota, the Ford Ranger, and of course, the Chevrolet Colorado/GMC Canyon twins. The latter two didn't sell all that well as they were successors to some of the bestselling cult pickups ever; the Chevrolet S10 and GMC Sonoma. This year, though, GM is back, armed and ready to go. I was sent a 2015 Chevrolet Colorado LT 4WD that I personally had extremely high expectations for. Would it exceed my expectations or fail to meet them altogether?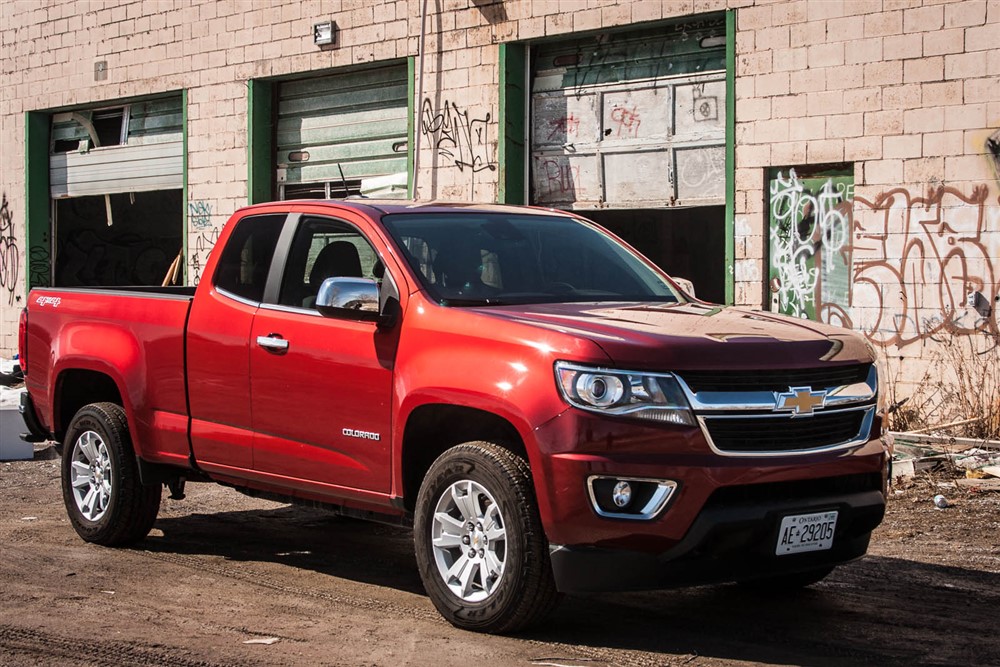 The recipe for a midsize pickup is pretty simple; let's take a Chevrolet Silverado and put it through the dryer. This is the type of truck that somebody living in the city, such as myself, can appreciate without it being too cumbersome like a full-size 1500. However, the main criticism we've seen towards these new midsizers is the size; this Colorado is considerably bigger than the last gen, although a huge chunk of the blame in this particular case is that this tester had the extended cab with the standard 6'2" bed. Going with the crew cab would make it even bigger, though it would allow four real adults to travel in comfort. This configuration with 4-wheel-drive, starts at $31,150 in Canada.
Especially in "Red Rock Metallic", the Colorado looks pretty majestic. It's a great looking truck that doesn't hide the fact that it can be a work truck all week long, and doesn't look "cute" like its predecessor, the S10. Both the Colorado and Canyon look like they mean business. The bed is large enough to haul as much lumber, gravel, or furniture as you'll need it to, and only habitual haulers or those with a regular need for towing capacity will feel the need to upsize to the Silverado. What I really like about the Colorado is that it doesn't try to be anything it's not; it's a decent-sized truck and it's darn good at any job you throw at it.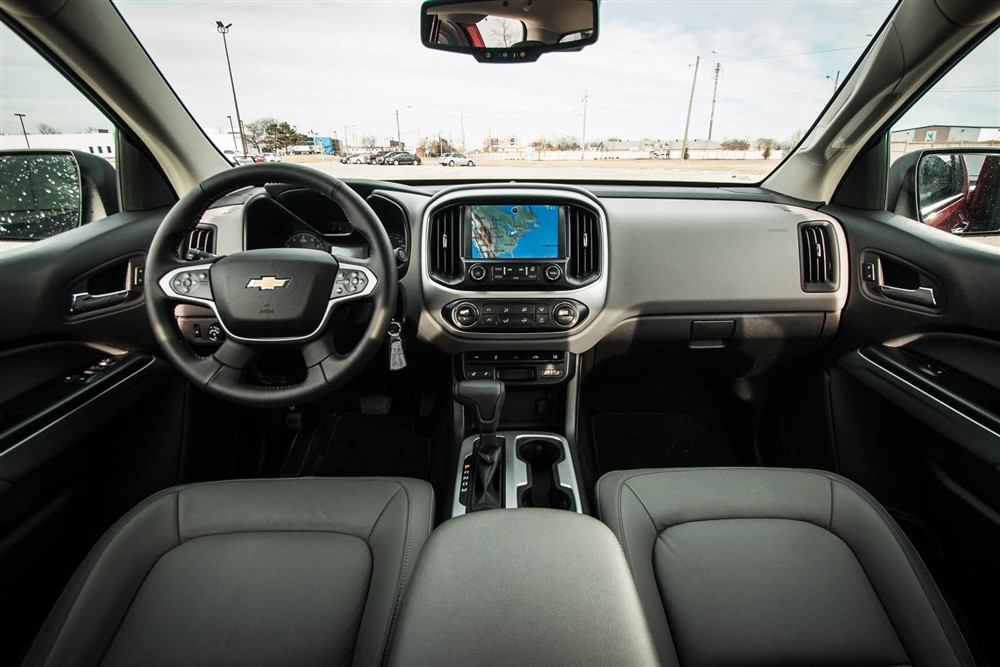 The new midsize twins from GM come with two engine options; both tried and tested motors from the General. The 2.5L 4-cylinder is the base motor on both trucks, and the 3.6L V6 equipped here is a $1,365 option. Its output is 305 horsepower and 269 lb-ft of torque. Base four-cylinders can be equipped with a manual transmission, but the only available gearbox with the V6 is a 6-speed automatic; the same unit seen on many other GM applications. It's a great unit, and the Colorado even offers manual shift mode, particularly useful when towing. It's also wonderful to see a proper console shifter in a truck rather than a cumbersome column-mounted unit; those are getting very long in the tooth now and there really isn't a place for them in the market.
Despite its smaller size, the Colorado drives like a real truck should. It feels tough and the engine sounds plenty powerful (which it really is). Throttle response isn't as sharp as, say, a Cadillac ATS, but the engine is a great workhorse and even when loaded up with some furniture in the bed, the Colorado lumbers down the highway with ease. Even though most frequent trailer-pullers will opt for the Silverado or Sierra, the Colorado's 7,000lb tow rating and 1,500lb payload is very good and easily competent enough to get most jobs done. Plus, hailing from General Motors, it's not going to moan or groan very much, and when things do go wrong hundreds of thousands of kilometers down the road, parts will be available at a very reasonable cost.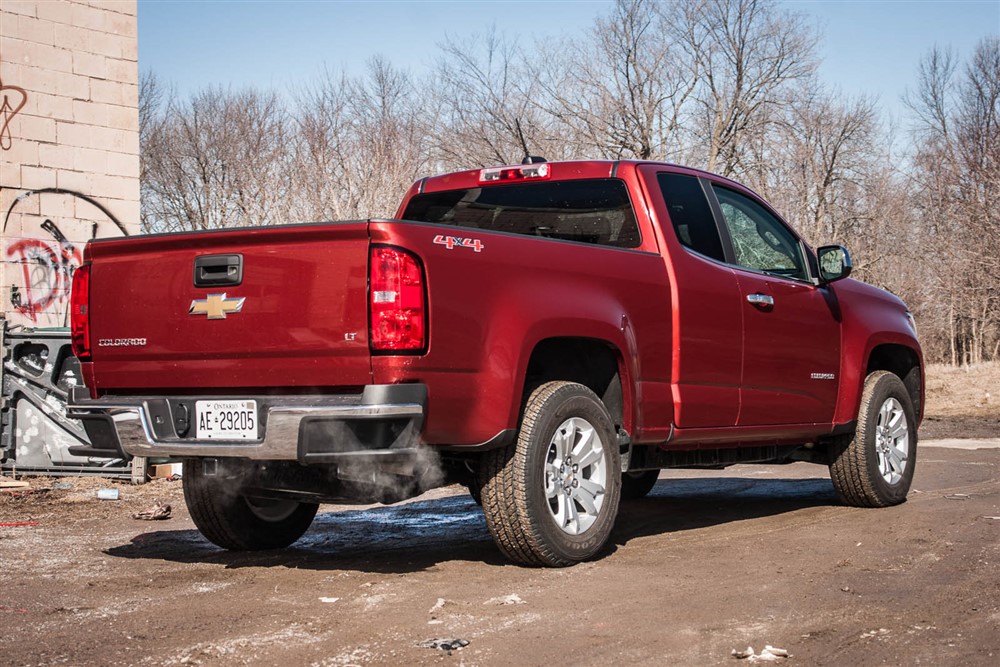 Steering is actually decent for a truck, something I didn't really expect from the Colorado. It does still feel like a pickup should, with responsiveness being a little bit on the slow side, but nothing like the final-generation Dodge Dakota was. Chevrolet has done a great job here ensuring that you don't have to whirl the wheel over and over to navigate through tight downtown Toronto alleys or narrow parking garages. We were able to move it around just fine, and even parallel park it within the city on multiple occasions. The Colorado at 74.3 inches is pretty narrow too, so it doesn't hang out into the street at all, either. Of course, those who really, really need it to fit into smaller crevices can opt for the shorter box, which decreases overall length by about a foot.
A truck is a truck after all, and I don't believe in buying one without 4WD. Even still, when given the option to leave it in 2WD mode for the daily commute, that's the road I'll take. This also saves a considerable amount of fuel, because unlike the V8-powered full-sized pickups, the 3.6L V6 is not available with GM's cylinder deactivation system. My week with the Colorado did not involve any heavy tasks or any exploration off the paved path, so I left it in 2WD the entire time. In one combined cycle with a healthy mix between city and highway driving, I was able to average 13L/100km on regular fuel. Highway runs had the on-board computer showing numbers as low as 10L/100km, which is unheard of in a full-sized truck (except the Ram 1500 EcoDiesel!).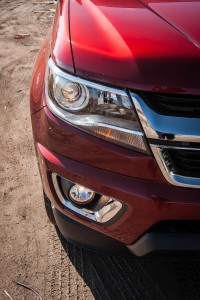 Our LT 4WD tester came equipped with a bunch of additional features, including heated and powered leather seating, fog lights, remote start, automatic climate control, LED daytime running lights, a rear window defroster, and Chevrolet's MyLink infotainment system. The option box for the Exterior Convenience Package was also ticked off, which adds rear side steps for easy bed access, as well as splashguards front and rear. Lastly, the Colorado also came with a navigation system, which is only a software addition to the MyLink infotainment and isn't too costly at all ($795).
We're fans of the Chevrolet corporate MyLink infotainment system. It can be slow to respond sometimes, but it packs an incredible amount of features into the 8" screen that it's hard to say no. Versions of this system are available right across the lineup starting with the pint-sized Spark up to the Corvette Stingray. The system is mostly touch-operated, and I would prefer more buttons for simple tasks, but it's pretty simple to program destinations or pair my phone using the Bluetooth connectivity. This system is also compatible with OnStar 4G+LTE wireless access, which is available to customers at a small cost.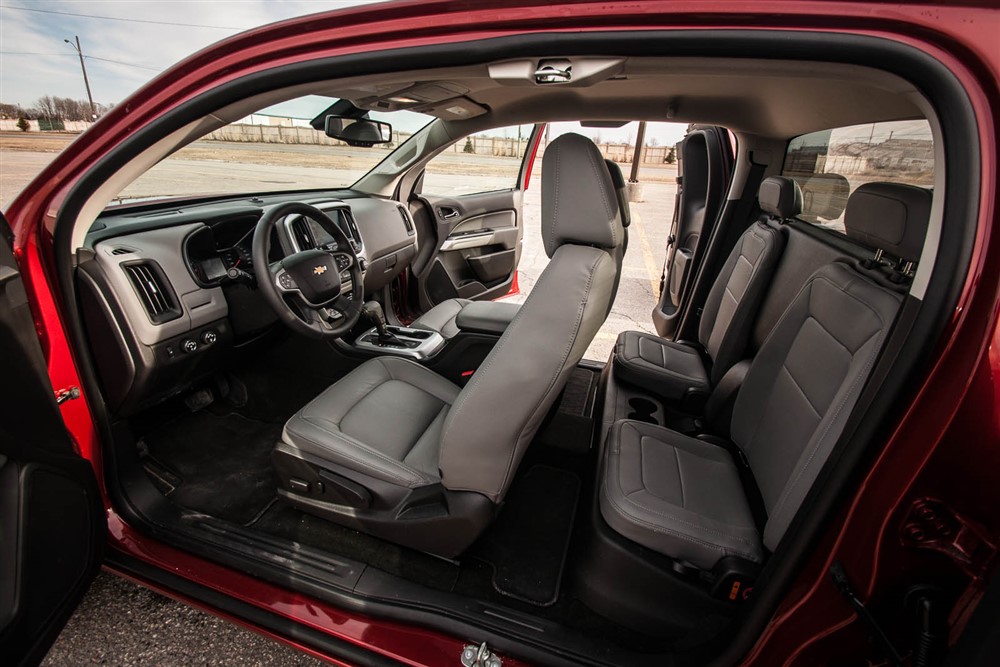 With an as-tested price very close to the $40,000 mark, the 2015 Chevrolet Colorado LT 4WD is well into the territory of a lightly-equipped Silverado 1500. Some will opt for the bigger pickup for its V8 power and larger overall size, but there is definitely an argument to be made for the Colorado. Hear me out; those of us who live in the city can't stress enough that space is a luxury. This applies to everything from parking our vehicles in underground garages to actually navigating them through the streets. There are thousands of contractors and other professionals in the city who require pickup trucks for their daily operations, and I guarantee at least half of them can get away with a nicely-equipped Colorado or Canyon. The midsized pickup is back, and it's better than ever.
2015 Chevrolet Colorado LT 4WD Gallery
See Also:
2015 Chevrolet Silverado 2500HD