There is a roundel on the hood that's packed with history, heritage, and a solid pedigree renowned for delivering the purest of driving experiences. This is the roundel that, when placed on a vehicle, signifies that said machine hails from the Bavarians. Two years in a row, the BMW M3 has been declared our Overall Favourite in our Annual Awards segment. I don't think I've ever driven something from the M division that left me wanting or expecting more. Even BMW's entry-level models typically exude passion, excellent driving dynamics, and a sense of style that's unmatched in whatever segment the car finds itself in. I was expecting this to change when I borrowed a 2015 BMW X4 xDrive28i with mixed initial thoughts on the vehicle.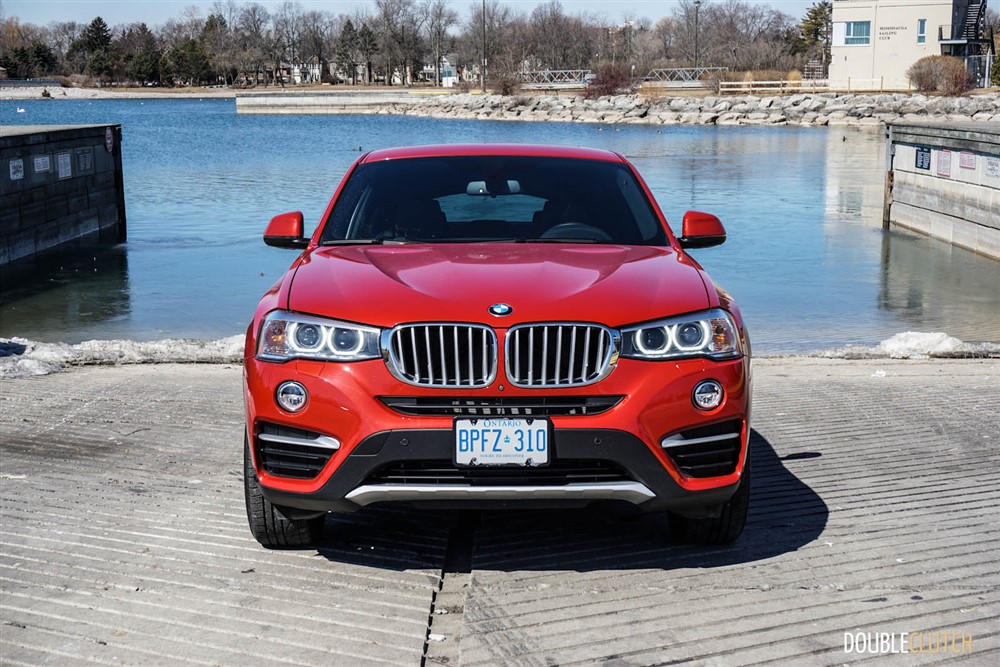 Those who want more versatility, a higher ride height, and slightly more space than a 3-series sedan used to naturally gravitate to the X3, which is fundamentally very good and remains competitive. Buyers craving those famous 3-series driving manners could even sacrifice some of the X3's modern features and stick with an X1. However, with BMW's current lineup, the possibilities are endless. The X4 is a "Sports Activity Vehicle" with a little bit less trunk space and headroom than the X3, compromised in favour of style. This changes the "SAV" name, as BMW calls it a "Sports Activity Coupé". This X4 is specifically intended to be a more affordable and smaller version of the X6, which has sold surprisingly well over the past few years. Personally, if I was forgoing practicality in favour of style, I'd just lease an X6, as I do like that one quite a bit, silly as it may be.
I personally don't think the BMW X4 is a very attractive vehicle, but I can see why it's going to sell reasonably well. It has a sloped coupe-like roofline and muscular hips. The X6 uses the front end of the X5, while the X4 shares its face with the X3. The Melbourne Red paint (an $895 option) is one of my favourite colours on the BMW palate, and can make any vehicle look stunning. The black 18" wheels on my particular X4 xLine look particularly good, too. It's amazing how the right colour, wheel, and body accessory combination can transform a vehicle, because I really did grow to enjoy approaching this red robin. It's still not beautiful, but I wouldn't go as far as to call it a hideous monstrosity.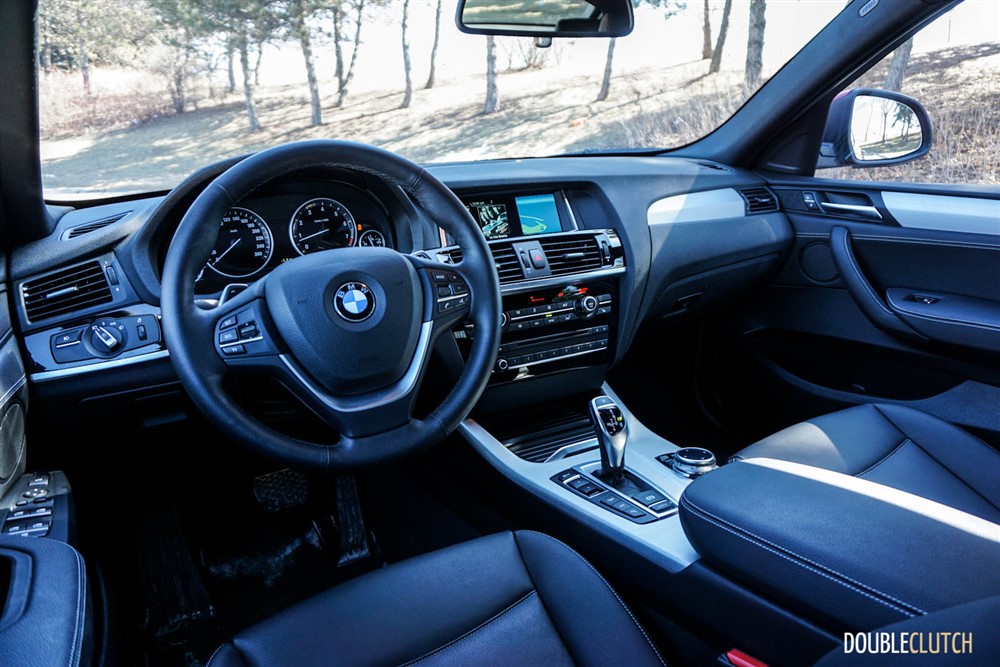 Despite the amount of diversity in the current BMW lineup, the powertrain options remain rather easy. Non-M models ranging from the 2-series right through the X4 and 4-series can be had with your choice of two motors; a 2.0L turbocharged 4-cylinder (codenamed N20) or a 3.0L turbocharged inline 6-cylinder (N55). Vehicles with the 28i badge have the N20, and the "35i" models pack the delicious N55 under the hood. My 2015 BMW X4 xDrive28i, as you may have guessed, bore four cylinders of fury. In this application, the motor is good for 240 horsepower and 258 lb-ft of torque, and is mated to an 8-speed automatic transmission. Much like other vehicles in the BMW and Audi lineups, the 8-speed is sourced from transmission-powerhouse ZF, and it's easily the best automatic transmission available today.
The X4 isn't fast, but it's very quick for a four cylinder and doesn't sound like one either. Throttle response is smooth and turbo lag is minimal. When left in automatic mode, the transmission is responsive and downshifts quickly when making last-minute passing maneuvers. Slapping the shifter over to the left puts it into manual mode, and there are also paddle shifters for drivers who prefer to change gears on their own. The transmission almost sounds like a dual-clutch unit when shifting, and I honestly can't say enough good things about it. The electric steering is decent and feels pretty meaty. This is of course, the latest from BMW, a manufacturer that has taken pride in some of the best-handling cars ever made, so it shouldn't come as a surprise in the slightest.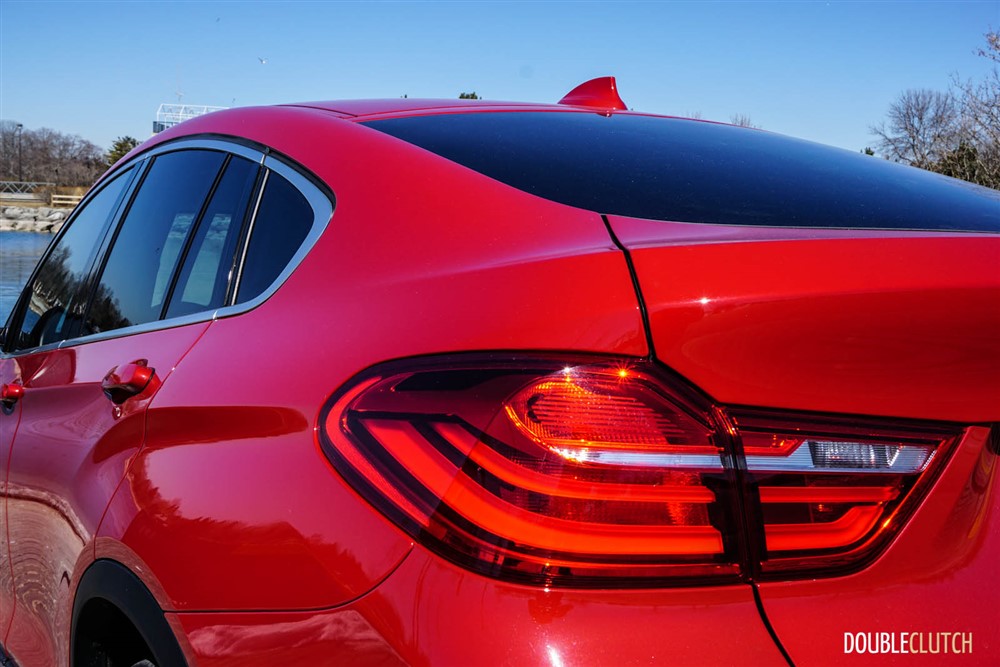 There are two good reasons to opt for the four-cylinder over the enchanting I-6 in the X4 xDrive35i. The first is price, which we'll get to later, but the more important one is fuel economy. In a world where fuel is no longer cheap, crossovers with hybrid and diesel offerings are becoming more and more common – we recently tested the X4's sibling, the 2015 BMW X3 xDrive28d to see how BMW's diesel holds up in a Canadian winter. Since the X4 is catered towards a market that prioritizes style over all else, they assume that customers would prefer gasoline, so a diesel isn't available here. I averaged 10L/100km in combined driving, making full use of the "Eco Pro" mode over my test week. The X4 does require premium fuel, as its forced-induction engine probably wouldn't like the taste of regular octane.
BMW's media fleet in Canada is great, because they usually load up their cars with most, if not all of the available options in order to ensure that we get to play with every single toy. The pleasant change here was that the 2015 X4 they sent us wasn't completely loaded. Adding to the base vehicle, our crossover came equipped with a $5,000 Premium Package, the xLine appearance kit, a few assorted options here and there, and metallic paint. This actually will be the volume seller in the X4 line, because most buyers will opt for the Premium Package. It adds things like on-board navigation (with iDrive), heated steering wheel, Comfort Access, and a few other gizmos that most premium crossover shoppers will want.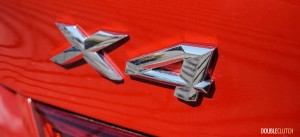 I was happy to try out the Nevada Leather seats, because they're surprisingly comfortable and not cheap-feeling at all. The naked eye really can't tell the difference between the synthetic-mix stuff here and full leather. BMW uses durable material that looks and feels authentic, and I've personally seen the stuff last for hundreds of thousands of kilometers. Additionally, this X4 lacked the Harman Kardon sound system that's also available for an extra cost. This gave me a chance to experience the most modest of BMW audio setups, and I didn't come away disappointed. It was able to reproduce my favourite tunes with clarity; perfectly adequate for the typical buyer.
Critics have been giving the X4 hell for compromising practicality for style, but the reality of the situation is; this is exactly what some buyers want. Capable vehicles like the Jeep Wrangler and the Toyota 4Runner are great and all, but the vast majority of crossovers and sport-utility-vehicles purchased don't see any off-road use beyond the parking lot at Yorkdale Mall. This BMW is considerably nicer than the Mercedes-Benz GLA250, which we recently tested, and a bit of a step below the Porsche Macan. As an enthusiast, I'd put my money towards a 328d xDrive Touring, because a station wagon would fit my needs perfectly. This crossover may fit into somewhat of a confused niche, but it behaves very well, the ride quality is great, and it does feel as premium as a BMW should. At $53,995 as tested for my specific model (base price is $46,300), the X4 is a reasonably stylish crossover that's currently almost all alone in a segment of its own.
2015 BMW X4 xDrive28i Gallery
See Also: