At a recent team meeting, one of my colleagues mentioned something about the new Ford Mustang being an impulsive and emotional purchase rather than a practical one. I then began to think to myself; is it possible to find a vehicle that's a compromise between practicality and emotion or passion? My daily commute varies depending on where my clients are located, so long-distance highway capability is a necessity; one that's just as important as the ability to zip around the city in a small, versatile package. I immediately thought back to the last Mini product I tested, as it demonstrated the perfect balance, including being able to haul a few things around. Fiat Chrysler Automobiles (yes, that's what they're now called) sent me a 2015 Fiat 500 Turbo to put through this very commute and evaluate.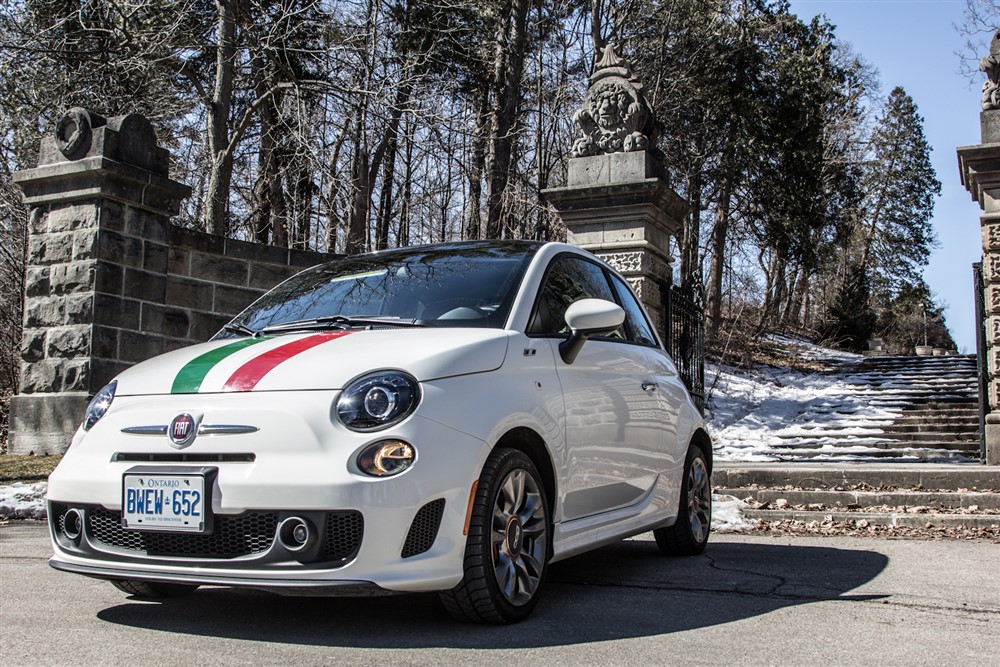 The last 500 I drove was an Abarth with the convertible soft top, not exactly the prime choice for practicality. However, its road manners and overall cheeky behaviour won me over. The Turbo model is a slightly detuned version of the same 1.4L motor in the hot Abarth, but it's supposed to be just as much fun. Additionally, although a 5-speed manual is standard on all iterations of this little Fiat, my tester was equipped with the new 6-speed automatic, also now available with the Abarth (which was formerly manual only).
Of course, enthusiasts such as myself and the rest of our team may groan at the thought of a sporty little hatchback being equipped with an automatic transmission, but the vast majority of the Canadian buying public disagrees. It's not all bad though; this new automatic is superb. It's pretty responsive when in automatic mode, and there's a "Sport" button to re-map transmission shift points and a few other variables to add to the driving fun. The 500 Turbo doesn't have paddle shifters, but there is a manumatic function on the shifter that's decently quick to change gears when asked to. Downshifts sound great and happen quickly, but I did miss the presence of a third pedal and the typical Fiat shifter that adds to the charm of the car overall.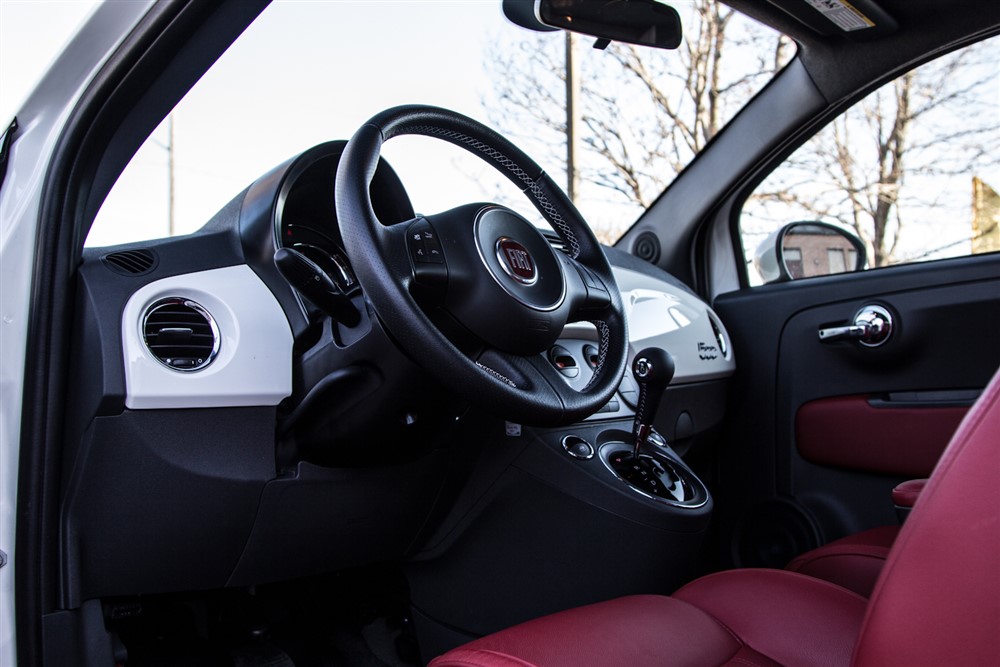 As I said, the Fiat 500 Turbo is powered by the same 1.4L turbocharged 4-cylinder as the Abarth, albeit it makes a little bit less power. It's also front-wheel-drive like the rest of the 500 line, and sports 135 horsepower and 150 lb-ft of torque. While not being particularly fast, but the Turbo is the perfect balance between the regular 500 (which can be a bit wheezy at highway speeds) and the Abarth (for those who don't want a full-blown hot hatch). Weighing in under 2500lbs, the Turbo is decently quick and accelerates with a good amount of confidence. I did choose to leave it in "Sport" mode most of the time, and let the transmission shift itself. As with any other small turbocharged car, it has great pull on the low end as well as decent midrange power, making city driving hilarious fun.
The Fiat is a competent handler too; if the weather was warmer and the roads were drier, I wouldn't hesitate to take it by my favourite curvy driving roads a short jaunt up north. The steering is quick and precise, but it's not exactly Mini Cooper S levels of sharp. Then again, that car goes into my books as being one of the best-handling front-wheel-drive cars currently on sale. I was previously talking about the car being a hoot to toss around the city, and the quick steering makes this experience particularly fun. The driving position, while still a bit awkward and too upright for my liking, makes sightlines easy and obstacle-dodging effortless. No need for pesky nannies such as lane departure warning or forward collision warning here; it's just simple, honest fun while keeping you safe at the same time.

The odd driving position does help with long-distance comfort though. I took the 500 Turbo to Niagara Falls for a weekend run and it behaved beautifully. The seats themselves (a combination of red and black leather) look great and are padded perfectly. Even though this might compromise a little bit of comfort, I wouldn't be opposed to lowering the seating position by a couple inches, sort of like the Mini or even the Volkswagen Beetle. At 5'7 the Fiat fit me perfectly, and I had ample headroom as well. Because I'm not the tallest guy in the world, you actually can squeeze another shorter adult behind me, although the Fiat would get quite tight with four people on board, also taking a toll on performance and fuel economy. Adding to the comfort, Fiat has included armrests(!) on both front seats. While some may take this for granted, other subcompacts lack this feature and it's a necessity for me.
As I expected, the 2015 500 Turbo was exceptional on fuel. However, there is one caveat. The tank will only accept 40L of fuel, and it disappears surprisingly quickly if you're doing longer road trips. I averaged about 6.7L/100km in a combined cycle over my week of driving the car. Surprisingly, I was actually able to beat Fiat's estimated mileage of 6.9L/100km combined. Fiat recommends premium fuel for this turbocharged engine, and I used Shell's V-Power premium as they guarantee no ethanol in their gasoline. I would expect combined economy to improve by about 0.3L/100km in ideal conditions, as my test week was on the colder side, with temperatures hovering around the freezing mark.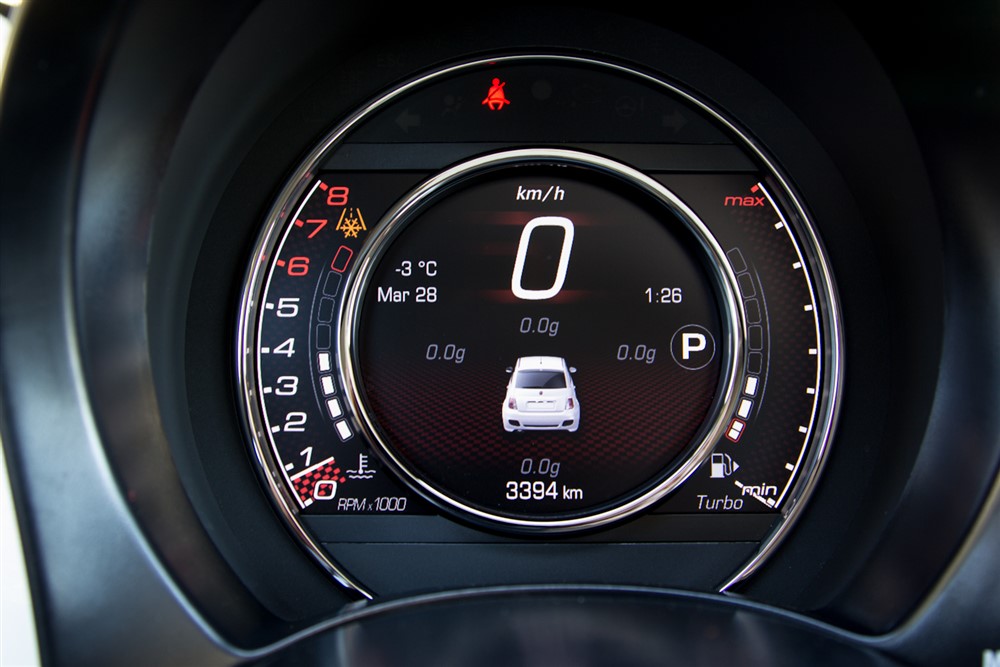 The most common comparison made for most iterations of the Fiat 500 is to the Mini Cooper and Cooper S. The regular Cooper now gets on with a turbocharged 3-cylinder motor, and makes similar levels of power while being slightly heavier and larger in every dimension. Although they're both competitors in the sense that they cost around the same (depending on configuration), are both two-door hatchbacks, quirky in their own European-chic way, I don't really consider them rivals. The Mini is notorious for long-term reliability issues, whereas the Fiat has yet to develop a reputation of that sort. If you opt out of the convertible body style for the Fiat, it can actually haul a considerable amount of things in the trunk. I was able to fit in luggage for a weekend trip with ease, and it gets even better if you fold the rear seats down.
With a starting price of $21,395, the Turbo really is a great value. Our friends at FCA loaded this one up with things like heated leather seats, automatic climate control, a power sunroof, Beats music setup, 16" wheels, and rear park assist. The one huge change I noticed from previous Fiat 500s is the 7" full-colour display in the instrument cluster. It's a configurable unit and features everything from a full trip computer to a g-force meter. I rather like it, and it's not too different from what we've seen in other recent products that hail from the Fiat Chrysler umbrella. I do wish that the stereo itself had more than just a one-line monochromatic display, as that would make browsing through playlists and other audio options a much simpler task.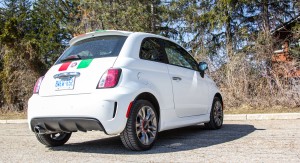 When Fiat returned to the North American market a few years ago, they expected sales to skyrocket from day one thanks to the perfect compromise between value, excellent marketing, and overall nostalgia. What the 500 did do is win over the hearts of many, and it proceeded to develop a cult following. Those who have them really love them, and it's not uncommon to see proper spots car enthusiasts or luxury car aficionados purchase a 500 (or even a 500e, the electric version sold south of the border) for daily commuting duties. Personally, I'd love to own an Abarth or even a Turbo like this one, with the 5-speed manual and some sticky tires. A car like this would satisfy my needs for a summer toy while also undertaking the task of taking me to work and back every day of the year with ease.
 2015 Fiat 500 Turbo Gallery
See Also: