Volvo is easily the most overlooked and underrated automobile manufacturer in the Canadian market. They're a lower volume automaker and by those standards, their vehicles sell decently well, but with other European brands from Germany taking the podium in overall reputation and volume, Volvo is often forgotten. This shouldn't be the case, because I have yet to drive a product from them that I found utterly disappointing. Hot new entries like those tuned by Polestar have brought the spotlight back towards the Swedish carmaker, but with those cars having such limited availability, it's obvious that Volvo's focus still remains on safety, comfort, and an overall effortless luxury car ownership experience.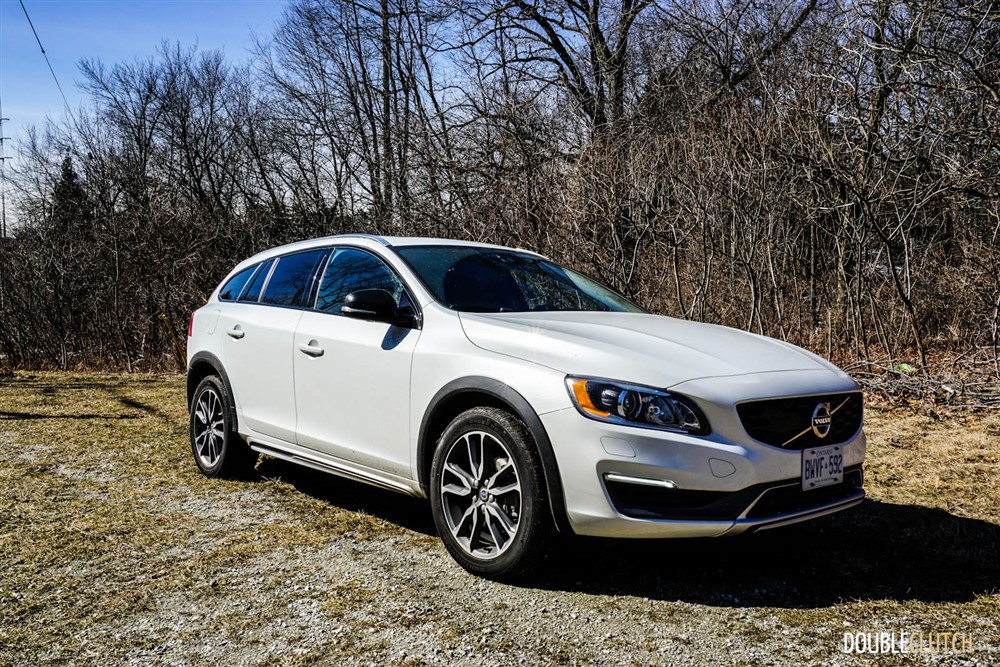 The XC70 is still available for sale, and until now, was the only premium vehicle of its kind. It's a traditional station wagon with a slightly higher ride height, all-wheel-drive, and some ruggedness for the outdoorsy buyer that doesn't want to compromise on versatility. However, the XC70 is now getting very long in the tooth, and Volvo's latest station wagon, the V60, is on an all-new chassis. We were fortunate to be the first Canadian media outlet to receive the 2016 Volvo V60 Cross Country for a weeklong evaluation period.
There's a lot to like about the V60 Cross Country, but it's definitely not perfect. Firstly, for reasons I fail to understand, there still remains a heavy stigma against owning a station wagon, no matter how rugged or cool it may look. Personally, I love the styling of the V60 XC, and when parked beside a close friend's XC70, it's easy to see how elegantly Volvo's corporate styling has evolved over the past couple of years. The XC70 looks boxier and considerably older, surprising considering how sharp I thought its styling was literally days before seeing my first V60 XC in person. Also, "XC" stands for "Cross Country", but obviously, the "XC60" name has already been taken by the brand's midsize luxury crossover. This V60 XC is virtually identical to the regular V60 save for the ride height and some rugged bits all around.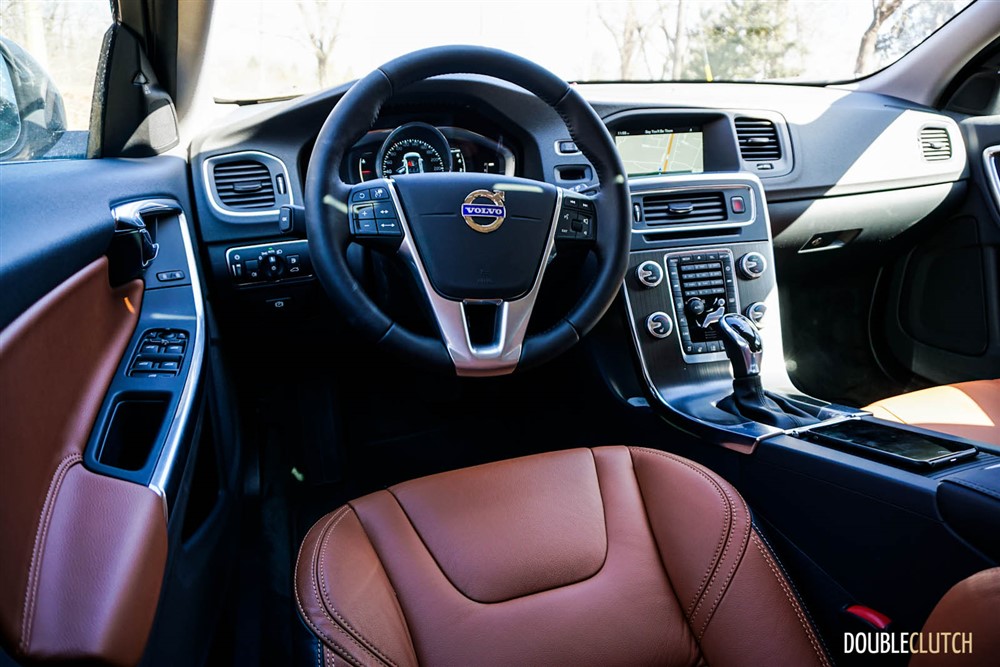 Volvo has been producing 5-cylinder and inline 6-cylinder engines for quite some time now, and just like the eventual phase-out of the manual transmission from our market, these engines are being phased out in favour of overall efficiency. The latest offerings from Sweden, from the S60 right through to the upcoming XC90, all come with 2.0L 4-cylinder engines, dubbed the Drive-E series. The T5 name formerly sat on the trunk of cars packing the turbo 5-cylinder, and T6 stood for turbocharged 6-cylinder. The new naming scheme means the T5 Drive-E cars are propelled by a turbocharged 4-cylinder, and the T6 Drive-E models have a twin-charged (turbo and supercharged) 2.0L 4-banger. Surprisingly though, the V60 Cross Country, new for this year, is powered by the brilliant turbo 5-cylinder.
The 5-cylinder engine has been a Volvo signature item, and now with the last-gen Audi TT RS being discontinued, the Swedes remain the only players in the Canadian market that make one. It's a 2.5L motor, good for 250 horsepower and 266 lb-ft of torque. Unlike the S60R of a decade ago, no manual is available – the V60 XC has a 6-speed Geartronic automatic with sport mode, but no paddle shifters. It's a responsive enough transmission, but the highlight here for me is the noise of the 5-cylinder. It's a great, rumbly sound and the torque hustles the station wagon along nicely. I actually prefer this drivetrain to the 6-cylinder Polestar-tuned one in the V60 R-Design I drove last summer. Steering is decent enough and provides satisfactory feedback but it's not exactly involving – not surprising for a tall station wagon.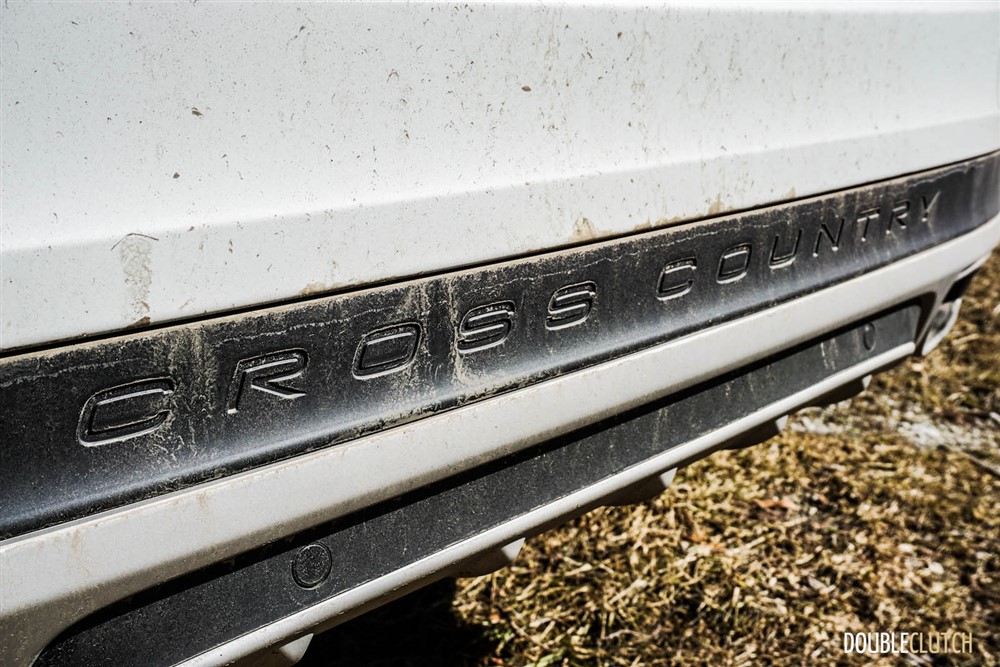 Efficiency is not the T5's strong suit, and it definitely doesn't help that the V60 Cross Country I drove was within its break-in period. The car was averaging 15L/100km when I received it with under 400km on it, and throughout my weeklong test, I averaged 12.5L/100km in combined driving with a heavy bias towards the highway. I do predict numbers closer to 10L/100km combined after the motor is properly broken in. An added bonus Volvo has always maintained is that save for the Polestar-tuned motors, their forced-induction engines are programmed to accept regular fuel without the slightest complaint from under the hood; something no other premium manufacturer offers.
It just so happened that my week with the V60 Cross Country consisted of a series of errands that required me to give family and friends rides in the car. Every single one of them commented on just how nice the interior looked and felt. The Beechwood leather interior is stunning to look at, though colours are subjective and some may not like brown interiors overall. Each of the panels on the interior, door panels and dashboard fits beautifully and the doors close with a solid "thunk". This is a car that exceeds the standards of good build quality, and from someone who's grown up with at least a couple of Volvos in my extended family, this is not the slightest bit surprising.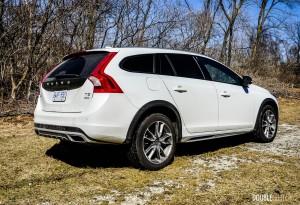 The 2016 Volvo V60 Cross Country starts at $44,100 for the base model, which comes with all-wheel-drive as standard equipment. I was given the top-level T5 AWD Platinum spec, with a few additional option boxes ticked off. A V60 XC Platinum can be had for $50,400, and my tester rang in at a hefty $56,050. For this sum, you get the best seats in the automotive industry, as well as a full suite of safety features including adaptive cruise control, collision warning with full auto braking, distance alert, pedestrian and cyclist detection with automatic braking, lane keeping aid, driver alert control, and road sign information. Being a Volvo, the V60 XC also comes with a plethora of airbags in every possible location, and the aforementioned incredible seats are also designed for maximum whiplash protection and child safety.
Yes, Volvo prioritizes safety over luxury and frills, but that doesn't mean this station wagon is lacking in this department. The dashboard layout is classic Volvo, and I have a love/hate relationship with it. I like the fact that it's simply designed and there are real buttons rather than a touch panel or a touchscreen. I also really like the humanoid "person" for climate control adjustment; every automaker should learn this. On the other hand, the controls for the infotainment system are getting incredibly dated and the classic telephone pad with numeric/T9 text entry is about three years past its "best before" date. The addition of a dedicated mouse or control knob for the system would work wonders. Additionally, the reverse camera is low-resolution and has a very bizarre angle. For a car hovering strangely close to the $60,000 mark, the camera should be a lot better.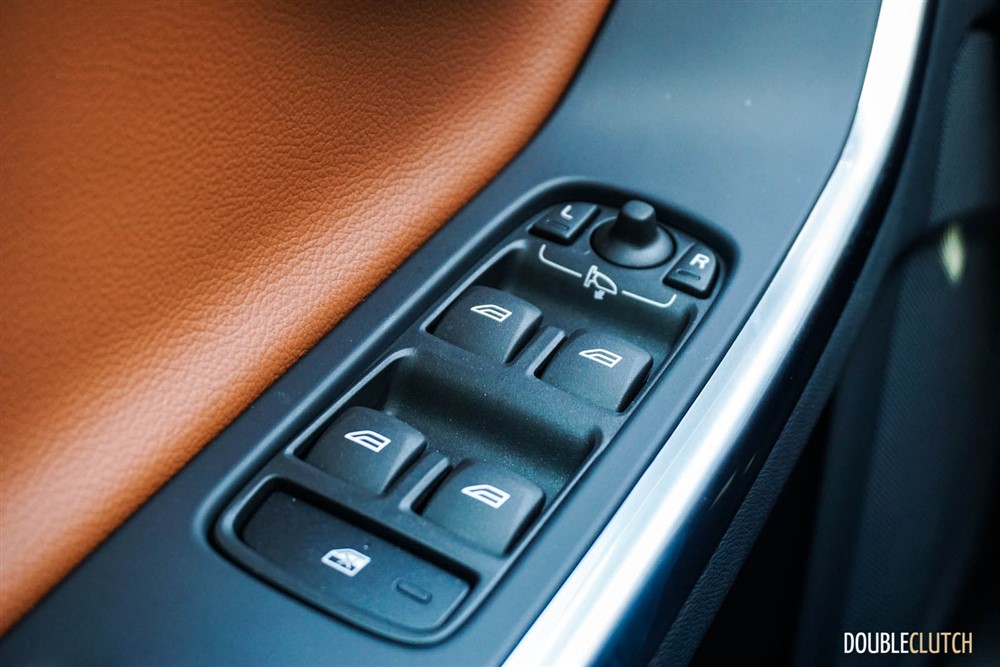 In the premium features department, Volvo ensures you're not left out when comparing to your neighbour's far-more-expensive Mercedes-Benz E350 Estate. The seats are leather and heated, there's a power sunroof, LED daytime running lights, satellite radio, iPod and Bluetooth connectivity, 18" wheels, an intelligent key system, full park assist, and navigation with Harman Kardon premium sound. The Climate Package adds heated rear seats, windshield, steering wheel, washer nozzles, and an interior air quality system. The BLIS package adds Volvo's Blind Spot Information System. My test car was also equipped with the $800 Arctic White metallic paint and active dual xenon headlights with washers. On top of all this, the instrument cluster is electronic and has three themes to choose from, between "Sport", "Eco", and "Elegance". Pretty neat stuff, considering this tweak allows you to toggle between digital and analog gauges.
Given that our test vehicles are always nearly brand new, we seldom get the service experience. However, our V60 Cross Country experienced a defective tire only minutes after picking it up from Volvo headquarters. Because the car had only delivery miles on it, we were advised that it would be better to call Volvo's "On Call" roadside assistance and learn just how effective it would be. The service experience that ensued was staggeringly good. The flatbed arrived to pick up the car within 20 minutes of my calling, and I was at the nearest Volvo retailer in another 25. The dealership's owner was outside ready for me with a smile as I jumped out of the tow truck, and I was offered a demonstration of Volvo's latest safety features while the car was being worked on. Within literally 18 minutes (I kid you not) the Cross Country was brought out front with a new tire on it. I currently own a BMW, I've had Audi and Mini products before, and my family is also experienced with both BMW and Mercedes-Benz as well as Volvo. Never before have I seen a level of service that matched that of Volvo, and I've heard similar stories from extended family in the states.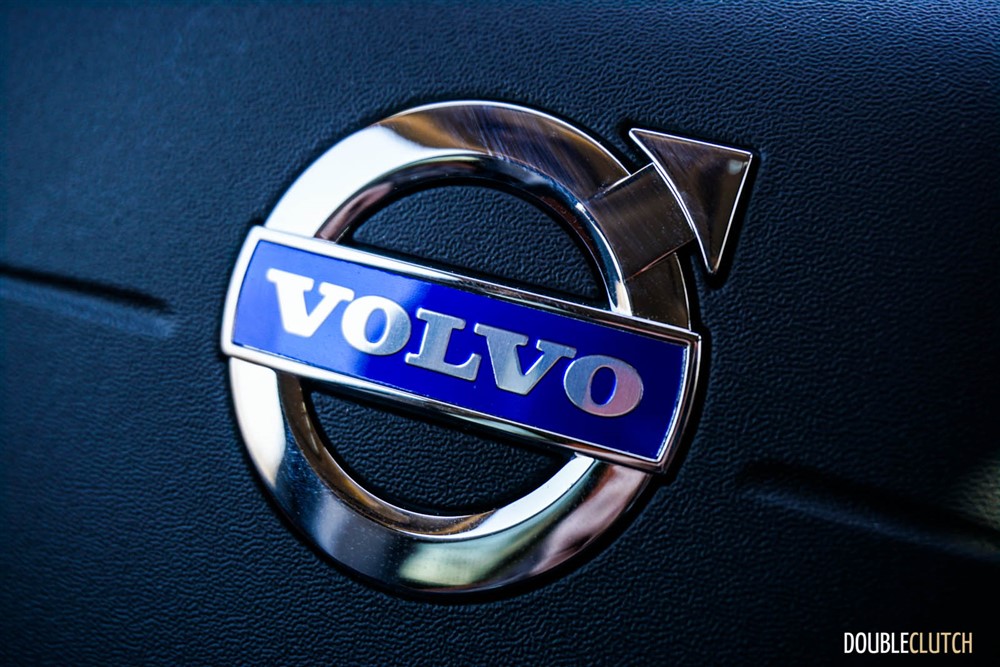 Other than the Subaru Outback, there isn't anything anywhere close to the 2016 Volvo V60 Cross Country sold in North America. The Outback is great and all (it won our Best Family Vehicle award last year), but it's not a premium vehicle. With its skid plates both front and rear, its tall ride height, great all-wheel-drive system, and tough looks, the Cross Country should be a pretty compelling choice. Perhaps it's just because I'm a wagon-lover at heart, or maybe it's because I prioritize form over function when it comes to shopping for a daily driver, but I honestly cannot see an argument for two-row crossovers or sport-utility-vehicles any longer. Manufacturers need to spend less time developing cars for tiny or non-existent niches (see BMW 335i GranTurismo or X4) and invest more into reviving the station wagon. The station wagon is back, and it's properly cool.
2016 Volvo V60 Cross Country Gallery
See Also: