Since its conception nearly three decades ago, the Hyundai Sonata has gone through quite an evolution. Back in the 1980s, the Korean manufacturer that showed up with entries like the Pony and the Stellar earned a reputation of selling mediocre automobiles for not very much money. Looking back at those days now, they're all but a memory of the distant past. In 2009, the Sonata midsize sedan was overhauled and given a polarizing look when compared to the rest of its crowded segment. This year, Hyundai has redesigned the car again and taken a slightly more conservative approach.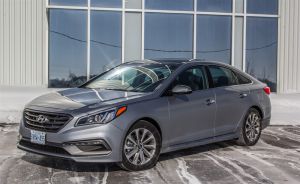 I borrowed a 2015 HyundaI Sonata Sport Tech painted in a Polished Metal for the week, to see how this specific model fits into both the Sonata line as well as the surprisingly crowded midsized sedan class. With newcomers like the all-new Toyota Camry and Chrysler 200, along with existing greats such as the Honda Accord and Mazda6, the Sonata needs to excel in order to be competitive here. The Sport Tech is the highest trim level available with the base 2.4L engine, and comes at a price just under $30,000.
The Sonata may be a more conservative design than the last, but looking at the outgoing car, it's easy to see why Hyundai took this approach. The 2009-2014 Sonata looked fantastic initially, but in my eyes, it hasn't exactly aged gracefully. The styling that I myself considered "out of this world" when it was new has now begun to look like it was trying too hard, and appears a bit over-styled. The new 2015 car looks like a toned-down but elegant evolution of the last one, and it's certainly growing on me. It's very clearly the larger sibling of the sleek little Elantra and the baby brother of the big-daddy Genesis. I understand the look they're going for with this car, and I'm on board with it.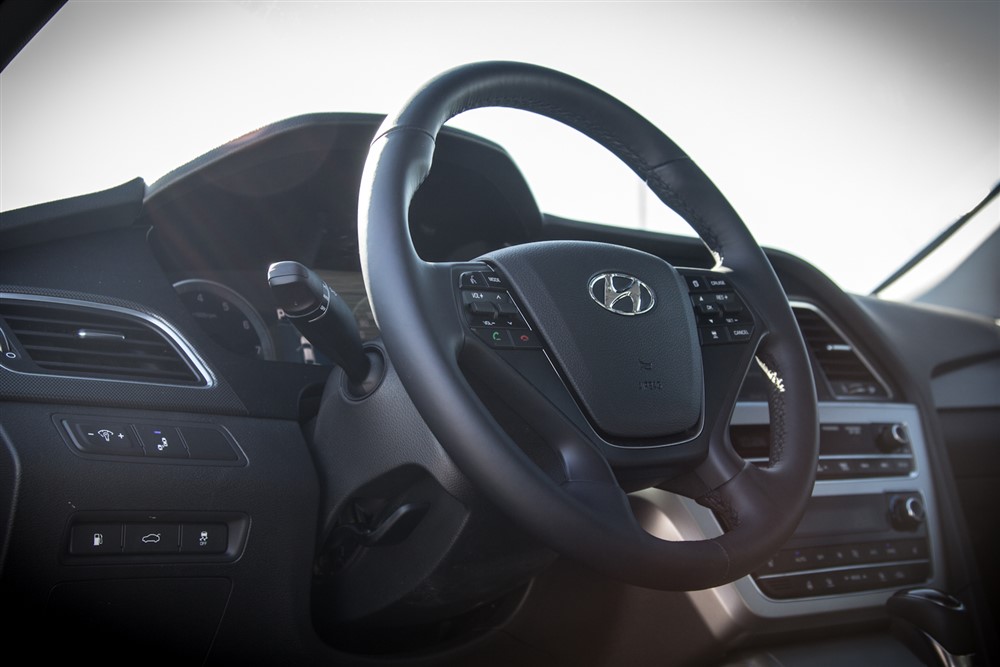 The Hyundai 2.4L 4-cylinder is now a tried and trusted engine. It's now called the Theta-II and has direct injection, making it exceptionally modern despite lacking any sort of forced induction or fancy cylinder deactivating technology. This powerplant is good for 185 horsepower at 6000rpm, and 178 lb-ft of torque right at 4000rpm. Previous Sonatas offered manual transmissions, but the only remaining option for 2015 is the 6-speed automatic with SHIFTRONIC. It's a pretty responsive engine, with throttle response being sharp and there being an overall decent amount of power. Naturally, those looking for more power have the choice to opt for the 2.0L turbocharged 4-cylinder engine.
Like many competitors, Hyundai no longer offers a V6 option in the Sonata; to have more cylinders, one must upgrade to the Genesis 3.8. The United States market gets the Azera, a premium sedan (and competitor to the Toyota Avalon) that slots between the Sonata and the Genesis, but we no longer get this model in Canada. Personally, I wouldn't bother opting for the turbocharged engine; the 2.4L gets the job done with minimal fuss. The 185 horses do need to work quite a bit to keep you going, especially at highway speeds, but even then, it's a versatile enough motor to do quick passes and go up and down hills when asked. The transmission is actually a very good unit that downshifts very quickly and usually grabs the right gear when it's asked to.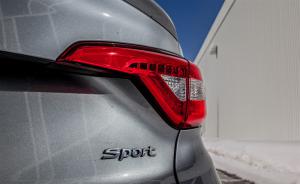 I really don't think prospective buyers of the Sonata are going to care all that much about its steering ability, but it's a lively car to put through a corner. The Sport Tech does have Hyundai's Driver Selectable Steering, which allows you to toggle steering modes between Sport, Comfort, and Normal. Rather than affect levels of feedback, these settings just adjust the lightness of the steering wheel, with Sport being the heaviest. I chose to leave the car in this setting through most my test week, because it's the mode that feels the most engaging to drive. Comfort and Normal are just far too light for my personal liking, but I can see a large percentage of buyers just leaving it in the Normal setting throughout the life of the car.
My test took place in the winter, so I wasn't able to get fuel efficiency numbers that are as accurate as I would have liked. However, the Sonata Sport Tech was able to achieve numbers in the 9.4L/100km range, and this is in a combined driving setting. Strictly driving on the highway, I was able to get this down to 7.0L/100km. In spring/summer temperatures and without having to deal with winter tires (as equipped on my test car), I can see the highway number dropping considerably, maybe even down to 6.0L/100km. This 2.4L engine can get away on regular octane fuel just fine; there's no need for premium here, and using the fancy stuff won't improve performance or efficiency in any way.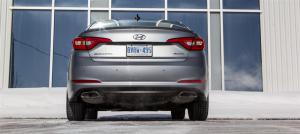 The Sport Tech trim level sits smack dab in the middle of the Sonata family. As I previously stated, this is the most loaded a Sonata can get without 'graduating' to the turbocharged engine. The way it's equipped, I wouldn't be surprised if it were to become a huge volume seller in the coming years. For a car priced under $30,000, it delivers a ridiculous amount of features including a panoramic sunroof, an 8" touchscreen with built-in navigation, heated front and rear seats, a heated steering wheel, dual-zone automatic climate control, and rear sunshades in the doors. Keep in mind, barely any of the Sonata's competitors currently offer rear sunshades regardless of trim level. Additionally, the Sport Tech comes with Bluetooth connectivity, reverse camera, satellite radio, an intelligent key system, Dimension premium stereo with 7 speakers, LED taillights, 17" alloys, and a rear diffuser.
On the safety side of things, the Sonata doesn't skimp either. All models, starting with the base GL at just over $23,000, include 7 airbags including driver's knee and roof-mounted side curtain bags, vehicle stability management (VSM), electronic stability control and traction control, and ABS. My 2015 Sonata Sport Tech also added things like Blind Spot Detection and rear park assist. For the price point it sits at, the car is seriously well-equipped, and I was hard-pressed to find anything I didn't like about it. The only real issue I had with it was something specific with the interior. I like that there are buttons for everything, and the overall layout of the dashboard is nice, but the buttons all look so similar that it's hard to tell them apart. This also makes it difficult to find specific controls; it took me until two days into my test to realize that this car had a heated steering wheel because the button blends with all the others.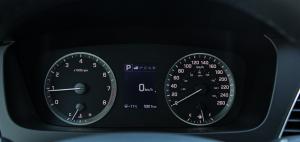 To answer the big question I had, yes, the Hyundai Sonata is still an exceptionally competent sedan in its class. I personally would buy it over the Toyota Camry for the sole reason that it's a bit more interesting while still packing incredible value for every penny spent. The Camry and Malibu are nice, but they lack any sort of excitement. The Sonata isn't nearly as punchy or "in your face" as its cousin, the Kia Optima, but it adds that necessary touch of elegance for 2015. It's not quite up to par with my benchmark in the class, the current Honda Accord, but that's okay. A comparable Honda Accord would be the 4-cylinder Touring trim, which is about $1500 more, and lacks a ton of the features that the Sonata Sport Tech has. What this new Hyundai offers is impeccable value and exceptional refinement, making it worth every dollar they want for it.
2015 Hyundai Sonata Sport Gallery
See Also: