My team regularly gives me hell for supposedly booking myself into selective vehicles, and that these don't include pickup trucks or large SUVs. Honestly, I'm not an elitist – it's just that living in a downtown Toronto condominium with an underground parking garage typically limits the size of vehicles I can bring home and park securely through the test week. Additionally, I'm not exactly a pickup truck aficionado like my colleague Zack, who really is the authority on pickup trucks within our tightly knit group. Regardless, it was time for me to get out of my comfort zone, so I was handed the keys to a 2015 Ram 1500 EcoDiesel, in plush Laramie trim, for a weeklong evaluation.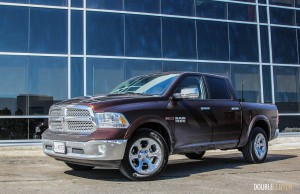 I keep meticulous records of all of the test vehicles we borrow, down to odometer readings and license plate numbers. At the time of this writing, this number is in the 600s, and though we've tested tons of pickup trucks, this would mark the first time I would personally have one for the entire week. Given that I was already leaping so far out of my comfort zone, I decided to do things even more differently. This Ram has the long-awaited EcoDiesel motor, making it the only truck in its segment to have a diesel option. I conducted a fuel economy experiment to see just how efficient this behemoth can be after spending a week downtown in cold wintery conditions.
First things first; the EcoDiesel motor is spectacular. It seems as though everybody I know, even those that supposedly despise pickup trucks, has a Ram EcoDiesel on their shopping list in the near future. The motor is actually a unit built by the reputed Italian marine engine builder VM Motori. It's a 3.0L V6 turbodiesel (shared with the Grand Cherokee EcoDiesel) that's good for 240 horsepower and 420 lb-ft of torque. The only available transmission is the brilliant ZF-made 8-speed automatic. Throttle response is decent, but there's nothing that takes away from knowing the sheer size of the Ram when driving it. The motor is very good with regards to performance, but it does sound like a diesel; it clatters a bit at idle, moreso than a modern TDI. All 420 lb-ft of torque are noticeable when giving the Laramie some gas; highway merges are effortless and the big kahuna quickly settles into its comfort zone, which is cruising at a steady rate of 100 km/h.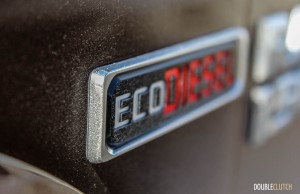 Speaking of cruising on the highway; this is really where the Laramie excels. The driving position is dead-on and the truck makes the driver feel as though you're the king of the road. It seems as though you're sitting meters off the ground and things like minivans and regular SUVs feel considerably lower. The sheer height of the thing adds to the overall comfort, although it does make entry/exit a bit difficult for the vertically challenged. It didn't take me long at all to get used to the driving position or to find locations for any major controls.
Fuel economy is another place where the Ram EcoDiesel is exceptional. No seriously, I can't even believe that I'm saying this about a pickup truck – I was expecting fuel mileage considerably worse, especially given the freezing temperatures. With a solid 60/40 split between highway and city driving, with a good bit within the downtown core, the Ram still managed to stay around 9.6L/100km. Certain longer highway hauls saw numbers dipping as low as 8.5L/100km, absolutely unheard of for a full-size pickup truck.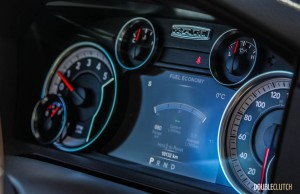 A brand new 2015 Ram can be had for as low as the $20,000 mark for a base ST work truck, or as much as $90,000 for a 3500 Laramie Limited dually. My loaded-up 1500 Laramie came in in the mid-$60,000 range, almost fully-optioned out. This includes things like full leather inside, heated/ventilated front seats (heated rears), a heated steering wheel, full UConnect with Garmin navigation and iPod/Bluetooth connectivity, ParkSense front and rear, a reverse camera, keyless go with factory remote start, power folding mirrors, and of course, 4×4. This is the Crew Cab, with surprisingly spacious rear accommodations, making it extremely usable on long road trips.
The huge colour screen in the middle of the pickup's instrument cluster is particularly useful, and has tons of options including multiple trip computers, a handy fuel economy display, tire pressure, audio display, and other things. There's also a menu that, when parked, lets you customize vehicle settings. One thing I wish it could do is display specific track information from the iPod; when on the music screen it only says "iPod" rather than telling you what song or playlist you're listening to. The overall size of the screen is certainly big enough to support this feature, so perhaps it's coming in a software update or future models down the road.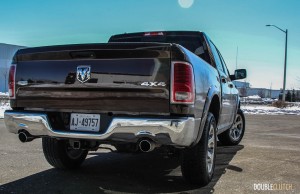 My Ram 1500 looks seriously badass in a very natural Western Brown metallic and is complemented perfectly by the Canyon Brown leather upholstery. The Laramie is properly upscale and the price of entry really is justified. My tester was missing one option I would have liked to have, which is the 4-corner air suspension we've previously experienced in other Rams we've driven. It's a neat setup and, though it could pose expensive if a failure occurs outside of the warranty period, it could be particularly useful for someone like me who needs to clear underground garage entrances on a regular basis. I know I was able to get it through without any issues, but I'd have liked to drop it a few inches if for no other reason than my own peace of mind.
The power folding mirrors and parking sensors come in handy when parking the Ram, because the thing is an absolute mammoth. It cleared the entrance to my underground parking garage by inches, and when parked into my 1.5 car spot, the front of it hung out by about 6 inches. I consider myself pretty competent at parking, so I was able to effortlessly reverse it into my spot each and every day. I even had the chance to parallel park the Laramie when street parking in rush hour-plagued Toronto. It took less time than I thought; my biggest issue was estimating exactly where the long hood ends. Of course, every single time I parked, someone had a question about the truck. One particularly interesting anecdote is when I stopped by to visit my parents on the weekend; their next door neighbour has been a diehard Ram guy for as long as I can remember; at least since I was a toddler. He promptly marched over and began to ask me questions about the truck. I decided to take him for a spin around the block, and a couple days later, he informed me that he now has one on order.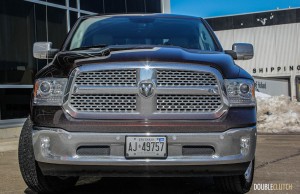 Three of the biggest players in this segment are the three North American titans; Ford, General Motors, and Ram. The Ford F-150 is new this year, and the GMC Sierra/Chevrolet Silverado were new last year. The Ram has consistently been going through updates, refreshes, and redesigns to stay competitive with the pack, and remains my favourite of the bunch. Simply put, this truck delivers a combination of luxury, durability, and versatility that's unmatched by its competition. This is a pickup truck that's perfectly suited to a family vacation that involves a ten-hour road trip (without having to refuel!) as it is bouncing around a mucky job site as a true workhorse. Plus, being the only vehicle in its class to offer a diesel option makes It just that much more appealing!
2015 Ram 1500 EcoDiesel Laramie Gallery
See Also: