Mustang owners are an interesting bunch. In all my years as a car guy, I've never come across a more eclectic and proud group of owners. They have every right to this pride though; the Ford Mustang has been an icon in the North American car scene since it was introduced midway through 1964. Fifty years later, this is the latest generation of the iconic pony car from Ford. It's now available with the buyer's choice of four, six, and eight-cylinder engines. We've already driven the Ecoboost turbocharged 4-cylinder, so it's time for us to spend some quality time with the one we've been waiting for. We were handed a 2015 Ford Mustang GT painted in a stunning Competition Orange, on Pirelli SottoZero winter tires, for a weeklong evaluation.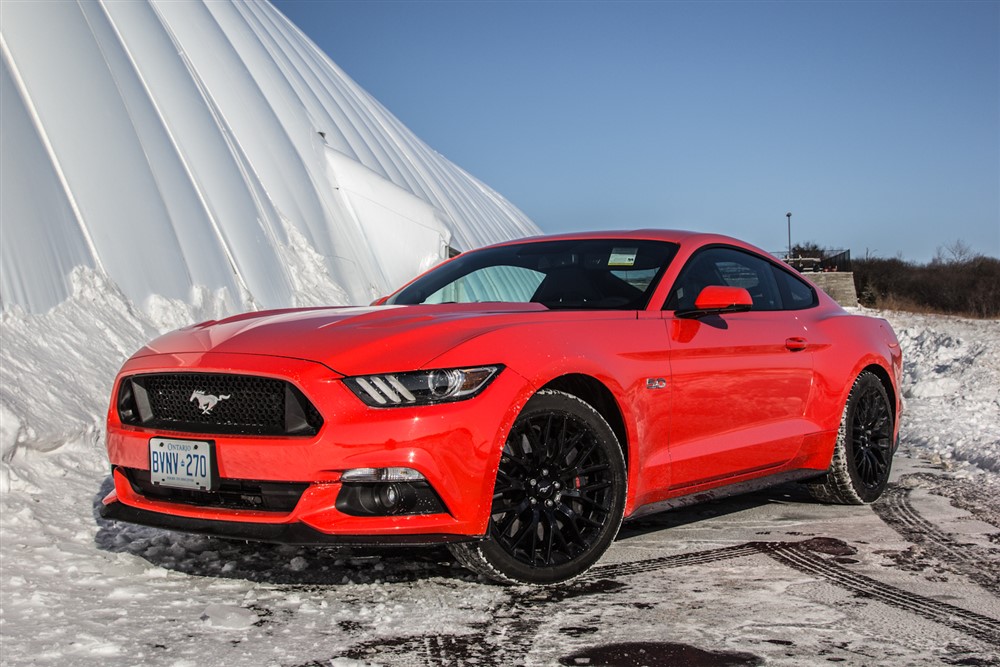 As soon as you get into the new Mustang GT, the first thing you notice is how long and high the hood is. Under this hood is where the beast lives; it's a 5.0L V8 (which uses the valves from the outgoing Boss 302 model). In a world where small-displacement turbocharged four-cylinders are becoming more and more prevalent, a good old American V8 is an exceptional palate cleanser. This engine is good for 430 horsepower and 400 lb-ft of torque, with our tester equipped with the 6-speed manual that every muscle car enthusiast will be fortunate to see still exists. There is also a 6-speed automatic available for the aging population that no longer wants to bother with a clutch pedal.
The torque is almost instantly available, and the V8 roars to 100 km/h in 4.5 seconds. Not only does it get to highway speeds quickly, it barrels through the quarter mile in 12.8 seconds flat. Throttle response is excellent, and the Brembo brakes equipped on our GT ensure the car comes to a stop pretty quickly. Previously, Mustangs (just like Camaros and Challengers) were straight-line cars that couldn't go around corners to save their own lives. Now though, Ford has completely redone the suspension setup on the car allowing it to be a track monster no matter how many curves there may be. Mustang enthusiasts will finally rejoice because there's an independent rear suspension as well.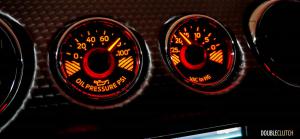 It's not just the performance numbers that seal the deal for the Mustang. What's truly special here is the emotional experience behind driving this car. There's no need here for sound to be artificially brought in; the performance exhaust on the GT makes for an incredible roar, the true sound of 'Murrica. Our American friends like to refer to it as the sound of liberty and the beating heart of a purebred pony. Dropping a gear or two on the highway opens up the car and causes it to thunder past whatever obstacle may be in your way. There's so much power here that the average Joe would consider it unnecessary; the Ford Mustang can break the rear tires loose in third gear. Yes, that's right – third!
In previous Mustangs, the shifter on manual transmission-equipped cars was unrefined and notchy. When it comes to delivering a purist driving experience, a good shifter and clutch combination is essential, and Ford hasn't missed the mark here. We consider the Honda Civic Si and the Mazda MX-5 our benchmarks for how a proper manual gearbox should feel. Of course, these two cars are in a vastly different class than Ford's muscle car, where the clutch needs to be considerably heavier. The shifter in the new Mustang delivers; it's wonderful. Throws are nice and light, and it's almost as if it falls into the right gear when it needs to. The clutch is beefy and has a slight learning curve to it, but it's not going to make anybody's leg sore.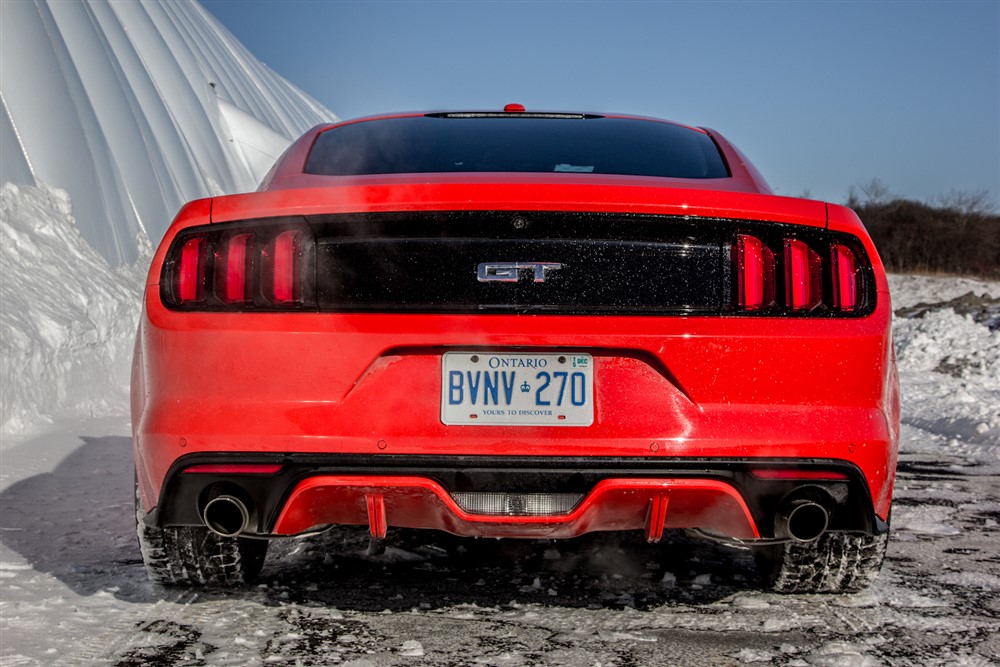 The Ford Mustang is already a performance bargain. However, our particular tester was equipped with the GT Performance Package ($3700), which includes Brembo brakes, 19″ wheels, a 3.73 Torsen rear axle, beefier springs, bigger front and rear sway bars, a K-brace, and unique chassis tuning. This thing is an animal in every sense of the word. At $54,000 as-tested, the car isn't cheap, but it's better in every way than a regular Mustang with a sticker in the mid-twenties. Our car also had the $1,800 Recaro sport leather seats (manual!), MyFordTouch with voice navigation ($800), the Adaptive Cruise Control, and a couple of other small gizmos.
When MyFordTouch arrived a few years ago, we weren't huge fans of it. Over the past little while though, they've implemented a bunch of software updates and overall tweaks to make it a much easier system to use. It's now more responsive than ever, very simple to use, and packs features that are either not available in other manufacturers' infotainment systems, or are much easier to use here. The Ecoboost Mustang we sampled recently had the SYNC setup without navigation, which we also liked quite a bit, so if you choose to opt out of having navigation, perhaps it's not worth paying the premium for MyFordTouch.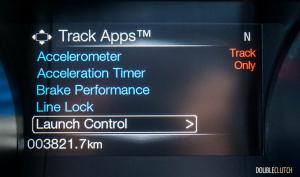 With toys like a built-in accelerometer and launch control, it's difficult to overlook cars like the Ford Mustang. However, like every other car, it does have its drawbacks. We were lucky enough to have this particular test car in the heart of winter, so we had the opportunity to see how the car behaves in icy and snowy conditions. The reality of it is, this car excels in the summer. Even with good performance winter tires mounted, the V8 is just too eager to kick out the rear wheels. The slightest miscalculation could cause an issue. Those who intend to drive their Mustang year-round may want to consider the four-cylinder Ecoboost; it's a bit better in this regard. Also, the ride isn't the softest, but the GT Performance Package's unique springs definitely contribute to this.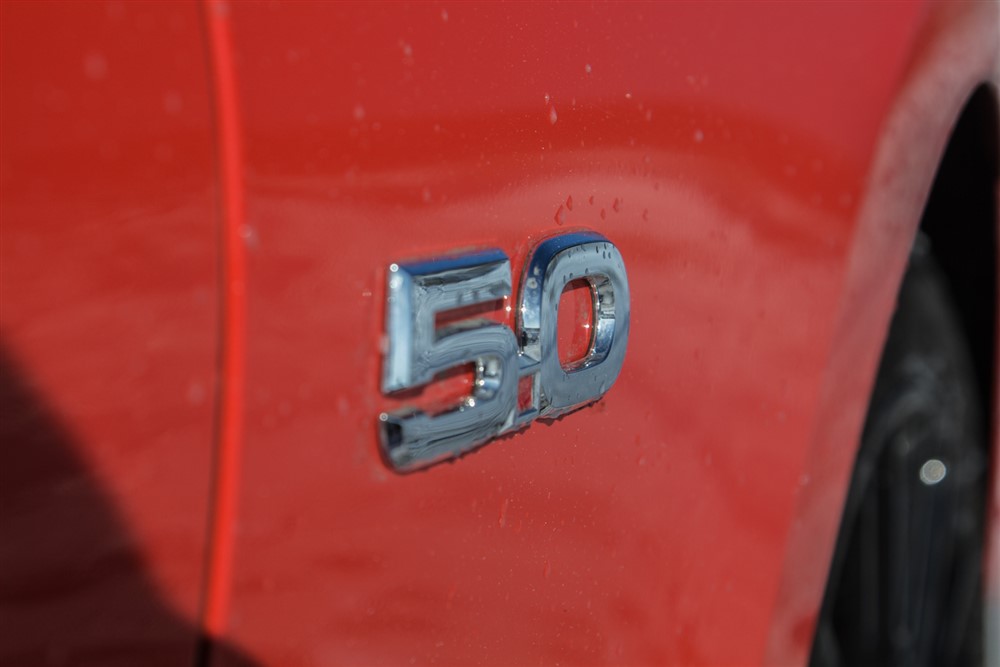 In temperatures hovering dangerously close to minus 30 degrees Celsius, we observed 19L/100km on premium fuel in city driving. On the highway, our economy improved to 10.5L/100km, giving us a full test average of 13.8L/100km. Ford says the Mustang GT can get away with regular fuel, but makes full power when fed premium. As car guys, we believe it's blasphemy to put regular fuel in a sports car of any sort. Despite its American size, the Ford Mustang GT is every bit a sports car as any other out there, and this latest generation is the hottest one yet. Now it's time to sit back and wait for the warmer weather before we start seeing these beauties pop up everywhere.
2015 Ford Mustang GT Gallery
See Also: