Just a few weeks ago, while testing a luxurious Chrysler Town & Country, I reminisced a little about how important the minivan has been to Canadians over the last thirty years. Aside from the lack of sexiness, the minivan still remains a staple on our roads and an important market to play in. Kia is one manufacturer that has somewhat been on the sidelines in the minivan game for a while now. The previous generation Sedona, never a hot-seller to start with, languished in the shadows of the many recent and exciting Kia redesigns. But the Sedona's luck has changed and the folks at Kia have finally given it the attention it needed to get back into the game.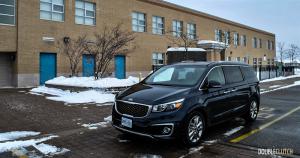 Interestingly, rather than aligning to Kia's typical strategy of offering a low entry cost and concentrating on value for dollar, the team at Kia have positioned the Sedona a little differently. For starters, the base price of a Sedona sits at $27,500, significantly more than an entry level Dodge Caravan. It's better equipped and the interior quality certainly outshines the Chrysler, but Kia is clearly targeting the upper end of the minivan market and aiming for some pretty well established players; namely the Honda Odyssey and Toyota Sienna.
In that same vein, my tester, a 2015 Kia Sedona, arrived in top-of-the-line SX-L+ trim with a hefty option list and a $46,000 price tag. On the outside, your money gets you Kia's friendly corporate grill flanked with auto-leveling HID headlamps, a splash of chrome here and there and some handsome 19" chrome rims. As an aside, chrome rims have sort of fallen by the wayside on new cars recently. I personally miss them, so kudos to Kia for keeping them alive here. I am a fan of the new Kia front fascia, but otherwise the Sedona blends in with the rest of the minivans out there; nothing ground breaking in the styling department here.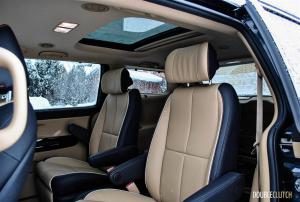 Where the Sedona really starts to break new ground becomes a lot clearer as soon as you open the dual power sliding doors. To my surprise, the interior is actually stunning in the new Sedona. The first thing I noticed was the two-toned leather, creamy perforated tan with dark blue accenting, white piping and bright orange stitching. It definitely sounds a bit garish, but it looks and feels wonderful in person and really makes the inside of the van feel special. Note though that this exceptional leather treatment is only available on the SX-L (and SX-L+) trim levels.
Second row passengers are treated to their own heated leather reclining captain chairs with extendable foot rests, a ceiling mounted digital climate control and a full retractable rear moonroof. Passengers in the third row don't get cheated either with tons of leg room from the leather bench and plenty of handy storage for drinks and other items. Both rows of rear seating operate on the "slide and stow" system which makes it easy to slide the second row forward for huge access to the third row, or to stow any combination of seats to reveal a relatively flat floor.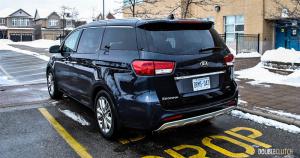 The luxuries are only increased up front with heated and ventilated front buckets, leather and wood-wrapped heated steering wheel, another power moonroof, an 8-inch multimedia touch screen with navigation and a pounding 8-speaker Infinity sound system. Kia makes great use of soft plastics on all the commonly touched areas, and overall interior panel fitment is quite nice. One interesting interior trait is that the Sedona actually has a full centre console up front, just like you'd expect to find in a sedan or SUV. The gear shifter is actually placed on the console, along with some key controls and a cavernous storage bin. I like the console because it makes the Sedona feel a lot less like an old minivan, but I can't help but feel like it might restrict access to the little monsters in the back seat should they need to be reminded of your authority.
The little trouble makers will certainly be safe inside the Sedona, as my tester came equipped with literally just about every safety feature out there. One of the most interesting features is a full 360-degree view video screen that makes maneuvering a breeze. The system can provide a number of different views of your surroundings with its 4 cameras, including a birds-eye view of your vehicle and everything around it. If that's not enough to help get you parked, there are also front and rear parking sensors. The Sedona offers lane departure and frontal collision warning systems, and a very handy adaptive cruise control system; a technology usually only found on higher-end luxury cars. If all of those aids are not enough to keep you out of trouble, the Sedona is equipped with advanced front-impact airbags, front seat-mounted side-impact airbags and full-length side curtain airbags. I've seen the crash tests, and in the unfortunate event of an accident, these almost turn the entire interior of the Sedona into what resembles a small bouncy castle.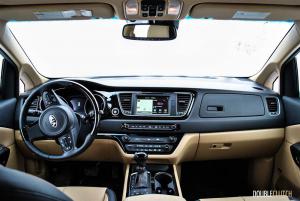 The Sedona only has one available engine: the 276-horsepower 3.3L V6 mated to the 6-speed Sportmatic transmission. 276 horsepower should be more than adequate, but truthfully the Sedona feels a bit sluggish and the engine feels strained, which takes away from the overall driving experience. The 6-speed is pretty swift to downshift when required, making up for the engine. In the handling department, the Sedona is noticeably more composed with less body roll and more response than the Chrysler I drove a few weeks ago. However, it's still a big heavy van and reminds you of that quickly should you try to get a little spirited behind the wheel.
The steering wheel itself offers very little road feel, which also puts a damper on fun; it does have a nice firm on-centre feel that I appreciate on the highway. Speaking of which, the Sedona makes for a nice cruiser with limited wind noise and a very soft yet confident ride. Fuel economy was right on par with the Town & Country at around 12.5L/100km in my mixed commuting, and down around 10L/100km on a highway run. Winter conditions definitely contribute to this mileage, and I would imagine it'd be a bit more efficient in warmer weather.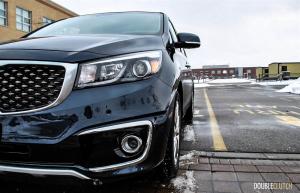 All-in-all the Sedona is a very competitive and fresh offering in a segment that feels like it's gotten a little stale recently. I think Kia has a good opportunity to capture some minivan buyers who are looking for something a little different, yet still retain all the benefits of a true minivan. No, it isn't exactly fun to drive, but being a minivan I doubt many buyers are going to care. What they may care about is that it offers the latest and greatest technology and safety equipment in an upscale and well-designed package. That's a pretty compelling value, even despite the price tag. Look out Honda & Toyota, Kia is in the game.
2015 Kia Sedona SX-L Gallery
See Also: