The electric car segment is one that has caused manufacturers to appear and disappear altogether. Elon Musk has always been a forward thinker who explores outside the box in the most unimaginable ways possible, and that's where his creation, the Tesla Model S comes in. Due to incredible demand, Tesla has been selling every Model S as they're built, so it's been difficult to get a press car for a week-long evaluation in Toronto. However, when the brand announced their Double Black Tour making its rounds, we were asked to participate. This meant getting our first go behind the wheel of the all-new 2015 Tesla Model S P85D, if only for a short period before we can get our hands on one for a longer length of time.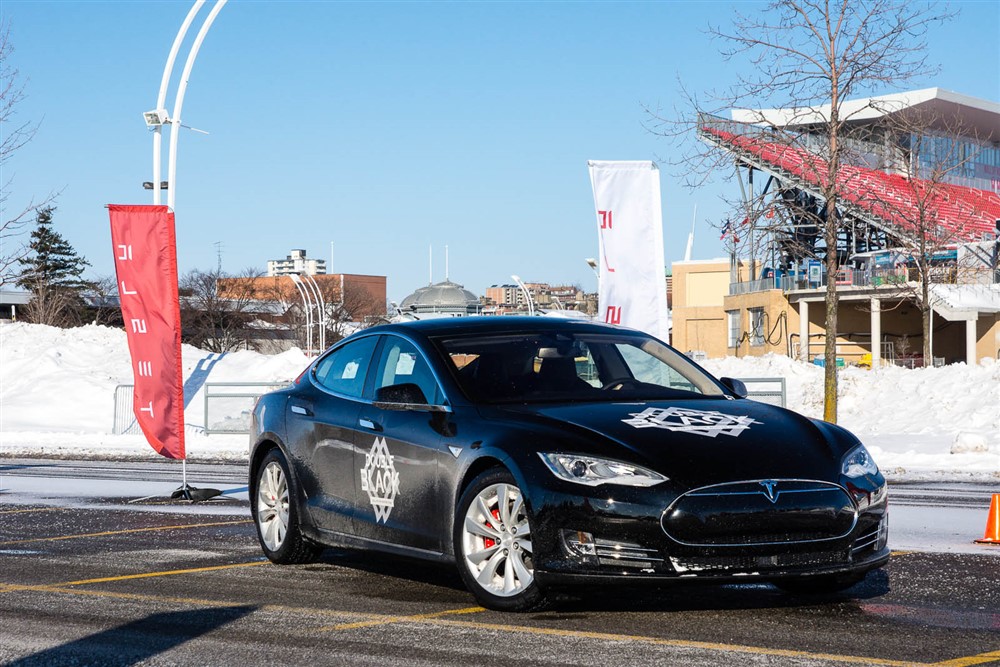 Last winter, we sampled the range-topping Model S P85, which was absolutely manic. We genuinely fell in love with the car and came to the conclusion that if a car of the future exists, this is the one. The P85D though, is a whole new animal, and to call it manic would be an understatement. The D stands for "dual motor", which means the engineering team at Tesla headquarters has managed to shove a 221-horsepower electric motor in front of the cabin, which powers the front wheels. This adds onto the 470-horsepower electric motor from the regular P85, which powers the rear wheels. This combination does two things: it makes the Model S considerably faster, and it gives the car all-wheel-drive.
When I say faster, I mean the car is a rocketship. This setup is now good for 691 horsepower and 687 lb-ft of torque, making it one of the fastest cars I've ever had the pleasure of driving. There's an "Insane" mode, which maximizes grip and optimizes acceleration power, allowing the Model S P85D to rocket to 100 km/h in 3.2 seconds. The car blows through the quarter mile in 11.8 seconds like it's nobody's business. Because it's electric and the torque is available instantly, there's no need for features such as launch control. We tested the car on a closed course, and trust me when I say that the car's acceleration in "Insane mode" rearranges your organs and plants you firmly into the seatbacks, as if your body is frozen. It's a seriously intense experience.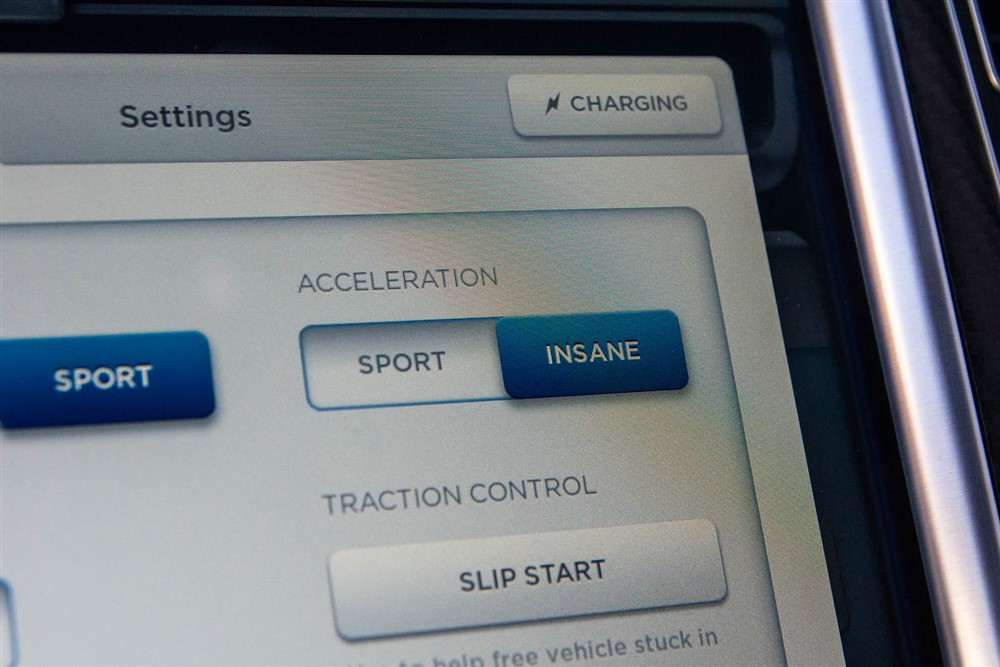 All-wheel-drive certainly helps in winter conditions, and we were able to push this system to the limit thanks to the closed course set up for us. Even in deep snow and only sporting all-season tires, the Model S P85D was able to get grip and accelerate without getting stuck even from a standstill. We assume that with a proper set of snow tires, the car will legitimately be unstoppable. Tesla does allow you to completely disable the stability control systems if you choose to, and induce some oversteer for wintery fun. The Model S has a sharp steering setup that allows it to smoothly careen through a slalom, and the tight suspension helps minimize body roll.
The real conversation point about the new P85D is the incredible acceleration, but that's not really what amazed us about this car. What's truly special about this car is how nicely everything comes together. There's no start/stop button or ignition key, or visible switches for the door locks. You keep the fob (shaped like the Model S, by the way) in your pocket, and as you approach the car, the chrome handles slide out towards you. As soon as you get in the car, it's already on. There's a gear selector on the steering column that's right out of the Mercedes-Benz lineup, and nearly everything else is operated through the huge 17″ touch screen.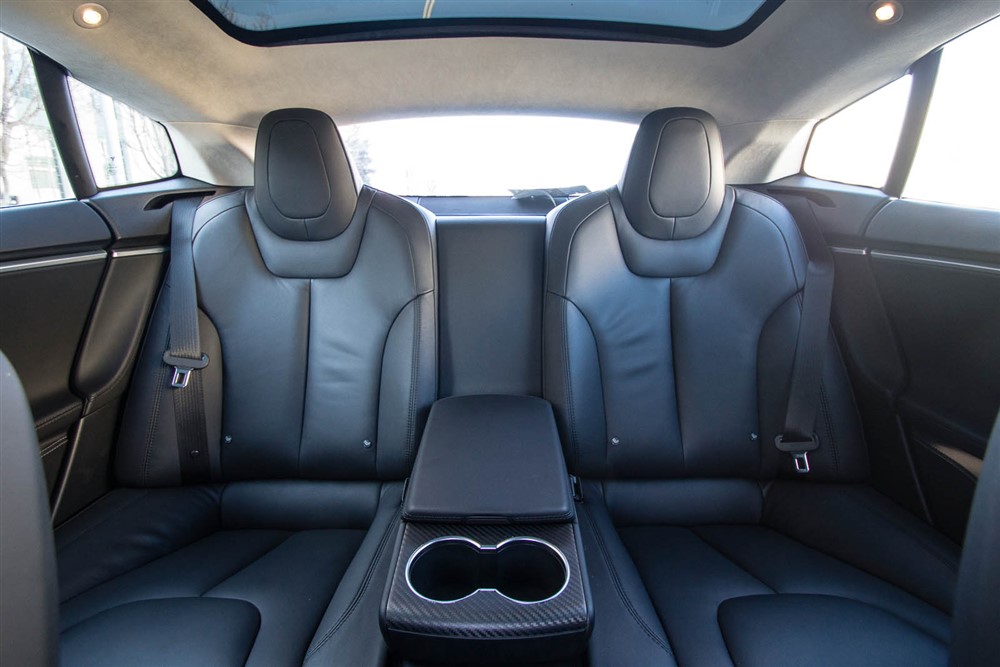 The screen is amongst the most responsive we've ever experienced. Everything from the heated seat controls to operation of the sunroof is done through here. Entering destinations in the navigation system is going to be familiar to those who play around on Google Maps on their smartphone or computer. You can't play music from your iPod using the USB ports, but you can stream it wirelessly via Bluetooth connection. We know how averse the aging population is to everything becoming technology-dependent, but such is the world. This system is a cinch to operate once you've given it a couple hours of your time. It has a learning curve, but it's not difficult. The P85D has executive seating in the rear, where the seats are also heated. This car may be full of nutty technology, but it still remains a proper luxury sedan with no compromises.
Tesla may have changed the world's opinion on the future of electric vehicles, but most prospective buyers still have one serious concern: range anxiety. We've tested electric vehicles like the Nissan Leaf and the Ford Focus BEV that can travel just over 100km on a charge. The magic number that everyone seems to want to achieve is 300 miles (482km). The P85D may not be able to do that, but it can come pretty darn close. Tesla claims 407km on a charge in ideal conditions, which is essentially cruising at 100-105 km/h. In our winter test last year, we noticed range being considerably worse in cold conditions, but Tesla claims that they've been working on ensuring minimal loss of range in cold temperatures, and we believe them. Anything over 300km in normal driving and I would assume the average buyer would be satisfied.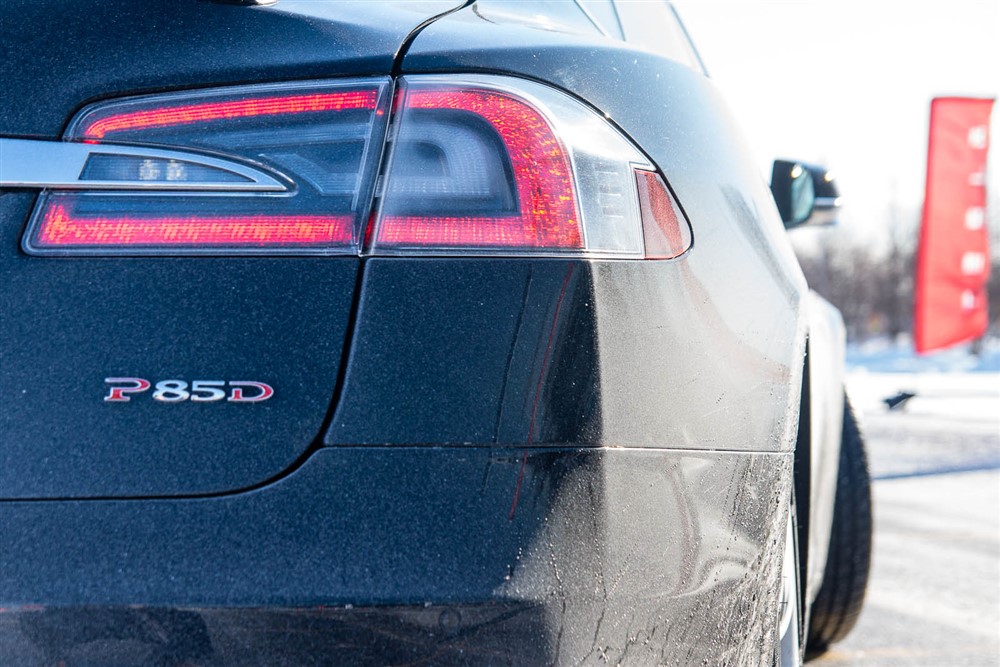 There are a couple of things we would change with the Model S, and they're not isolated to the P85D alone. Firstly, I appreciate the technological marvel this car is, and everything about it, but I wish there would be a master "on/off" switch for the car. It just makes life simpler in case there's a glitch. I can't help but wonder what would happen if the car 'forgets' to turn off when the driver walks away and tries to lock it. Also, I would like to see the ability to play music from an iPod through USB. Bluetooth streaming devours battery from a mobile device, a problem that's circumvented by using a wired connection.
Not only is this the first attainable (relatively, at just under $115,000 as-tested) dual-motor electric car, it's the first car with an "autopilot" feature. The car is capable of maintaining an appropriate distance from vehicles ahead of you, as well as changing lanes after ensuring that no vehicles are in your blind spot. It's the closest thing to autonomous driving that $100,000 can buy right now. While purists like us are hoping that we're still decades away from giving cars this sort of autonomy, the technology aspect of such toys is undeniably cool. The combination of the entire suite of safety technology, all-wheel-drive, and mind-boggling acceleration ensures that the 2015 Tesla Model S P85D is truly remarkable, and is most definitely here to stay.
2015 Tesla Model S P85D Gallery