Jeep is a name that has a ton of brand recognition, reputation, and a huge following behind it. Even up here in the urban parts of Toronto, you can't go more than a few blocks without seeing a Wrangler of some sort, slightly modified at the very least, packing a few battle wounds from its adventures. Last year, when our friends at the Chrysler Group reintroduced the Cherokee, we liked it quite a bit, and so did our colleagues. This year though, we decided to sample a trim level that's been beefed up a little bit. As such, I was tossed the keys to a 2015 Jeep Cherokee Trailhawk on a particularly cold week.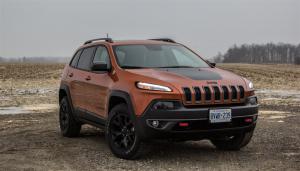 Typically, manufacturers aren't fans of media outlets off-roading their vehicles. After all, auto journalists aren't experienced mudders, and the slightest mishap could result in thousands of dollars worth of damage to the vehicle. Despite this, Jeep granted us permission to get this Trailhawk a little muddy. Unfortunately, my week with the truck consisted of snow, which covered obstacles on my favourite mudding "circuit", so I didn't actually take it too far off the gravel path. I was able to determine though that the "Trail Rated" badge on the Cherokee is no joke; this thing is capable.
What makes the Trailhawk unique from the regular Cherokee is a series of enhancements that help it stand out as a true off-roader in the sea of sport-utility-vehicles and crossovers that really shouldn't be venturing too far out of the local Costco parking lot. Here we have an 8.7 inch ground clearance, and approach/departure angles of 29.8 and 32.1 degrees, respectively. Additionally, the suspension on the Cherokee provides 6.7" of travel in front, and 7.8" out back. There's also the Selec-Terrain system with four modes; Rock, Mud/Sand, Snow, and Sport. These modes determine transmission shift points, torque distribution and tweak the electronic stability control to ensure maximum grip in every situation.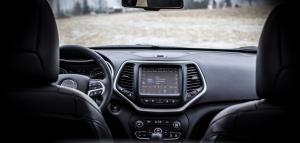 The Jeep Cherokee is available with a 4-cylinder motor, but the Pentastar 3.2L V6 is only a $1,600 option. This motor is good for 271 horsepower and 239 lb-ft of torque, not far off from its 3.6L sibling in other Chrysler Group applications. It's not a particularly quick engine, but then again, this isn't supposed to be a particularly quick truck. The engine sounds great, and pulls the Cherokee to speed without much complaining. I know that engine sound isn't really a huge concern with regards to the crossover/small SUV market, but when a truck is beefed up to the extent of this Trailhawk, it definitely has an impact. It has a roar that's almost reminiscent of the GM 5.3L V8, and adds that bit of character that suits the ruggedness the Trailhawk respresents
The only transmission available on the Trailhawk is the 9-speed automatic, new last year. Despite facing some obstacles on the regular Cherokee when it was first introduced, it appears to have had the kinks worked out of it. The Cherokee shifts without any fuss, and you really can't feel the transmission changing gears half the time. However, don't mistake this as me saying it's a smooth transmission. It feels just as rough-and-tough as the rest of the Cherokee. Driving around in the city resulted in a few rougher shifts, not really as precise as I would like. No paddle shifters are on board here, but manual shifting is possible using the shifter itself.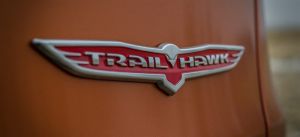 Fuel mileage wasn't great, but it really wasn't as bad as it could have been. I had a close friend with an older ZJ Grand Cherokee almost a decade ago, with a V8 engine that was considerably slower than the modern 3.2L V6 in this Trailhawk. He struggled to do much better than 17L/100km combined. I actually managed a perfectly acceptable 12.8L/100km in combined driving with a good amount of highway use. The Cherokee's 3.2L can get away just fine with regular 87-octane fuel, which is great considering fuel prices the lowest they've been in years
One thing I particularly liked about the new Jeep Cherokee Trailhawk is that there are no compromises made in terms of interior trimmings or amenities in order to maintain its tough status. My tester, priced at $44,000, was equipped very nicely. Adding onto the base price of the Trailhawk are things like ventilated/memory leather seats, remote starter, sunroof, full UConnect infotainment with Bluetooth and satellite radio, and 17" black aluminium wheels. I also got the Trailer Tow Group, which includes the 3.517 final drive ratio, better engine cooling, a tow hitch, and an off-road accessory kit; serious business.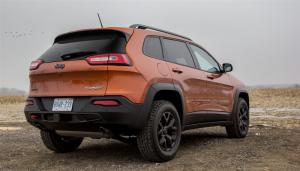 I actually came out of my week with the Cherokee liking it a lot more than I thought I would. I liked the regular Cherokee Limited I drove last year, and it was considerably softer than this one. The heavy-duty tires and off-roader wheels made for a ride that's noticeably choppier than that of most competitors. This isn't necessarily a bad thing, because the tires/wheels are a huge part of what makes this Jeep as badass as it is, in a world of cute-utes. The driving position is also a little bit odd; I couldn't really get comfortable on longer highway runs because I was unable to find the perfect placement for the steering wheel.
Overall, the Trailhawk is positively awesome. Perhaps it's the Mango Tango Pearl paint job that swayed me, or the matte black hood decal. Or maybe it's the fact that this Cherokee doesn't try to be anything it isn't. Soft and cushy it may not be, but this thing makes no promises that it can't keep; it's just that honest. The Cherokee ensures that it's a rugged, capable and mean off-roader that can handle a weekend of mudding just as well as a road trip with the family. Additionally, it'll take you to work and back in reasonable comfort without a jarring ride or unmanageable fuel economy. It's definitely a Jeep thing, and I'm starting to get it.
2015 Jeep Cherokee Trailhawk Gallery