The new Mazda MX-5 Miata specs have finally been confirmed.
Under the hood of the North American model, the Miata's 2.0-litre SkyActiv engine produces 155 horseposwer and 148 lb-ft of torque. Some other markets will receive a 1.5-litre powerplant with 129 hp and 111 lb-ft of torque.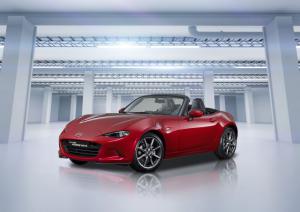 Although at first, the figures appear to show a visible downgrade from the 2015 model, which was rated at 167 hp, the redesigned Miata is expected to weigh 220 pounds less than its predecessor. This results in a better power-to-weight ratio.
The change in weight and horsepower reflects Mazda's aim to become smaller and lighter for its fourth-generation MX-5. Dimensions are closer to the first-generation Miata, while the ride height has dropped.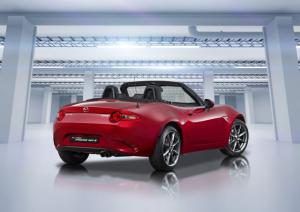 The North American variant will arrive in showrooms later this year.
Source: LeftLaneNews
Read up on how the 2015 MX-5 Miata fared during our 2014 road trip.