The Toyota Camry is a car that holds a lifetime of memories for me, as I grew up being driven around in various iterations in the early 90s. I've spent a good part of the last decade (and more) on automotive message boards, and I continuously see "enthusiasts" giving the Camry hell for being an appliance; something that lacks passion or a sense of fun. Don't get me wrong; I love sports cars as much as the next guy, but there's something to be said about a car that continuously remains a worldwide bestseller using the same formula. This year, it's been heavily refreshed – I was given the chance to put a 2015 Toyota Camry XSE V6 through my weekly grind and gather some impressions.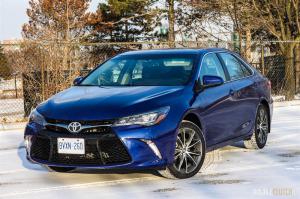 For the past couple months, we've been seeing advertisements for the "bold" new Camry all over Toronto. This particular new model, the XSE V6, priced at $33,650 before taxes/fees, is one that stands out to me. Since the 2007 redesign, I've adored the aggressive lines of the sport-oriented SE model. The XSE incorporates these styling cues with some luxury features from the XLE model. If I were ever to buy a Camry, this is the one I'd buy. My tester definitely stands out in Blue Crush Metallic; I was asked multiple times during my test week what the colour was called. It's a far cry from the "beige" stereotype essentially applicable to all Camrys of the past.
The lines of the new Camry are definitely bold, without varying too much from the previous car's conservative styling. Unique to the XSE are 18″ alloy wheels, LED headlights, and a few other interior features I'll get into a little bit later. The blacked-out grille, unique ground effects and lip spoiler are shared with the SE trim. The LED headlights are particularly noteworthy as it's one of the only cars in its class that currently offers this feature, and they work surprisingly well. Toyota's really on a roll here; even the new Corolla has the sharp LEDs! The 18″ alloys are sharp and offer a design that's adventurous and deviates from the norm set in the midsize sedan class.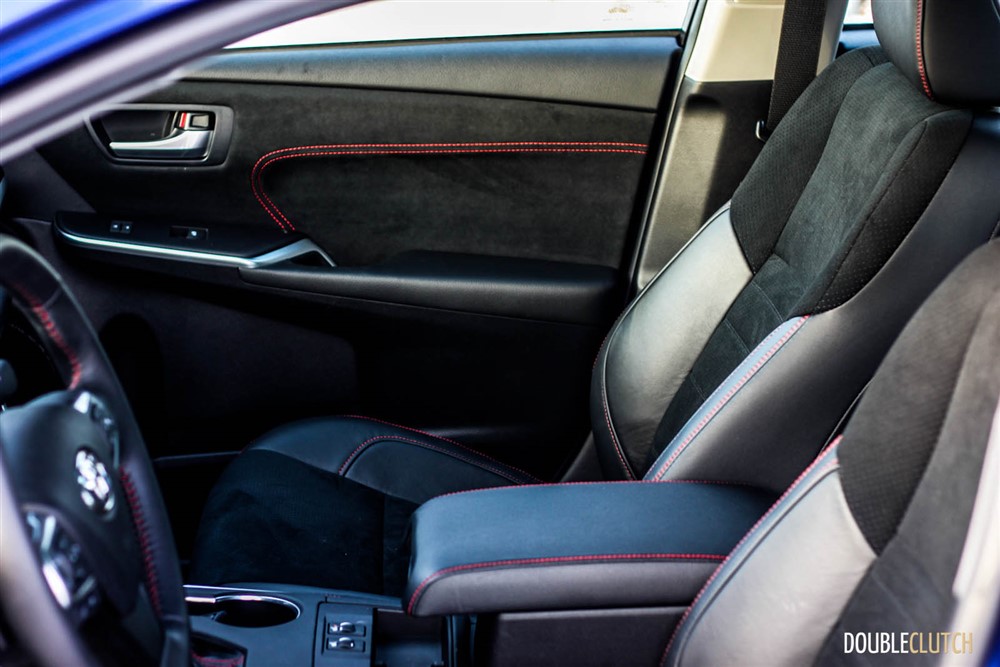 Under the hood, the Camry is virtually unchanged from the previous generation. This six-cylinder XSE sports a 3.5L V6, good for 268 horsepower and 248 lb-ft of torque. A 6-speed automatic is the only available transmission; sadly the manual transmission is no longer offered on any trim level in the Camry lineup. The Camry V6 is not slow at all, in fact it's quite the contrary. Toyota enthusiasts online have been able to pull numbers close to 5.7 seconds to 100 km/h, and I don't doubt that for one second. The gearing is very good, and the Camry takes off as soon as you plant your foot down on the accelerator pedal. Competitors such as the Accord V6 and Altima V6 are similarly quick, but I'll maintain that the Camry definitely feels faster from the driver's seat. Power delivery is smooth and on point whenever you want it.
The SE and XSE models have front and rear stabilizer bars as well as stiffer springs, so the three-spoke sport steering wheel and body kit aren't the only sporty things this car packs. This Camry does corner more confidently than the Hybrid we tested a few weeks ago, but it's nowhere near the sport sedan it looks like. The new car is considerably more composed around corners and feels more agile than its predecessor, and it is pretty satisfying for a midsize sedan. Steering feel is light in typical Toyota fashion, making parking lot maneuvers and navigating downtown traffic a breeze. The ride on the XSE is on the stiffer side, not sports car levels of harsh, but it isn't as serene as that in the Hybrid and XLE models.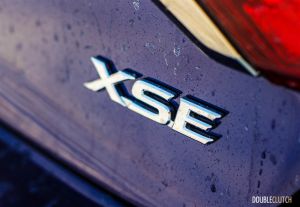 Given the XSE is a "compromise" between the sporty and luxurious models of Camry, it has a great number of standard features to make your daily commute that much more comfortable. First off; the seats are upholstered in a combination between leather and imitation microsuede, and look very upscale. There's a refreshed version of Toyota's touchscreen infotainment system, with navigation and the brilliant JBL 10-speaker stereo I've come to adore. Things like Bluetooth, iPod integration, and XM satellite radio are also on board here, as well as Blind Spot Monitoring, rear cross-traffic alert and stability control. This model also includes power seats (heated in front), dual-zone automatic climate control, and a colour information centre located in the instrument cluster.
Materials inside the new Camry are exactly what you'd expect from Toyota. They're decent enough and don't look cheap in the slightest, not really standing out in any way. My tester had red stitching throughout the cabin, which was a sporty touch. I personally wasn't a huge fan of the seats; they're a bit on the hard side and I had a hard time finding a driving position I was comfortable in. The tilt/telescope steering wheel is nice to hold, and I'm glad Toyota hasn't implemented a flat-bottomed one on the SE and XSE. I do like that they've thought of things like a neat cubby in the centre stack to hide your iPod; this is something that isn't consistent throughout the industry.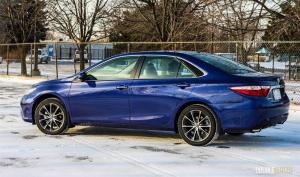 As I said, the Camry V6 is not slow, making for particularly satisfying merges onto the highway. However, in the same manner, it's not particularly efficient either. It's worth mentioning that my week with the car consisted of some of the coldest temperatures yet this winter, with every day being close to minus 20 degrees Celsius with a windchill. My driving consisted of a 70/30% mix between highway and city driving, and the Camry was given 87-octane fuel. My week's average was about 10.7L/100km, with a couple highway runs indicating numbers in the 9.5L/100km range. Considering how cold it was, and that the test car was running 18″ winter tires, I'm not surprised by these numbers.
The Camry sells so well because it doesn't deviate from a formula. While I was growing up, my mom had about seven thousand Camrys, all four-cylinder models concluding with one Hybrid. The last couple were purchased without a test drive, because it was fair to assume that the latest Camry was almost exactly like the last one, just slightly improved. She transitioned over to BMW 3-series' about 5 years ago, and after I took her for a spin in the 2015 Camry, she remarked that it's exactly as she remembers it, just more refined and nicer overall. The formula they use is to make a car that's exceptionally smooth, extremely easy to use and sports bulletproof reliability. Toyota's Camry has always been a car that will always get you from point-A to point-B in great comfort, promising to start in all temperatures and climates, and never skipping a beat. This latest one holds true to that formula, with the added pinch of style to its existing charm.
2015 Toyota Camry XSE V6