At $9,998, this is value! |
The value this car presents is simply staggering, and we can't wait to see it succeed as a bestseller.
It's definitely something special when a manufacturer breaks a new barrier of value. Usually this refers to something small like offering a new standard feature without significantly raising the base price, or adding a plethora of safety features at no extra charge. Last year, Mitsubishi took the subcompact market by surprise (perhaps not in a positive way) by bringing in the Mirage, a rather bland little econobox that started at $12,498. The Mirage missed the mark with consumers and journalists alike. Then, rub more salt in the wound, Nissan Canada introduced us all to the Mirage-slaying Micra, with a much lower base price at $9,998. This 2015 Nissan Micra S is the least-expensive brand new car one can buy in Canada.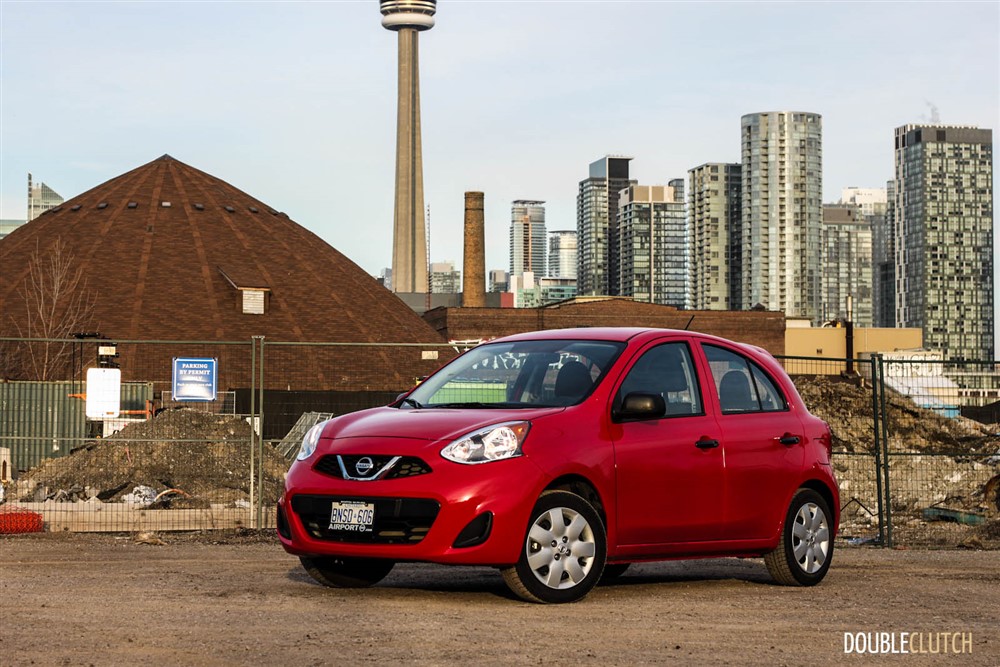 One of the words that may be entering your mind when thinking about the Micra is "cheap". I actually think that's the wrong way to describe it, because even though it's inexpensive, the Micra presents an exceptional value. Some may argue that $9,998 can buy a used late model Corolla with low mileage, but what if I want to buy a brand new car, one with a full warranty and with great financing options? Well, that's where the Nissan Micra comes in.
The Micra's overall exterior design is best described as approachable, featuring a friendlier face than that of the closely related Nissan Versa Note. Instead, the Micra incorporates rounder styling elements and big features within a familiar, two-box shape. It's not overly cutesy like a Chevrolet Spark, and while it won't win any beauty contests, at least it doesn't look frumpy-dumpy like the Mitsubishi Mirage. It really just looks like a smaller Nissan, especially from the front, where its grille and headlights bear a strong resemblance to the company's larger products.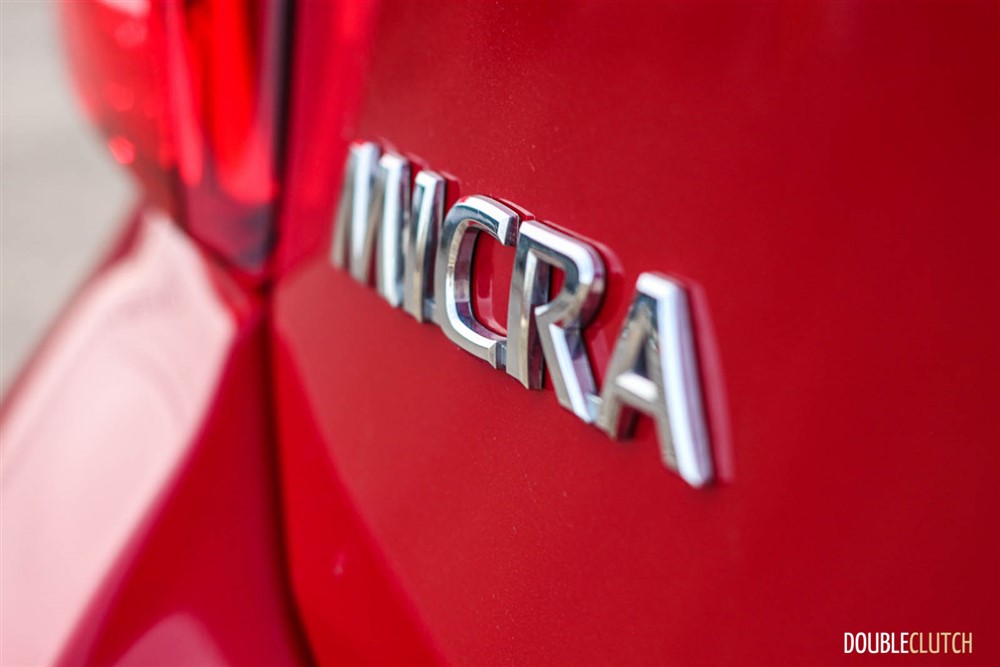 Slotting in just below the current Versa in terms of both size and price, the 2015 Nissan Micra has quickly created a strong wallet-friendly buzz since its debut by offering Canadian consumers the 2015 Nissan Micra S at $9,998, the Micra is the least-expensive brand new car one can buy in Canada (although Mitsubishi has since slashed the $12,498 base price of last year's slow selling Mirage by $2,500 to match Nissan's attractive $9.998 starting price this year). Of course, the Micra's ultra-low asking price isn't for a fully loaded model (think roll-up windows, manual locks and no air conditioning). The 2015 Nissan Micra comes with the choice of three trim levels – S, SV and SR – allowing econo buyer's to choose from a five-speed manual or a four-speed automatic (CVT haters rejoice).
While the base model Micra and its modest price will no doubt lure buyers on a budget to their nearest Nissan dealer, we predict most drivers will opt for a package that includes an automatic transmission, air conditioning, and cruise control bundled together. These options, when added to the 2015 Nissan Micra's low cost of entry, results in a sticker price of $13,298. While that is a few thousand more than the touted and tempting thought of a new car for under $10,000, this is still an awesome overall value. You'd need to pony up over $16,000 to get yourself a similarly equipped air-conditioned Toyota Yaris or Hyundai Accent.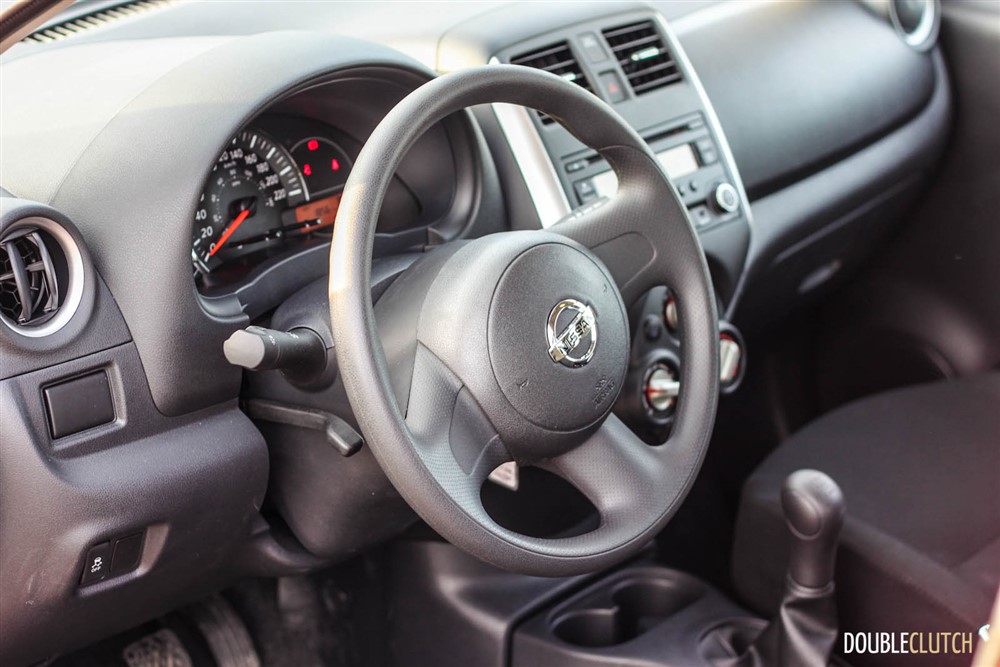 There are also a number of accessory options that should allow some personalization for the small cars, with Nissan offering things like door handles, stripe graphics and mirror caps all available in five different colours for an extra charge and even a pretty cool bike rack too. In all seriousness, the bare bones $9,998 Micra in "S" trim is really the kind of commuter car most drivers need. Nothing more, nothing less. If you're going for a brand new econobox on a budget, things like air conditioning, remote keyless entry and power windows are overrated. In fact, I think we've become so spoiled with things like USB connectivity, satellite radio and heated/cooled seats that we've forgotten what simplicity is like.
Simplicity is the new Nissan Micra, and it does one hell of a job at delivering value. The doors are unlocked via a traditional key – none of this "intelligent entry" nonsense, and the exterior door mirrors are adjusted via a stalk on the inside of each front window. Where the button for air conditioning should be placed, you'll find a blank plastic piece put there to remind you of cost savings. Of course, engaging A/C would only result in diminished fuel economy, and we can't have that in a subcompact, can we? The stereo is an AM/FM radio with a CD player and an auxiliary jack to connect any wireless devices. The advantage to this is that you can connect an aux cable to your phone, put it in the cupholder and take phone calls through the car's speaker system without wasting valuable battery life using Bluetooth.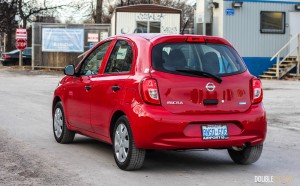 You might think we're mocking the Micra by passing off the options it's lacking in a positive way, but I promise we're not. It's genuinely a good little car, but it gets even better when you begin to drive it. A 109-horsepower, 1.6L four-cylinder motor with 107 lb-ft of torque might be the sole engine choice, but also seems to be a good fit for fuel economy and propelling this 5-door hatch about town. Competitors like the Mitsubishi Mirage cut massive costs here by implementing 3-cylinder engines, but Nissan seems to agree with us that a 4-cylinder is a bare minimum necessity to keep up with highway traffic and day-to-day life in Canada. I know in the age of 270-horsepower Accords, 109 horsepower doesn't seem like a lot, but the Micra is still surprisingly quick and agile. This eagerness to hustle is based on the little hatchback's 2,330-lb curb weight and improved by the 5-speed manual transmission found in our test car.
An incredibly lightweight chassis and body also contribute to the Micra's fuel consumption. As with any other subcompact with a small four-cylinder, it's not particularly efficient on the highway, but that should come as no surprise. Over a week of combined driving, I averaged 6.8L/100km, a number we were very satisfied with. The Micra's fuel tank is small at just 41 litres, but this makes for cheap fuel stops. City dwellers (the prime target demographic for Nissan) will still be able to go a considerable distance before having to pull over and find gas. Obviously, it will accept regular fuel without complaining.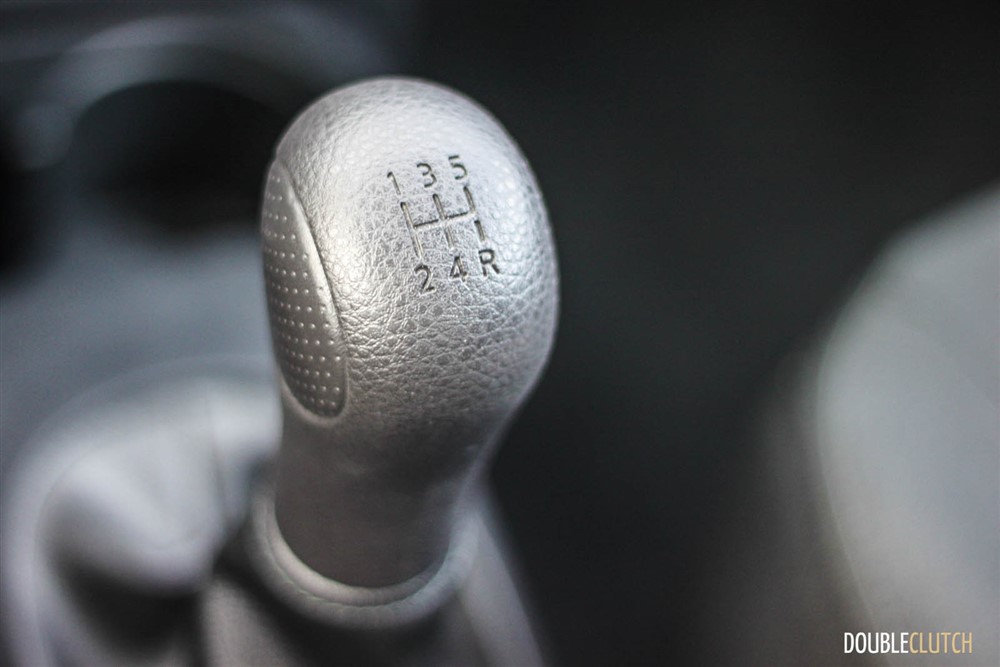 The clutch is decently light and easy to modulate, perfect for new drivers who lack experience with a manual transmission. The shifter is adequate, but the throws are a little on the long side and can be a bit vague at times. Under highway acceleration, the Micra does feel like it's a bit strained, and a sixth gear could help with this. But, at the end of the day, it costs under ten grand – complaints aren't really allowed at this price point. Where the 2015 Nissan Micra really shines is in the city, with its easy maneuverability and impressive 4.65 metre (15.2-foot) turning radius – a figure that tops everything in the super-small and B-segment classes including the Mazda2, Fiat 500, Honda Fit, Ford Fiesta, and Toyota Yaris (except for the Mitsubishi Mirage, at a slightly better 4.6 metres (15.1-foot) turning footprint).
So, what else do you get for your $9,998? Well, the seat fabric is very good, as are the rest of the materials found throughout the interior. There's a fair bit of plastic around the dashboard, but nothing that screams "bargain basement". The Micra shares a fair bit (including the 1.6L motor) with its big brother, the Nissan Versa Note. This includes but isn't limited to the climate control panel and other miscellaneous bits throughout the interior. You get standard airbags, 15" wheels with wheel covers, and a trip computer in the instrument panel that displays things like fuel range, average economy, and trip odometers. All this on a car that actually looks like it's worth about 1.5x its actual sticker price.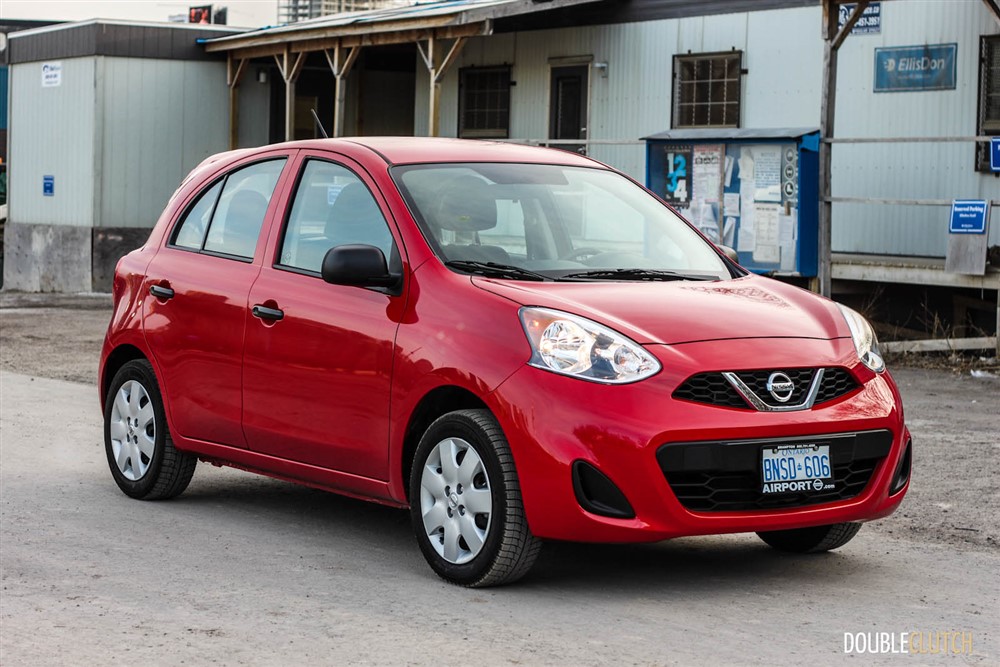 Dare I say; the most inexpensive new car for sale in Canada is not only a hoot to drive, it's also surprisingly comfortable. The 2015 Nissan Micra has a little bit more headroom than the Honda Fit (another favourite of ours) and a little bit more rear legroom than the Toyota Yaris. When we first drove the Mitsubishi Mirage last year, we weren't really blown away, because it drove and felt like a cheap car. With a sticker price in the $15,000 range for the fully-loaded Mirage, it was a pretty cheap car, until this Micra came along, and knocked our socks off. Plus, Mitsubishi as a manufacturer may have an expiration date in the Canadian market, but Nissan is surely here to stay.
These days, it's rare that an automaker will introduce a model to Canada without offering it up in the United States – especially a car that stands to do big things for a company's presence in North America. But with this 2015 Nissan Micra, that's exactly what's happened; It's an exclusive car for Canada only and Nissan USA has repeatedly stated that there are no plans to offer the Micra in Yankeeland.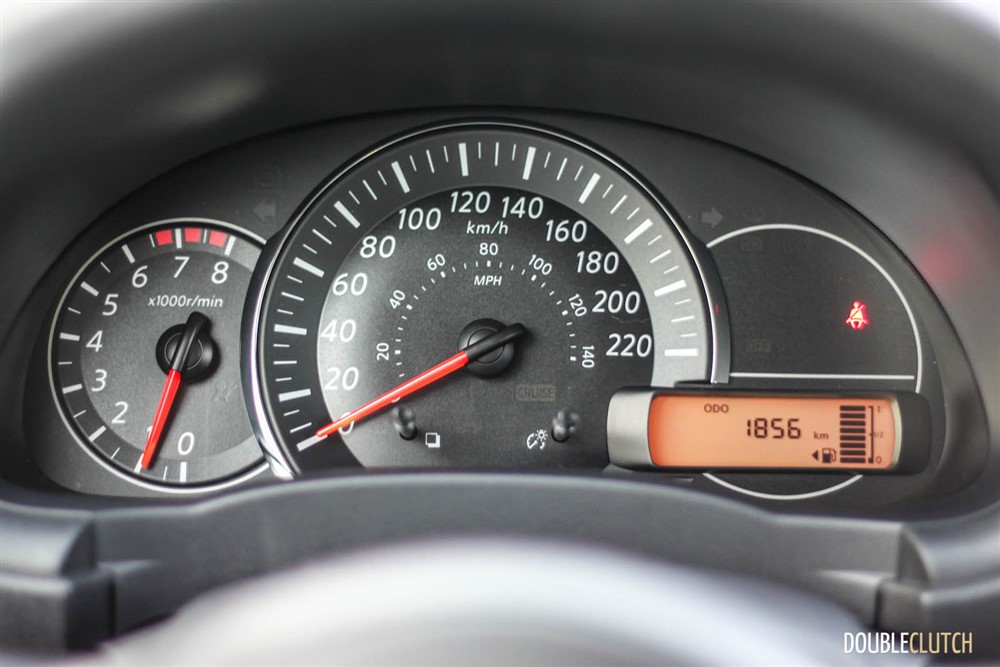 On top of the incredible entry level price, Nissan has taken into account that the Micra will be on the radar of first-time buyers, so they've implemented a series of incentives, aimed at students and those who have never purchased a new car before. The value presented by the 2015 Nissan Micra is simply staggering and we can't wait to see it succeed as a bestseller.
In the highly competitive entry-level car segment, Canadian customers seeking value, reliability, fuel economy and a little style too, could find everything they're looking for in the 2015 Nissan Micra. This pint-sized hatchback is a very compelling and complete budget-friendly package worthy of close consideration. With an array of options, trim levels and decent features, the 2015 Micra is something we expect to see embraced by Canadian drivers, as it puts you into a new car for nearly the same price as a used vehicle (with little to no manufacturer warranty) might cost.
2015 Nissan Micra S Gallery
See Also: