Audi's second-generation Q7 has been revealed before its official world debut at the 2015 Detroit Auto Show and should be expected to land in dealer showrooms next year as a 2016 model. Photos leaked before the official debut reveal that the next generation Q7 will not stray too far from its predecessor. Engineers have confirmed that the MLB chassis the old Q7 had has been overhauled.
Underneath, the Q7's new "MLB Evo" platform will have a lighter construction thanks to a combination of materials. Ultra-high-strength parts will be made of hot-shaped steel that will form the backbone of the occupant cell. Aluminum will come into play for the front and rear ends, doors, front fenders, hood and the rear hatch. Thanks to all of this lightweight material, Audi has claimed they shed over 716.5 pounds of weight to the 3.0-liter TDI trim. Even at a whopping 4,398 lbs, the 2016 Audi Q7 TDI will be one of the lights options among seven-seat SUVs in the premium category. Further, Audi has said the Q7 will be one of the most spacious in its segment despite the exterior dimensions shrinking.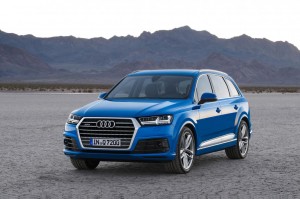 Powertrain wise, the German automaker has confirmed that the entry-level option in the U.S. market will be a 2.0-liter TFSI good for 252 horsepower and 273 pound-feet of torque. Other trims will include a 3.0-liter V6 TDI with 272 horsepower and 443 lb-ft, and a 3.0-liter TFSI rated for 333 hp and 325 lb-ft. All 2016 Audi Q7s will have their motors paired to an eight-speed S tronic automatic transmission. Also on the horizon for Audi is a Q7 e-tron quattro model which will essentially be a plug-in hybrid combining a 3.0-liter TDI with an electric motor for a combined output of 373 hp and 516 lb-ft. According to Audi the Q7 e-tron quattro wil return a staggering fuel economy of 138.4 mpg. It will also be the quickest Q7, needing just 6.0 seconds to go from 0-100 km/hr.
Audi is obviously incorporating quattro permanent all-wheel-drive system across all Q7 models, but a new feature will be an all-wheel steering system. Similar to Acura's P-AWS; the rear wheels will steer opposite to the front wheels making low speed manoeuvering much easier. At high speed the rear wheels will follow the movement of the front wheels to aid stability.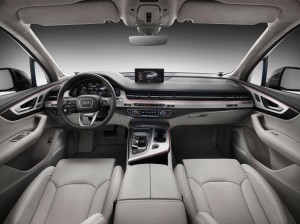 Inside the cabin, Audi will include its new 'virtual cockpit'. Essentially, many of the vehicle functions are now controlled through the vehicle's new MMI all-in-touch interface that has haptic feedback. Drivers will be able to enter characters on the large touchpad or perform multi-finger gestures to zoom in on the map or scroll through lists, for example.
The 2015 Detroit Auto Show gets underway January 12th and you expect full coverage of the event from the DoubleClutch.ca team! Stay tuned.
Source: MotorAuthority