Generally, I am not one to be overly interested in subcompacts. They have their place in the automotive world as basic transportation and that is sort of how I always liked it. Recently though, some manufacturers have pushed the envelopes of the category and have built some very well-equipped models. Understandably, the segment has seen continued growth and I know more than a few buyers who have moved from larger cars into subcompacts for the many practicalities that they offer. The best part of the segment for me, as an enthusiast, was always the lightweight and agile driving experience, an aspect that has very slowly begun to disappear as some move into the high-tech game. This is why I can appreciate the likes of the Mitsubishi Mirage and even the Toyota Yaris, which have generally remained rather stripped down and simple. I spent a week with a  2015 Toyota Yaris SE hoping that it would still offer that clean and honest economical driving experience I was craving.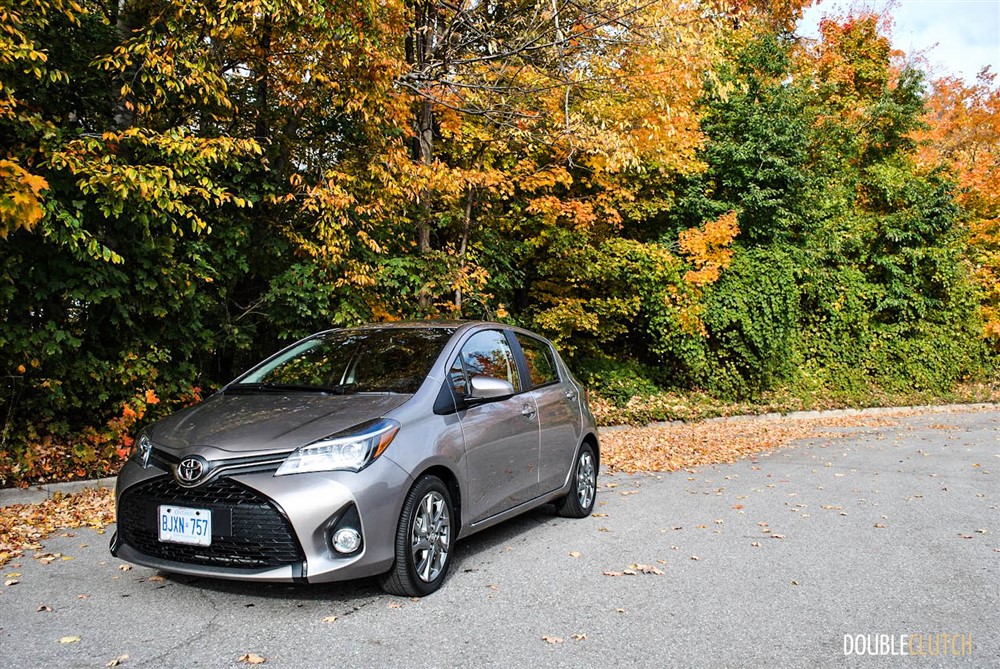 For 2015, Toyota has given the Yaris a tasteful refresh on the outside. Incorporating a huge Lexus-like front grill, big fog lights and some really well executed LED running lamps into the Yaris' front end really help to give it a more substantial look. In the new Brown Sugar Metallic color and sporting the SE model's charcoal 16" alloys, my Yaris tester is quite honestly the best looking Yaris I've seen to date. Overall, the exterior features are well proportioned and lack the awkward angles many subcompacts seem to suffer from. In typical Toyota fashion, the exterior fit and finish is very well done for a car at this price point.
The interior has also been tidied up for 2015 with more use of rubberized materials on the dash and door panels; this is a welcomed change from the hard plastics found in previous generations. While not overly exciting, the interior of the Yaris is exceptionally functional with its split folding rear seats and great headroom in both the front and rear. The driving position took me some time to get used to as there isn't a telescopic steering wheel available, so I had to get used to the wheel being seemingly close to the dashboard. The interior dimensions do feel a little tighter than the 2015 Honda Fit that I drove a couple weeks ago, and there is significantly less storage space up front. However, in Toyota's favor, I personally would be willing to give up the extra space for the simplistic layout and design in the Yaris.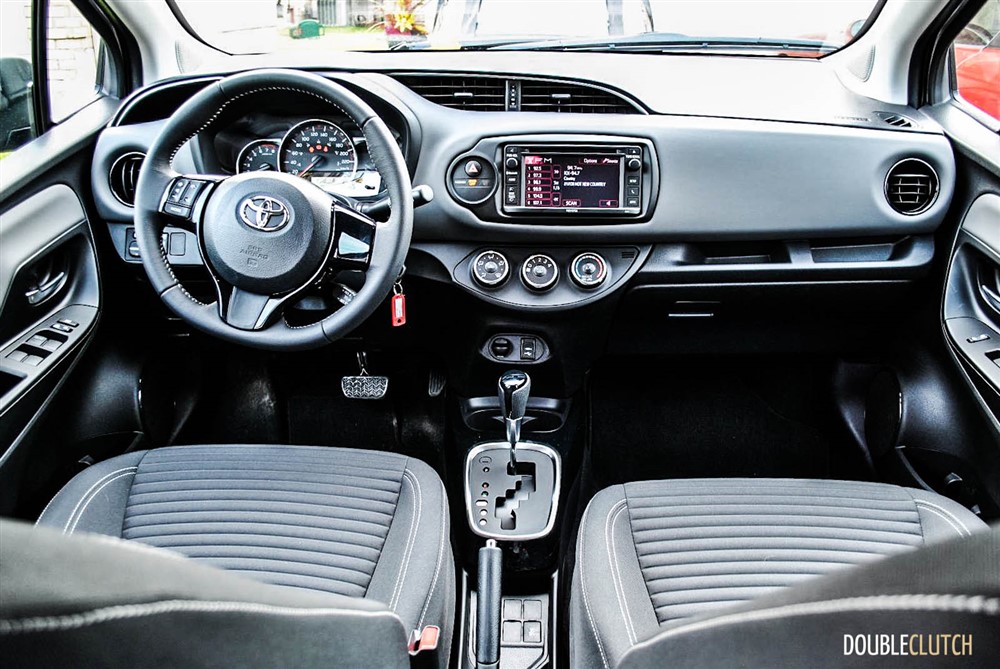 Speaking of layout; since even the top-line SE model is rather bare bones by today's standards, the features that are included are laid out perfectly and are extremely easy to use. All the features you really need are here, including Bluetooth and a 6.1" display screen for audio and media, air conditioning, cruise control, and power windows and locks. My SE tester also came equipped with a nice 6-speaker sound system with controls mounted on the leather wrapped steering wheel. This particular model also includes premium cloth sport seats, which are very comfortable and well bolstered for long trips.
Though navigation is available as a $1000 option, it wasn't equipped on my test car and I was happy to live without it. The one thing I did miss is a heated seat option, which many Canadians certainly appreciate and are willing to pay for when the mornings start to get chilly around this time of year. The feature list that looks very much like the one for my 18-year-old Pontiac (not that that's a bad thing) means that the Yaris remains a relative bargain. Even the top-line SE trim can be had for a thrifty $18,665, which works out to $1600 less than a similarly equipped 2014 model would have been, and $2000 less than a similar Honda Fit Sport.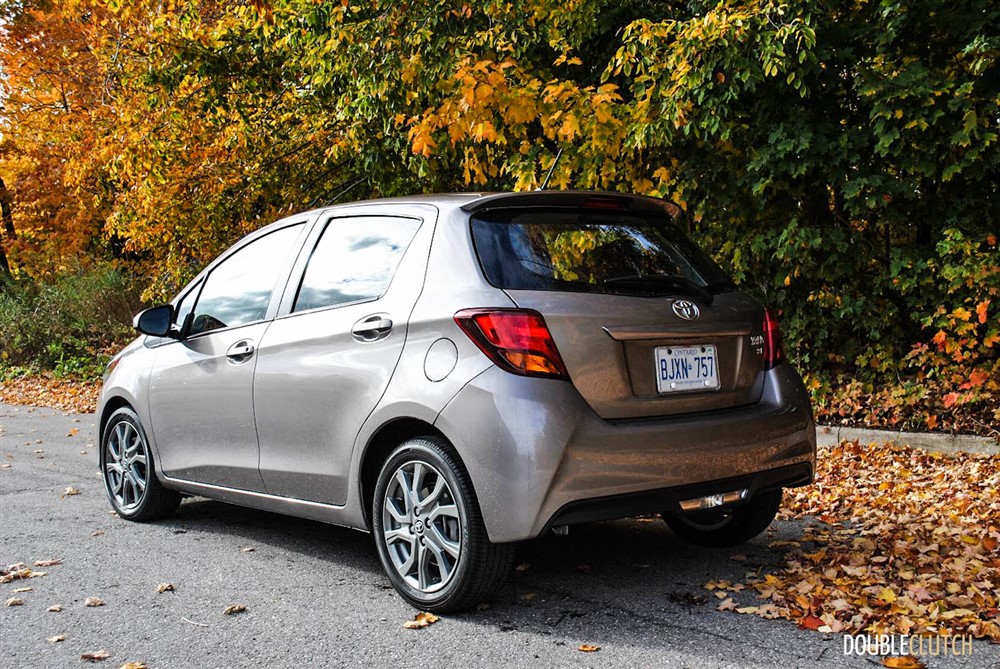 Mechanically, Toyota has kept the Yaris on a straight and narrow path of what they know best with a tried and true drivetrain. The well-developed 1.5L engine puts out an adequate 106 horsepower and the Yaris comes with either a 5-speed manual or a 4-speed automatic. Interestingly, the SE model comes with rear disc brakes, which help bring the tiny car to a very quick stop. What's best though is how the Yaris feels behind the wheel; it still has maintained that light and fun to drive feeling that I've come to love from the subcompact segment.
The little 4-cylinder is enthusiastic and responsive, while the simple 4-speed automatic in my test car does a fine job keeping up with the engine's needs. The engine has a happy little grunt to it under load, which I rather enjoy, with the exception that it does produce a slight engine drone while on the highway with the engine spinning at 3500+ rpms. The steering is light and easy though responsive, and the wider 16" rims and 195/50 series tires help keep the Yaris nicely planted. Even when enthusiastically tossed around a little, the Yaris manages to remain well composed and effortless to handle. This is the beauty of a small and simple hatchback that is hard to match as features and weight start to get added.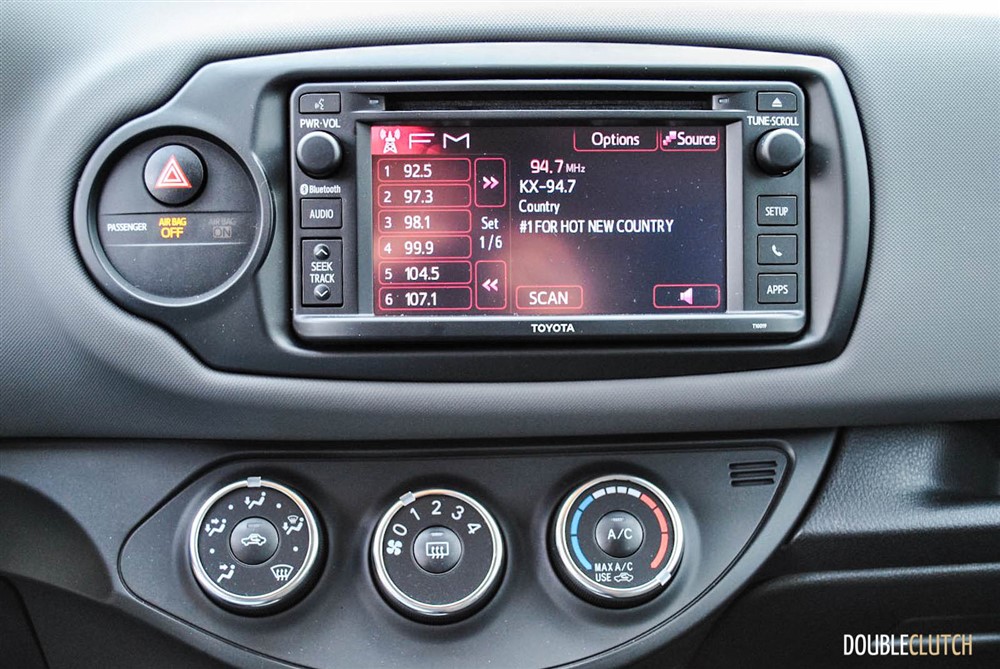 The lack of available gears in the 4-speed meant I used a little more fuel than I did under similar conditions in the 6-speed manual Honda Fit from a couple weeks ago, but the Yaris still pulled off an economical 7.0L/100km average. While a couple of more gears or a CVT might help bring that average down, the truth of the matter is that this simple and time tested drivetrain has proven in years past to be trouble free, virtually indestructible and easy to maintain – a factor that would definitely play an important role when looking at the long term cost of ownership of the Yaris.
The 2015 Yaris has won me over with its simplistic design and enthusiastic and agile driving dynamics. Yes, it is an economical little car that will get you where you need to go with little fuss and low cost, but it doesn't hide the fact that it is mechanical. If you listen closely, you can hear the little engine happily humming away and you can feel the tires working to keep the car planted as it buzzes through a curve. It's fun, it's lovable and it's practical.
2015 Toyota Yaris SE Gallery