This is my first go on a KTM motorcycle. As a car buff first and foremost, I'm a huge fan of their track-oriented X-Bow, and truly hoped that the same passion and technical excellence would carry forward to their motorcycle division. I did have my hopes up to test their Duke and Super Duke line, but logistics this season prevented this from happening. However, right at the end of the riding season, KTM North America was kind enough to give me a go on the 2014 KTM 1190 Adventure for a couple weeks to 'welcome' us to their fleet.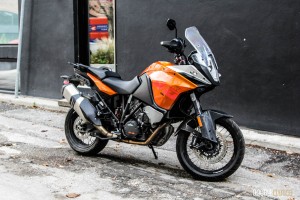 Immediately after picking up the 1190 Adventure, I was able to put it through one of the most important motorcycle tests; long-distance comfort. KTM's fleet distribution office is located about 150km north of Toronto, so I had to make the trek up with a colleague to pick up the bike. Tedious as it may sound, this gave us an excellent opportunity to see just how cushy and livable the 1190 really was. The adjustable seat was left in the highest setting (35 inches), so anyone under 5'10 would have a hard time getting on. At 6'1, I was actually very comfortable and even able to put both feet flat on the ground.
Beneath the seat lies the KTM's 1,195cc 75-degree LC8 V-twin, which is a brilliant motor in every sense of the word. There's plenty of torque (81 lb-ft at its peak) and just under 130 horsepower, which gives the bike enough pep to pull right through the powerband. This is right in line with the Ducati Multistrada's 134 horsepower and 82 lb-ft. Other outlets have run the 1190 Adventure through the quarter mile in the 10.6 second range at just over 215 km/h, making it one of the fastest adventure bikes available for sale in North America right now.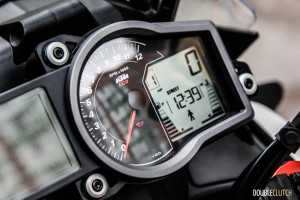 It's not just the raw power either; the 1190 is just so smooth and agreeable. There are a few traction/stability control settings as well as four ride modes. This makes the 1190 just as agreeable on the open highway as it does within the busy streets of downtown Toronto. I liked the "Street" mode the best; it provides more subdued throttle response and a more linear power delivery. "Sport" mode gives a bit sharper response all around, and is definitely my pick for curvy back road riding. This isn't just a street-legal dirt bike; it's a proper motorcycle that can be ridden pretty far off the pavement.
I did find that despite the comfortable riding position, the center of gravity of this motorcycle is a bit higher than I'd like. This results in less confidence around corners and on-ramps, which in turn causes much slower turning. This is all in the rider's head though; the Adventure is built to corner just as well as many shorter bikes do. Apparently, other people had worse luck than we did; we were informed that our particular example had been dropped numerous times by previous riders. We were, however, able to keep the shiny side up at all times.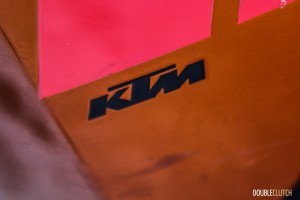 Overall though, the ergonomics of the KTM 1190 Adventure are quite good. The bar, footpegs, windshield, and lever span are all adjustable, as is the seat. I found the seat relatively good for short rides around the city and on dirt, but on longer highway rides the foam became too soft and caused poor posture, which resulted in a bit of lower back pain. The controls are excellent and exactly where you would expect them to be; all switches and buttons feel robust and well-built. It's obvious this bike was meant to handle a bit of stress.
When the time came to return the 1190 Adventure, we actually hit a little bit of hail. I used the "Rain" mode, which dumbs down throttle response and enables all stability control systems for maximum control and safety. The knobby tires and 490-pound dry weight came in handy, because the Adventure was a dream. On the highway trip back to KTM, I passed a few cars doing 40-50 km/h in the right lane of the highway with their four-way flashers on, because weather conditions were horrible. Even at the posted speed limit of 100 km/h, the 1190 Adventure showed no signs of slipping. This is a real adventure bike.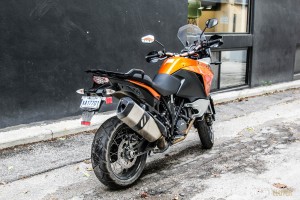 I consider myself to be a sport bike aficionado, so I don't really jump at the opportunity to ride adventure bikes. As such, I find myself rarely ever testing these. Last summer I rode the then-new Honda CB500X, which, though being a great bike, is considerably slower than the 1190 Adventure and is a whole different animal altogether. I'm also not usually a fan of the way adventure bikes look, but this 1190 won me over. Its sleek fairings, bright orange paint and sweet exhaust design make it stand out from other bikes. It's beginning to get quite cool in Ontario, and most sport bike riders have put their toys away for the season. With the KTM 1190 Adventure though, the riding season isn't over just yet; this is the definition of an everyday bike and it's brilliant.
2015 KTM 1190 Adventure Review