The Italian-American partnership of Fiat and Chrysler has announced its plan to sell off Ferrari. This move will put 10 percent of Ferrari on the U.S and European stock exchanges next year, the rest will go to the current Fiat Chrysler stockholders.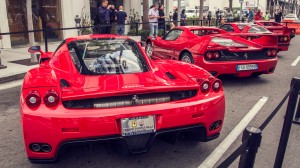 Confirmed through this press release, Fiat Chrysler's directors justify the move as being part of "a capital plan to appropriate to support the Group's long-term success." Fiat Chrylser CEO Sergio Marchionne said, "[as we] work toward maximizing the value of our businesses to our shareholders, it is proper that we pursue separate paths for FCA and Ferrari." This is perhaps a move to attract large Fiat Chrysler investors who want a chance to own more than a few percentages of the Ferrari stock.
Either way, this is the end of a long era for Fiat. After acquiring Chrysler earlier this year, it has been 45 years since Fiat took ownership of Ferrari back in 1969.
So who will buy Ferrari now? The Volkswagen Group powerhouse? Ford? GM?  If Ferrari goes to another American company, it will echo the words of Luca Cordero di Montezemolo. He was Ferrari's now-former CEO who left after a disagreement with FCA's CEO Marchionne after discussing Ferrari's future. On his way out Montezemolo criticized Marchionne's plan to expand Ferrari's productio nbase, calling it "the end of an era," continuing on to say "Ferrari is now American." As far as my views go, I can see Enzo Ferrari rolling over in his grave.
Source: RoadAndTrack