Imagine having the cajones to saunter into the toughest of biker bars with your big, black boots thumping across the bloodstained and beer-soaked wooden floor. You stop in front of the bar, turn around to look at the hardened faces around the room, remove your sunglasses and make one big, rude gesture to all the patrons; maybe casting a disparaging remark or two about their mothers in the process.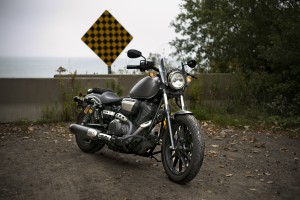 That's essentially what Yamaha has done to the legendary orange-and-black bike company with the Star Bolt R-Spec; a bike that lines up Harley's Sportster 883 in its crosshairs and started blasting.
Here's a company that has for years been showing the world that they can make a seriously competitive motorcycle in pretty much any segment from dirt bikes to big-bore touring rides to MotoGP. It's almost as if someone at Yamaha's Star division finally noticed that H-D has been successfully coasting through the mid-sized V-twin cruiser class for decades on their own, reaping all those profits and thought "hey, we'd like some of those sales too, please."
And so with a clean slate, a team of Japanese engineers worked out a plan to forget what they know about suspension travel, engine smoothness, high-revving potency and rider ergonomics in the interest of making something that just cuts to the bare essence of classic motorcycling.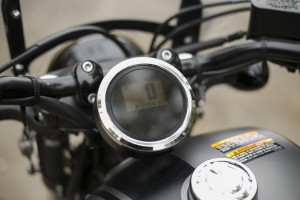 Just as the competition does, the Bolt features a thumping V-twin and low maintenance belt drive system stuffed into a compact, low-riding frame. Here the air-cooled engine displaces 942 cc's and features a single pin crankshaft to enhance the traditional characteristics of an irregular V-twin. The sounds are muffled through the 2 into 1 exhaust that ends in a single short, black bazooka, creating an appropriately throaty timbre for the style of bike.
With only just over 46 horsepower, even novice riders getting onto their first cruiser can easily tame the Bolt. Acceleration is swift, though far from exhilarating, but of course this isn't supposed to be a drag bike anyway. Rather, thanks to its 59 lb-ft of torque peaking at only 3,000 rpm, the R-Spec is happiest cruising around town, or out for scenic day cruises, lazily shifting the transmission through its five well-defined gears.
Stopping power is adequate from the single 298 mm front disc and same-sized rear disc, bringing the 546 lb cruiser to a rest, without the option of ABS.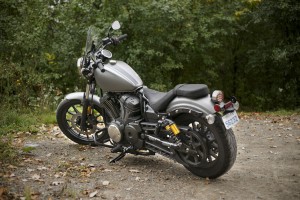 Yamaha's marketing propaganda seems to paint the picture of rugged, bearded young urbanites choosing the Bolt R-Spec over the retro-style café racers that populate my local bohemian coffee shop. Surely the matte-finished tank without any adornments aside from a cool Bolt brand stamp on the right side, and the all-black frame, engine and wheels make it look gritty and cool.
Altogether the designers seem to have succeeded in making this rugged-looking machine appeal to not only that younger demographic, but also a few of the pot-bellied grey-beards that stopped to chat with me about the bike.
"What is that? Who makes it? They sure got the look right."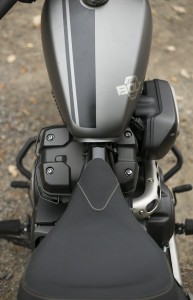 Yamaha is happy to have you customize your Bolt to your personal tastes too with a significant line of accessories. Want a bobber-style? No problem. Touring with a windscreen and backrest? Sure.
There are a lot of challenges baked into the Bolt R-Spec too. The ignition is located just beneath the leading edge of the gas tank, near the right fork. While appropriate for this type of bike, it's annoying to have to wrench your neck around every time to find the darned key slot. Maybe with more time an owner would be able to feel for the location, but after a week of riding, I still had to search for it every time.
Bolt riders are provided with surprisingly little information from the single chrome-rimmed dial housing a digital speedo, odometer and a few idiot lights for neutral and low fuel. I guess with such a low-revving engine, a tach is wholly unnecessary. It's a good thing too since the deeply tinted window over the digital display renders the information unreadable in bright sunlight or if the rider wears sunglasses. How anyone thought this would be a good idea is beyond me.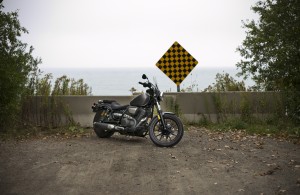 The only other significant annoyance I faced with the R-Spec derived from the offset right-side cylinder head and air box positioning causing a constant beating on my right knee.
Otherwise, the Bolt R-Spec is no more challenging to ride than the bikes it is designed to replicate. The ultra-low seating position (27.2") forces the pegs a little forward and there's enough of a reach for my 5'9" frame to the handlebars, that after a very short time in the saddle, my posture deteriorates into a lazy and uncomfortable C-shaped spinal position.
Still, that low saddle helps to make the cruiser the look that it needs to succeed in the segment. Plus, newer riders will appreciate the confidence of solid flatfoot ability too.   But the low stance also means cornering is compromised and my test bike – having reached the end of its season on the fleet with me – wore several hard-earned scars from previous over-zealous journalists scrubbing pegs and frame bits in the curves.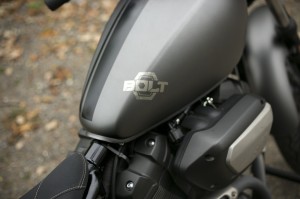 Yamaha, with the Bolt R-Spec has come closer to replicating the classic Harley-Davidson Sportster better than any other maker before it. It's undeniably cool looking; it sounds the part and rides like a cruiser, for better and for worse.
For riders hell-bent on a cruiser of a manageable size, the Bolt R-Spec is a heck of a good alternative to the American iron. With a lower cost of admission and Yamaha's long-standing reputation for durable machinery, the Bolt might just have the chops to not only insult the Sportster, but get away with it too.
2014 Yamaha Bolt R-Spec Gallery