Seldom do Canadians have the opportunity to exclusively be behind the wheel of a new automobile; a stripped down subcompact from Nissan is the latest to provide us this rarity. The folks at JD Motorsports have been tasked with transforming the Nissan Micra into a track-ready version for the Nissan Micra Cup. The Nissan Micra itself is a new model for Canadians, having been available only just this year. However, around the world, the Micra has been a stable go-to compact known for its efficiency, reliability, and all-round 'beater' demeanor.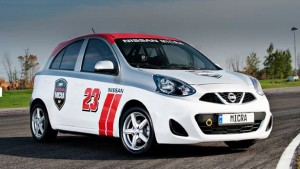 Unfortunately, this lean trackster isn't for all Canadians, but it does have the potential to be. Quebec will be deciding the fate of this Micra iteration at the 2015 Nissan Micra Cup. This brand-new Formula One style series will take place from May to September; the key being all the fun and competition without a high-end price tag, in fact this Micra should weigh in around the $20,000 mark. Pending a success on this venture we could see the Cup reaching other provinces throughout Canada.
For the car itself, the Micra sticks to its original 1.6 Litre four-pot that puts out a class-appropriate 109bhp and 107lb-ft of torque. To embellish this base Nismo brings a few modifications to the table, the first being a key Nismo S-tune suspension kit. Other amendments include stiffer brakes, sportier exhaust, and a set of new rims with sticky tires. More importantly, weight reduction is the key contributor to performance in this sub-compact, and as such the interior losses many of its amenities. The five point harness driver's seat is the only seat, placed behind light-weight racing wheel. Images of the dash show air conditioning and stereo controls still in place, which is interesting given that the vehicle is not road legal. The remainder of the interior exposes bare metal surrounded by a full body roll cage and simplified door panels.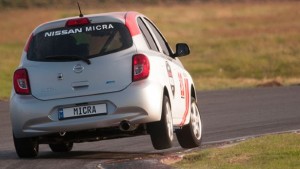 This Micra, and the cup it is built for, may seem too much like child's play – just a tiny step above karting, not for the real gearhead. However, the pair may have found itself at a crucial middle-ground, one that will welcome new faces to racing and further embellish the racing scene in Canada, opening the gateways to larger ventures.
Source: Top Gear