For those of us in North America, motorcycling is a leisure activity, not a necessity. Travelling around straddling a machine balanced on two wheels is a lot of fun when the snow and ice aren't on the ground (and for the truly dedicated bikers, even when it is). So if you're going to spend a fair chunk of hard-earned disposable income on a toy, it had better be worth it.
Motorcycles are a compromise by definition. They offer minimal passenger space and no protection from the elements. Plus, when not in motion, they tend to want to fall over. Amongst bikes, some are more compromised than others. Replica racers severely compromise comfort for maximum performance. Choppers compromise performance for style.
At BMW, the engineers rule the roost. The result is a model line up of painstakingly developed machines that deliver performance precision but arguably at the expense of styling. Not everyone appreciates an aggressive motorcycle that looks like it's winking at you as most contemporary BMWs appear to do.
The brand new R nineT is unlike anything else in BMW's line up.
For starters, it doesn't look like anything else in BMW's group thanks to BMW Motorrad's Head of Design, Ola Stenegard. The Swedish ex-pat with his trucker cap and tattoos must really stand out in the halls of HQ amongst the white coats just as this new model does amongst its siblings.
The result is a motorcycle that looks like Stenegard had been secretly hiding in a dark, forgotten warehouse, turning wrenches and getting greasy hands late at night when BMW's engineers had gone home to their families. This is the bike that passion built and it's wonderful.
Before even throwing a leg over the low saddle, it's worth standing back 20 feet and walking around the bike, taking it in from every angle. Drink up the hand-brushed aluminum inlays on the 18-litre tank; the wire spoke wheels with black anodized rims and those gold forks beefy enough to support a bridge. Enjoy the proportions. Then move closer and examine the subtler details like the BMW roundel inside the headlight, the stitching on the seat or that the exhaust silencer says "Akropovic" on it suggesting the sounds are likely just as gorgeous as the appearance.
Unlike most artists (or bike companies), BMW encourages customization of their work of art. Early models were put in the hands of legendary bike customizers like Roland Sands and Kaichiro Kurosu to show off what aesthetic potential was available to buyers looking to make a sensational bike even more stunning. The rear tail section can be pulled off with a handful of bolts. Lighting is plug-and-play to ensure easy modification for those brave enough to turn a wrench in their own garage on their new $16,000+ ride.
So it looks good, but what's it like to ride?
When your parts bin to pillage is BMW's, you know you're starting with high quality and well-sorted materials. This is a company that has been successfully building bikes for ninety years (R nineT, get it?) and the tried and true air/oil-cooled flat two-cylinder ('Boxer') engine displaces 1,170 ccs and dispenses with 110 horsepower at only 7,500 rpm.
At idle, the boxer gives a lateral shimmy that smooths out once under way thanks to a balance shaft. If left to cruise around town, using the nearly 90 lb-fts of torque on hand, the bike happily growls along between 3,000-4,000 rpms. Over 5,000 the vibration begins to creep up, tingling the feet and hands a bit, but not the point where it would prevent an enjoyable daylong ride. There is always ample grunt to pass doddling traffic on the freeway even without shifting down out of sixth gear.
The Akropovic-designed twin, upswept pipes emit a truly unique sound that's both deep and rich. Loud enough to be pleasing, it's no so obnoxious to irritate the neighbours and BMW enables the pipes to be fitted in their low-mounted, stock position, or higher up if so desired.
The R nineT distributes its power to the rear wheel via BMW's Paralever shaft drive system and through a six-speed box that provides exceptionally crisp and true shift actuation. To be honest, the way that precise throttle, easy clutch and accurate shifter are set up, it is absolute joy to rip up and down through the gears time and again. 90 years of engineering prowess shows here for sure.
The saddle is comfy and mounted low enough that even those of average height can flat foot the bike, but hey, if you don't like it, you can change it out easily enough anyway. Maybe something in retro-cool tan leather would suit your tastes better?
The tubular steel frame system almost looks too spindly to support the big boxer mill given the big aluminum frames we've grown accustomed to on sport bikes or the elaborate trellis systems employed by the Italian makers, but this puts the details and the engine into the spotlight. Unlike the R1200R (that's donated its engine, transmission and prop shaft to the R nineT), there's no unique BMW Telelever fork set up, but rather the anodized gold 46 mm inverted forks lifted from the sportier S1000R (though not adjustable here).
This all works well to provide a really nice riding bike, comfortable even for long hauls over our miserable Southern Ontario pavement. But it's a soft set up and there is considerable dive at the front end when the dual 320 mm Brembos are clamped. Around town and on the highway, the R nineT is a sensational fun to ride, but when pressed on my favourite rural twisty bits, the bike is capable but less fun to grab by the scruff of the neck than say, the S1000R, which of course is exactly as it should be.
Like all BMWs, ABS is standard and though a little grabby, especially at low speeds, they're astonishingly powerful. Being a bike that's intended to recall simpler times, various throttle calibration settings and traction control are not available, nor were they missed.
The riding position is comfortable, with a slight reach forward to the handlebars; a position that is very reminiscent of a Ducati Monster. The R nine T is more stable at highway speeds, seemingly less bothered by wind than the Ducati. Despite the slight forward cant, there is little pressure on the wrists.
Gauges are classic, simple round dials with white numerals and between them sits a graphic display that provides the odometer, gear indicator and trip computer information. Strangely a bike that can offer its rider average fuel consumption measure, doesn't have an actual fuel gauge.
Aside from the conspicuously absent fuel gauge, the mirrors draw my only other ergonomic complaint since I was unable to find an adjustment that gave me the rear view I wanted (I do have quite fetching elbows though, it should be said). Of course with a bike like this just begging for further custom treatments, a set of bar-end mirrors are likely to find their home on many R nineTs.
Surely at BMW headquarters, there were more than a few folks questioning the sensibility of the R nineT project. "Zis ist not how ve do bikes here!" But with every one of the 2014 model year allotment sold out in short order, it is an unbridled success – and has surely brought new fans into BMW's showrooms that might have previously considered the brand too stodgy.
As much as I love the R nineT's look, and even more how wonderful it is to ride, there is one further connection with this bike that makes it one of my absolute favourites of the year. My grandfather, several decades ago, had a very early BMW boxer. Somehow, riding this bike, I can almost channel him and all the fun he must've had on his Beemer all those years ago.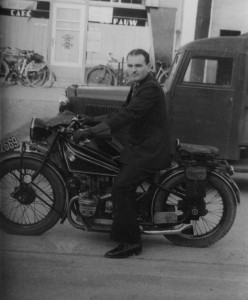 Bikes are supposed to be all about passion and fun, and the way you feel when you look at them as much as when you're out feeling the freedom of the open road. Few bikes today can blend that passion with outstanding engineering as well as BMW's R nineT.
2015 BMW R nineT Gallery