Toyota has had great success with their Prius, which is already an icon among traditional hybrid automobiles in the North American market. Volkswagen as an automaker used to have their primary focus on selling very clean, torquey turbodiesels rather than attempting their hand at the hybrid market. Now however, this 2014 Volkswagen Jetta Hybrid is proof that a first attempt can indeed be a very good one.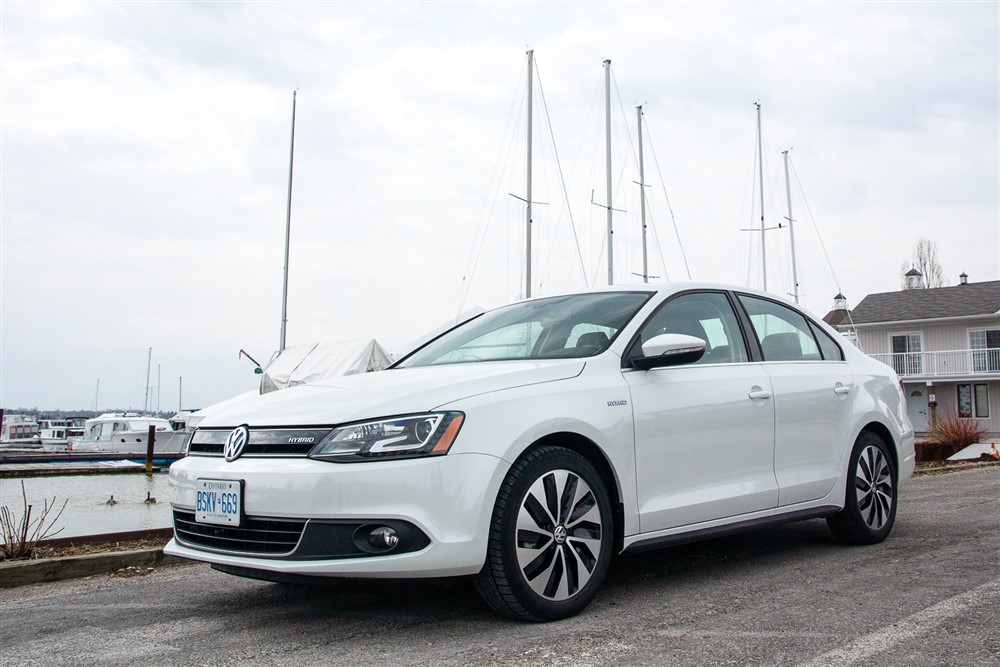 I have strong faith in Volkswagen's ability to perfect a technology before unleashing it into the masses. If their TDI engine is any indication, this hybrid technology is here for the long run as well. Under the hood of the Jetta Hybrid is an all-new (for model year 2013) 1.4L 4-cylinder engine. It's both turbocharged and intercooled, and puts out 150 horsepower and 184 lb-ft of torque. Coupled with a small electric motor, total combined output is 170 horsepower and 184 lb-ft of torque, mated to an excellent 7-speed DSG dual-clutch transmission. Where every other Jetta in the lineup tops out at six gears, the Hybrid is given the extra cog.
The Jetta moves along nicely and efficiently, never once asking for more power. It feels planted and stable on the highway, and is actually capable of going into full E-Mode at up to 70 km/h (albeit for a brief period of time). One flaw I've always observed in hybrids is that they feel light and seem to dart around at highway speeds. When stuck in traffic though, the E-Mode shines as the car can crawl through gridlock without costing you a dime. It is noticeably heavier though – this car is a full 160 pounds heavier than the GLI thanks to the battery pack.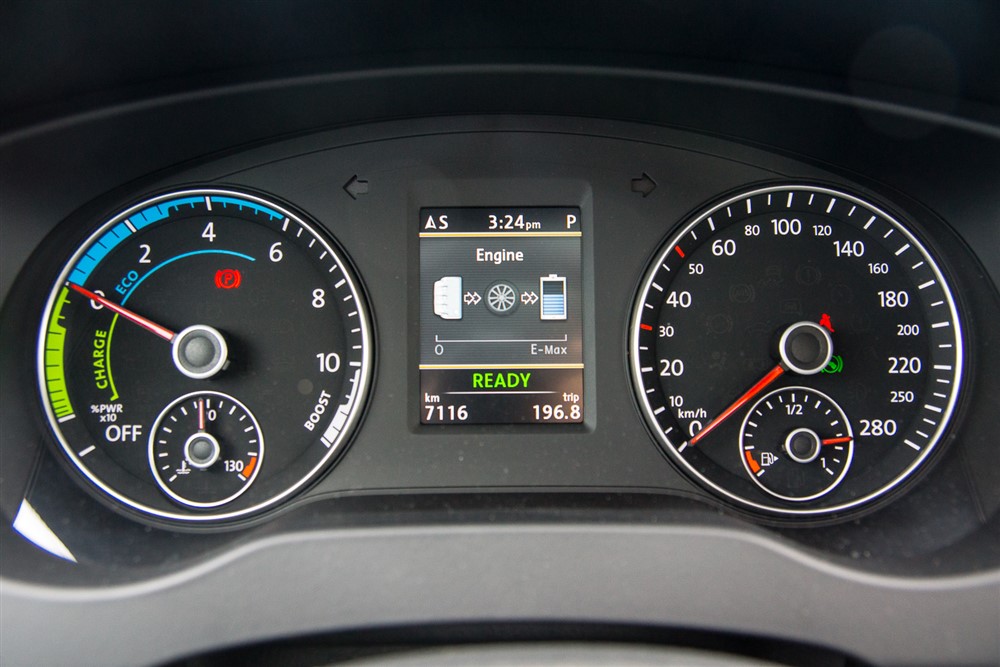 Of course, with a hybrid, what matters is fuel consumption. Over the course of my test week, I averaged a frugal 5.7L/100km in combined driving city/highway. I do wish that like other hybrids, the Jetta Hybrid was able to get away with regular-grade fuel. Naturally I'm happy to make the tradeoff of premium fuel in order to get a turbocharger. Spoken like a true enthusiast, I'll say "boost is best!" As a hybrid, this thing passes every test in the book.
My particular Jetta Turbo Hybrid was the fully-loaded Highline model. Starting with leather interior, a power sunroof, and navigation, this thing came dressed to impress with absolutely every toy available in the Jetta lineup. I've previously tested a few Volkswagens, and I have mentioned that my only gripe with the system is the lack of a dedicated USB port. The cable in my test car was only compatible with the Apple iPod. While most of my colleagues use iPods, I am loyal to my Google Nexus 5 and would love to be able to play music through it via a wired connection. Bluetooth connectivity and audio streaming is great, but it only drains my battery more. The navigation and infotainment suite on-board is great to use and pretty responsive; it gets an "A" from me.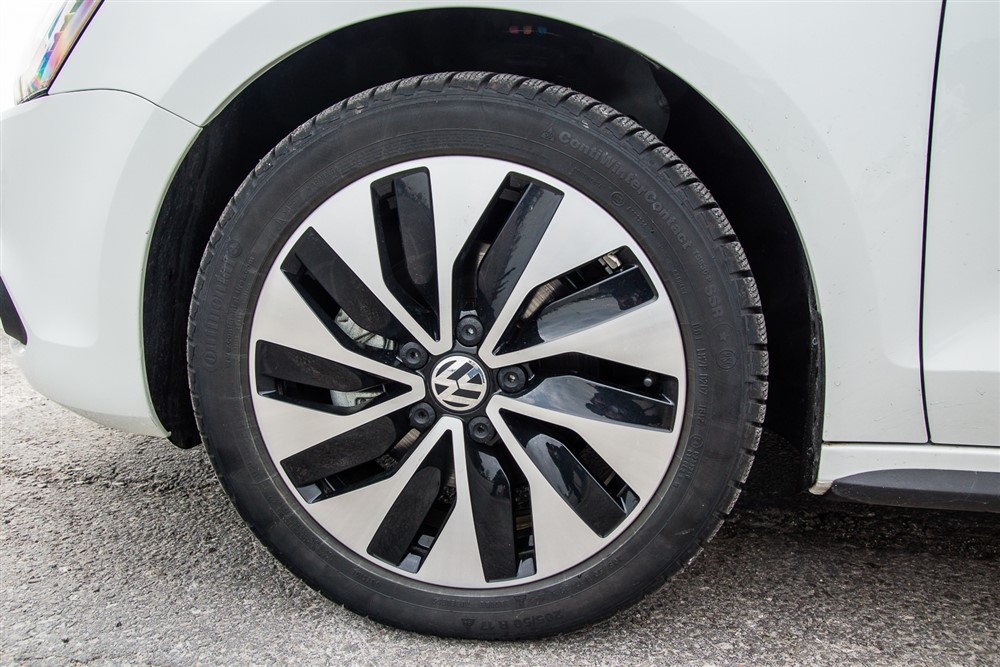 How does one identify this particularly special Jetta from the plethora of seemingly-plain Jettas that are all over? Well, the Turbo Hybrid comes finished with unique wheels, a unique enclosed grille, a few Hybrid badges all over, and a standard rear lip spoiler. The differences are subtle and yet add an elegant touch to the car. They aren't purely visual either; these cues reduce the Hybrid's drag coefficient from 0.30 to 0.28, which in turn does its job to improve fuel economy.
I really, really like the new Jetta Hybrid. With a daily commute from the boonies into the city, cars like this seriously appeal to me. I consider myself a purist and live by my classic V8-powered Camaro, and was previously convinced that there's no way to make an affordable hybrid fun. I mean, the ActiveHybrid models from BMW and the new hybrids from Porsche aren't boring by any means, but I'm not very excited by the likes of the Honda Insight and the Toyota Camry Hybrid. This car right here is seriously fun – it's efficient enough to satisfy my wallet for the daily grind while having some sporting characteristics that make it desirable.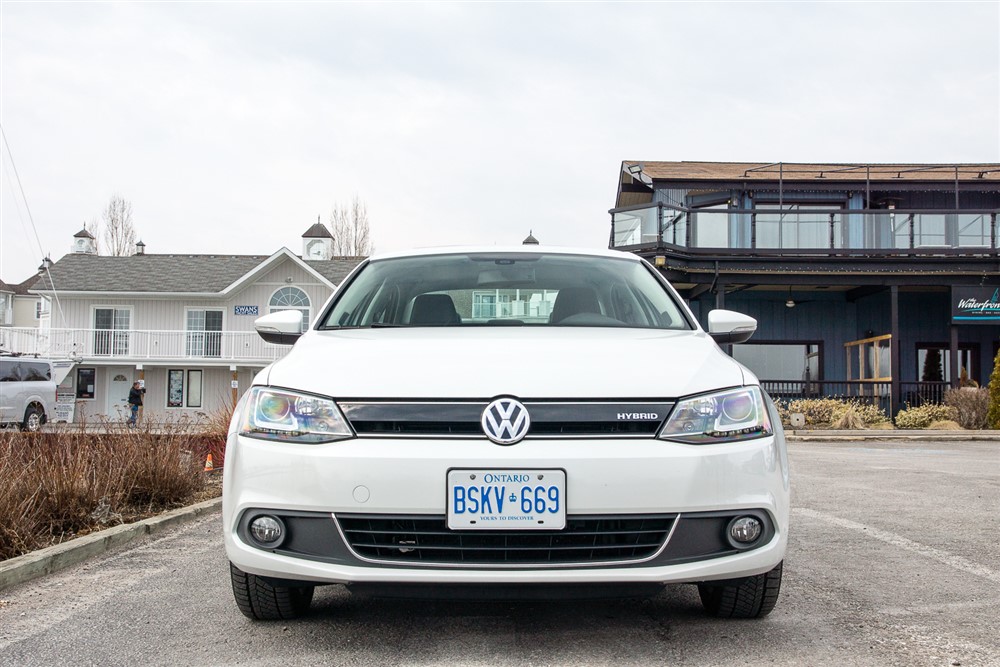 The sticker on this particular Highline model was not too far from $40,000, but if optioned carefully, it's entirely possible to get a nice Jetta Hybrid around $30,000. If what you need is a hybrid that's strictly for the commuter, the Toyota Prius C might be up your alley. If your requirement list includes a premium feel as well as a bit of a fun factor while simultaneously being frugal, the Jetta Hybrid makes a compelling case for itself.
2014 Volkswagen Jetta Hybrid