I was recently asked what my choice would be in the midsize luxury sedan class. After this past winter, I suppose I'm qualified to answer this question. In the span of two months, I drove the Audi A6 TDI, the BMW 535d, the Mercedes-Benz E350, and the Acura RLX. My week with the 2014 Lexus GS350 AWD was the icing on the proverbial cake in forming my opinion that this segment literally has no "bad" choices.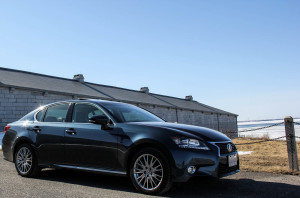 This car is beautiful. The styling works from every angle, and my tester was painted a lovely Meteor Blue that is surprisingly rare on the streets of Toronto. I only consider the E-Class gorgeous in coupe fashion, and the 5-series looks this good only when equipped in M-Sport guise, but every single trim level of Lexus GS looks great. It's more muscular than the GS models of the past, but subdued enough to look classy in any setting.
Under the hood of the GS350 is Lexus' 3.5L V6, which puts out a healthy 306 horsepower and 277 lb-ft of torque. My particular car was equipped with all-wheel-drive, although with my test being at the cusp of spring, I didn't really have a chance nor a need to try it out. The F-Sport rear-drive version of this car comes with a slick 8-speed automatic transmission, and the all-wheel-drive model here comes with a very competent 6-speed unit. Obviously, no manual is available. The V6 in this car not only moves nicely, it sounds spectacular. Merging on the highway and passing produces a great symphony from the car. It's clear that the engineers at Lexus invested a serious amount of time fine-tuning the GS.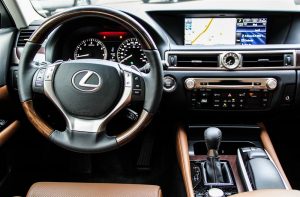 The strengths of the Lexus GS350 don't stop at the exterior and the engine. Being in the cockpit of this sedan is marvellous. My tester was equipped with the Luxury Package which included premium leather seating surfaces in Saddle. This colour has to be seen and felt in person to believe just how nice it is. Wood accents are on the steering wheel and throughout the dashboard – this car feels $20,000 more expensive than it actually is. Materials are insanely well put-together and feel just as high-quality as in its bigger sibling, the flagship LS460 sedan.
Other options included in the Luxury Package are rear seat climate controls, LED fog lamps, heated rear seats and steering wheel, adaptive headlights, and Front & Rear Adaptive Variable Suspension (AVS). Lexus' RTI (Remote Touch Interface) and 12.3″ widescreen display are also on-board. Every high-end automobile manufacturer has their own infotainment system; some are significantly better than others. One thing I actively look for when testing these systems is simplicity – even though each car has its own target market, the infotainment system needs to be simple enough for the technophobe to live with. RTI does it; it's techy enough to keep me satisfied, while not so complicated that an older, simpler generation would have issues. Bluetooth is easy to pair and audio quality is great. On other trim packages, a spectacular Mark Levinson audio system is available as well – the standard Lexus Premium Audio system is adequate for the average listener.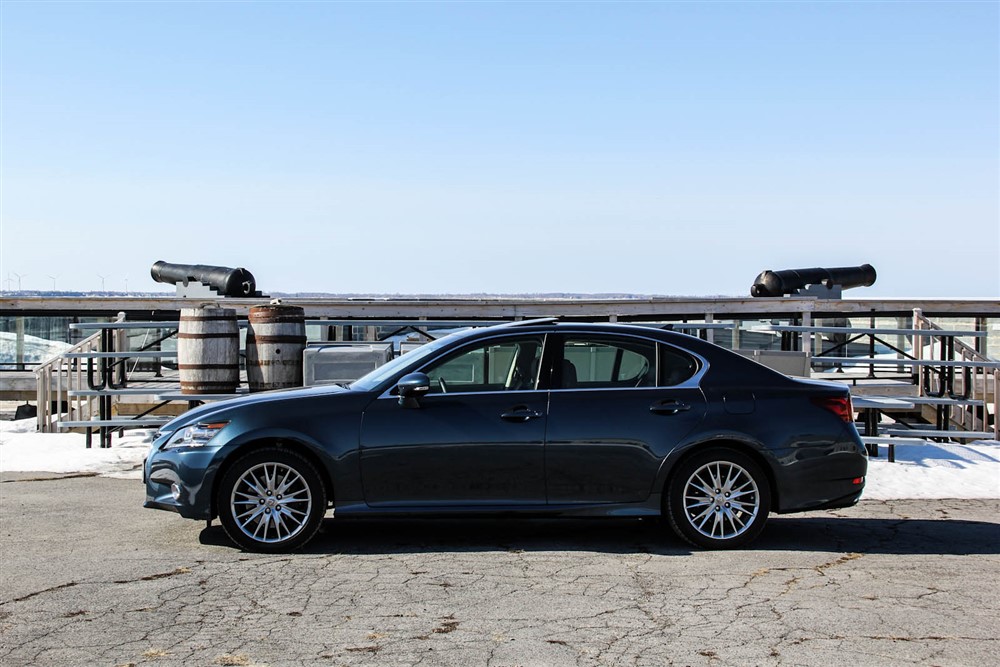 Over 600km driven (90% highway), I averaged 9.2L/100km on premium 91-octane fuel. This isn't terrible at all, but I feel that implementation of the 8-speed automatic throughout the GS lineup would help. It's pretty safe to assume that this will be addressed down the road; perhaps in a mid-cycle refresh in the coming years. I can't really complain about much else with this car; the GS350 AWD is pretty sensational. My uncle actually owns a circa-2006 GS300 AWD, and I've driven it extensively. I like the car a lot, and it's living proof that 8-year old luxury sedans don't have to cost a fortune in repairs down the road. That particular GS300 has been nothing but dead reliable.
Lexus' mission has always been smoothness, quietness, reliability, and overall serenity while behind the wheel. In the past, I've noticed that this takes away from the driving experience. This is no longer the case; the latest IS350 F-Sport (which won our Best Sports Sedan award) along with this GS prove that the company is capable of reaching great heights. I took a short highway road trip with this GS350 and came away seriously astounded at how comfortable the seats are over a longer period. Again, extensive engineering is evident here.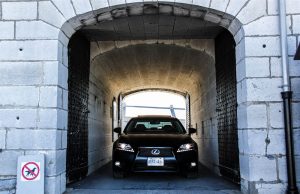 The midsize luxury sedan segment is full of some excellent entries right now. I've now spent enough time with every single one, and I came away impressed by each in their own individual way. There really is no bad choice in this class, but some choices are much better than others. The new 2014 Lexus GS350 AWD is the perfect car for absolutely anyone. It's comfortable enough for frequent road-trippers, it's sharp enough for the young entrepreneur, and it's efficient enough for the environmentally-conscious. This sedan is an automotive chameleon – try one out and it really will not disappoint.
2014 Lexus GS350 AWD Gallery