Full disclosure – I'm not really a fan of gigantic SUVs. In fact, I much prefer smaller cars like the Scion FR-S or the Mini Cooper S. However, when I saw the styling facelift for the Dodge Durango last year, I immediately asked my editor to book one – a Citadel to be specific. This 2014 Dodge Durango Citadel is a delight to look at, and even more of a delight to spend time inside; it's simply excellent. I spent a week with it to see what my real-world thoughts would be.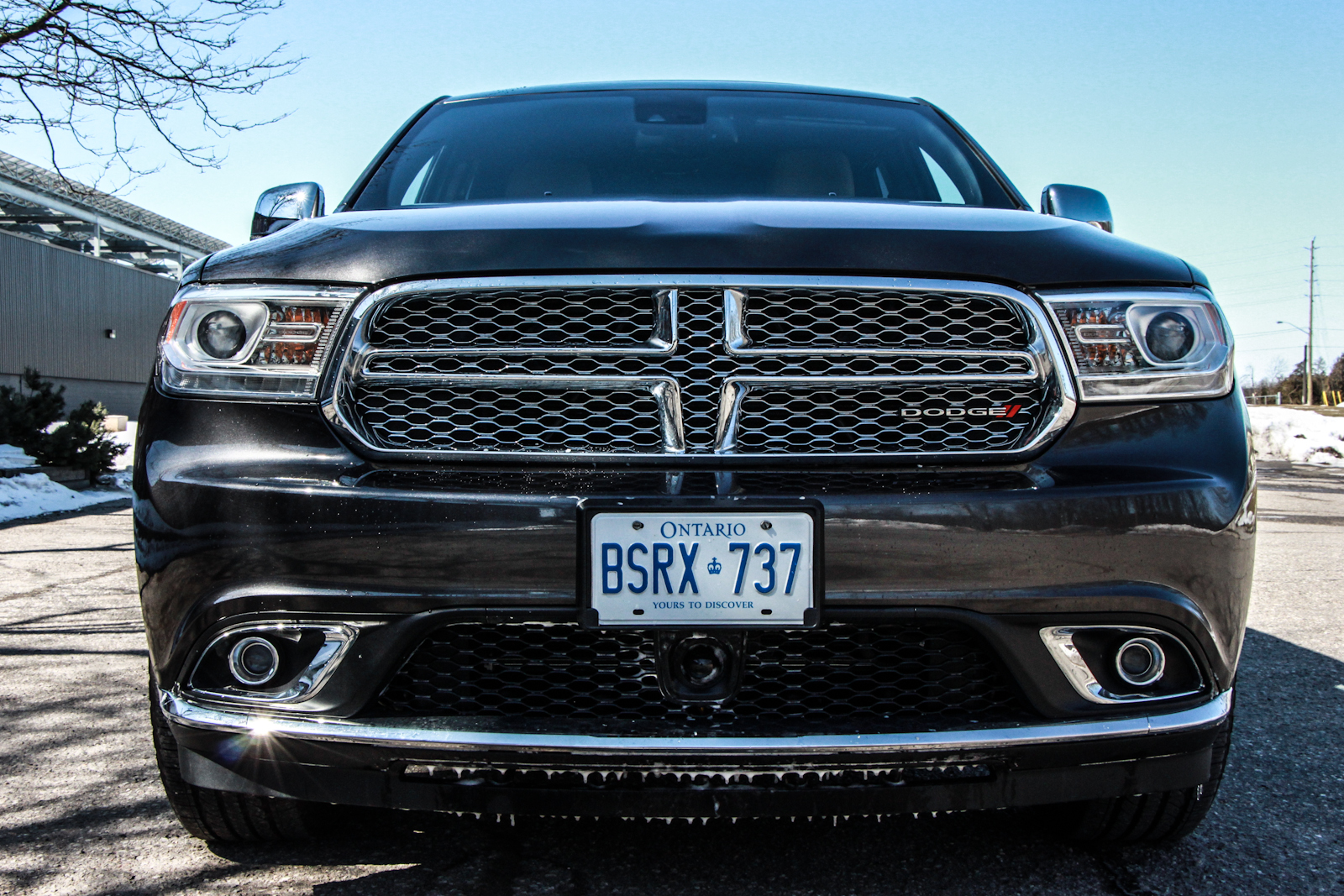 My "Maximum Steel Metallic Clearcoat" tester looks more menacing than anything else in its class. The one thing that needs to be mentioned is just how large this thing is. The LED light bar on the rear end shares its styling cues with the Charger and the Dart, obviously becoming a Dodge trend. It looks pretty darn good, if not a bit too bright at night. The headlights are HIDs; bright enough to light up your field of vision, but not so bright that they blind oncoming drivers (something large SUVs are known to do).
The Citadel (the highest trim level available in the Durango lineup) looks significantly more upscale than "lesser" Durango models. With a starting price of just over $52,000, it had better. The Dodge corporate crosshair grille, the side trim, the rocker panels, absolutely everything from the outside is classy and well thought-out. My particular tester had the Mopar Chrome Appearance Group option box ticked off, for an extra $1,085. I definitely think this is worth opting for; it transforms the look of the Durango. The current Jeep Grand Cherokee is one of the most stylish sport-utility-vehicles out there, and the Durango looks the part of its larger, more grown-up sibling.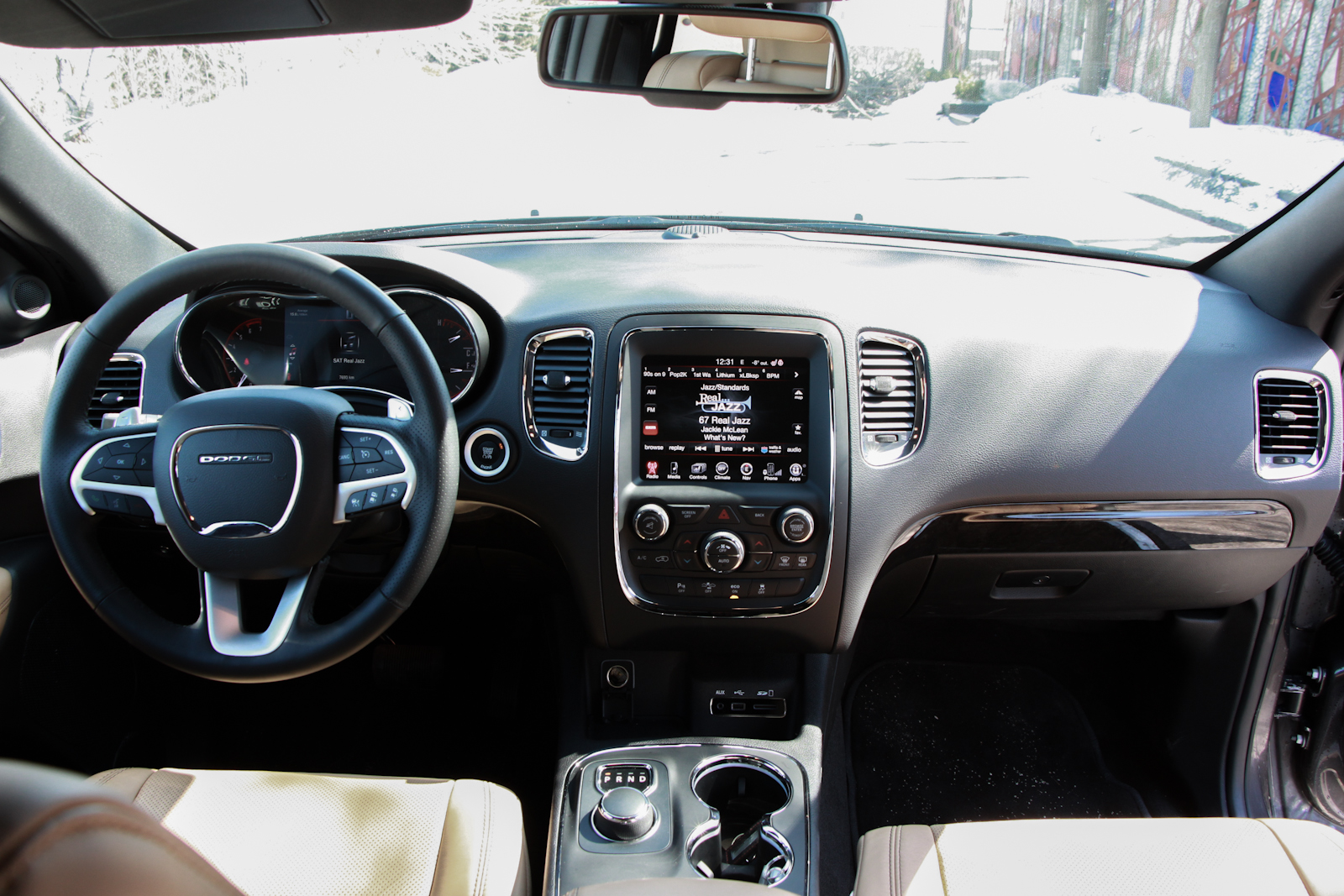 The interior on my Durango was most exquisite. I couldn't stop raving about it the entire week that I had the truck. The steering wheel is the same as in the Grand Cherokee SRT, and the infotainment system is the same UConnect/Garmin unit that's now shared with essentially everything across the Chrysler umbrella. This is quite possibly my favourite infotainment system/touchscreen in the industry. It's not terribly high resolution, but it's simple to use and the screen is very responsive. Pairing my phone via Bluetooth was quick and simple, and voice quality was good.
Early Durangos were not known for quality of materials. These new ones change all that, and hopefully will eventually eliminate preconceived notions. Everything felt very well put-together, and there weren't any strange panel gaps anywhere. This new Durango proved to me that American cars have stepped up their game in interior quality.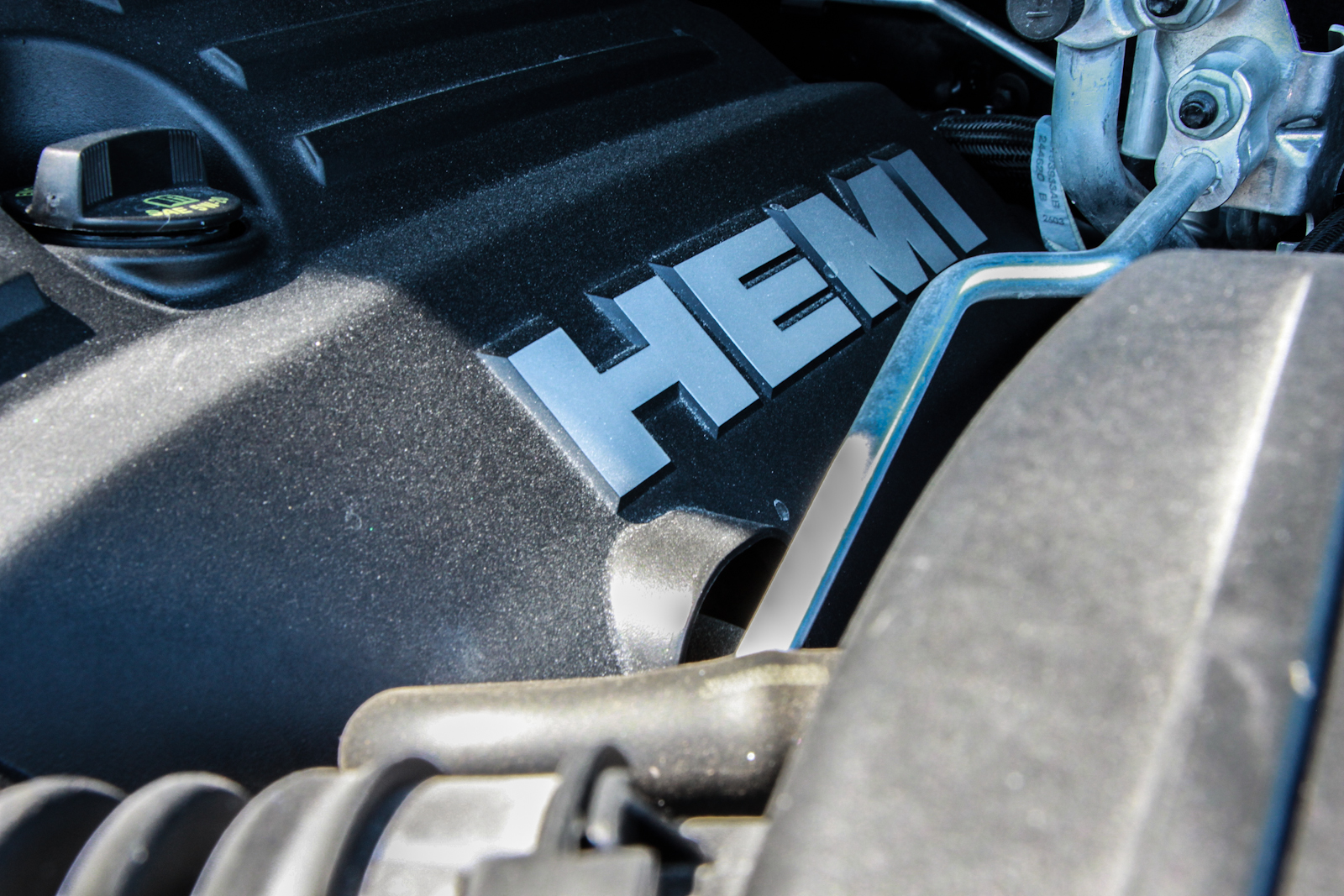 So I've made it clear that both the interior and exterior of the Durango impressed me. That's not where its strengths stop – what they've stuffed under the hood is simply monstrous. This truck came equipped with Chrysler's famous Hemi – a 5.7L V8 coupled to a brilliant 8-speed automatic. The Durango puts out 360 horsepower and 390 lb-ft of torque, and you can feel every single horse and pound-foot of torque. Putting your foot down on a highway on-ramp makes the truck emit a roar similar to that of Scar from The Lion King. This thing is just as intimidating, too.
Naturally, with a powerplant that has eight cylinders, fuel economy isn't expected to be Prius-good. In fact, it's quite the opposite. I averaged 16.5L/100km in mostly city driving, making this one of the thirstiest vehicles I've ever tested (I think the Nissan Titan I drove last year did a tad worse). Feathering the throttle and planning every move led to a respectable 10.6L/100km on the highway. The implementation of an 8-speed automatic definitely helped fuel economy overall, especially considering it's such a smooth transmission.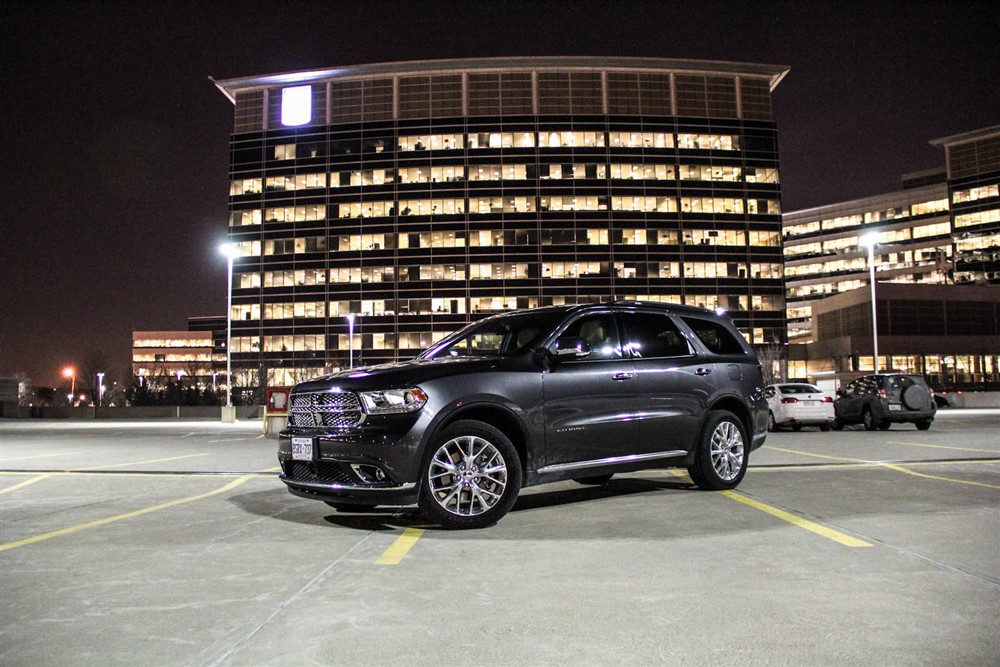 At an as-tested price of just over $62,000, this Durango comes in a little more expensive than I'd like. The Infiniti JX35…er… QX60 Hybrid is an alternative I would consider at this price point, but it isn't nearly as nice to drive as the Dodge. Given my daily grind is mainly city driving, I needed to apply for a line of credit before filling up this thing as I returned it to Chrysler, but it was bittersweet. Every single kilometer I logged in the Durango was fun. Driving down the road with a line of sight above the rest of traffic while being exceptionally comfortable and having 360 horsepower under my right foot is a feeling not too many vehicles can deliver. The 2014 Dodge Durango Citadel is seriously great – it met all of my expectations and more; I think I need one.
2014 Dodge Durango Citadel Gallery