The midsize sedan class is a seriously competitive one. Over the last couple years, the new Mazda6 and Honda Accord have made a huge statement, especially in the eyes of our team. This time last year, the snick-snick shifting Mazda6 and the classically elegant Accord would have tied for our favourite sedans in this class. This year though, it's a different ball game. This 2014 Kia Optima SX has actually received a few updates for this model year, making it my personal favourite in the looks department. I spent some time with one to see if the "go" lived up to the "show".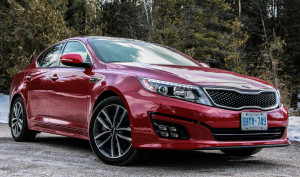 We actually did test an Optima a couple years ago, and came out quite impressed. The 2.0L 4-cylinder is turbocharged and puts out 274 horsepower and 269 lb-ft of torque. On a front-wheel-drive car, this much power does cause a little bit of torque steer, but the Optima is still very enjoyable. There isn't as much turbo lag as I expected, and the car pulls hard right up to highway speeds. Passing is simply effortless, and the 6-speed automatic transmission shifts seamlessly. It appears that there's no holding the Optima Turbo back.
The steering is light enough to make parking simple, and tightens up when the Drive Mode button is toggled to "Sport". This system prevents the Optima from darting around on the highway and makes it a comfortable cruiser for the everyman. Weight does play a factor here – this sleek sedan does tend to understeer if pushed a little harder than it wants to be. The 2.0L turbo-four helps fuel economy drastically over a V6. I observed 8.4L/100km in combined driving with a spirited right foot. I did use the "Eco" mode on the highway, which resists throttle input and shifts earlier to maximize fuel economy.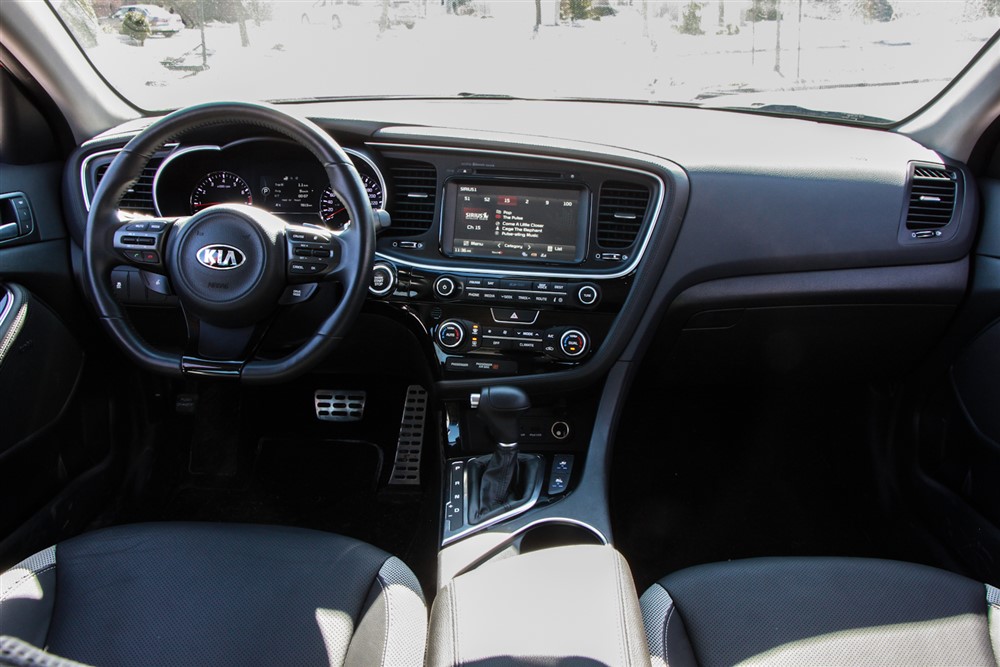 The aesthetics department is where this car really impresses. The exterior styling is second to none in this segment; the Optima is simply stunning. My tester was painted in a beautiful metallic red with some stylish 18″ alloy wheels. The blacked-out appearance of the car accented by the panoramic sunroof makes for a sensational-looking sedan. Kia has done their part to make sure the interior now lives up to the exterior styling; the steering wheel is flat-bottomed (not unlike the Audi S4) and the gauges in the instrument cluster are sporty-looking and easy to read.
In my opinion, Kia has never been a champion of making great seats. I thoroughly enjoyed the leather buckets in this Optima SX – they made every drive pleasurable and worth looking forward to. There's enough legroom for six-footers in the back seats, though this car isn't exactly a Toyota Avalon. Ergonomics in the cockpit are very nice too – everything is pointed towards the driver, a great touch for a midsize sedan. The new Kia infotainment system really impressed me – the big touchscreen is easy to read, doesn't really get impacted by glare, and is very responsive.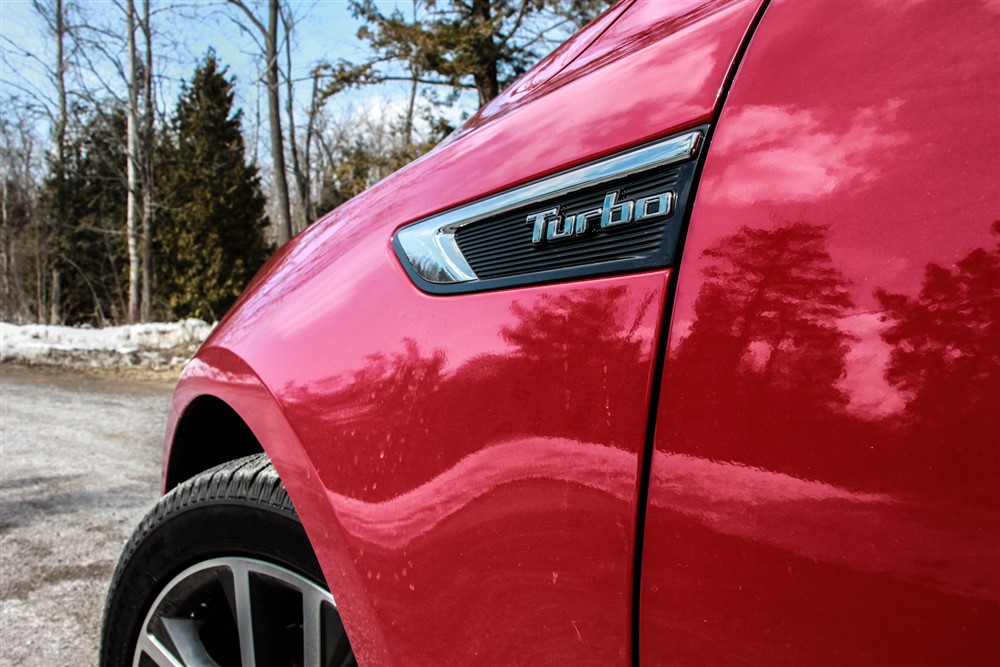 Kia's sister company Hyundai formerly used a proprietary iPod cable too. These cables were actually interchangeable between vehicles – Hyundai has since steered away from this and in most new models, permits the user to use a regular USB cable to play your media device. Unfortunately, the Optima still requires the proprietary cable. I used Bluetooth audio instead to stream my music through the Infinity 8-speaker stereo. The quality of this stereo is particularly good – I had no complaints whatsoever despite being a picky audiophile. My SX tester was also equipped with a few other toys that the modern buyer would appreciate; a panoramic sunroof, intelligent key system, HID headlights, LED taillights, heated front and rear seats, cooled seats in the front, and a rear-view camera were all on board.
There wasn't all that much to complain about with the car. I do question whether or not the edgy, polarizing styling will age well. Some sedans of the years gone by are remembered for their unique designs; anybody remember the first-generation Oldsmobile Aurora? The interior of the Optima will definitely age nicely – it's universally functional, it looks good, and the materials ooze quality.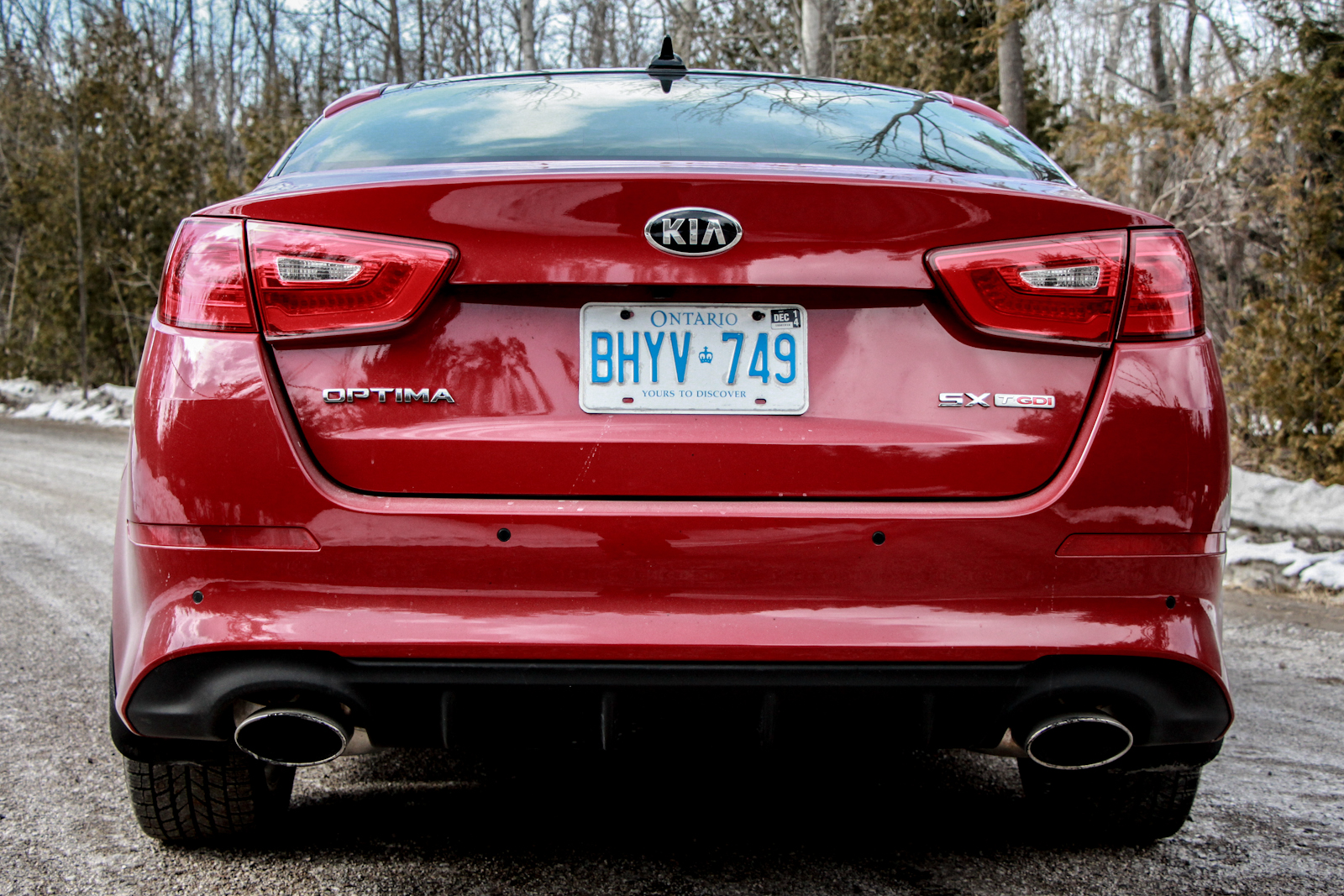 This is essentially the most expensive Optima that money can buy. At just under $35,000 as-tested, I'm completely on board with this price. Gone are the days where the Optima and Sonata are seen as low-rent alternatives to the Camry and Accord. This new Optima surpasses everything in its class if everything was based on looks alone. It's fun to drive, it feels well-built, and it's incredibly safe. If this exact combination was available with a proper manual transmission, I would lease one in a heartbeat. In short, this hot new number from Kia is seriously good; this new kid on the block came in with a bang.
2014 Kia Optima SX Turbo Gallery