Compact SUVs and crossover have really taken off in popularity recently. I'd anticipate that after the winter we've just had, we'll be seeing that trend continue as more and more buyers begin to crave the benefits of all-wheel drive and the additional ground clearance. In fact, for the last few months it seems almost everyone I talk to who is thinking about a new car is considering something in this segment. With so many strong contenders in the market I've often found it difficult to pick a favorite. I was glad to spend a week with the popular 2014 Hyundai Tucson Limited to find out for myself if Hyundai has another front-runner on their hands.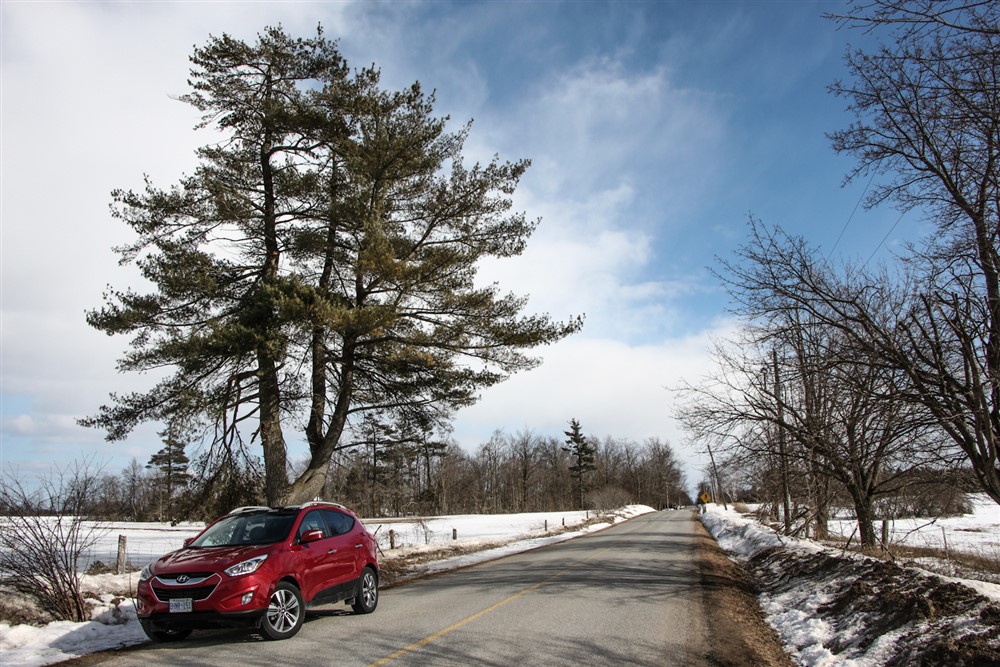 I've made it well known that I really like the current Hyundai Santa Fe, so I had high expectations for the Tucson. On the outside, the Tucson does look a lot like a baby Santa Fe, which is a good thing. The LED daytime running lights, which do set the front end apart from the rest of the compact SUVs on the road, help give it a more upscale premium look. Surprisingly though, the projector beam headlights are standard halogens as opposed to HID, which would have complemented the LEDs really well.
To many of the buyers in this segment though, looks are near the bottom of the priority list and it's all about what is inside. This is where my $33,500 tester shows its mettle; the Limited trim package gets you all the latest high-tech toys including dual sunroofs, full leather seating, heated front and rear seats and one of the best infotainment systems on the market. On board are a 7" touch screen navigation system, rear view camera, Bluetooth integration and an impressive 360W stereo. The system is very intuitive to control using a combination of buttons and touch screen commands with little to no lag. The stereo packs a surprising amount of punch and as someone who tends to favour a little extra bass, the sound was just right for me.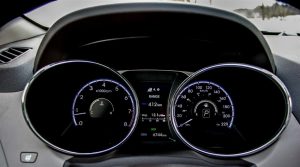 These features are kept in a well laid-out and functional interior with plenty of storage up front and split rear seats that easily fold flat. The rear seats offer plenty of head and leg-room, and up front I was quickly able to find a comfortable driving position in my 6-way power adjustable seat. The interior is full of thoughtful little touches such small lights built into the headliner just above the sun visor vanity mirrors.
Despite the exceptional functionality Hyundai has built into the interior of their compact SUV, I do feel there is an opportunity for them to refine a few aspects, namely the widespread use of hard plastics. That said, it's important to remember that the Tucson is a compact SUV with a base price of $21,000. Sure, this top of the line Limited AWD model is $33,500, but many pieces are carried over right up the range.  To have such a rock bottom starting price, there have to be some sacrifices made, and while those sacrifices are hardly noteworthy at $20,000, when you start approaching 35K they can become a bit of a let-down. For that reason I do feel that the sweet spot for the Tucson would be in the lower trim levels where a decently equipped AWD model can be had in the mid-20s. At that price, you'd be pretty hard-pressed to find another option with this much versatility and comfort.
Behind the wheel, the Tucson is a well-mannered cruiser with a smooth and refined ride both at highway speeds and on the city's battle-scarred streets. Equipped with Hyundai's signature driver selectable steering you can select between Comfort, Normal and Sport. While the sport selection is well weighted, it seems to make the Tucson a little darty on the highway. I kept it in normal most of the time and was satisfied with both the response and feel from the wheel. One of the most appealing aspects of the compact SUV segment for me as always been the maneuverability, and the Tucson is no exception; the turning radius is exceptionally tight, which makes parking in the city a breeze. Additionally, due to the Tucson's quick steering and throttle response, it is very agile and easily navigates the gauntlet of rush hour city traffic.
My tester was powered by the optional 2.4L 4-cylinder squeaking out 182 horsepower. This engine easily keeps the little SUV moving with the flow of traffic, but if asked to do much more the 4-cylinder does seem to lack the top-end power needed for brisk highway passing. The 6-speed automatic however is right on point and responds quickly to keep the rpms where they need to be to take advantage of all the engine has to offer.  The AWD system can be locked to a 50/50 power split to the front and rear wheels using a button on the dash, a feature not available on many of the Tucson's competitors. While this is not something you'd use in everyday driving, you'll be thankful it's there when you really need it. To have AWD, ground clearance and enough cargo space for the Home Depot runs, the Tucson also proves you don't always have to give up much in terms of fuel economy. I averaged a very respectable 9.1L/100km in my week of mixed rush hour commuting.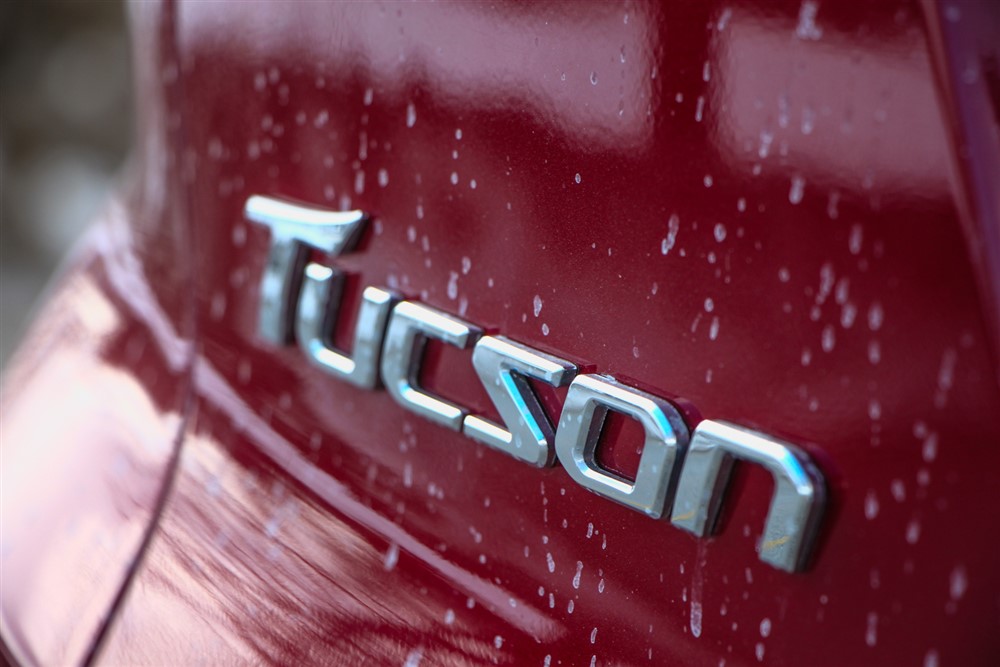 There's no doubt in my mind that the mildly restyled Hyundai Tucson is going to be a big success over the next couple years. It does a great job of ticking off all the things consumers are looking for today, all neatly packed into a very versatile package that truly has something to offer for everyone. Whether you're looking for a safe AWD commuter, an easy-to-drive and efficient family hauler or an affordable SUV for those wintery road trips, the Tucson has everything you need. The next time I'm asked for my opinion, would I recommend it? Absolutely.
2014 Hyundai Tucson Limited Gallery