Remember the 1959 Cadillac? Even today, its massive tail fins and miles of chrome serve as an icon of American success, power and excess. Cadillac has had its ups and downs since then, but as I've stated before, I really do feel that they are working hard at beating out a path back to that former glory. The XTS is down the largest and most luxurious offering from Cadillac, so it should embody all the glamour that the Caddy name has been known for, and show off just how hard Cadillac has been working on their cars. I've been handed a fully-optioned 2014 Cadillac XTS Vsport to find out if that really holds true.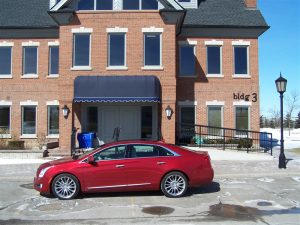 Much like the tail fins of the legendary '59, my Crystal Red XTS Vsport stands out in the typical luxury car crowd of silver and black BMWs, Mercedes-Benz and Audis like a sore thumb. Between the aggressive vertical headlamps, huge Cadillac grill, massive polished rims and the XTS's edgy body styling, passers by simply cannot help but stare at the freshly washed Cadillac. I wouldn't say it's the most gracefully styled luxury car at this price point, but it certainly does look like it means business.
The Vsport badge means business under the hood too ,as the Vsport package comes with the brand new twin-turbocharged version of the 3.6L V6. Rated at 410hp, it's more than enough to backup the XTS' no nonsense styling.  This engine really is quite impressive and I hope that GM looks at making it available in more of their offerings. The Camaro is a no-brainer, but I would love to see this in a Colorado SS or similar. The beauty of this powerplant is just how well balanced it is; cruising at a leisurely pace it feels just as smooth and refined as the standard 3.6L, but give her the beans and at any RPM and the Vsport firmly pushes you back into the buttery soft leather and absolutely rockets past any slow moving obstacle that may have entered your path. Also notable is that the twin-turbo does all this in library levels of silence. With the windows up and the Bose stereo at a casual volume, there is no engine, wind or road noise to be heard. For a commuter like myself this is the ideal situation.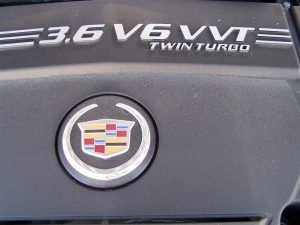 While the engine is a performance marvel, the XTS chassis is definitely not what I would consider sporty. This is a true luxury sedan that rides like a cloud and steers as lightly as a feather. Driving the XTS is different than its curve-hugging sibling, the CTS, in that it doesn't have that sporty connection to the road that the CTS benefits from. You don't power through corners in the XTS, you just sit back and enjoy the ride knowing that you've got 410 ready and willing horses under the hood should you need to put another driver in their place for distracting you from your Rod Stewart's Greatest Hits album.
As if the powertrain wasn't enough, my $79,000 tester also came with the Platinum Series package which means it has literally just about everything you can imagine in a luxury car; heated and cooled front seats with memory on both sides, heated rear seats, heated steering wheel, adaptive cruise control, panoramic roof, power rear sunshade, dual rear video screens with Blu-Ray capabilities, and most importantly the word "Platinum" illuminated on the door sills. It does have Cadillac's CUE infotainment control system, and no matter how many times I use this system I can't seem to get used to it. I do admire Cadillac for making a very thorough attempt at integrating everything into a single touch screen interface.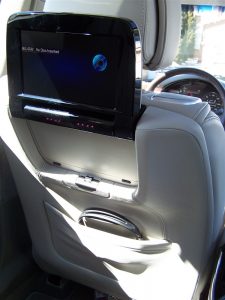 With all of its features, the interior is unquestionably the lap of luxury, done like only Cadillac can do. The very light tan leather in the XTS is quite possibly the softest leather I've experienced in a car, and the seats are so well executed it would be difficult to find an uncomfortable position. The suede headliner, gorgeous soft accent lighting and generous use of dark high gloss wood do a great job representing that glamour and excess that I'm beginning to see again in the new Cadillacs. The fully digital gauge cluster takes some getting used to, but offers a few different ways to customize the display to make it just right for any driver.  Additionally, the interior space is incredibly well thought out, making it much more than just a pleasant place to be. There is ample storage available up front, and unlike some other full-sized sedans, the rear seats actually fold completely flat, meaning the XTS easily swallowed this week's shopping run.
Speaking of usefulness, my week with the XTS was marked by a March snowstorm, the kind that easily cripples a city whose snow-clearing contracts have begun to run out. However, the XTS proved easy to handle and virtually unstoppable in the deep heavy snow, helping to support my notion that a good AWD sedan is as good, if not better, as a winter vehicle than a big clumsy SUV. The XTS Vsport's twin-turbo powerplant also returned respectable fuel economy numbers. Despite the snow, I saw an average of 11.2/100km in combined driving.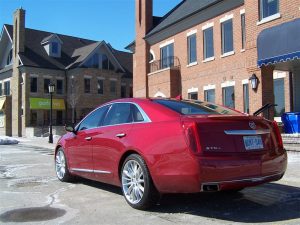 At the end of my week I really did start to fall for the XTS. Its aggressive styling and "V" badging make it look like it's going to be a wild ride with an interior fit for a king. Its well-mannered ride and refined power make it more of a gentle giant – just don't get in its way. This is a perfect example of Cadillac's efforts to bring back the excitement and glamour of their vehicles, while still offering exactly what their customers want.
2014 Cadillac XTS Vsport Gallery