I've grown up around Mercedes-Benz products of the non-sporty variety. Since the 1980s, we have had in the family a 560 SEL, two 300SDs, a 350 SDL, and most recently, a previous-generation E-Class 4MATIC sedan. I've put a few thousand kilometers on our E-Class and have thoroughly enjoyed every one of them. It was only fitting, then, that I was handed a 2014 Mercedes-Benz E350 Coupe 4MATIC for a week. With a significant facelift for model year 2014, the E-Class is a volume seller for Mercedes and is one of my favourite models in the lineup.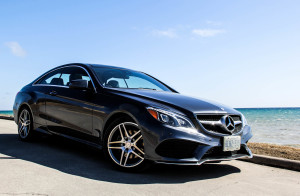 Despite contrary assumption, the E-Class Coupe is actually built on the C-Class platform. Even though it's built on a different platform than the E-Class sedan, it's pretty hard to tell. The post-facelift car is simply stunning. The LED contours in the headlights as well as the taillights are gorgeous at night and turn heads wherever the car goes. The pillarless design of the windows that pays homage to grand touring coupes of previous generations makes for a particularly clean design. My Tenorite Gray tester was equipped with the AMG Sport Package that gave it chrome trim all around, and the chrome front lip looked particularly good. I received feedback from people throughout my test week that thought the styling was a hit or miss – either they loved it or they didn't like it at all. I personally love it – the E-Class Coupe is one of the best-looking two-doors on the market right now.
Under the hood is Mercedes-Benz's well-known 3.5L V6. This engine can now be had in various models ranging from the C-Class right through to the ML350 sport-utility. In this application it's tuned for 302 horsepower and 273 lb-ft of torque. Although its main competitors (the BMW 435i and the Audi S5) are a bit up on power, I consider those cars to cater to a different market altogether. The E350 is athletic and muscular, but by no means a sports coupe. I do see it as a grand tourer. Power is ample, and the E350 produces a snarly engine note when merging onto the highway with supreme confidence. This car means business.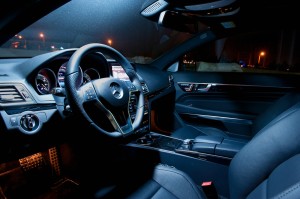 The 4MATIC all-wheel-drive system does the job very well. As we are beginning to enter spring, I didn't have a chance to drive this car through snow at all (which is just fine with me!). I've driven our E-Class at home through countless snowstorms and blizzards and can attest to its stability. The E350 Coupe also feels like it's been carved from a single piece of solid metal, so I have zero doubts about how stable it would be in poor weather conditions. Highway driving becomes truly effortless with this car; it's actually my ideal choice for a road trip vehicle. Running strictly on premium fuel, the car consumed 10L/100km in combined driving – not disappointing in the slightest.
Interior quality is where all Mercedes-Benz products have excelled. There isn't a panel gap or a poorly-fit trim piece anywhere in this car. Every single surface looks and feels luxurious and high-quality. I know I've complained in the past that certain new cars cost far too much for what you get – this car is worth every single penny of the $70,500 as-tested price. The Multicontour front seats feel great and are adjustable in many ways. There is also a plethora of settings for lumbar adjustment. If you can't get comfortable very quickly in this car, there may not be much hope left for you. At just over six-feet tall, the car fit me like a glove. The panoramic sunroof, as great as it looks, does impede a little bit on headroom.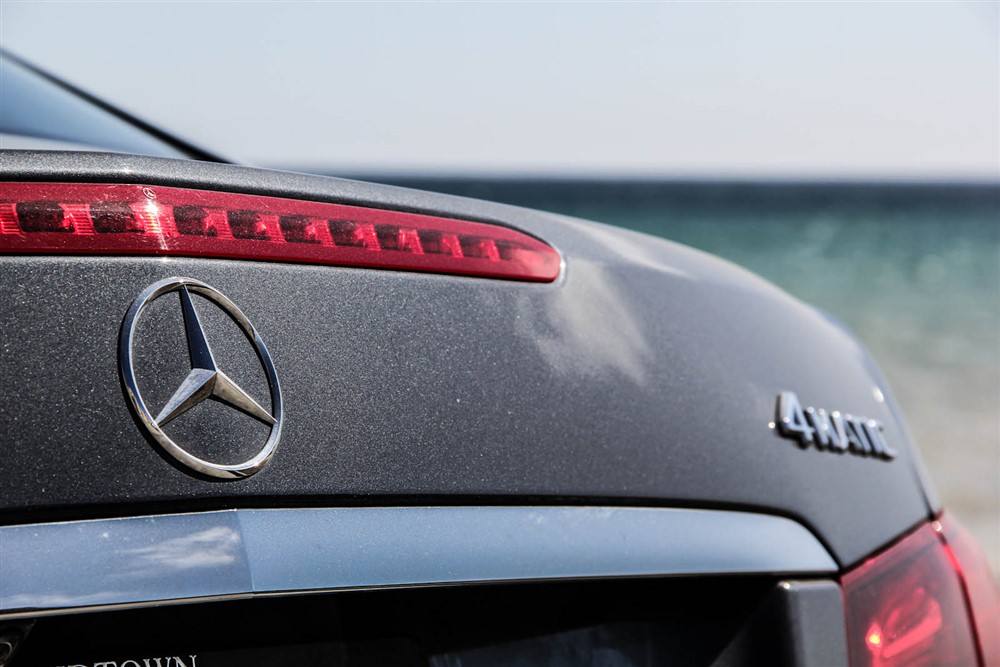 My E350 Coupe tester came equipped with the aforementioned AMG Sport Package (nicer seats, 18" AMG wheels, sport steering wheel, trim all around), the Premium Package (park assist, a rear-window sunshade, Harman-Kardon, a 360-degree camera, and Keyless Go), the LED Lighting Package, and a Driving Assistance Package. Pricing for the E350 Coupe 4MATIC starts at $63,000. The toys added onto my car brought the as-tested price to $70,500. For all the toys you get for this price, it's actually a bit of a bargain. The media interface is very simplistic to use, however the available USB port does not work with my Apple iPod. Mercedes-Benz does include a proprietary iPod cable in the glovebox. Sound quality from the Harman-Kardon system is crisp and distortion-free; I found myself listening to classical symphonies throughout my test week.
It's pretty hard to find flaws in a car you've essentially fallen in love with. The pillar-less window design makes for a little more road noise than I'd like. When cruising down the highway in the sublime comfort of this car, I would expect library-levels of quietness. The steering becomes very light and easy-to-modulate at parking lot speeds, and it tightens up the more aggressively you drive. It's a bit artificial, and I can't say I love it. This system does, however, make quick maneuvers simple and predictable. It's important to note that while the E-Class is a very good handler, rather than booting through the curvy backroads, it's far more comfortable transporting you down the highway in serene comfort.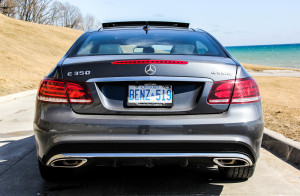 If I were shopping for a midsize luxury car, the E-Class would definitely be at the top of my list. I don't really see a necessity to opt for the V8-powered E550 – if I wanted brute power I'd go straight to the fire-breathing E63 AMG. A "personal executive coupe" such as this E350 4MATIC would fit the lifestyle of quite a few young execs I know. It exudes class, elegance, and luxury from every possible angle. There really is no substitute to the excellence that comes from Mercedes-Benz's years of development. This car is thoroughly brilliant in every way, shape, and form.
2014 Mercedes-Benz E350 Coupe Gallery