A great deal of people (mostly on the internet) regard the E39-generation of the BMW 5-Series to be the best ever. Built from 1997 to 2003, it represented BMW at its best in terms of timeless style, just the right amount of size, solid powertrains, and what is still the holy-grail for a lot of people: the BMW M5. With clean examples still fetching large amounts of money, it is safe to say that every 5-Series that would succeed the E39 would have some big shoes to fill.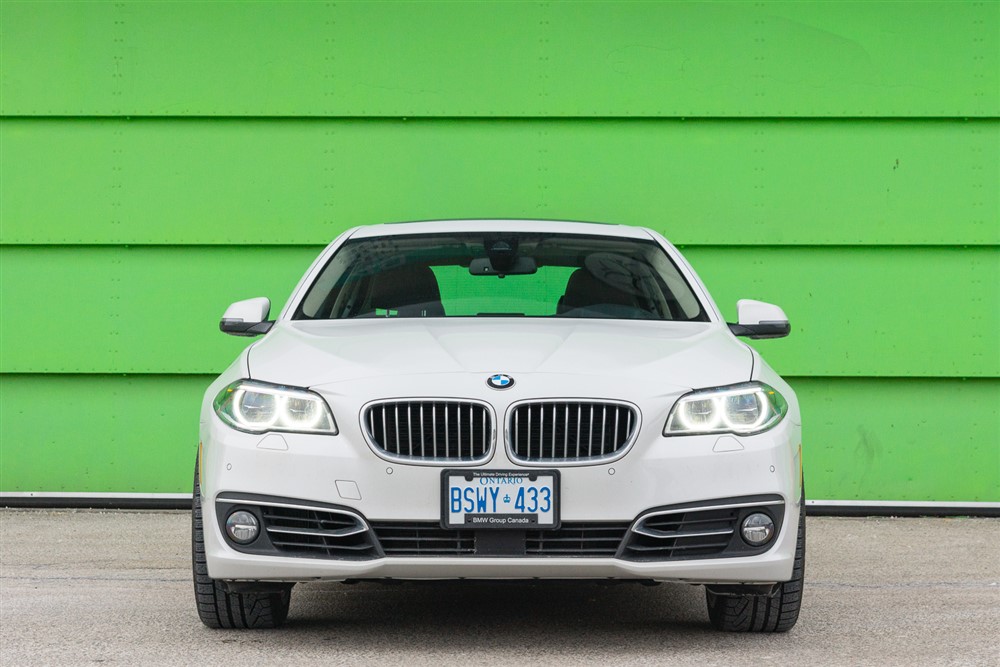 The E60 5-Series, first and foremost, brought in an entirely new styling language that would prove to be extremely controversial in its early days. While the updated powertrains (in conjunction with xDrive, BMW's all-wheel-drive system) were pretty solid, it took some time for people to warm up to Chris Bangle's polarizing style. By the end of its run in early 2010, I grew to like the design. The current F10 5-Series was introduced in late 2010, and while it took the overall styling and design somewhat closer to traditional BMW roots, its footprint grew drastically thanks to it sharing some of its engineering with the larger 7-Series. 2014 brings along a few updates, notably the option of full LED headlights that not only look great, but project a super-clean beam of efficient light.
One thing that stood out to me is the availability of diesel power. For decades, diesel was associated with snooty Europeans, black smoke, noisy powertrains, and a general lack of refinement. Many of these misconceptions are unfounded nowadays, but diesel sales figures still pale in comparison to standard gasoline-powered models. Even before getting into the car, I was excited to discover how BMW did their diesels, and whether it would be a good fit for their midsize luxury car. I picked up an Alpine White 2014 BMW 535d xDrive and quietly rolled away in efficient style.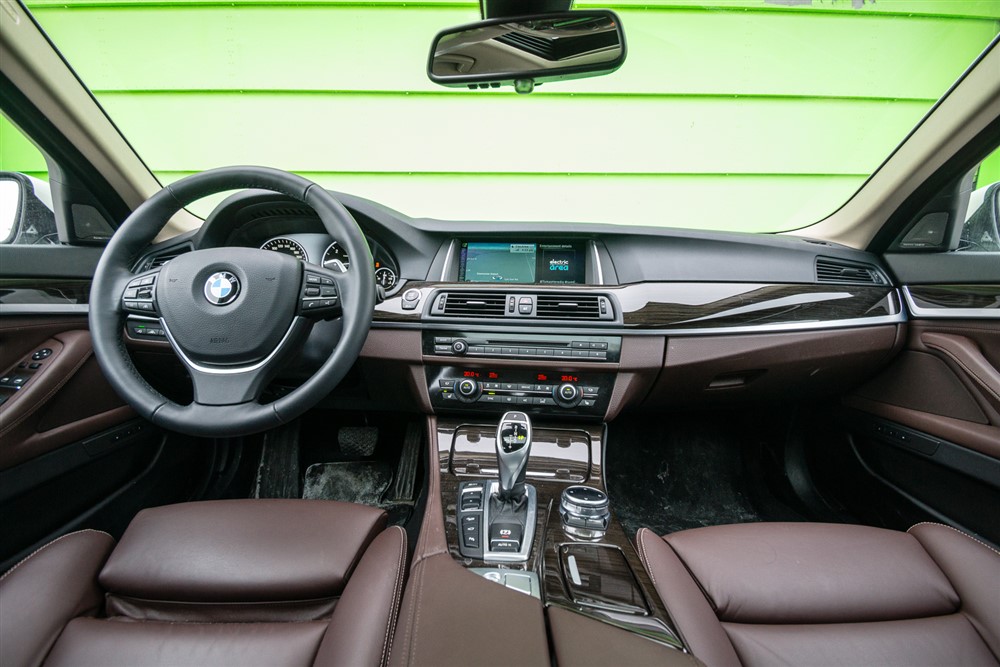 We recently reviewed this car a few weeks ago and ended up smitten with what is probably the best powertrain available in the 5-Series family. Easily its headlining feature, this 3.0L inline-six turbodiesel engine, codenamed N57, is actually an update from the diesel found in the old E90 335d that teased us for two years before disappearing again. It produces 255 horsepower and a stump-pulling 413 lb-ft of torque from 1500rpm to 3000rpm. In case it needs to be clarified: diesel engines make most of their power very low in the rev range. The known theories behind diesel engines are all sound: glorious amounts of low-end torque and high efficiency with respect to the output available.
Rather than the maximum high-rev power seen in the standard 535i, all the motivation happens very early on. You effortlessly row through all eight gears of the excellent ZF 8HP automatic transmission without any drama. I actually preferred manually controlling the transmission, short shifting while still managing to stay within the fat torque curve available. Once you get accustomed to the power output, the sound you hear from under the hood is probably the next thing you'll notice. BMW's gasoline inline-six engines are almost always a great source for sweet high-revving music, this diesel sings a much deeper, almost baritone, note. It is deep enough that you barely notice – hallmark of a good luxury sedan.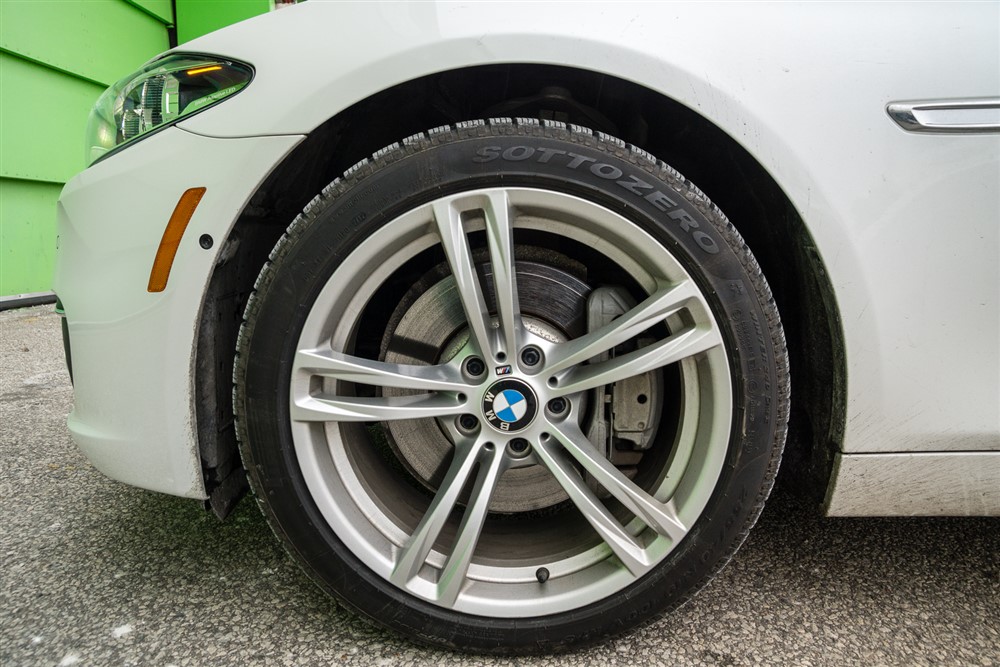 Inside, the interior is a good mix of BMW tradition and modern style. Trimmed in a gorgeous "Mocha Nappa Leather", the wide bucket seats are adjustable in nearly every dimension – including in the side bolsters and a useful thigh extension. The shifter, while strange a few years ago, is now a mainstay in nearly all of BMW's offerings and feels like a high-quality piece to use. The iDrive controller first seen in the E65 7-Series has undergone enough major updates and even emulated nowadays elsewhere in the auto industry. My tester features a heads-up display that relayed speed readings. One problem: if you wear polarized sunglasses, expect the heads-up display to pretty much disappear from view. While front-seat occupants are treated to generous amounts of space in nearly every direction, rear seat passengers suffer a little bit, surprisingly in the knee-room department.
Ride quality can be described as excellent. The dampers do a great job at keeping body motions in check. Opponents of the new F10 5-Series are quick to point out the excessive mass (and softening of vehicle dynamics) in the new car, but I felt BMW struck a good balance between ride quality and sportiness. Considering the 4254lb curb weight, the BMW does a reasonable job at changing directions confidently.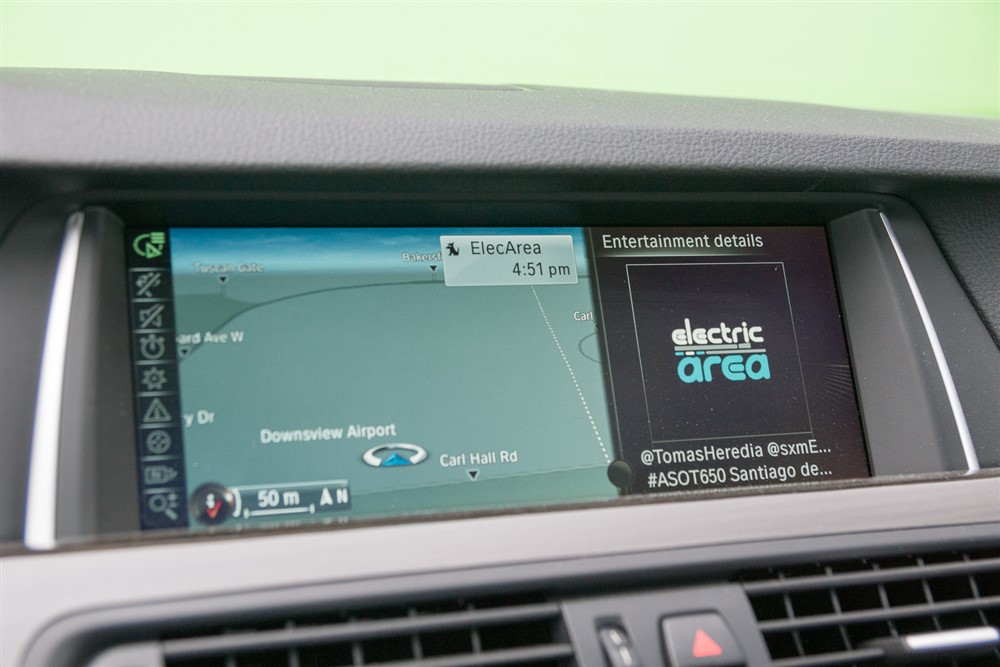 Consumers considering the diesel powertrain in the 535d are likely concerned about efficiency. BMW rates the 535d xDrive at 7.9L/100km in the city, 5.3L/100km on the highway, and 6.7L/100km in a combined cycle. I did a lot of city driving in the cold confines of Toronto, and over about 600km, I managed an average of 9.0L/100km. While this is higher than what the ratings would suggest, I think staying in the single-digits while having access to such effortless power is a really big deal. The fuel tank will accept 70L of diesel, which allows for an excellent cruising range of well over 900km. One feature that has spread to all recent BMW models is the auto start-stop system. At red lights and extended stops, the engine will shut off to save fuel. This is a good idea in theory, but the jolt and vibration as the engine comes back to life is not what I would consider refined.
The 535d xDrive sits somewhere in the middle of the 5-series range in terms of pricing, at $68,150. My tester with various option packages (Premium and Technology Packages) comes to about $81,000. That's a lot of coin for a large sedan that happens to be good at saving you money. Of course, you can load up a 528i xDrive with its four-cylinder gasoline engine to almost the same amount of money, but you'll be down on horsepower and torque, and you'll still consume more gasoline per 100km than in the 535d. You do pay for the good hardware. Other than the small lowercase "d" badge on the trunklid, there is no easy way to tell if a diesel engine lives under the hood. Compared to the 535i, however, the 535d sports a left-side twin tailpipe setup, whereas its gasoline sibling features a dual-exhaust system – one outlet per side of the rear bumper.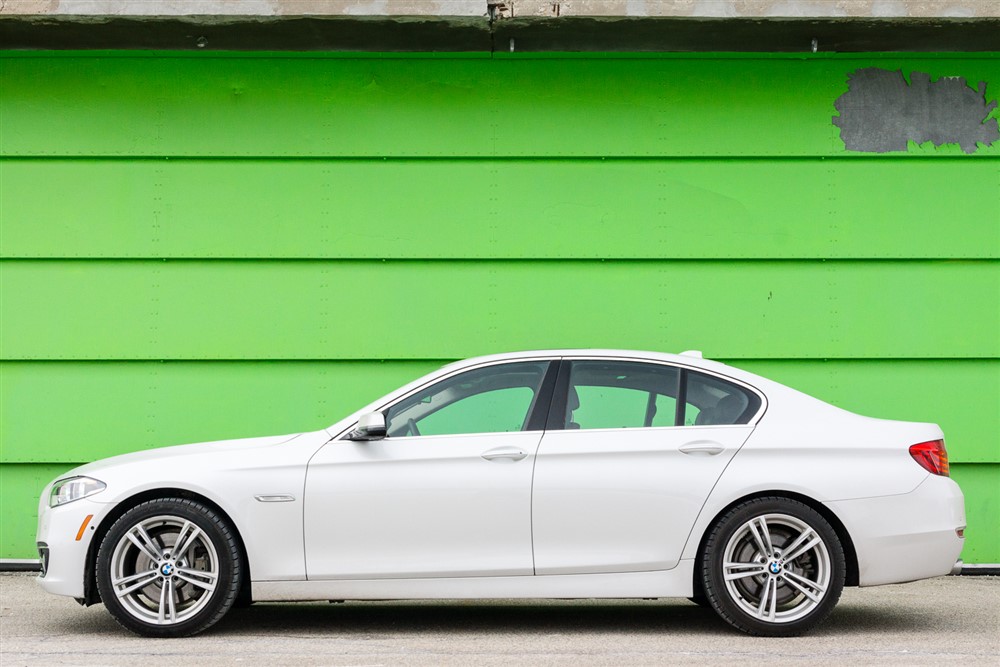 I've been a proponent of diesel powertrains for a long time, so perhaps my mind was already made up even before stepping into the 535d xDrive. The V8-powered 550i is faster in nearly all aspects, but you pay for that well-rounded muscle at the gas station. You may have noticed me using the word "effortless" a few times in this article. Luxury sedans should be effortless under all circumstances. Nobody expects a large sedan to have to struggle at any time. The turbodiesel engine exudes quiet confidence and gives the driver a very ample power reserve at all times, all while being relatively frugal. There's evidence in this strategy: BMW is bringing a new large 7-Series model to North America, the 740Ld xDrive (what a mouthful), which I think is also an excellent fit for this excellent diesel powertrain. If only they could bring over the M550d xDrive Touring. Yes, it does exist (look it up). Nonetheless, the 535d xDrive really lets you have your cake and eat it, too.
Second Look: 2014 BMW 535d xDrive Gallery