A little confession here: my nickname since I got my driver's license has been Captain Cruise. Affectionately dubbed this by my friends, it was derived from my passion for going for aimless drives and talking about cars. Now that I do this professionally, my editor thought it would be amusing to assign me the 2014 Chevrolet Cruze RS Turbo. A seriously appealing little car, I have adored the looks of the Cruze ever since its introduction a couple years ago.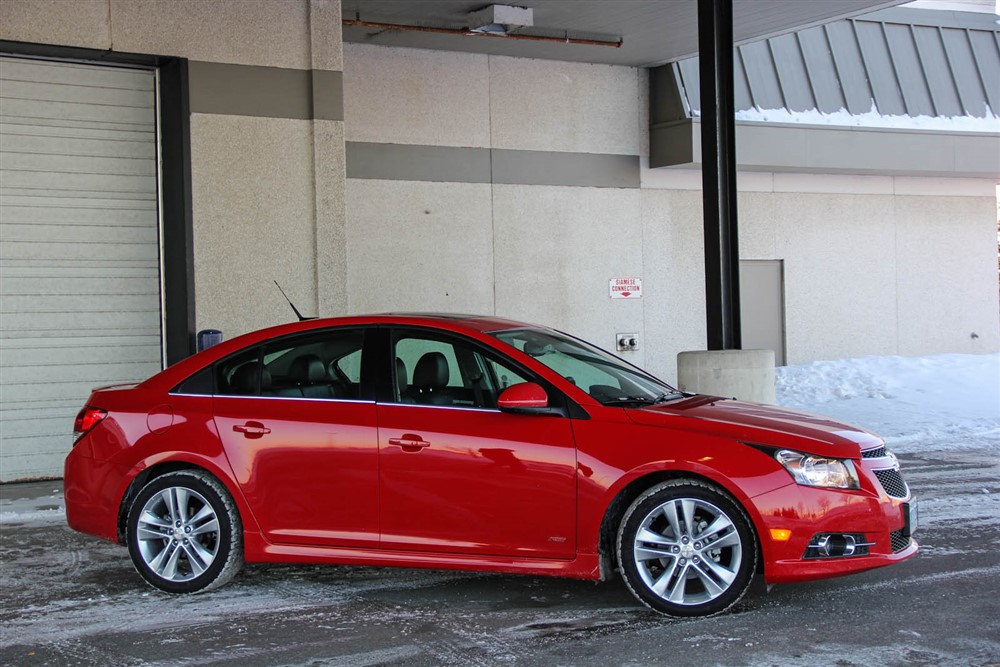 The Cruze is an aggressively-priced car that competes with the likes of the Honda Civic, Toyota Corolla, and Mazda3. This particular one was equipped with the 1.4L turbocharged 4-cylinder engine. It pumps out 138 horsepower and 148 lb-ft of torque at just 1,850 RPM. It's not the quickest thing in a straight line or all that planted on the highway, but this Cruze RS is a dream to drive in traffic and at low speeds. The torque kicking in at low RPMs means it's exceptionally light on its feet. My car was equipped with the optional 6-speed automatic transmission, which I personally would pass on. Standard on this model is the smooth-shifting 6-speed manual, which is exactly what I would want should I be in the market.
Late last year I drove the 2014 Chevrolet Cruze 2.0TD, the diesel, and really liked it. I did notice though that the styling of this car was more suited to a particularly sporty drivetrain, and this 1.4 Turbo model is exactly what I wanted. The 6-speed automatic does the job decently enough, and does have a manual-shift mode. The Cruze 2.0TD does have a few more horsepower and a lot more torque, but it has so much extra weight to it that the power is offset very quickly.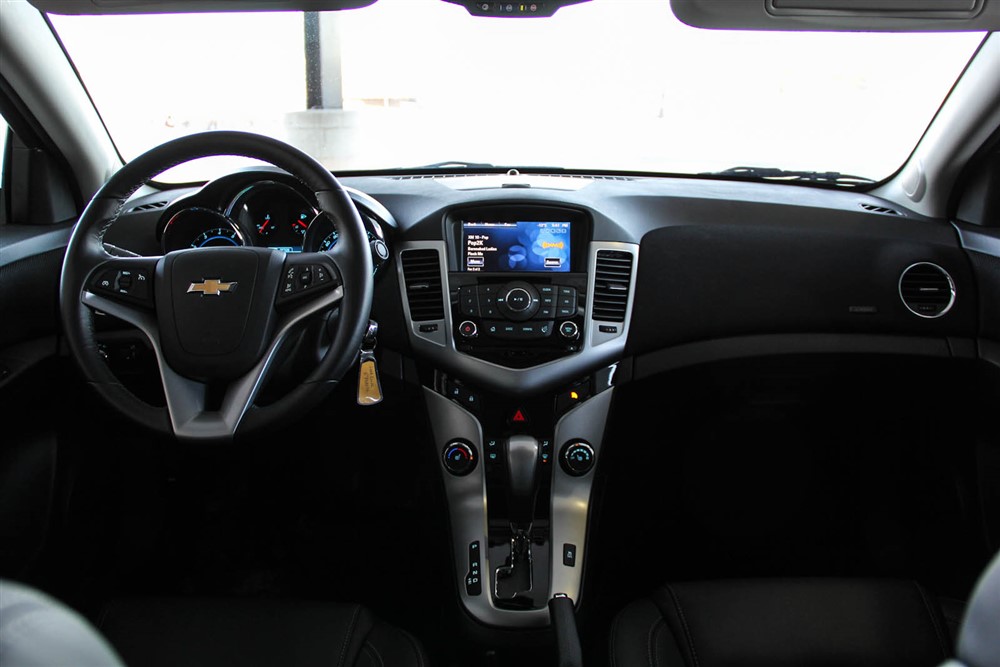 Loaded up to $26,000 as-tested, my Cruze RS was literally padded with everything available on the Cruze, save for an integrated navigation system. The RS, which historically stands for "Rally Sport", is actually an appearance package which includes ground effects, 18" wheels, a better suspension, and better brakes. My car also came with factory remote start, a sunroof, leather interior, and Chevrolet MyLink with satellite radio. There was no intelligent key system, which was actually quite pleasant. It was nice to use a conventional flip key; it fit the charm of the Cruze quite well.
The interior of the Cruze is so nice it's actually hard to believe that it stems from the same manufacturer that produced the Grand Am I learned to drive on. Every single part of this cabin is made of high-quality material. The top of the dash on the passenger side is lined with a panel of cloth-like material, and even that feels nice. The 7" touchscreen with the integrated Chevrolet MyLink system has large, clear buttons that are actually responsive. There are also actual buttons for commonly used commands, which is always a good thing. Climate control is not automatic, but simplistic and straightforward. My Cruze also came with excellent leather seats that were surprisingly well-bolstered for this class of car. Colour me impressed.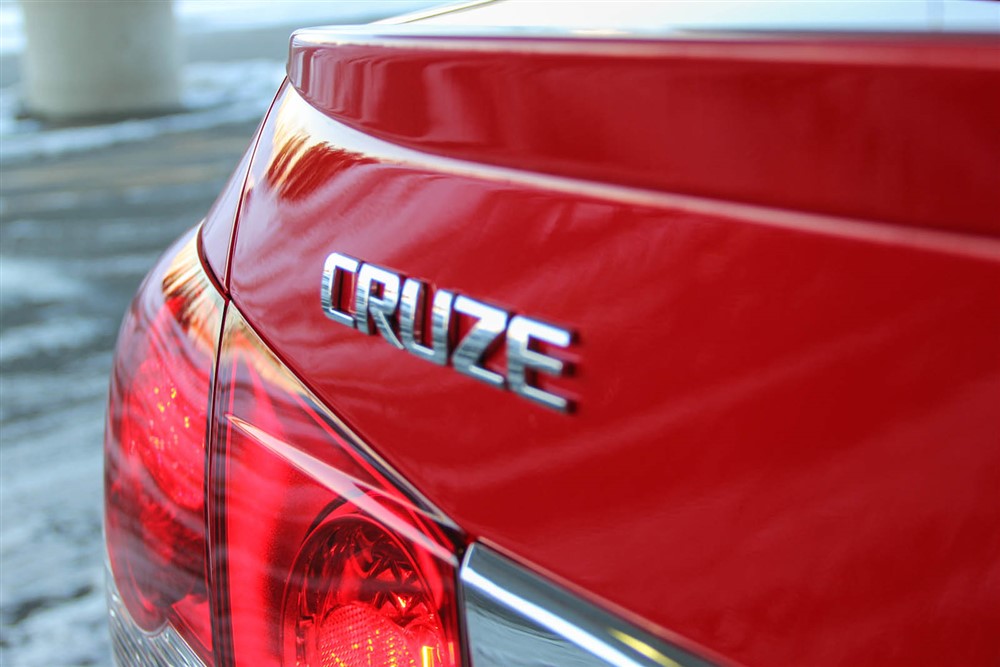 There wasn't very much not to like about the 2014 Chevrolet Cruze. It's attractive, feels a bit more expensive than it is, and sips fuel. I managed 8.3L/100km in combined driving. Highway trips returned as miserly as 6.4L/100km. Being a forced-induction engine, I filled the Cruze RS with premium grade fuel, but it can get away with regular. I wasn't really a fan of the automatic transmission, nor was I a fan of the rather tall, plastic shift knob. It took away from the otherwise appealing nature of the interior. I also think that for this price point the car should have projector halogen headlights, if not HIDs. A bestselling competitor, the Toyota Corolla now comes standard with beautiful LED headlights on all trim levels.
An evolution of the Cobalt, which in itself was an evolution of the Cavalier, the Cruze is actually an excellent little car. It's efficient, comes with a few different engine/transmission combinations, and best of all, offers a diesel. General Motors has come a long way from their infamous terrible interiors in the 1990s, and their sales are demonstrative of this. The Cruze RS is an excellent choice for a young graduate or city-dweller who likes some style. I personally would skip a few of the option packages (leaving the RS Appearance Package) and sport a 6-speed manual model. It's one of the best everyday drivers in a particularly competitive class.
2014 Chevrolet Cruze RS Gallery