Volkswagen has done nothing short of impressing me with nearly everything in their current lineup. Their cars have the perfect balance of simplicity and elegance coupled to legendary motor and transmission combinations, down to an art. It really comes to me as no surprise that other manufacturers have a hard time competing with this recipe. Thus far, I've driven a few VWs (my all-time favourite being the Jetta GLI) that I've actually been sad about letting go of at the end of my test week.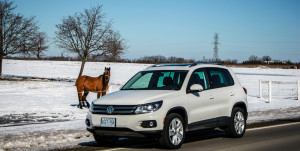 Last week I drove the 2014 Volkswagen Tiguan Comfortline with the Technology Package – quite a sharp-looking little SUV in the Candy White that my tester came in, might I add. This little SUV came packed with 4Motion all-wheel-drive, a 2.0L turbocharged 4-cylinder engine, and a 6-speed automatic. This is exactly what I needed for the winter we have been experiencing this year. As previously mentioned, my Tiguan wasn't equipped with the infamous DSG (Direct Shift Gearbox) transmission that other models come with, but rather a 6-speed automatic. Although it wasn't quite what I was expecting, it does work quite nicely.
Horsepower from the Tiguan is 200, with torque coming in at 207 lb-ft. Like most other 2.0T applications, it definitely feels underrated. The independent front MacPherson struts with stabilizer bar with a fully-independent four-link suspension makes for pretty decent ride quality. The Touareg's little brother can be a little bumpy at times – I definitely prefer the firm yet comfortable ride on the bigger truck. Volkswagen's trademark 4Motion all-wheel-drive system means grip is always available when you need it. I wouldn't recommend entering corners at full bore, but it can hold its own on my favourite hooning roads. Even in nearly a half-foot of snow, the Tiguan felt sure-footed at all times.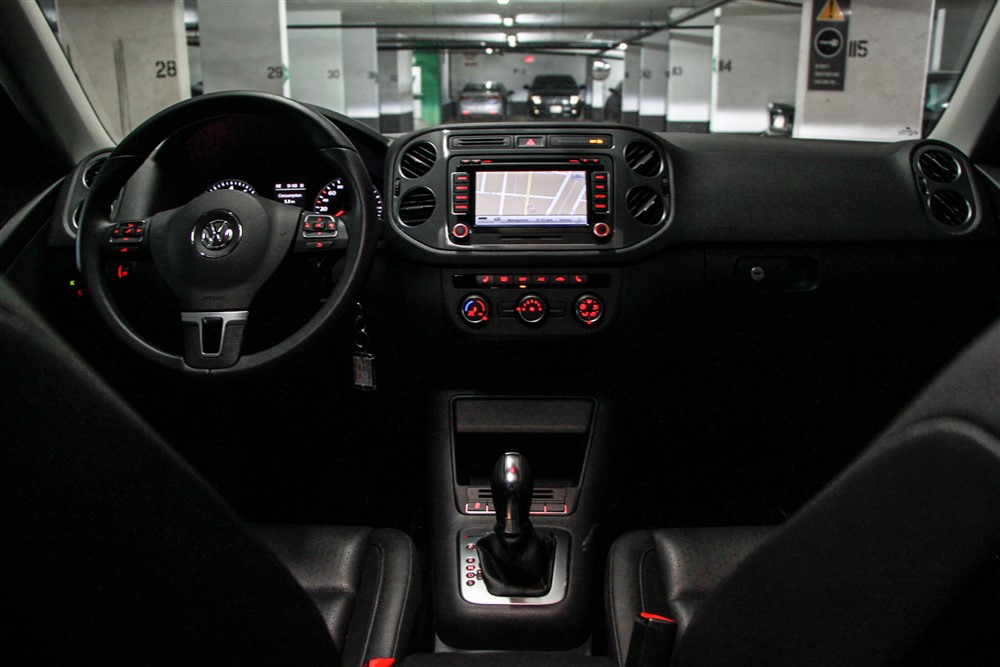 Not only does the Tiguan have the corporate Volkswagen face, the interior has the signature German feel that I look forward to. Without being over the top, the interior is simple and elegant. Even though I love the black leatherette seats, I wasn't able to find a very comfortable driving position. The steering wheel doesn't adjust as far as I'd like it to, and it made driving it for longer distances a bit difficult. Additionally, for this price point (about $38,000 as-tested), I'd expect at least the driver's seat to be powered. Other than this, Volkswagen's entry in the small SUV market sits very well with me.
The Dynaudio sound system on my tester is above average in my books – it lacks a little in the bass department, but aside from that I was quite happy with the audio reproduction. Bluetooth connectivity worked well, but the pairing process was a bit finicky. I also got a couple of complaints about my voice quality during handsfree phone calls over the week. Volkswagen's infotainment system continues to be good – I would prefer to have a USB port rather than the proprietary iPod cable though. My Comfortline model did come equipped with some nice touches. The panoramic sunroof has always been a Tiguan staple and is a unique touch in this class. It really does brighten up the car even on drearier days.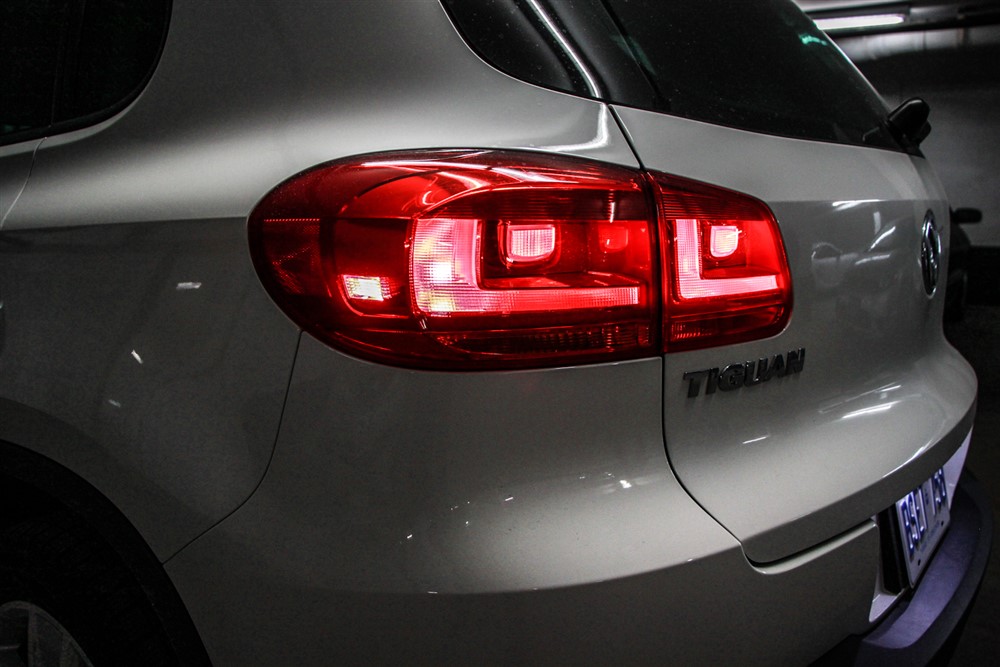 Ultimately, there is a serious advantage the Volkswagen Tiguan has over its competitors. It's small enough with a tight turning radius, making city driving and parking a breeze. Windows everywhere with virtually no blind spots make it surprisingly easy to see out of the Tiguan, too. It's roomy enough on the inside. The center-seat pass-through is convenient for skis or snowboards, particularly useful in this season. The Tiguan is the perfect car for the urban outdoorsman – there's enough room to put all your stuff while being stylish and easy to use in the city. It has that extra level of pizzazz over its competitors by actually being trendy. Plus, the combined mileage I observed of just under 10L/100km over a week's driving only sweetens the deal.
I really liked the Tiguan. I've driven a few of its competitors lately; the new Jeep Cherokee, the Kia Sportage, the Honda CR-V, and even the Hyundai Tucson. The new Cherokee is definitely my favourite in the class right now, but it's also the newest and most modern truck in this growing segment. I will admit though that if the Cherokee didn't exist, I'd have a hard time looking past this little German number. Volkswagen hasn't updated the Tiguan in a few years, and it's still theoretically on its first generation. I think with the expected second-generation model, the fine people over at Volkswagen will really have a winner on their hands. The fact of the matter is, the Tiguan has character – few other small SUVs can say that about themselves.
2014 Volkswagen Tiguan 2.0T Gallery