A few weeks ago, I tested BMW's latest diesel entry to the Canadian market, the 2014 328d xDrive. The fuel economy was great, but I couldn't help but be even more excited for what was to come. Fast forward a couple weeks and I arrived at BMW headquarters to pick up this 2014 BMW 535d xDrive tester. This is also the first 5-series that I have spent an extended period with, and it was well overdue. My Alpine White test car was glaring at me from the parking bay as I took care of the paperwork, and I couldn't help but think of it as love at first sight.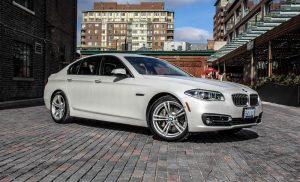 The 535d shares the same diesel powertrain as the X5 xDrive35d and the now-defunct 335d. The single-turbocharged 3.0L inline-six delivers 255 peak horsepower and 413 lb-ft of torque. Peak horsepower is achieved at 4,000 rpm, and peak torque is anywhere between 1,500 to 3,000 rpm. This thing pulls like a freight train, and feels no slower than its 535i sibling. Not a drop of BMW's excellent on-road behaviour is compromised; the 535d handles beautifully both on pavement and in snow. The steering is nice and heavy, though some drivers who aren't as passionate about a purist driving experience as I am might find it a bit tedious at parking lot speeds. ZF's 8-speed automatic is just as silky and close to perfection as it is in other applications – this is easily my favourite automatic transmission available today.
Due to our Canadian climate, it has become particularly tough to find a new BMW without the xDrive all-wheel-drive system as standard equipment. The 5-series is no different. Theoretically, you can still buy a rear-drive model, but it would need to be special ordered from the factory unless you find a dealer who has them in stock. I understand their position as most people spending this kind of dough on a non-sports car want the added security of all-wheel-drive. The competition from Audi and Mercedes-Benz (A6 and E-Class, respectively) also essentially force all-wheel-drive on you. That being said, the xDrive system is great. I never found myself looking for grip in icy or snowy conditions; the DTC and stability control systems worked well to keep the car in a straight line. I do appreciate how BMW gives you the option to turn all systems off if you so desire.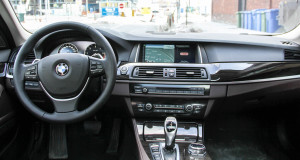 What most people care about when it comes to diesels is the fuel mileage. The 328d xDrive got impeccable fuel mileage both in the city and on the highway. This larger, significantly more powerful car got nowhere near the 4.9L/100km number I saw on its smaller sibling. I had expected my best economy numbers to be on a long highway haul to New York state, but what particularly surprised me is how efficient the car actually is in the city. Going with the flow of traffic with the car in "Eco-Pro" mode without using cruise control, I averaged 6.3L/100km, and saw as low as 5.6L/100km. This is through hilly roads with temperatures pushing the -15 degrees Celsius mark – not shabby at all. In the city factoring in rush hour as well as a significant period where I was stuck in line to cross the Canada-US border in Niagara Falls, the car still didn't do any worse than 8.0L/100km. The 70L fuel tank means particularly long distances between having to refuel, too.
Starting in the $60,000 range, my 5-series tester was loaded to the gills. The as-tested sticker on this car was $81,100. Literally everything was on board in this tester, and it was a thoroughly luxurious experience. Things like iDrive with navigation, Harman/Kardon sound (a system I really did like a lot), heated front and rear seats, and a sunroof are on board. I learned just how comfortable BMW's optional Comfort Seats (with the leather dyed a truly gorgeous tone of brown) are on the road trip I took with the 535d. My back can get fussy and require me to pull over every hour or two, but these seats seemed to soothe it to a point where I never wanted to get out of the car. They're simply sublime. Rear seat passengers get treated to not only heated seats, but side window shades as well as a rear window shade for maximum privacy. The touchpad on the iDrive system in the 5-series now allows you to "write" letters when entering destinations or searching for music on connected devices – definitely a neat "touch".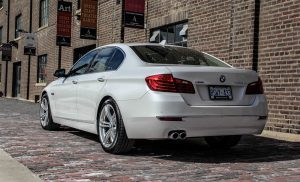 There are a few points I noticed with the 5-series that made me especially appreciate the precision that went into the development of the car. For instance, the sunroof shade is electric, a first I've noticed for a non-panoramic roof. It allows the shade to fully retract without having to leave enough room for a grab handle to close the shade – another very nice touch. The rear quarter windows have their own individual shades too, which impressed me even more.
I had to work a bit hard to find flaws with the 535d, but alas, nothing is perfect. There was a bit of a rattle coming from what appeared to be the rear parcel shelf at idle. I cannot emphasize enough that there is minimal diesel clatter with the car, but this vibration at idle is particularly annoying to rear-seat passengers. I found that when the car was snow covered (my drive back from Rochester, NY consisted of a bit of a snowstorm), the cameras and sensors outside the car got dirty and caused a bunch of the electronic systems (Forward Collision Warning, Surround View cameras) to malfunction. Manually wiping them down made everything functional again, but apparently the Adaptive Cruise Control system wouldn't work when any of the driving assistants were malfunctioning.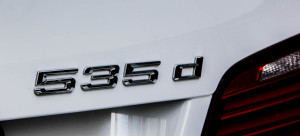 Love at first sight is a perfectly accurate way to describe my relationship with the 2014 BMW 535d. The most important thing is that it's quiet! Other than the unique driving characteristics (tons of torque, sounds a bit different than a conventional gas-powered car) there's no identifying it as a diesel. I measured a particularly-quiet 71 decibels at wide-open throttle, and that is a seriously good sound. Most luxury automakers in this class focus on the luxury – what sets the 5-series apart is that it still holds true to the brand heritage around an involving driving experience, and that's particularly important to me as a consumer. If I were in the market for a midsize luxury sedan, BMW would definitely be getting my money; the 2014 BMW 535d is pretty much my perfect vehicle for the daily grind.
2014 BMW 535d xDrive Gallery
See Also: