Any sort of Car of the Year award is a huge accomplishment. In Canada, our "largest honour" attainable for a new vehicle is the podium voted by the Automotive Journalists' Association of Canada. For 2014, the Utility Vehicle of the Year award was presented to the Chrysler Group for the 2014 Jeep Cherokee. Jeep's huge re-entry into the compact SUV segment came in with a bang, so I booked one out for the week to see what the fuss was all about.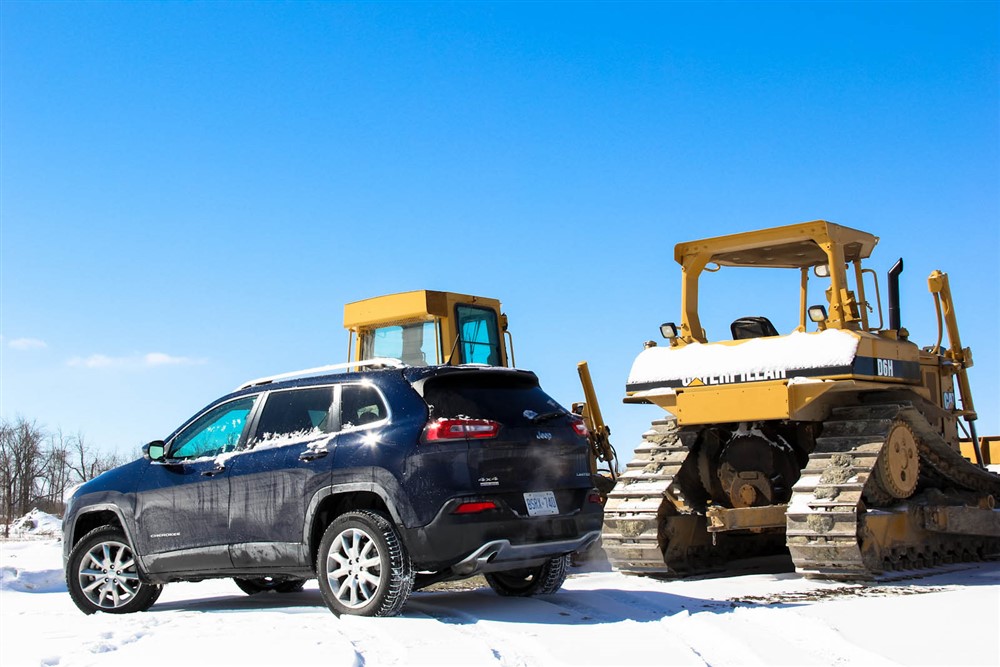 I'll admit it – I wasn't a fan of the Cherokee's face when I first saw it. The awkward headlight positioning reminded me of the Nissan Juke, but the new Jeep has really grown on me. It only took a few minutes behind the wheel to sway me completely. My Cherokee Limited tester was powered by the new 3.2L Pentastar V6, which has a horsepower output of 271 and a healthy 239 lb-ft of torque. Power is taken to all four wheels using the all-new ZF 9-speed automatic transmission. Yes, you heard that correctly; this thing has nine gears. There were some preproduction models that had some glitches, but those have all since been worked out. This transmission shifts very, very smoothly. The Cherokee has a serious amount of pep, and does not disappoint in the acceleration department.
Efficiency isn't meant to be the strong suit of any Jeep, but the 9-speed automatic ensures that the Cherokee isn't a huge gas guzzler. I spent the previous week with a 2014 Volkswagen Tiguan Comfortline powered by the 2.0L turbocharged 4-cylinder. The Jeep Cherokee (4×4, might I add!) only drank 11.4L/100km worth of fuel, barely any more than the Volkswagen. Plus, the Jeep takes regular-grade fuel, so it balanced it all out. Highway mileage gets as low as 9.1L/100km, and tough city slickin' takes the numbers to a not-so-frugal 13.5L/100km.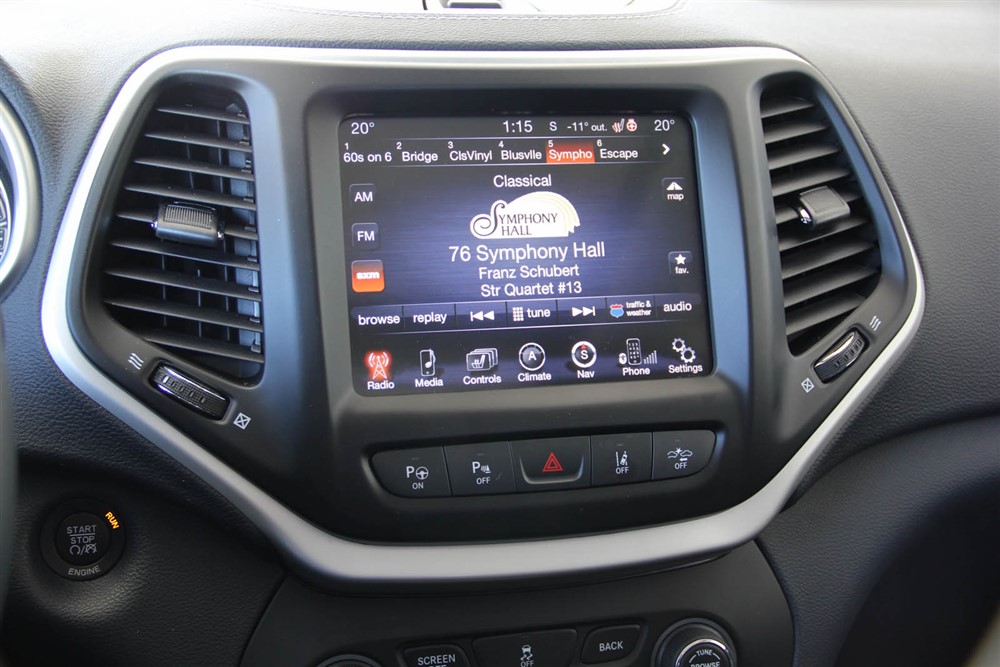 What really made the all-new Cherokee stand out to me was the sheer amount of toys it comes loaded up with. My tester was the highest trim level, the Limited 4×4, with a sticker price a touch over $40,000. Leather seats, a nice panoramic sunroof, and the 8.4" Uconnect screen are standard. What I did not expect was the ParkSense Park Assist. Not only does it parallel park the truck for you, it will actually reverse the car into a perpendicular parking spot. Similar systems (parallel only) that I have experienced in other vehicles work well, but have some kinks. This thing actually works flawlessly (albeit a bit slowly). I consider myself to be proficient at parking and didn't need to use the system, but as a tech-savvy enthusiast, I did enjoy the technology.
The Uconnect system continues to be one of my favourites out of all the infotainment systems out there today. The screen is responsive, the Garmin-based navigation is easy to use, and everything works efficiently and smoothly. The CD drive is located remotely in the center console as to not clutter up the dashboard, and there are physical buttons for commonly used commands. Another gadget I was not expecting is the optional Wireless Charging Pad ($100) for my cell phone. My Google Nexus 5 charged flawlessly with it, and the integrated Bluetooth system was able to read out incoming text messages as well as respond to them using voice recognition. I also found that the Bluetooth quality itself was great, both for streaming audio as well as phone calls.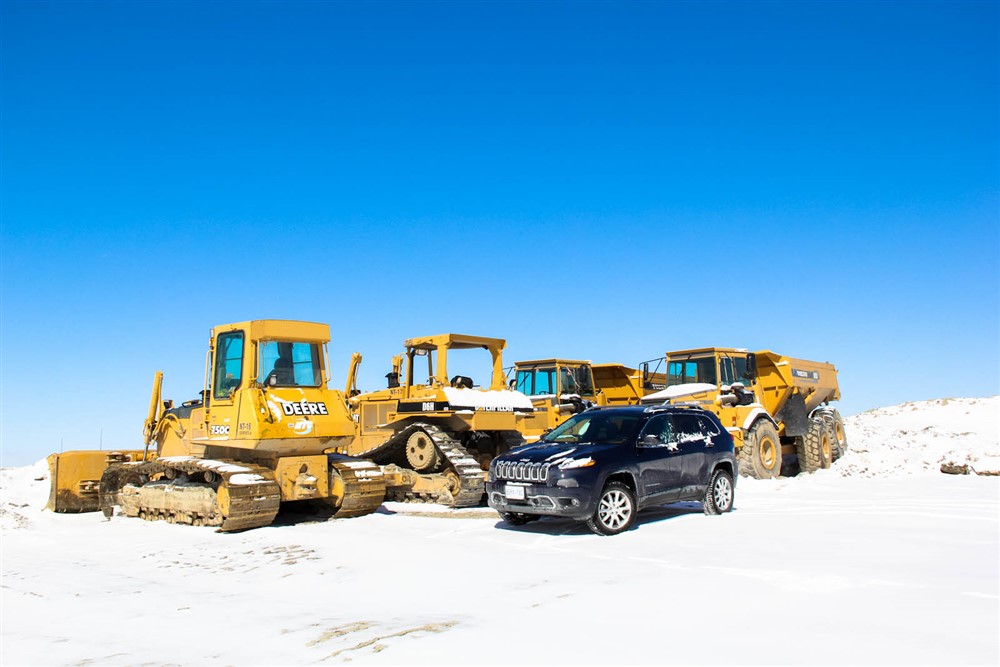 Interior quality is a huge step up from Jeeps of years gone by. This Cherokee was equipped with a neat two-tone interior in blue. It looks a lot nicer in the flesh than it sounds. The seats are super comfortable and provide ample support for longer drives. Rear legroom is a bit tighter than I expected, but it's definitely manageable for four regular-sized people. The panoramic sunroof makes for good lighting inside the cabin, and the driving position is excellent. I did find a couple of panels that didn't line up as nicely as I wanted them to, but I'm going to write that off as an early production glitch.
I can't complain about much with the Cherokee. Fuel mileage is right in line with other little SUVs in its class, and if you want it to be even more efficient, there is a 4-cylinder model available. I'm just grateful that Jeep decided to offer a six-cylinder option in the first place. The looks have grown on me a bit, but I still can't say I think it's as striking as competitors – the Kia Sportage and the Ford Escape come to mind.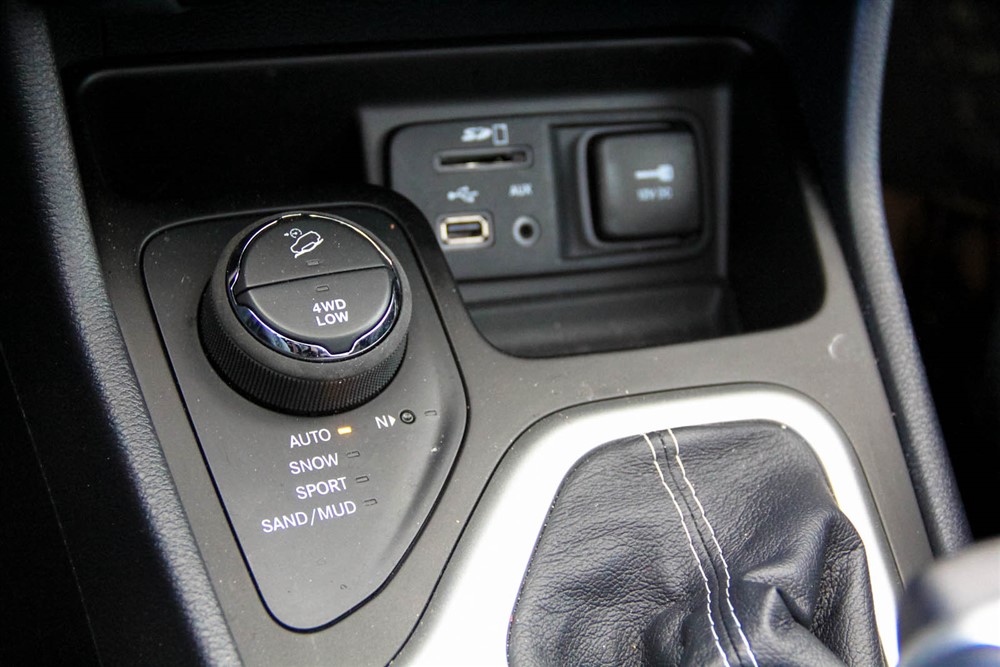 At just over $40,000 as-tested, this 2014 Jeep Cherokee Limited is loaded up enough to play with premium models such as the Acura RDX or the Infiniti EX37. It's not quite as refined as the Infiniti, but it has way more toys to play with, and is just as personable to live with on a daily basis. I came away from my week with the Cherokee seriously surprised; it's a competent workhorse and a seriously, seriously good SUV. The Grand Cherokee Overland I tested last year was one of the most refined SUVs I have ever driven. Its little brother here is well on its way to being a game changer for the smaller SUV/crossover segment – it really is one sweet little truck.
2014 Jeep Cherokee Limited 4×4 Gallery
See Also:
2014 Subaru Forester XT Limited
2013 Jeep Grand Cherokee Overland