I've been a long-time admirer of the Audi A5, despite never having driven one. It has always seemed to be a great balance between a practical daily driver and a fun sports car. It also happens to be beautiful, as there is just something undeniably sexy about a big, low-slung, sleek coupe. In order to find out if the car was really as good as I had hoped it would be, I hopped into a 2014 Audi A5 2.0T S-Line to play with for the week.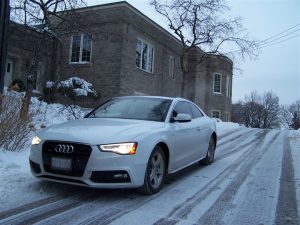 I must be on a good luck streak because for the second week in a row my test car came exactly as I would have equipped it. The A5 came equipped with the S-line sport package in white on a jet black interior. At $3100, the S-line option is a must and includes all the fun stuff such as sport suspension with dampening control, Audi Drive Select, a flat-bottom steering wheel, body skirt package, a more aggressive front bumper and a multitude of other toys. Equipped this way, the car looks absolutely stunning and I got nothing but compliments all week long about just how gorgeous the car is.
Once I'd finished starring at it and got inside, the interior turned out to be a pretty nice place to be as well. Typically Audi, the overall fit and alignment of everything is excellent, but I can't help but feel that they've been a little frugal with some of the materials. Particularly, the door panels feel no different than those in the Volkswagen Jetta we tested recently. Aside from that though, I quickly settled into a perfect driving position in the extra bolstered S-line heated leather buckets and began to appreciate the amount of thought Audi has put into this interior.  I was able to jump into the car, set everything to my liking, and drive off in less than 30 seconds. Even while driving along, all the critical controls are so intuitive it feels like I've been driving the car for years rather than mere minutes.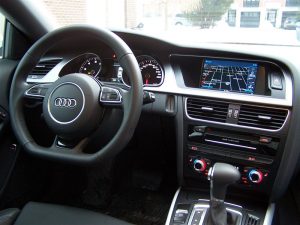 The MSRP on my tester comes out to around $51,500, and could easily get up into the $55,000 range with a few more boxes ticked of. At this price it comes equipped with everything I'd consider mandatory for a car of this caliber. I did, however, miss the presence of a heated steering wheel and backup camera, both of which Audi has typically done a very good job with. I would also appreciate a smaller sunroof with the ability to actually slide open. What is lost on the sunroof is definitely gained back and then some with Audi's infotainment system. As I've said before, I am a huge fan of the control knob over a touch screen setup and Audi has devised the perfect control knob system. Browsing the menu is fast and smooth, vehicle settings are easy to adjust on the fly and the navigation system is one of the better I've used recently.
Both the interior and the exterior of the A5 are so stunning, it makes my inner teenager want to drop the windows and cruise the nearest boulevard. The A5 handled the winter commute in stride. With the Audi Drive Select system in the Comfort setting and a light foot I managed to average 8.9L/100km despite the extreme cold. As a daily driver the A5 has proven itself to be very capable, the infamous quattro AWD system gives you no excuse not to be at work even on the snowiest of days. The roomy front seats are easy to get in and out of, the trunk is surprisingly large and while the rear seats are useless for humans, they did a great job toting my briefcase.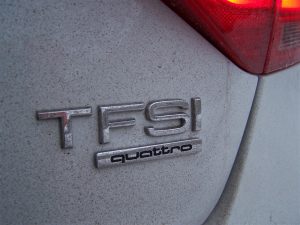 Beyond the daily grind, the A5 performs equally well as what I would consider an entry-level performance car. The A5's 2.0L Turbo produces 220 horsepower and 258 lb-ft of torque, which can propel the car to 100km/h in a brisk 6.3 seconds. While that may not make it the fastest car in the country club parking lot, it is more than enough power to put a grin on the face of any driving enthusiast. The true excitement of the A5 driving experience is only realized once Dynamic mode has been engaged. Here, the car is transformed from a comfortable cruiser to quite the sports car with feline reflexes, and that is when it becomes clear that the A5 S-line is much more than a banker's commuter.
Audi has done a spectacular job ensuring that every aspect of the car interacts in perfect sequence to provide an unbelievably engaging driving experience; both steering and throttle response are razor sharp and the dual-clutch 7-speed gearbox keeps the little turbo 4-cylinder right in the sweet spot. Opening the car up on the back roads, what surprised me most was just how well the car responds to being thrown around. That is the beauty of what Audi has done here, the A5 isn't the best at one thing, it is very good at everything.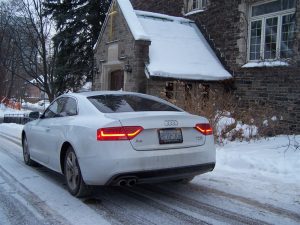 I have to admit I had a little difficulty giving up the keys to the A5 for two reasons. Mainly because it just looked so good sitting in my driveway, but more importantly because the A5 solves a problem that most hardworking car enthusiasts, myself included, constantly struggled with. That is, the never ending battle between practicality and the joy of driving. The A5 represents a great balance of both these aspects. No it's not going to haul your family camping or help move your latest Ikea purchase, but it will get you to work and back economically with style, comfort and grace. Best of all, come Friday night you can switch it into Dynamic mode and wash off a week's worth of dirt to reveal a very competent, fun and exhilarating weekend toy.
2014 Audi A5 2.0T Gallery
See Also: