Mitsubishi has seen somewhat mixed fortunes here in Canada. There were questions raised on whether Mitsubishi Motors would even be around in the long-term. The current-generation Lancer saw a lot of success, but it has been seven years with no replacement in sight. They seemed to enjoy much more success south of the border, especially with awesome offerings like the Lancer Evolution. For many years, Canada never got into that specific market, so enthusiasts had no choice but to look to Subaru for their affordable Japanese all-wheel-drive rockets. On the other end of the scale, the i-MiEV electric vehicle is somewhat interesting but ultimately a little too focused for mainstream tastes. To cater to the consumer who is looking for something a little simpler, the Mirage name was resurrected for 2013, and the car itself is a little different than you'd expect, if you knew anything about the same nameplate of the 1980s and 1990s.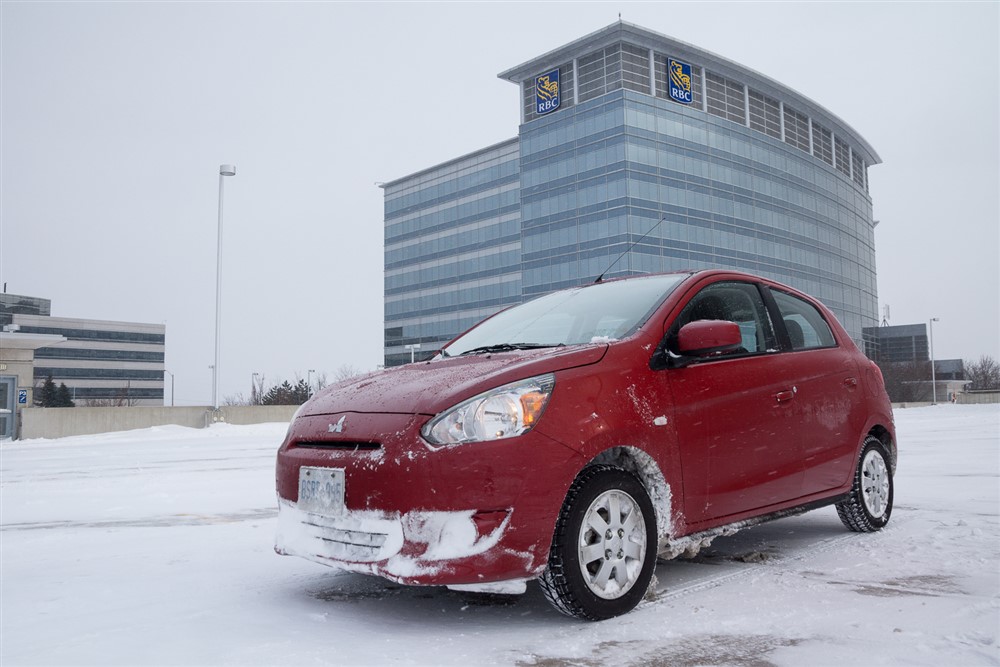 The Mirage has been the long-time entry-level Mitsubishi offering, competing with Civics and Corollas of the '90s last time it was still around. Now that the Lancer competes in the compact class, the Mirage was moved down-market. The first thing you might notice about the Mirage (assembled in Thailand) is its super-low starting price. For $12,498 (before taxes, destination, and usual dealer fees), you could get a whole brand-new car, straight off the dealer's lot. How could anybody buy used ever again? This undercuts even the Korean competition – typically big in this game – by some margin. When competing at this end of the new-car spectrum, every little bit counts. The low starting price gets people talking and into the showroom. My tester was a loaded "Infra Red" Mirage SE, with the added continuously variable transmission (CVT), and Convenience package.
What do you get (rather, what don't you get?) for such a small value? For starters, you get a full safety suite which includes seven airbags and all the requisite electronic driver aids: ABS, traction control, stability control, electronic brake-force distribution. One may expect a compromise in safety equipment at this price point, but that's not the case here. You do get seating for five, but due to the very compact exterior dimensions, interior width is what will limit you to seating four comfortably. At 146" long, the Mirage is shorter than even the pint-sized Mazda2 and Kia Rio by almost a foot. The puny exterior dimensions make the Mirage a friendly city car – easy to place in traffic and very easy to park even when the large SUV besides you decides to take up almost one-and-a-quarter parking spaces. One feature Mitsubishi boasts about is the ultra-tight 30.2ft turning radius. This allows for easy U-turns rather than three-point-turns. The SE model adds 14" aluminum wheels (165-section and 65-series rubber), fog lights, and some extra body-colour bits to the outside of the car.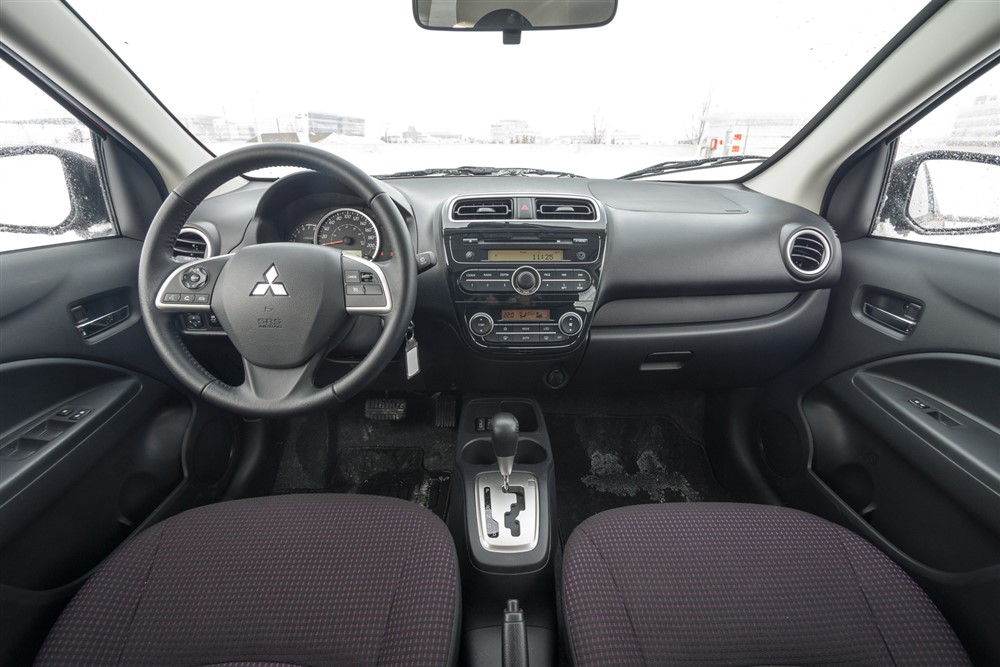 The unfortunate part about the Mirage's exterior design is that there really isn't much to it. If you took the Mitsubishi logos off the front and rear of the car, the average consumer would be hard-pressed to identify what kind of car it is. There is not much in the way of a family resemblance to the rest of the Mitsubishi lineup. Some sub-compact cars find themselves to be over-styled (the Chevrolet Spark comes to mind), some are just right (Honda Fit, Kia Rio), and some end up looking a little too conservative, which I think is the case here. This is entirely subjective, so I suggest you have a good look to see if the function and value-first design works for you. One interesting note: some non-external surfaces, such as under the hood, are not painted. Primer grey is all you get.
Inside, the no-nonsense bare-essentials theme continues. One shouldn't expect to find soft-touch premium plastics here, but assembly fit & finish is quite decent. Leg, shoulder, and headroom are all good for the folks sitting up front. Stepping up to the SE model gets you heated front seats, automatic climate control, power door locks, and rear power windows. That's right – the base model features crank-it yourself rear windows. The $500 Convenience package adds in several features that many consumers would expect in more premium cars, such as Bluetooth mobile phone integration, cruise control, steering-wheel mounted audio controls, and a leather-wrapped steering wheel and shift knob. The seats, while not totally objectionable, do not lend themselves to long-trip comfort. I could not settle on a comfortable driving position – regular stretch breaks would be a good idea. The seat heaters, however, are fantastic – easily among the strongest I've used.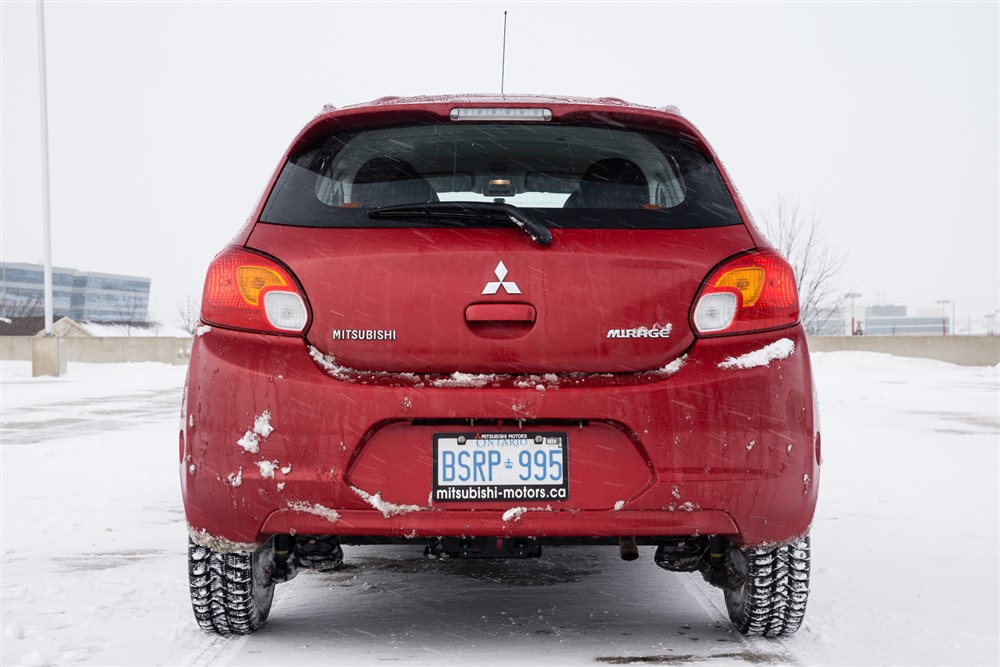 Fuel efficiency is often top priority at this end of the new-car market. More and more people nowadays are willing to trade away some horsepower for the sake of fuel efficiency – a new mindset Mitsubishi is hoping to capitalize on. Under the hood, is a 1.2L three-cylinder gasoline engine that produces 74hp at 6000rpm, and 74lb-ft of torque at 4000rpm. This isn't far off from the power produced in the much-smaller Smart Fortwo. In the age of ever-growing cars and numbers, 74hp can sometimes be scoffed at. The three-cylinder growl is unique, and when paired up with the CVT, you'll be hearing it often. Thanks to the low curb weight – just over 2000lbs – acceleration at low city speeds is better than the horsepower rating would suggest.  This does involve dipping into the loud pedal more often than you'd expect – driving for economy in the Mirage is a sure way to annoy drivers behind you. At highway speeds, merging and passing with 74hp can be a challenge, though the CVT does a good job keeping revs at around 2000rpm at 100km/h.
On the flipside, with not a lot of mass to move around, and only three cylinders providing the motivation, fuel efficiency is quite good. Mitsubishi rates the Mirage with the CVT at 5.3L/100km in the city, 4.4L/100km on the highway, and 4.9L/100km in a combined cycle. As with many of our recent reviews, the extreme cold we have been seeing has negatively affected our real-world results. I managed an average of about 6.2L/100km in mixed driving. The Mirage takes regular 87 octane fuel, but the gas tank is smaller than average at 35L. So, while fuel efficiency is reasonably good, overall range is not great.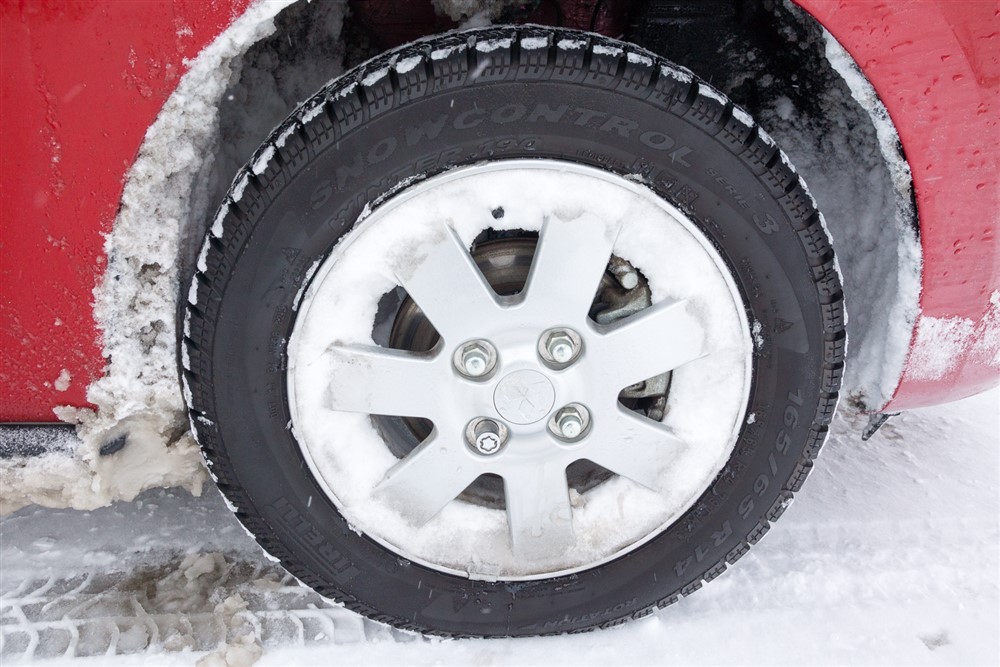 One issue with the Mirage is the price after you add on some options. My tester SE model rang in at $17,098 before taxes and fees. It becomes less of a value proposition when you add the CVT and Convenience Package. These two options alone are $1700 – ten percent of the entire car's purchase price. It then gets dangerously close to some more established players that come with many of these features as standard, rather than in option packages. Cars like the Kia Rio, Hyundai Accent, and Nissan Versa are comparable in terms of equipment and warranty coverage, but all offer a lot more horsepower to boot. A car as value-focused as the Mirage, seems to make the most sense when you choose the base model.
I've always been more of a small-car kind of guy. I appreciate the fact that most offerings from different manufacturers focus on different things. Some focus on giving you the most space for the dollar. Some focus on the driver's interface, and others focus on the lowest possible price out the door. Some of these cars are also great to drive in a spirited manner without getting yourself into trouble with the law. It's the idea of driving a slow car fast that is enjoyable. The Mirage doesn't quite fall into the "enjoyable" category, because of its relentless mission on keeping the price of entry low and fuel economy high. For a lot of people, this isn't an issue as the low price is most important. It's tempting to check some of those option boxes, but if you're looking for basic point A to point B transportation, and it absolutely must be new, the Mirage may be worth adding to your list if you stick to the base model.
2014 Mitsubishi Mirage Gallery
See Also: