The BMW 3-series lineup is among the best-selling luxury cars in the world. The E30 generation of the late 1980s to the early 1990s has earned itself a reputation for being one of the most balanced track cars out there, with its lightness and easy-to-drive personality. The latest 3-series (chassis code F30) has been given a bit of bad press for being softer and less of a driver's car than its predecessors. I personally drive a 2013 328i Sport Line, and I like it just fine. This month though, I was handed the keys to a 2014 BMW 335i GranTurismo M-Sport xDrive – the car with the longest name I've driven this year.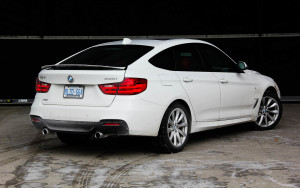 This 335i GranTurismo is the answer to a question nobody asked. By now it's safe to say there's a 3-series product for literally every buyer. Canadian sedans are available here in 320i, 328i, 328d, 335i, and M3; each available in multiple trim lines and with varying packages. There is also the 3-series Touring station wagon, and this slightly awkward-looking GranTurismo. If you only want two doors, BMW will be glad to sell you a 4-series, which is virtually identical minus two of the doors. GranTurismos are built off the non-NA market long-wheelbase 3-series platform, so the rear seating area is slightly roomier. Trunk space isn't nearly as convenient as the station wagon, but it's roomier than the sedan.
My tester was the 335i (there is also a 328i GranTurismo available), which thunders down the road via a 3.0L twin-scroll single-turbocharged inline 6-cylinder motor coupled to BMW's fantastic xDrive all-wheel-drive system. Despite misconceptions circulating, this engine only has one turbocharger. There are 300 horses under the hood which propel the GranTurismo to 100 km/h in 5.3 seconds. It doesn't feel as light on its feet as the 335i xDrive I drove last winter, but it's important to note that this crossover-thing is 300 pounds heavier than its sedan siblings.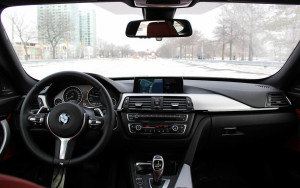 BMW's electric steering system works well enough, if not as heavy and direct as the near-perfect steering in 3-series models of yore. I had the GranTurismo during a massive snow storm, and it tore through everything beautifully. I could complain about ground clearance, but the GT doesn't drive (or really move) any differently than a 3-series sedan or Touring. If ground clearance is what you require, I'd direct you towards the X3 or X5. Acceleration is linear and direct, and the sound from the N55 motor is very nice. The exhaust burbles when you let off the throttle – it was a bit more satisfying in the Z4 sDrive35i, but it's very pleasant in the GranTurismo as well.
My fuel economy numbers weren't stellar, but I am taking into account that the week I had the car was the same week that Toronto was subjected to its coldest extreme weather alert this year. Temperatures dropped below minus 30 degrees Celsius with a windchill, and my social media feeds were filled with people complaining about how their vehicles were having trouble starting up at all in the cold. I had no issues starting up the GranTurismo after it sat for two days in a driveway, but I couldn't do any better than 16L/100km in the city. However, a highway trip consisting of about 550km in severe whiteout conditions returned a wonderful 8.1L/100km. The turbocharged motor means the GranTurismo requires 91-octane fuel.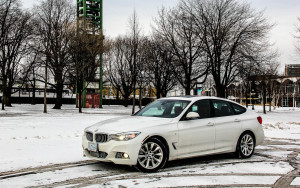 A few years ago, when BMW introduced the 5-series GranTurismo, I couldn't help but initially think that it had a face only its mother could love. To this day, my opinion of that car hasn't changed. The 3-series GranTurismo still isn't gorgeous by any means, but its looks grew on me over the week I had it. My tester was painted in a gorgeous Alpine White and accompanied by some scrumptious Coral Red Dakota leather. The wheels are proportioned nicely with the rest of the car, and it's a pleasant looking thing. I'd still prefer a 3-series Touring, but that's a story for another day. BMW has fitted the GranTurismo with a power rear spoiler that extends and retracts at the touch of a button located on the driver's door. When extended, the rear end of the car actually looks pretty nice – I'm a fan.
In typical German fashion, my tester came loaded up with all of the extras. The iDrive infotainment system was coupled to the Harman-Kardon sound system, and the symphony it produced was candy for my ears. I really do like the iDrive controller; navigating through the menus is simple and there is no lag within the system itself. The red Dakota leather seats are extremely comfortable, but for this price I'm a bit sad at the lack of heated rear seats. The Kia Forté SX we tested the same week had them, but this $65,000 BMW doesn't?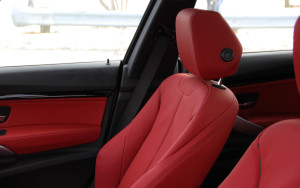 Other packages on my tester included the Premium Package (Harman/Kardon, Park Distance Control, Comfort Access, BMW navigation), the Executive Package (Surround View, a heads-up display, lane departure/collision warning systems), and the ConnectedDrive Services package which includes a series of apps within the iDrive system. The only standalone option that it came equipped with is the radar-guided cruise control with stop/go technology. Adding onto the base price of $56,990, my 335i GranTurismo xDrive M-Sport came in at $65,340. Just to put it into perspective, the Audi SQ5 starts at $57,000, and comes in around the same price when you tack on the options.
The only real downside to the 2014 BMW 335i GranTurismo isn't really a downside; it's a question: Why? This car caters to a very niche market – those who want more utility than a sedan, don't like station wagons, and don't want a small crossover SUV. Even though the BMW X1 is based off the previous-generation 3-series, I think it's simply superb. The new Audi SQ5 can also be had, nicely equipped, for the same price as this GranTurismo. The 335i GT has the lovely driving dynamics of every other BMW, and ultimately that's what matters to me. It may not really have a point to it, but that doesn't stop it from being a seriously good year-round companion.
2014 BMW 335i GranTurismo Gallery