If there was a "most-improved" award for a car we have tested, I have no doubts in my mind that there is a clear winner. In the auto enthusiast community, the Corolla is directly correlated to oblivious drivers. Having grown up reading car websites and car forums, I somehow developed the theory that by the time I meet my end, I will have spent 1% of my total life behind a Corolla driving well below the speed limit. However, with my recent test of the 2014 Toyota Corolla Eco, I could not have been more corrected.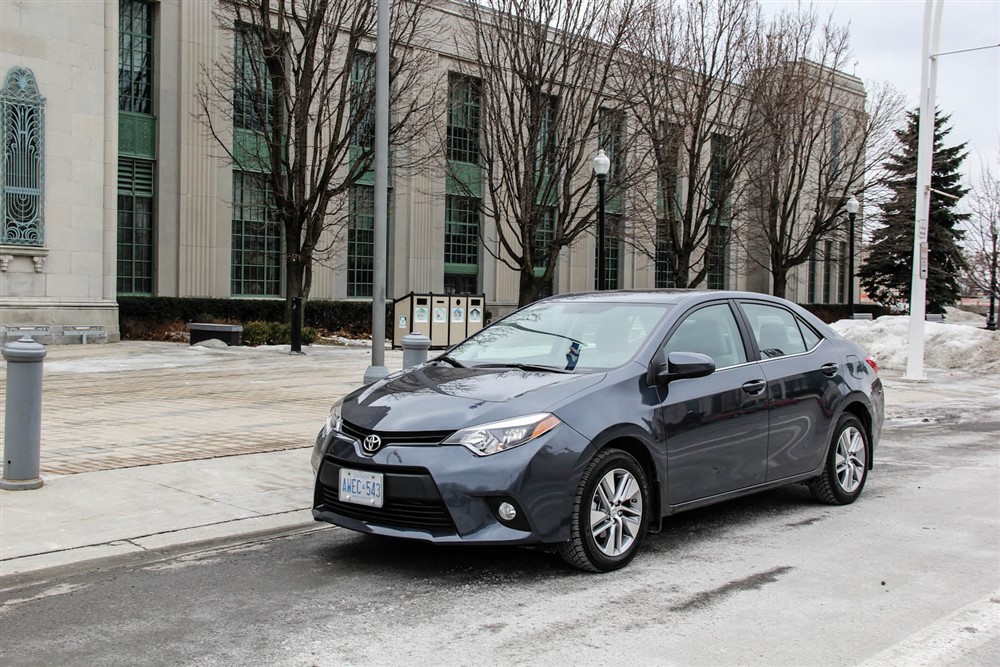 Despite all of the stereotypes around it, I knew that there has to be a reason that Corollas sell like hotcakes. After more than a century of mass-produced vehicles, the Toyota Corolla holds records for being one of the best-selling cars in the world. Why is that though? The answer is pretty simple – as sad as it may be, the auto purist community is relatively small. There are exponentially more people that buy a car for the sole purpose of transportation rather than any form of enjoyment or a specific type of driving experience. The outgoing Corolla wasn't really fun to drive at all – what it did have was functionality, simplicity, reliability, and value.
The new Corolla maintains its reputation for being impeccably smooth, easy to drive, and simple. The term "fussy" cannot be used to describe a single thing in this new compact. My "Eco" tester is specifically geared towards the green consumer; the buyer who not only wants to be functional, but help the environment and save on fuel as well. Under the hood is the new version of Toyota's 1.8L 4-cylinder with Valvematic technology. Its continuously variable intake-valve lift and phasing means that power is up to 140, giving the Eco the highest horsepower output in the Corolla lineup.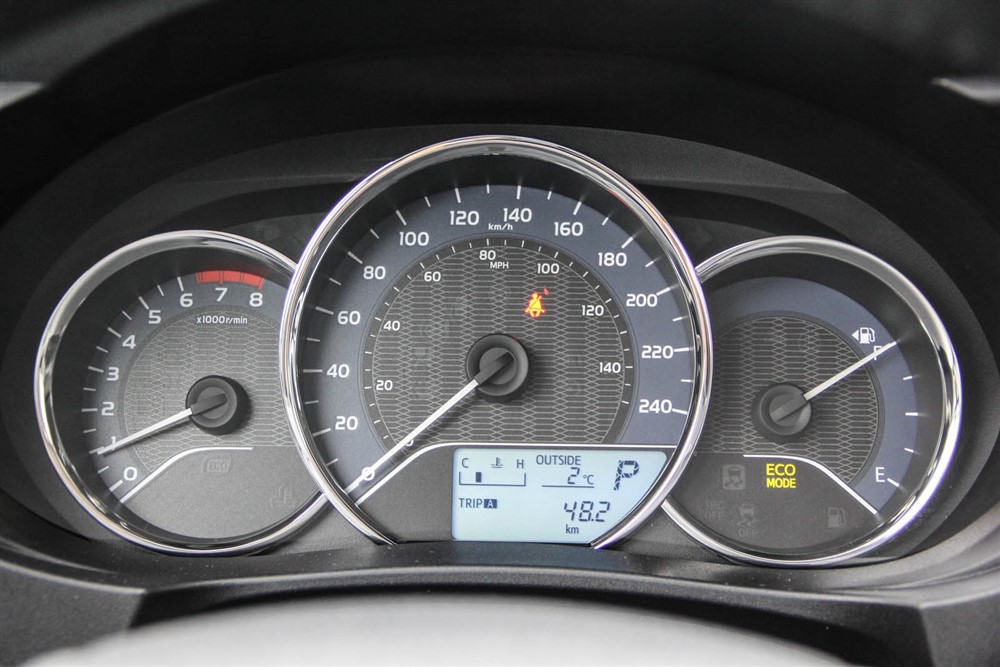 Rather than the archaic 4-speed automatic in the base model, the Eco is fitted with a CVT transmission, which I found surprisingly good. Its 6:3:1 ratio spread means it can decide what the optimal RPM is for the speed and specific road. It works very, very well – I never found that this car felt like it lacked any sort of power. The Corolla Eco putters along gracefully and incredibly smoothly. My week with this new compact consisted of mainly highway driving, where I typically would prefer a larger car that would feel more planted. The Corolla is surprisingly sorted on the highway and gives no indication that it's as small and light as it actually is. Though the Corolla S is a bit sportier and a bit pokier in the corners, my money would go to this one.
My Corolla LE Eco came with the Upgrade Package, which brings its as-tested price to just over $22,000. It comes loaded with 16" aluminum wheels, a leather-wrapped steering wheel (which feels very nice, might I add), a power sunroof, heated seats, and a 6-speaker stereo with a 6.1" touchscreen for the infotainment system. There is no navigation on this model, but with smartphones as convenient as they are, I wouldn't really want factory navigation. The Bluetooth streaming from my phone means I can have voice prompts right through the car's speakers. I never really talk specifically about heated seats, but those in the Corolla get extremely toasty in only minutes; something that's truly beneficial in a Toronto winter.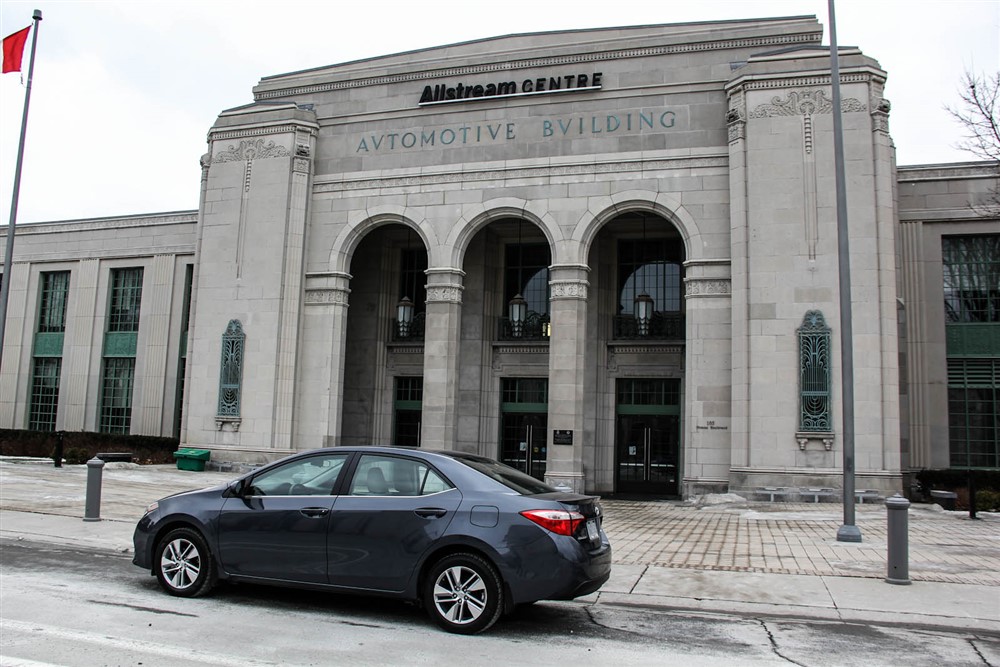 The biggest improvement I noticed with the new Corolla is the styling, both inside and out. From the outside, the first thing that becomes evident other than the sharp lines is the fact that it has LED headlights on all trim levels. A simple upgrade goes a long way – the headlights give the Corolla an upscale and fresh look. The styling looks great from the front; it makes up for the 2014 Mazda3's awkward front license plate position. From the rear, it's a conservative yet elegant design, and the trunk lip spoiler on my test car sets it off nicely. I might even go as far as to say that the new Corolla is the best-looking car in its class. The interior is well designed and pleasant to be in. Materials used are high-quality and there is a premium feel throughout the cabin, and the rear seats are exceptionally roomy for a compact car.
Being the LE Eco model, I decided I must find out how good my Corolla was on fuel.  The first thing to keep in mind that it's the middle of January, so fuel consumption automatically takes a huge hit. This car also came with some meaty winter tires that would affect economy a little bit. Despite this, I managed 6.7L/100km in combined driving, mainly highway. The beauty of the new powertrain and transmission is that the car does just under 2000 RPM at highway speeds, which is great.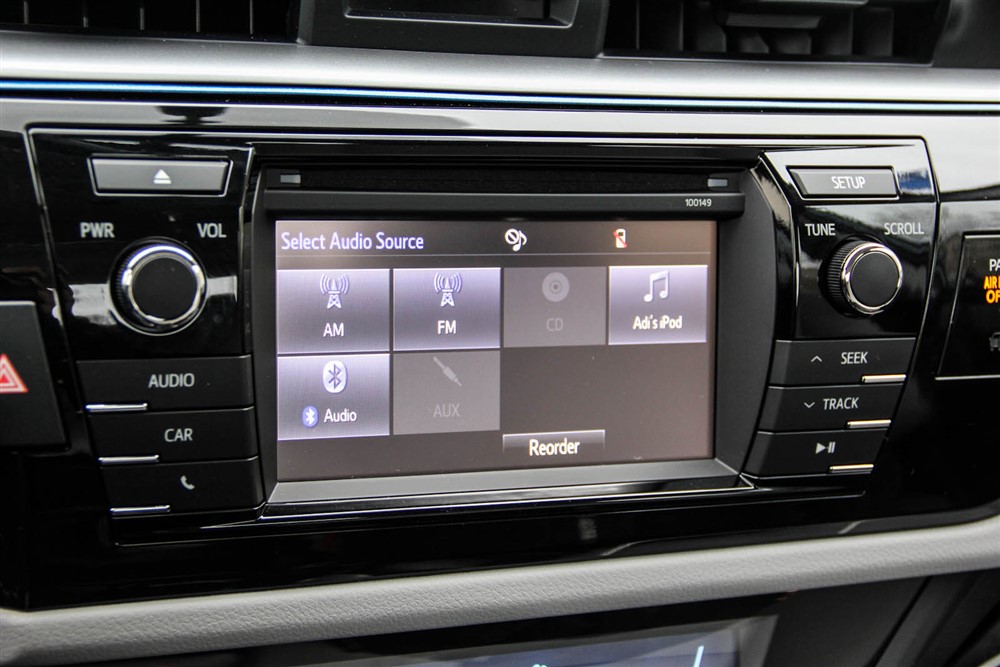 I didn't find too many things about the Corolla Eco I couldn't get on board with. For instance, the steering isn't as sharp as I would want. Also, there is no manual mode for the transmission on this model. To be perfectly honest, I don't even care about either of these things. The 2014 Toyota Corolla Eco is spectacular. It's immensely comfortable, gets impeccable fuel mileage, and it doesn't blend in nearly as much as its predecessor. Typically, the Corolla buyer looks for all of these things plus value and reliability. With Toyota's track record, I have zero doubts that it will be brilliantly reliable for hundreds of thousands of kilometers. Seriously though, this new Corolla is an amazing value for the young family, the urban commuter, or even your parents. It's a real chameleon in the sense that it will adapt to nearly any environment it's put in, and that makes it a real champion.
2014 Toyota Corolla Eco Gallery
See Also: