A few years ago, Honda came out with the Accord Hybrid. Launched a couple years before the eco-variations of the Toyota Camry and Nissan Altima, the Accord was a bit more performance-oriented. Rather than a frugal four-cylinder coupled to an electric motor, Honda chose to implement a V6 and take the angle of a performance hybrid. The car was pretty good, but disappeared off the market fairly quickly. This year marks the entry of the 2014 Honda Accord Hybrid to the North American market, and I was offered a week with the car to see what my thoughts were.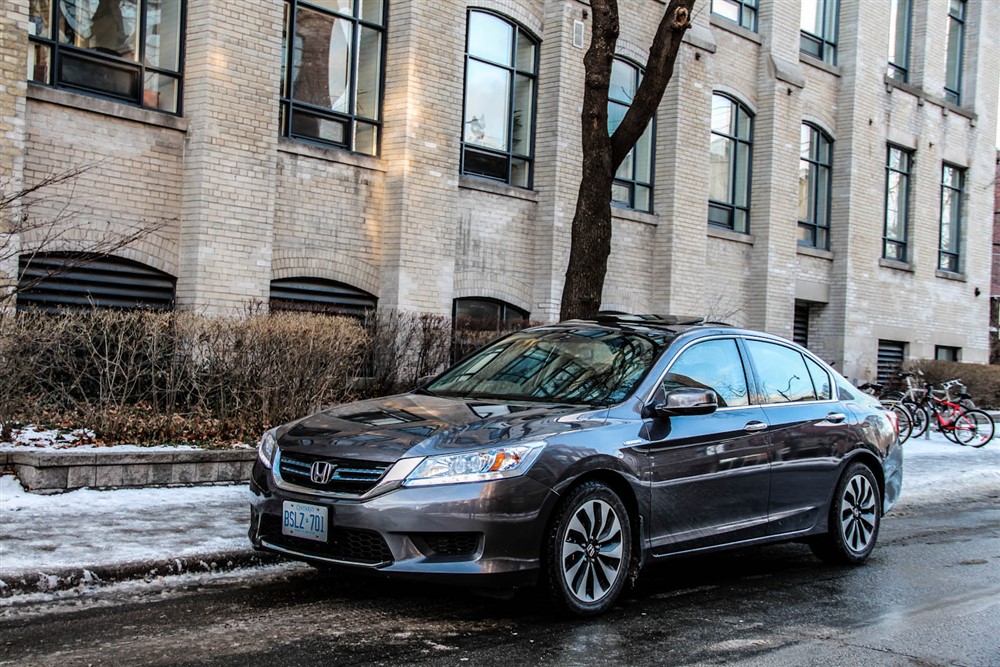 I rather liked the original Accord Hybrid because I like performance. However, my colleagues who drove this new car at the Canadian launch returned fuel economy numbers that I would have doubted had I not seen proof. I drove a first-year Camry Hybrid for a couple years, and managed to get 5L/100km all day long. To be told that this Accord is capable of numbers around 3.6L/100km was pretty unbelievable. However, one significant variable remained – my road test of this car was in the heart of winter. The week I had the 2014 Accord Hybrid was Toronto's coldest recorded week in years; temperatures close to -30 degrees Celsius took a toll on the car's economy. I'll leave that for a bit later though…
The Accord Hybrid is not to be confused with the Accord PHEV, which my colleague Louis drove just over a month ago. Where the PHEV can be plugged into a wall outlet to make maximum use of the battery, my tester regenerates battery power during normal driving, working no differently than a conventional hybrid. The car is powered by a 2.0L Atkinson-cycle 4-cylinder that puts out 141 horsepower, and is "boosted" by a 166-horsepower electric motor. Combined horsepower is 196, and the Accord putters along just nicely. Of course, it won't win any races at the track, but it's a far cry from some other hybrids that suffer from a case of being seriously slow.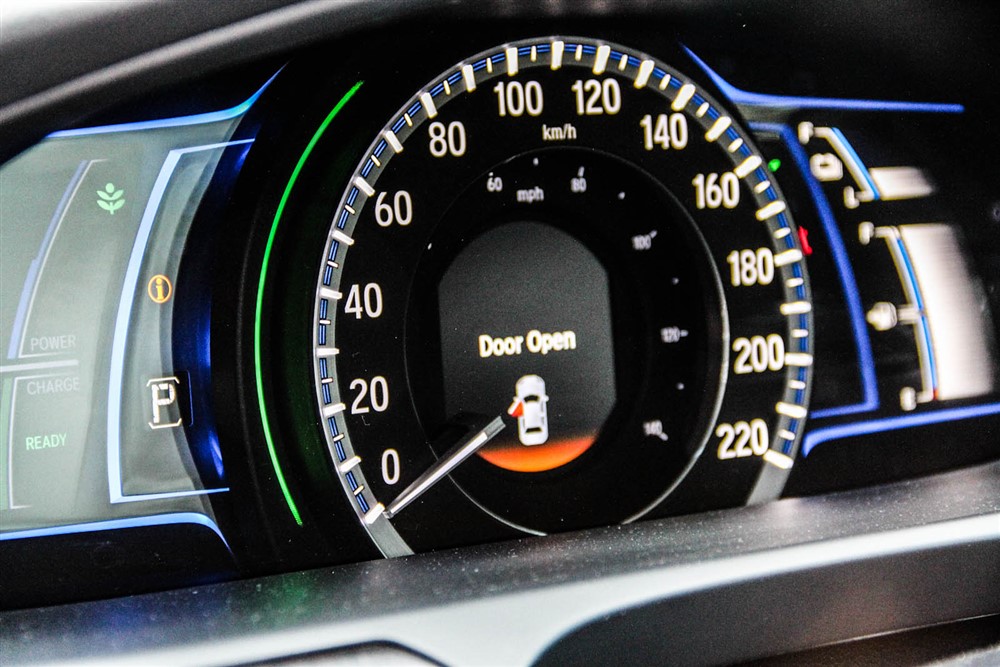 Handling and steering are exactly what you would expect from a Honda – good to a level of perfection in this class. I've said many times that in the midsize sedan class, my pick would either be an Accord Sport or a Mazda6 GT (both spec'd with a 6-speed manual, please). Despite being burdened with a few extra pounds for all the hybrid components, the Accord Hybrid takes corners nicely. On-ramps and off-ramps are a pleasure with a minimal amount of body roll. I will say though that the ride on this car is a bit on the stiff side. On a midsize mainstream car, there should be no reason for me to bounce around as much as I was.
Honda gave me their Touring model, which is the highest-available trim on the Accord Hybrid. Priced at $35,690, the Touring adds leather seats, satellite radio, piano black trim throughout the interior, a navigation system with voice activation, LED headlights, and a sunroof. If the extra $6,000 over the base Accord Hybrid ($29,590) is doable, I'd highly recommend it. After driving the Touring, the regular car just seems far too plebian and will blend right in with your neighbours' regular Accord. Another neat feature it has is the LaneWatch camera system that automatically activates a camera on the passenger-side mirror when the turn signal is activated. Pretty nifty.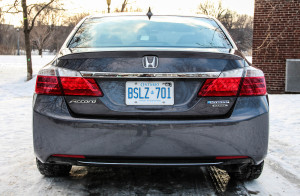 The Honda i-MID infotainment system with its two big displays is decent enough to use, but it needs a serious update. Browsing through an iPod or even tuning radio stations is a bit laggy. I was happy to see that the lower display, which is a touchscreen, worked very well with gloves on. There is a USB port at the bottom of the center stack, but I would prefer it to be concealed. In its current position, my iPod is sitting out in the open and completely visible to thieves who may be looking to make a quick buck.
Okay, here's the moment you've all been waiting for: fuel economy. While the temperatures in Toronto were actually normal and half decent (hovering between -10 and +2 degrees Celsius), the car returned an exceptional 5L/100km in combined driving. I'd expect this to drop down to 4.2-4.3L/100km in warmer weather. This is without me even trying to hypermile or achieve stellar numbers. I drove it as the typical Accord buyer would drive it, and it returned the favour by saving me a few dollars at the pump. We took the car on a highway trip about three hours away, and it got about 4.5L/100km on the highway. The way back, however, we hit those record cold temperatures. With the same driving style, the Accord Hybrid shot up to 7.5L/100km. During my time with the Accord though, I was seeing tons and tons of people posting photos on social media of their Check Engine lights, cars refusing to start, random electrical glitches – all due to the cold. I was proud to say that this thing didn't even bat an eye (er…headlight?) when starting up outdoors in -30 weather after a long night.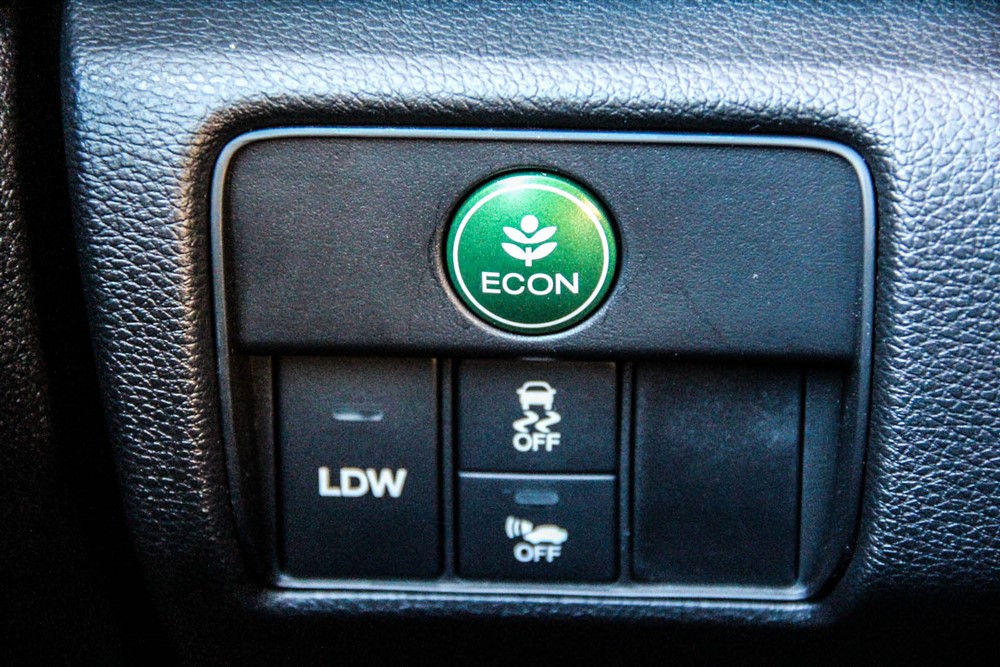 Honda has always had that touch that attracts enthusiasts to their cars. Their steering is fantastic, their powertrains are great, and their reliability is flawless. I liked the original Accord Hybrid because it was different from everything else. The 2014 Honda Accord Hybrid is a very good car, but I can't say I would recommend it to the enthusiast. What it needs is a conventional 6-speed automatic transmission such as the one in the Hyundai Sonata Hybrid. Right now, it's a hybrid sedan from Japan that has roughly 200 horsepower, a gearless transmission, gets great fuel economy, and looks pretty nice.
Other than its styling, the Accord Hybrid just doesn't stand out to me over the Sonata, Fusion, or Camry. That being said, I know quite a few people who like hybrids and swear by them. They think diesels are smelly and obsolete (I personally love them). These consumers are also the type who buy cars with their brains rather than their hearts – great economy, looks good, and has a very low long-term cost of ownership. Plus, with Honda's reliability record, it will likely never break down. Lucky for Honda, there are many more of these buyers than there are manual-craving enthusiasts like myself, so I have no doubts in my mind that the new Accord Hybrid will sell superbly.
2014 Honda Accord Hybrid Touring Gallery
See Also: